The kitchen remains to be one of the most sacred places in a home. This is the place where not just food is prepared, but also family and friends get the time to catch up and interact while sharing.
This has seen many homeowners pay a lot of attention to their kitchen design. Yes, there are a few things that will forever remain standard. These are comfort, good looks, and an efficient kitchen design.
However, on top of that, you'd also want to be trend-led, so that your kitchen design always remains relevant to the current times. This means employing technology, being environmentally cautious, and focusing on sustainability.
So which design encompasses all these?
Unlike cooking, there isn't one recipe for a great kitchen design. On top of the basics, the final look, feel, and technology used in your culinary workspace entirely depends on what you want. This means that you have total control over key areas such as the layout, tiling, cabinets, appliances, and so forth.
But where should you be paying the most attention to?
Looking at 2020 trends, for instance, most kitchen designs have focused greatly on storage space and sustainability.
As far as storage space is concerned, this has been a key focus area for homeowners with mostly small kitchens. The idea is to move towards more concealed storage spaces that maximize actual working space in the kitchen and make it more convenient to work in it.
On the other side, sustainability is more focused on using environmentally friendly, quality furniture, and products that we use in the kitchen.
So, how can you put all these, and many more, together, with a bit of personal touch to get an amazing design for your kitchen? Read on to find out.
Despite looking good on the magazines, open shelving is not the go-to for many homeowners. The main reason for this is that open shelving requires a matching set of appliances and kitchenware to fully blend in with the rest of the kitchen.
But is that entirely the case?
Having the right kind of shelves and good organization is what, rather, makes this cabinet design tick.
For instance, open shelving is great for smaller kitchens where an airy, roomy feeling is paramount. They introduce light and add an airy feel to the kitchen, which creates the illusion of space.
More importantly, open shelving is efficient. There are no doors to obstruct you while moving around in the kitchen, which increases your working space. Moreover, everything on the shelves is easily accessible.
Yes, you still have to be thoughtful about what you place on the shelves. Mismatching appliances can damage the overall aesthetics, making the entire design a big flop.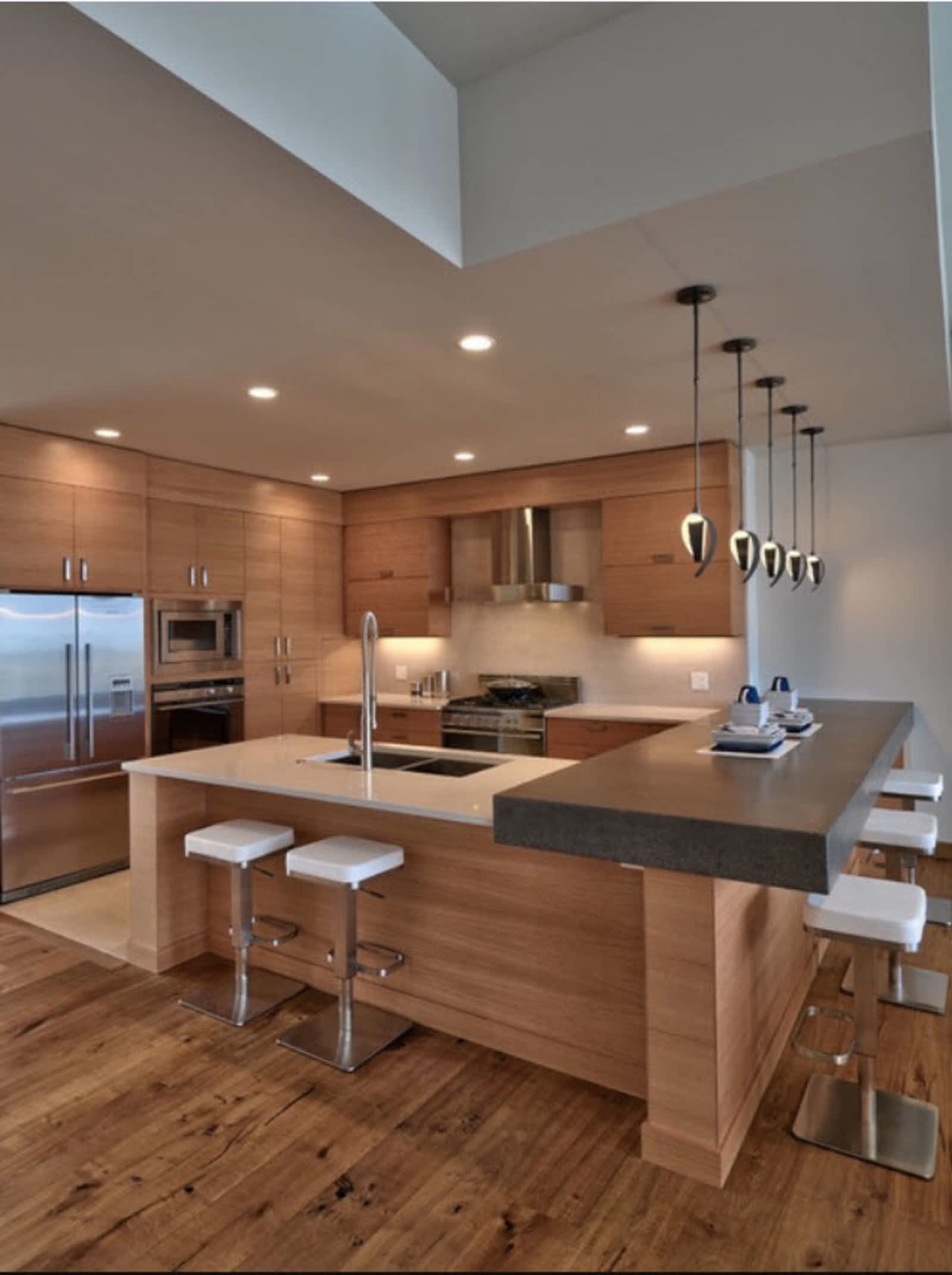 The use of oak wood for cabinetry is slowly creeping back to the bathroom and kitchen. In most cases, this design incorporates either driftwood or cerused finish.
But where did this design originally come from?
The use of oak wood for cabinetry traces its roots back to the '70s and early '90s. These cabinets were common in a honey spice stain and were a mainstay in many kitchens. However, the 2000s saw other materials such as cherry and maple get more popular over oak wood.
And even now, options such as painted MDF and wood veneer are the most popular.
So why use oak wood?
Given their vintage heritage, oak wood cabinets add a nice vintage touch to your cabinetry. This makes them the perfect choice for a retro-style kitchen. These cabinets add dimension, color, and texture to your kitchen, with a final touch of soft luxury that makes the kitchen look splendid.
If you intend to use oak wood, then you should blend such cabinetry with transitional styling.
What do we mean by transitional styling?
Transitional styling is where you add contemporary design elements to a traditional design, without losing the traditional authenticity of the design. This design suits anyone who loves modern minimalism but still craves the nostalgia of traditional design.
For instance, you can combine natural stones or natural stone-like tiles with white walls, or matchwood wainscoting with modern glass or leather furniture.
So, how far can I take this?
Well, that depends on the degree of blend you desire. Transitional styling can either be subtle or dramatic. For instance, you can incorporate European style cabinetry with ornate architectural detailing on the ceiling and walls of a pre-war building for a more dramatic style.
Still lingering around traditional design, shaker style cabinets are one of the most interesting kitchen cabinet designs you should check out.
This style of kitchen cabinet doors is usually characterized by a five-piece door, featuring a recessed center panel. However, the details of the design vary depending on the specific design you're going for.
For modern designs, slab drawer doors are the most common choice. On the other hand, if you're going for a transitional kitchen design, five-piece drawer fronts are usually the best choice.
5. Reclaimed Wood Cabinetry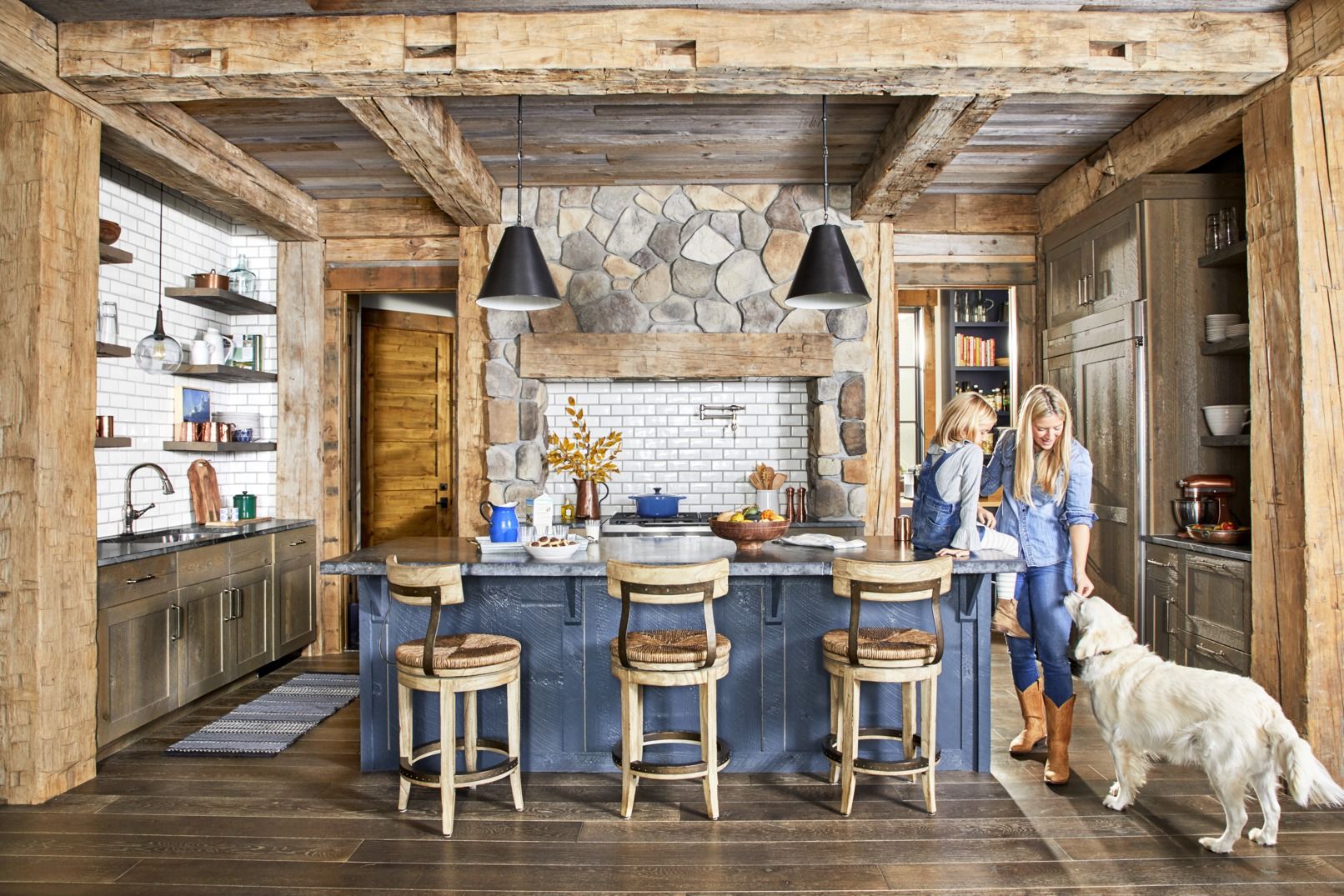 This style of kitchen cabinetry is born out of the need to be sustainable and eco-friendly, something that not only companies but also consumers are driving towards.
Reclaimed wood kitchen cabinetry uses wood reclaimed from bamboo to non-biodegradable material such as recycled plastic bottles. The aim is to not only provide sustainable solutions for kitchen cabinetry design but also improve material use and reuse.
Most reclaimed wood cabinetry features a rough hewn, natural feel. And thanks to better environmental awareness, more companies are making these pre-fab materials, making them one of the most popular kitchen cabinet design options at the moment.
6. European Style Cabinets
If you hate awkward center stiles and thick frames, then the European style cabinet should be your go-to choice. This cabinet design eliminates frames and center stiles, replacing them with thick cabinet boxes that have full overlay doors attached to them.
The result is a kitchen cabinet design that is frameless and full access. Moreover, it is one of the most modern kitchen designs you can get in the market.
European style cabinets are thus best suited for a contemporary design, where the emphasis is more on elegance and sophistication.
Specifically, the European style cabinets come in naturals, euro, or bylder versions. The naturals version uses Roma, paint, Modello, and wood to provide a natural finish. On the other hand, Euro is more leaned towards high gloss, textured, and matte finishes.
Finally, the bylder is the more affordable choice that features standard Thermofoil and matte.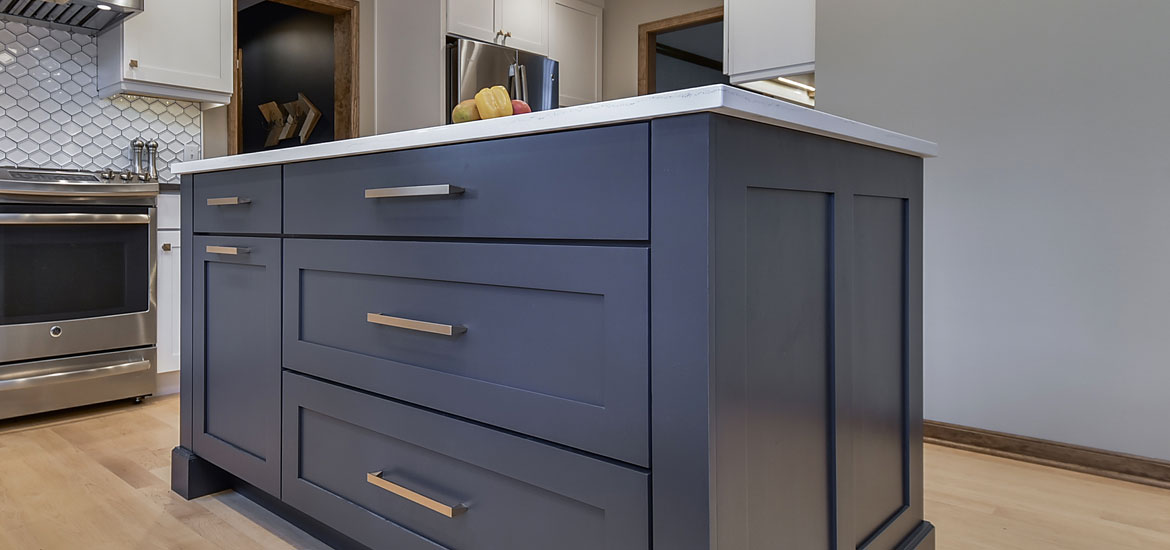 Color is used to express personality in design. And that is exactly what homeowners are going for when customizing their kitchen colors. This trend is so big, that some manufacturers are even allowing customers to customize their color choices on the cabinetry they buy.
So, which colors are the most popular?
Despite the uniqueness of each homeowner's choice, most of them are going for neutral colors such as tones of soft greens, grey, and yellow. However, the darker colors are still popular, with navy, black, and emerald green being among the most popular.
The light colors, otherwise known as the neutral colors, are more popular within contemporary design. They offer a soft, clean, and simple look that blends well with the minimalist theme common with today's modern kitchens.
On the other hand, darker shades are used to create drama and an extreme sense of luxury. However, they are not the most popular shades.
Source
Speaking of minimalist design, this has been one of the biggest and most influential kitchen design trends of the year. So much that kitchen cabinetry has significantly evolved under this wave. Currently, homeowners are opting for clean aesthetics in the construction of their kitchen cabinetry.
This is preferred over the ornate design seen prevalently in traditional kitchen cabinetry.
So, what is considered clean aesthetics?
Simple clean lines and panel doors featuring smooth edge profiles make up the modern kitchen cabinet. This low profile theme extends even to the cabinet handles. They come in low profile styles that don't demand too much attention.
In a modern kitchen setup, where this cabinet design shines best, the clean aesthetics complement other key components of the kitchen such as the countertop and the backsplash.
Want to be added to this list?
Click here
to bring up our submission form. We will be in touch shortly with feedback.