Designing a modern kitchen is a fun way to showcase your style and personality with popular colors. You can create a space for your home that's functional and usable. With the right design elements, shaker kitchen cabinets and a strong color palette, you can create the perfect modern kitchen.
What Is Modern Kitchen Design?
Some may define modern as anything that's not traditional, but modern can have a specific design style that's easy to identify. Modern design gained popularity after World War I, and featured flat surfaces, geometric shapes and sleek designs. For example, shaker kitchen cabinets work in modern kitchens as they are flat and unfussy, while cabinets with additional molding or adornments wouldn't fit in a modern space. Modern design also includes mid century modern, which is known for incorporating curves.
Another key feature of modern design is the blending of natural and man-made materials. It's not uncommon to see plastic or laminate paired alongside natural wood and granite, like plastic or lucite stools at a granite countertop kitchen island. You're also likely to see pops of bold colors, geometric patterns and other items that bring a lot of visual interest into your kitchen. Let's go over some of the modern shaker kitchen popular colors.
Shaker Kitchen Popular Colors
Gray
Greys work well in modern kitchens because the color has so much flexibility. You can use light or dark shades, treat it as an anchor to bolder colors, use it for added depth, or go for a completely monochromatic look in varying shades of gray. All of these styles can look perfectly modern. Cool-toned greys can pair well against white, blue or black, while a warm-toned grey can emphasize shades of cream, red or brown. If you're planning on doing a monochromatic gray kitchen, make sure to vary the shades, as well as the texture. You might opt for light grey shaker cabinets with dark grey marble countertops, with a glossy, mid-tone grey for your backsplash.
White
White is a no-brainer for any style of kitchen. All-white kitchens continue to be trendy, but for a modern kitchen you can use white to temper some of the bolder and brighter shades used elsewhere.You can opt for white shaker cabinets, marble countertop and backsplash, but add metallic fixtures, hardware and accessories in a gold or bronze to give more visual interest, plus the mix and match of materials that's so important to modern kitchens. If you want to keep things light and bright without staying all-white, you can opt for a light green or grey for your cabinets. This adds a bit more color to the room, but keeps the bright whites in focus. There is a reason as to why white is known for being the most popular color amongst shaker kitchen cabinets.
Red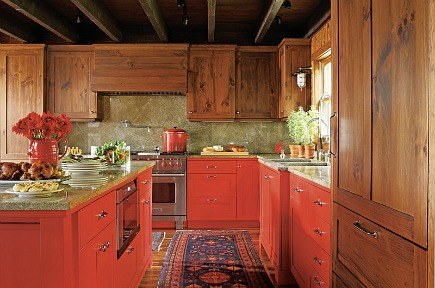 Nothing is bolder in kitchens than a pop of red. There are lots of ways to incorporate red into your kitchen. You can pair a bright, poppy red with black or dark grey for a classic contrast, playing with the finishes as well. Matte black cabinets with a glossy red backsplash creates a lot of visual interest and depth. You could also pair a warm, orange-red with lots of natural wood and a slate grey to create a nostalgic 70s look. If you'd prefer a more subtle color scheme, try just adding in pops of red to your kitchen in accessories like bar stools, pendant lights or the upholstered seating of your breakfast nook.
Green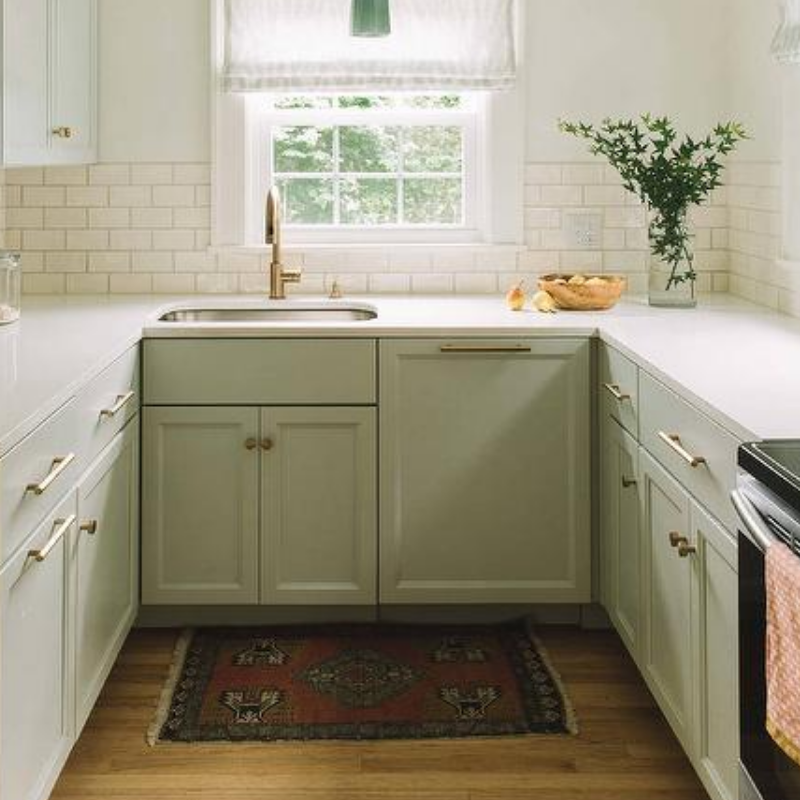 While seafoam greens are popular in cottage kitchens, and contemporary spaces often play with deep, dark greens, a modern room is one of the only places you can play with a bright, bold green. Lime green and chartreuse are vibrant shades that can easily look overwhelming, but with the right color strategy can be the perfect blend of retro and hip. Make sure to bring in lots of neutral colors like light wood and white or steel and concrete so that the green stays looking modern and sophisticated. Having the bulk of the room in neutral colors with just pops of your brighter shades will stop it from being overpowering.
Blue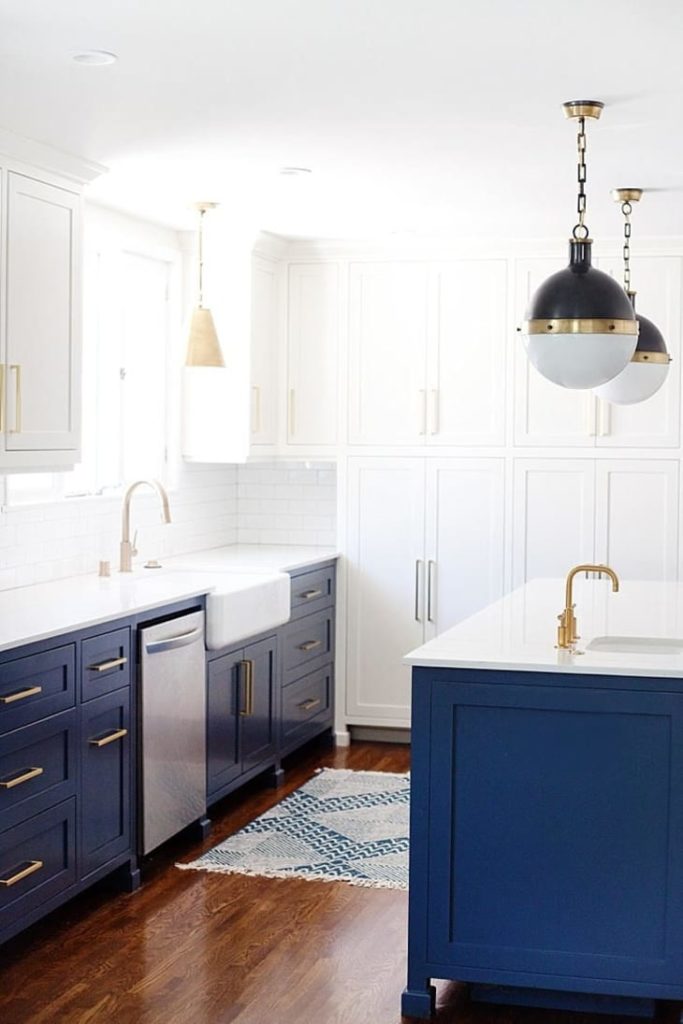 Aqua, pale blue, navy — virtually any shade of blue can work in a kitchen. The reason blue is so versatile is because it can pair with any range of colors, from the expected to the unexpected. You can go for something bold and energetic like aqua and red, something mature and earthy like teal and wood, or something clean and crisp like pale blue and white. Since blue is such an eye-catching color, it can be used sparingly and still receive maximum impact. A great, mature way to use blue for the most visual interest is to pair light tan or blonde wood cabinets with pops of aquamarine in a glass tiled backsplash, which draws the eye and creates a clean, simple kitchen.
Black
Bringing black into your kitchen is a foolproof way to make it look more modern. The use of black can be striking and bold, and it can be layered with other colors to keep it simple and sleek. You can do the classic contrast of black and white, with black cabinets and white countertops and accessories, or balance black with a warm, natural wood. Black also works well as a complimentary shade, helping other colors pop. You can bring black into a kitchen to make a red look bolder or a green more vibrant.
Color blocking
Why choose just one? Color blocking, where you use multiple solid colors on opposite ends of the color wheel, is a staple of modern design. The key to color blocking in your kitchen is to keep neutrals on hand to break up your color scheme and stop it from appearing too overwhelming or primary. You can choose a dark shade, like plum or maroon, with a vibrant shade, like aqua or chartreuse, and use neutrals like white, grey or natural wood to ground the color scheme. Red, blue and white are also a popular color blocked combo in modern design. Use a heavy dose of white and a variety of blue shades to keep it looking modern and adult, instead of like a child's playroom.