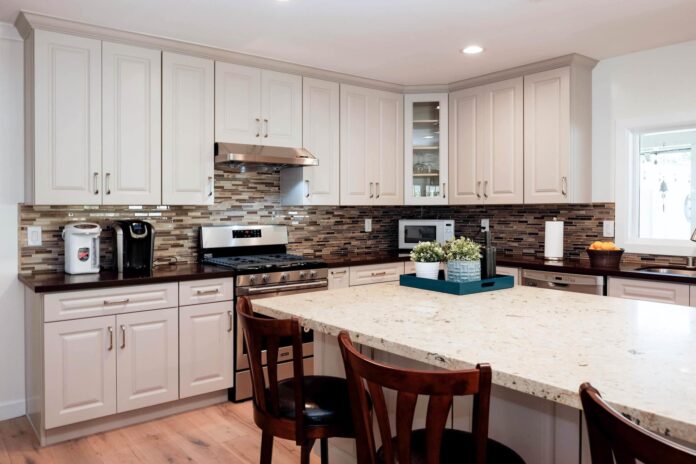 The most popular kitchens designs of 2020 are easily categorized by layout, colors, and new features. Layout trends often indicate a shift in new ways to play with space societal thinking, and it's interesting fun to see how current design and fashion is a response from previous trends changes over the years. New technology expands what is possible in the modern kitchen, turning us into at-home cooks through our appliances features advance yearly as technology does. For example, appliances we now take for granted were, at one point in time, highly sought-after features that cost a pretty penny.
Let's take a look at the 2020s most popular kitchen trends.
Layout
When examining the most popular kitchen designs in 2019, the first aspect to explore is the layout. The layout is the foundation that supports the rest of the interior design when it comes to function and fashion.
Islands – Islands, despite available space, have always been and continue to be a strong feature in any kitchen layout. New, larger kitchens now include two islands! Islands serve multi-purposes without wasting or taking up too much space. They provide storage, a working space that's larger in surface area than counters against the wall, and space for sitting, all in one!
Open Shelving

– The increasing desire for more space, homeowners, and designers are still leaning strongly into the open shelving concept in 2019. Open shelving gives the room the feeling more spacious, yet also appears to save space by not requiring closures.

Subtle Lighting

– Lighting is a big factor in the ambiance of a room. Tasteful, hidden lighting is the preferred method for kitchen builders and remodelers in 2019. While lighting functionally brightens a kitchen, subtle lighting highlights where we want to draw attention like a showroom.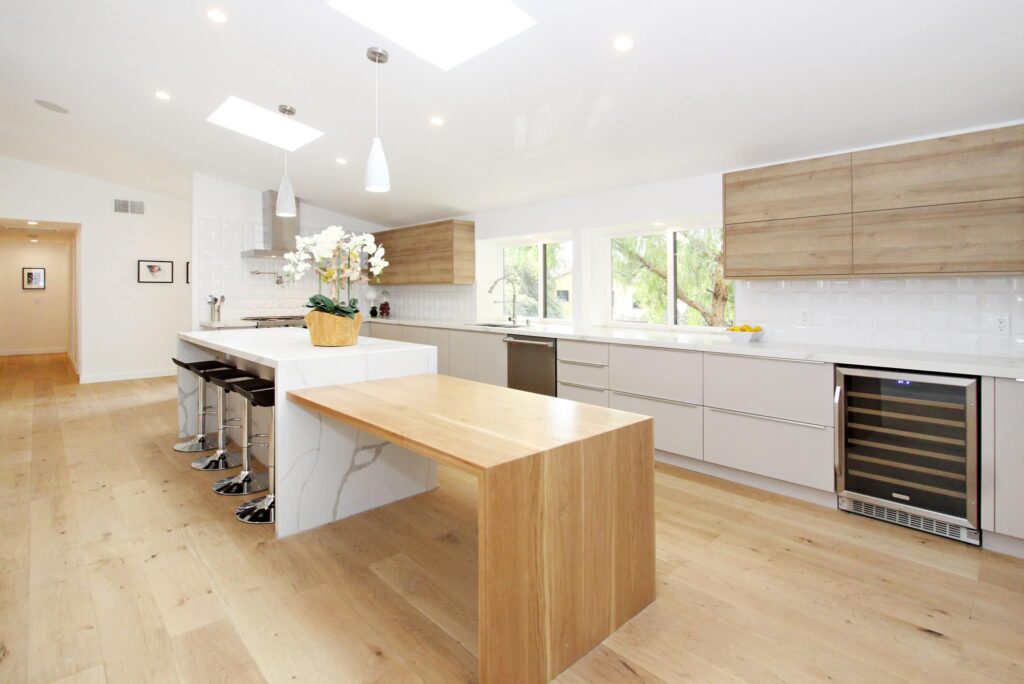 Color & Texture
A powerful aspect of design – perhaps the most key visual aspect – is the color. Color sets the mood and tone, over cleanliness, lighting, and overall feng shui. Trending colors in 2019 kitchens are listed.
Bold – Bold pops of color or bold clashing colors throughout the kitchen are on the rise in 2019. There's particular appreciation for the pops of bold color; bright yellows or oranges tastefully applied throughout the kitchen, but overwhelming clashing colors are becoming popular as well.
Delicate

– Pastels – not whites – have a growing fan-base in 2019 as well, providing a soft experience that doesn't overwhelm or place too much bias in its voice. Pastel kitchens depend more on the cleanliness, lighting, decor, and layout for ambiance and vibe and are a white alternative.

Shakers

– Shaker-style cabinets are continuing to increase in popularity due to their versatility in design style. Effortlessly neat looking, they go phenomenally well with both ultra-modern and traditional kitchens alike. Shaker cabinets are also uniquely featured in transitional interior design, an emerging style in its own right.

Two-tone cabinets – Instead of choosing between two colors for your cabinet, you can have both! Two-tone cabinets, specifically lighter cabinets on top and darker cabinets as bases are prevalent in interior design blogs this year. This adds depth to a kitchen.
Darker colors/ Matte black – We are swinging in the opposite direction of the all-white kitchen as people are entertaining darker colors and black kitchens. Darker colors such as grays and jewel-toned rich blues, greens, and even some red are featured. Instead of being bright and reflective, matte black is sophisticated, dramatic, and easier to maintain than all white.
New Features
2020 was a big year for us, technologically, and those advances have not missed the home design world. It's inescapable, thanks to its convenience, and it's infiltrated all aspects of our lives. Here are three ways we can see it in trending kitchens of 2020.
Connected Hub Wall Oven – Introduced as a concept appliance by Whirlpool, this has the glass oven door work as a transparent screen. The user can use the touch screen to select recipes and zoom in on the food to avoid the heat.

At-home sous-vide technology – Sous-vide, a technique often limited to chefs by vacuum sealing the food in the bag and cooking the bag and cooking to a specific temperature so your food will never be overcooked. We are seeing more epicurean technologies with machines performing specific cooking functions, turning the owner into an at-home chef.

Smartphone kitchen tools – There is an increasing number of smartphone tools with apps that make your time in the kitchen more convenient. Range thermometers attach to your smartphone to get the exact temperatures of your food. Refrigerator magnets and wastebaskets can now scan barcodes to make a shopping list of replacement items you need to order. We are looking at a future where the most important tool in your kitchen is your phone!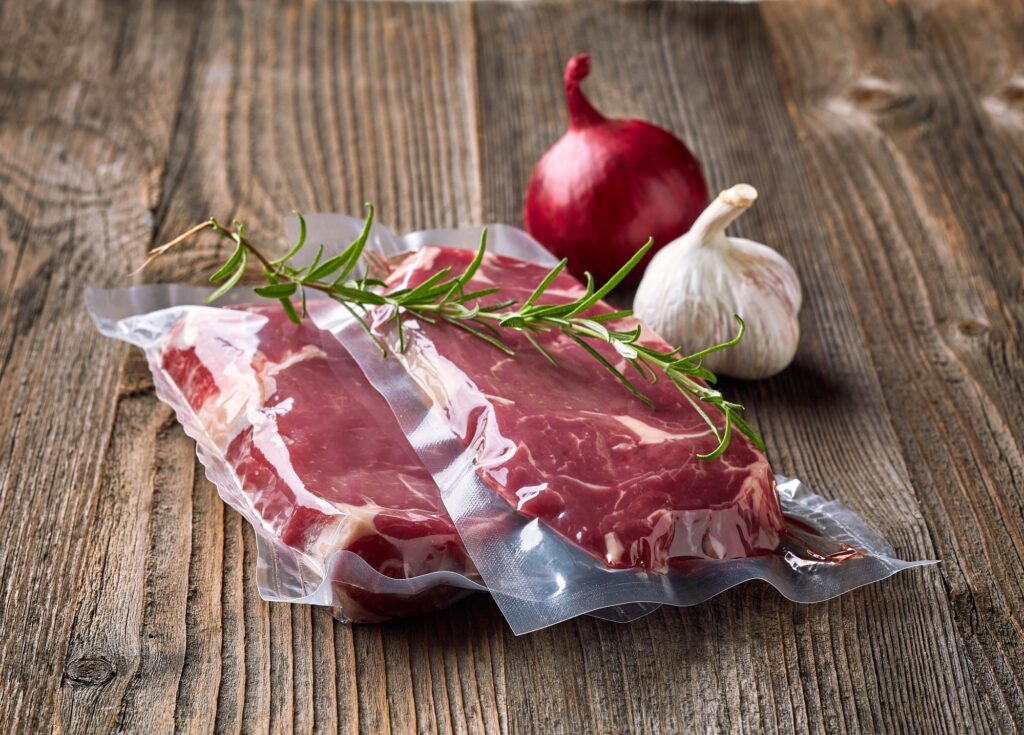 What are some popular trends you're applying to your kitchen? If you have any comments or suggestions. Please feel free to let us know.