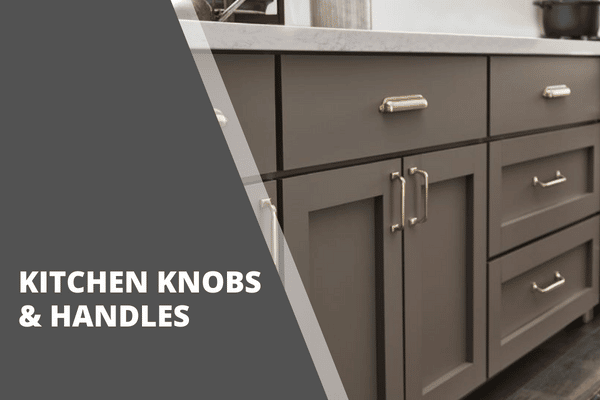 Kitchen cabinet handles are one of the most important details when it comes to kitchen design. Not only do they provide a functional way to open and close cabinets, but they also serve as a stylish accent. There are many different types of kitchen cabinet handles to choose from, and the best type for your kitchen will depend on your personal style and the overall look of the space. Some of the most popular kitchen cabinet handle materials include brass, bronze, and glass. When selecting kitchen cabinet handles, it is important to consider both function and form. Make sure that the handles you choose are easy to grip and use, and take into account how they will complement the rest of your kitchen décor. With careful selection, kitchen cabinet handles can help to pull your entire design together.
Materials & Finishes
There are a few things to consider when choosing kitchen handles for your cabinets. First, think about the overall style of your kitchen. Do you want handles that blend in or stand out? Second, consider the material. Would you prefer handles made of wood, metal, or plastic? Third, think about the size of the handles. Would you prefer large or small handles? Fourth, think about the shape of the handles. Would you prefer round or square handles? Fifth, think about the finish of the handles. Would you prefer a glossy or matte finish? All of these factors will help you narrow down your options and find the best kitchen handle for your cabinets.
Handle Sizes
Kitchen handles are one of the most important details on your kitchen cabinets. They come in a variety of styles, shapes and sizes, so it's important to choose the right ones for your kitchen. The first thing to consider is the size of your kitchen handles. If you have a small kitchen, you'll want to choose smaller handles. If you have a large kitchen, you'll want to choose larger handles. The next thing to consider is the style of your kitchen cabinets.
If you have a modern kitchen, you'll want to choose sleek, simple handles. If you have a traditional kitchen, you'll want to choose more ornate handles. Finally, consider the finish of your kitchen handles. You'll want to choose a finish that compliments the rest of your kitchen décor. With so many options to choose from, selecting the right hardware can be daunting. But if you take the time to consider your options carefully, you'll be sure to find the perfect set of handles for your kitchen.
Drawers
When choosing handles for drawers, it is important to remember that smaller handles like knobs and finger pulls are more difficult to open. Drawers are designed to store more weight than a regular cabinet, granting the user more ease of access. Thus, larger pots, pans, and cooking ware are commonly stored in large drawers. Having a knob or small finger pull requires more strength to open a larger drawer.
As a bank of drawers will commonly have 2-3 drawers vertically, having knobs on these cabinet faces can catch onto pants, baggy clothes and loose garments. This can be inconvenient for the homeowner and even having guests in the kitchen.
Lazy Susan
A Lazy Susan cabinet is not a typical base cabinet. These cabinets use a bifold door that closes with a magnet, different from a typical door with a traditional door hinge. Some modern style cabinet lines will also have a similar style door on the wall corner as well. For these cabinets, it is more advisable to have a traditional handle than a gimmick hardware. Handles like a leather loop will be harder to open on these specific cabinets. Finger pulls or other tiny minimalist handles will also struggle with opening the Lazy Susan door.
Gimmick Handles
Kitchen cabinet handles are a way to express your creativity in the kitchen, so some people may choose unique hardware compared to everyone else.
Should you get a unique or custom handle? Most likely not. In most cases, an obscure handle is not the most practical for daily use.  A kitchen handle is usually operated everyday if one cooks on a daily basis. If a handle is uncomfortable to operate or use, one cannot easily just swap out the handle. These are drilled into the door, so the homeowner would have to find a handle with the same screw hole that fits. 
When purchasing kitchen cabinet handles, it is always recommended to purchase 2-3 extra. At a home remodeling store or cabinet store, cabinet handles are exceptionally cheap and adding a few extra is not much. A custom handle may cost double a typical handle. This may not sound like much until you count how many handles are needed in a kitchen. On average, a basic kitchen can expect around 15 kitchen handles. At a high cost, someone purchasing new kitchen cabinets may be neglecting to add more unnecessary handles to the order. When problems arise, whether it's the handle being damaged or needs to be replaced in the long run, having that backup kitchen handle will be a blessing. You don't need to worry about finding the handle again or worrying if it is no longer manufactured.