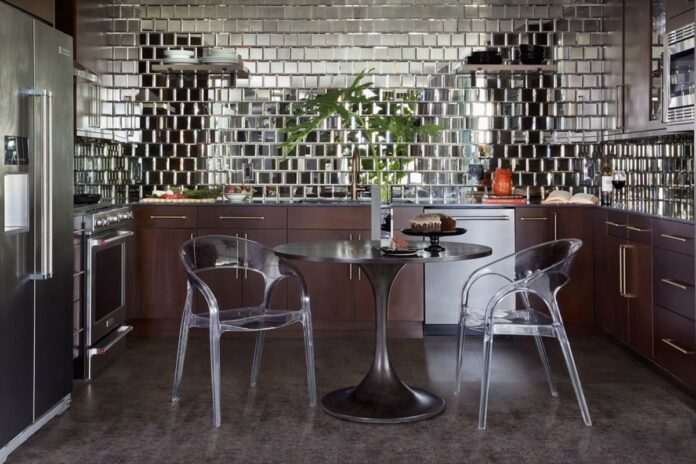 The European kitchen design is predominantly traditional. The drawers feature dark wood, open plan kitchens are rarely desired, and shiny metallic fixtures crown the entire space.
But what if you wanted to be more contemporary? Well, the European kitchen is designed to be historical, yet timeless. This means that while adhering to a few architectural rules will make your kitchen stand out as more European, you're not tied to a specific ruleset.
Just like any other kitchen, you can experiment with whatever you want, and personalize the kitchen as much as you want.
How? That's what you'll learn in this piece. Contemporary European kitchen design is a hot topic today. Many homeowners and interior designers are experimenting widely with different materials, layouts, colors, and tones.
Matte and eclectic designs, for instance, are becoming a thing. Pops of color, like sea green and daring hues, mixed with colorful appliances are also becoming trendy within the contemporary European kitchen design space in 2020.
Also, designers are getting more creative, bringing back some of the forgotten, old fixtures of the European kitchen, and reintroducing them into the modern world, with a modern twist to it. A good example of this is the metallic cabinets that went out of fashion well into the 60s, only to resurface in recent years. Silver-tipped light bulbs are also making headlines, as one of the 2020 kitchen design trends, including slab backsplash and high performance countertops.
So, the options are a lot. And, from this list, hopefully, you'll get a couple of ideas that will serve as great motivation. So, dive in.
Two materials traditionally make a European kitchen – wood, and stones. However, with contemporary design, you can experiment solely with concrete.
The great thing is, it produces stunning results. With this design idea, everything in the kitchen, from the flooring to the backsplash, should be made out of concrete. The only exceptions, of course, are the upholstery and appliances.
With this design, you have the option of going monochrome or mixing contrasting colors to create bright results. If you choose to go with a dark color such as ash gray, you can use your appliances to break the monotony. Shiny silver, in this case, would work magic.
Still, you can experiment with other brighter colors such as sunny yellow, for the stools at the kitchen island.
Traditional European kitchen designs embrace the use of natural materials to create stunning aesthetics. With a modern design, you can get more expressive, as a nature aficionado, by taking a nature-inspired design route.
So, how does that work?
Sourcing inspiration from this mansion, you can see how the ceiling and walls are covered in aqua blue, handmade glass tiles. This creates an underwater immersion effect. On the floor, the designer installed custom oak floors. These were put together in an almost Escher-like pattern.
The nature theme extends to the exhaust hood, which is colored forest green.
For the rest of the kitchen, the cabinets, for instance, don the color aqua blue. The same goes for the kitchen island and the seats, creating a fully nature-inspired kitchen that is still compliant to the European kitchen architecture.
3. Wooden Cabinets for the Baking Area
Speaking of traditional European kitchen design trends that are making a contemporary comeback, the wooden cabinet is a nice reincarnation of the past.
Great for not just the baking area but also all kitchen cabinets (if you're in love with the dark tone), the wooden cabinets give a trip back memory lane, to when wood stoves were used to bake bread in the morning.
However, instead of a dull finish, modern cabinets employ a subtle, lacquer finish. Typically, you'd have three rows of drawers. You can dedicate the lower row to storing pots and large pans. You can also add toe-kick drawers for cookie sheets, and some space for your blender and mixer.
As is, wooden cabinets can be a little bit dull. However, you can spice things up with a quartz countertop, donning an ash-gray color. The gray is bright enough to neutralize the dark wood, but not too bright to dim its aesthetics.
4. Matte Texture and Matte Finishes
Look around, and you'll notice a lot of matte is making its way into contemporary European kitchens. Yes, glossy finishes are great. They add glimmer and an attractive sheen to your kitchen surfaces. Matte colors, however, add sophistication.
This sophistication is what adds a modern and cool look to your kitchen. This can be applied to the countertops, backsplash, and even kitchen equipment such as the stove or pots and pans.
Currently, matte black is the trendiest matte color. Unlike glossy black, matte black is bold yet neutral. Also, matte black easily blends well with crisp light surfaces. This creates an amazing contrast between the dark and light shades, resulting in a smooth and polished aesthetic.
Colors have been used expressively in the modern world to convey taste and style. And as far as your modern European kitchen design ideas go, gold is a great, expressive color that you can use in your kitchen. A word of caution, however, this is not for every corner in the kitchen.
Gold works perfectly for kitchen islands, where a bit of extra shine adds great aesthetics to the island. Instead of using it everywhere, you can use it on the sides of the island. The mirror-finish not only adds glamor but also draws attention to other small details in the kitchen, for instance, a pendant light.
For this gold to work even better, you should consider a marble top, with a predominant color like pink.
The number of design variations you can have as far as the details of the kitchen are concerned is countless. However, the one thing that you shouldn't get wrong is natural lighting. If you want your European kitchen to look contemporary, you should allow in as much light as possible.
How exactly? By simply using clean lines, a simple color scheme, and graphics fixtures. Couple that with huge windows, and you'll have plenty of natural light falling into the kitchen.
7. Try Mirrored Backsplash

Source
The backsplash is one of the most critical kitchen design areas. Together with the floor, it sets the entire tone for the kitchen.
So, should you be experimental with it? Absolutely. And the most radical you can get is by incorporating a mirrored backsplash. The mirrored backsplash uses polished, reflective tiles to create a mirror effect. Now, this is where you need to pay attention. This design idea cannot be used with very bright colors.
Since you already have something very reflective, you need dark colors to complement the reflective tiles. So, instead of colors such as yellow or crimson, you should try cool gray for the floors. On the other hand, dark wood would be great for the cabinets.
Finally, you can get clear plastic or glass furniture and stainless steel appliances for the kitchen.
Source
If you want a completely dark design, then black lacquered walls and cabinets should be your go-to options. These are paired with a grasscloth backsplash that adds a bit of brightness to the kitchen.
This design works great with shiny metallic appliances, just like the mirrored backsplash option. The only difference is, you can go all out with creative pops of color, to add a bit of brightness to the overall design.
And, how do you achieve detail with an all-dark contemporary European kitchen design? Through notches and patterned edges. For instance, if you have a kitchen island, you can notch the edges of the island's countertop, thus showcasing intricate details in the design.
Want to be added to this list?
Click here
to bring up our submission form. We will be in touch shortly with feedback.