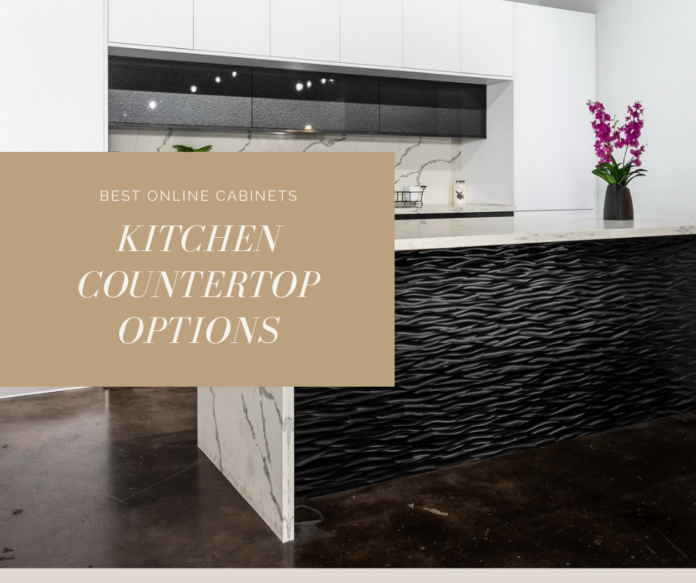 Most kitchen remodeling projects include the replacement of the countertop. Countertops get a lot of use in the kitchen so they must be durable but should complement the kitchen design as well. A custom kitchen countertop can come in a variety of materials, colors, textures, and prices.
When is it Time to Replace Countertops?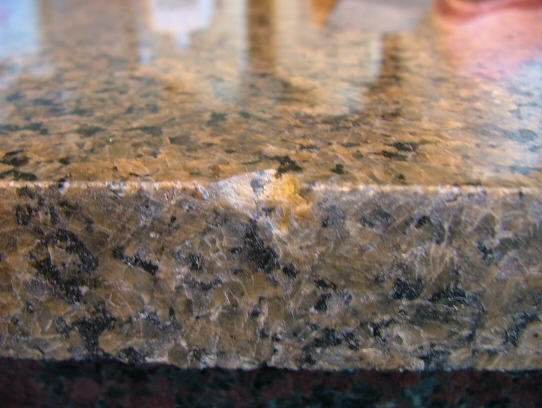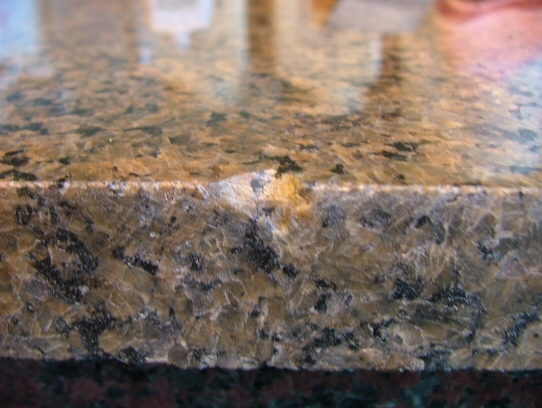 Countertops are usually replaced during a kitchen renovation. When they become damaged, cracked, or difficult to maintain, it is time for new ones. Before replacing them, it is important to research the types of countertops available and the cost. It is a good idea for the customer to understand what type of countertop will work best in their kitchen and be suitable for their use. The first step in the research process is to measure the existing countertop and determine the length and depth of each section. If an entire redesign of the kitchen is planned, then the measurements should be taken from the new layout.
Countertop Dimensions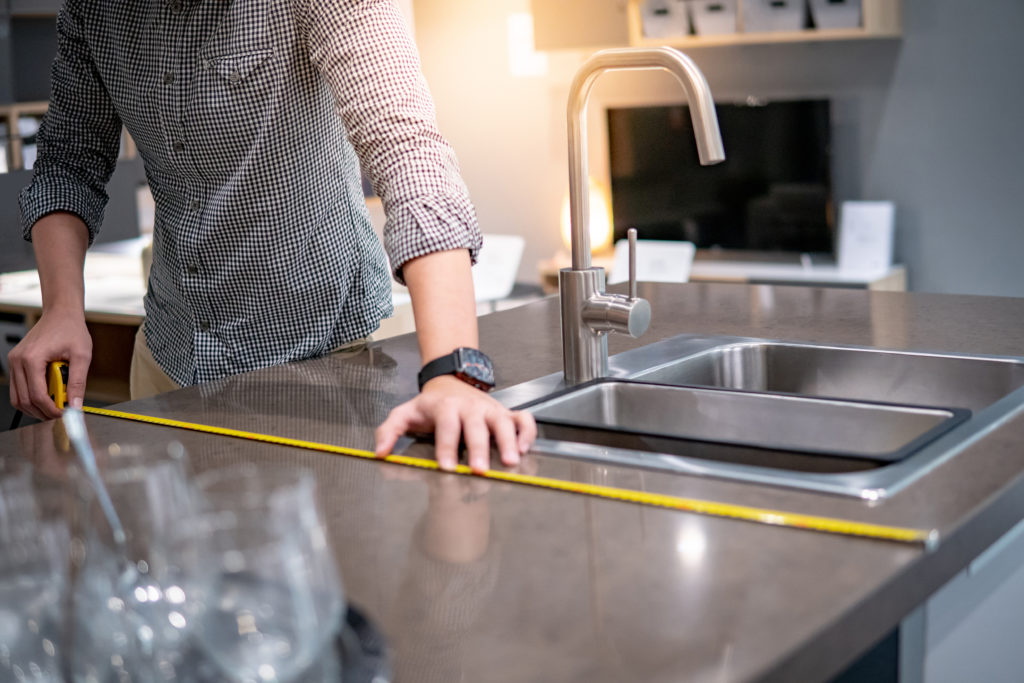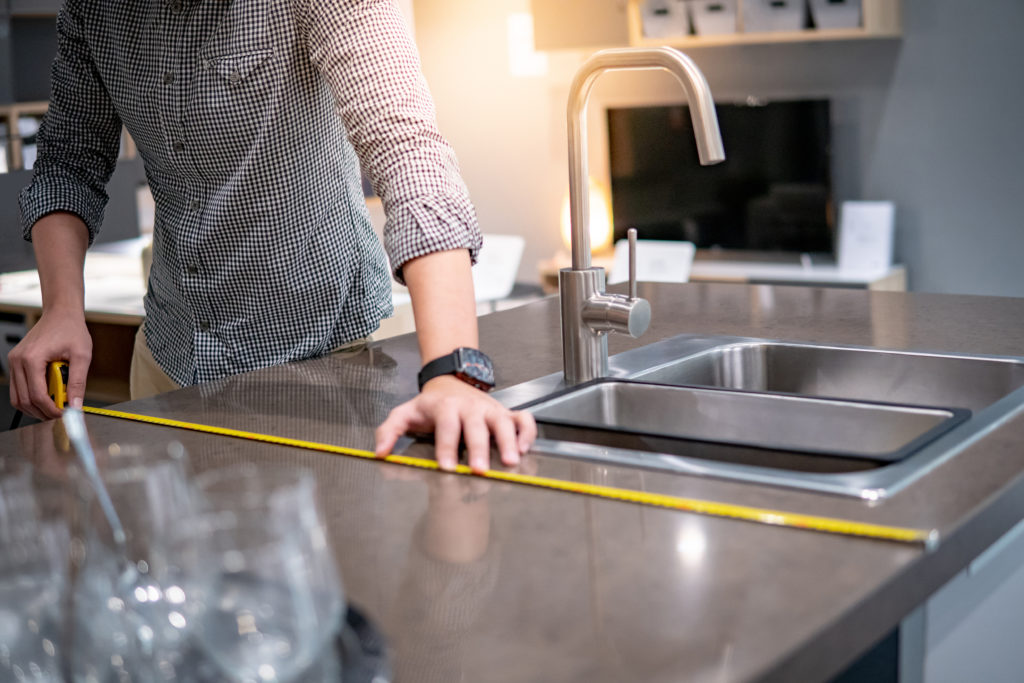 Countertops can be custom-made to the owner's specifications or can be purchased 'off the shelf'. While there are no standards for overall countertop dimensions, the width of a kitchen countertop is usually standard, with less than an inch of variation from one model to the next. The most common width is 25 inches, so many carriers sell countertops by the linear foot. These countertops are made to fit over a standard 24-inch deep base cabinet.
Some stores sell pre-cut countertops in standard lengths, for example 6 or 8 feet. Customer countertops in any length that will fit a specific space must be ordered and are not available for purchase right away.
The depth of the countertop ranges depending on the material. Most countertops are in the range of 1 inch to 1.5 inches deep. Stone materials such as quartz and are thicker so countertops made of these materials are available in ¾ inch and 1 ¼ inch depths. Thicker countertops are best for kitchen areas that get used often.
Kitchen Countertop Uses
Kitchen countertops are not only used for the sections to cover base cabinets. Countertops can be used on kitchen islands or peninsulas, which differ in size. They can also be used for a waterfall effect, which drops down vertically instead of stopping at the edge of the cabinet or island. This creates a flow which links the floor to the cabinetry.
A new countertop also means a new backsplash. The backsplash usually needs to be replaced at the same time as the countertop and should complement it. Some homeowners choose to use the same or similar countertop material for the backsplash but break it up by using a tile format rather than a slab. This creates a continuous look throughout the kitchen.
Tips for Choosing a Kitchen Countertop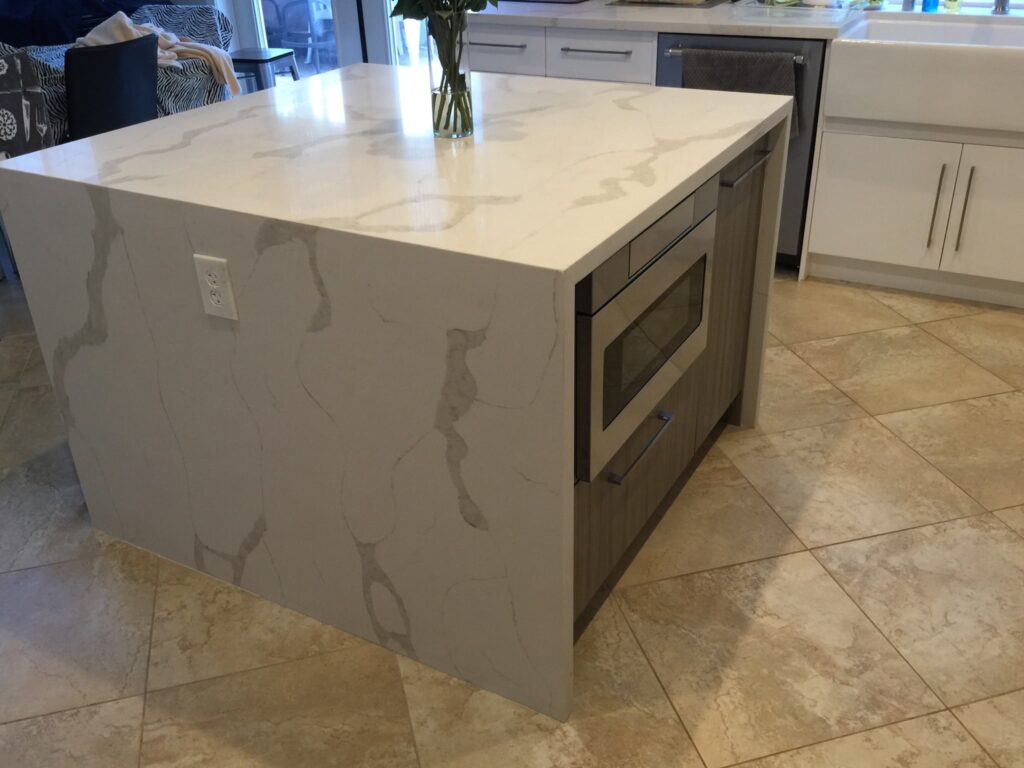 Before replacing kitchen countertops, the homeowner should consider all of the options that are within budget. There are advantages and disadvantages to all countertop materials so both maintenance requirements and attributes should be factored as well as the aesthetics. For example, granite and marble might need to be resealed and polished from time to time. Other countertop materials such as laminate are generally maintenance-free.
Homeowners should expect to spend about 10-15% of the kitchen remodeling budget on countertops and installation. Keeping within this range will ensure the homeowner does not overspend on the countertops.
Homeowners might also consider the design and use simultaneously. For example, a different color countertop on an island can differentiate workspaces and add to the design of the kitchen. Colors and trends will change so homeowners need to choose one that they can live with for years to come. If the homeowner intends to sell, the countertop should not be too trendy as it will not appeal to future buyers and should complement the kitchen cabinets and the overall style of the kitchen.
Tip: If you are swapping out just the countertop and the new one is substantially heavier, make sure the existing cabinets and floor can support the additional weight. The cabinets should be able to withstand the weight of a heavy countertop, but might require reinforcement at the base, sides, back and top.
Countertop Materials
There are a variety of countertop materials to fit any customer's preference, use, and budget. Since the countertop is an investment that does not get replaced often, it is recommended that the homeowner take careful consideration of all options.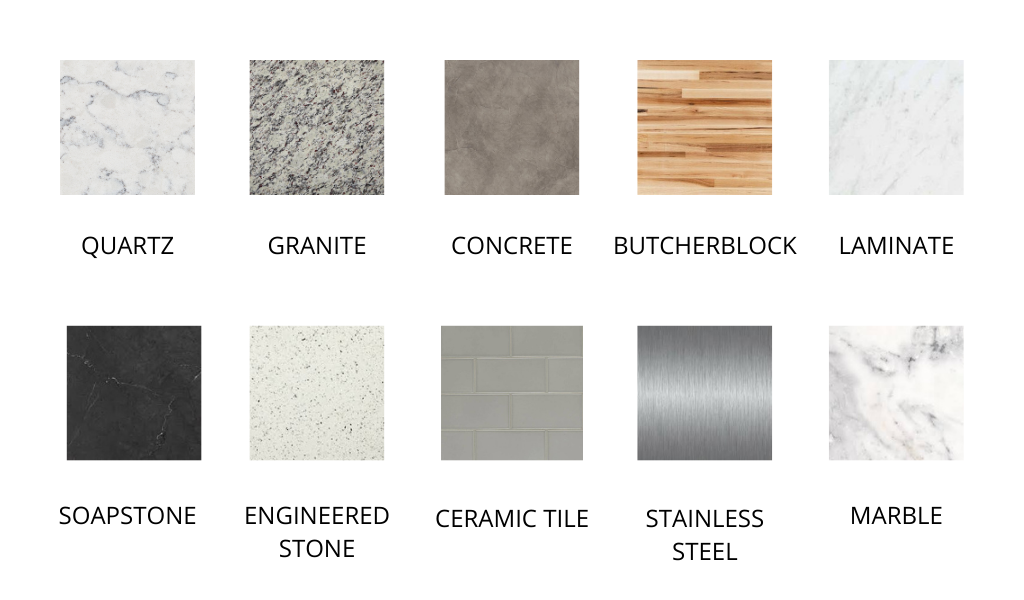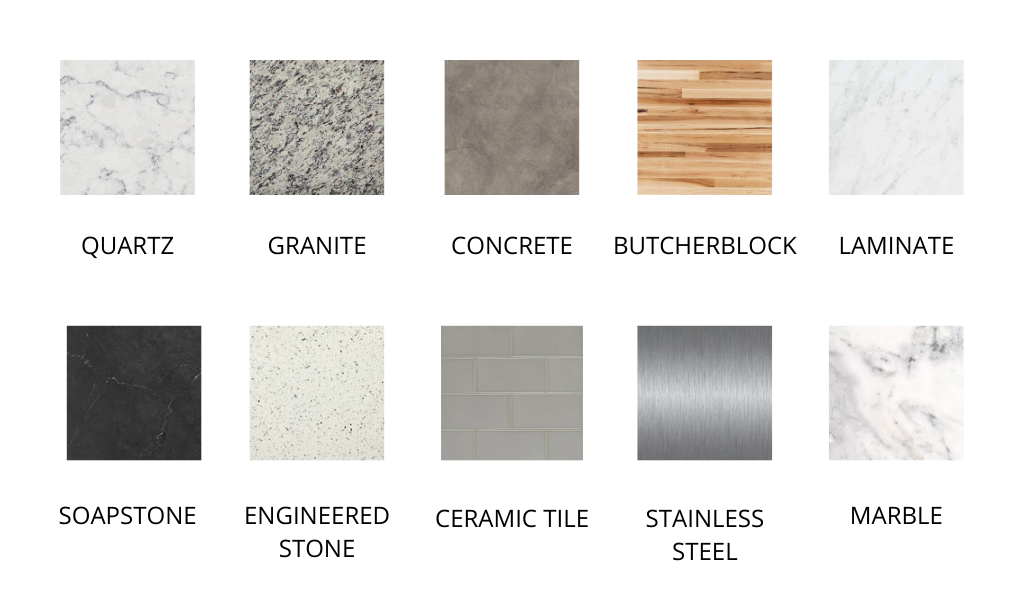 Quartz
A type of engineered stone, this countertop contains about 93 percent quartz particles and the remainder is resins. The slabs are uniform. Quartz is considered by some customers to be better-performing than granite as it also resists scratching and staining. Available in a variety of colors, some look like marble, with similar veining. Quartz does not require sealing so it is lower maintenance but can be damaged by chemicals like bleach. These countertops are very heavy, and expensive. Cost: $50-$100 per square foot installed.
Granite
Granite countertops are usually viewed as the material of choice when there are no-cost considerations. This stone has variation in its color because every piece is unique. With nearly 3,000 different colors and types, every homeowner can find one to suit their tastes. Even a modest kitchen can appear more high-end with the use of granite. It can also add value to a kitchen. Homeowners should be aware that seams are more evident in granite and hot substances can stain unsealed tops. Overall, however, it requires little maintenance other than occasional re-sealing. Cost: $75-$125 per square foot installed.
Concrete
Concrete can be a good choice for a unique countertop and provides a modern look. It is custom formed which adds to the cost. There are many textures and colors within this type of countertop. While concrete tends to crack, new technologies can reduce the tendency to crack. Since the surface is porous it must be regularly sealed. Cost: $60-$120 per square foot installed.
Butcher Block
Wood countertops add warmth and depth to any kitchen. They come in a variety of colors and finishes. Maple and oak are most often used as wood countertops. These countertops can last a long time if properly maintained and can be sanded and resealed when necessary. The surface can be damaged by knife cuts or water stains over time. Wood countertops are higher maintenance than some other materials as the wood can crack if it is not oiled and sealed often. Cost: $40-$100 per square foot installed.
Laminate
Laminate is one of the least expensive countertop options, however, it will chip and show scratches and may not last as long as other options. Laminates are plastic-coated synthetics with a smooth surface that is easy to clean. These countertops have become more popular in recent years, especially with retro designs in mid-century modern kitchens. DIY homeowners can even install themselves. However, there are a few disadvantages to choosing laminate. Hot items like pots cannot be placed directly on laminate, and any damage such as chips or scratches are impossible to repair. In addition, seams in laminate are always visible. Cost: $40-$65 per square foot installed.
Soapstone
Soapstone is a natural stone that is softer than granite. It is usually a dark rich color with a smooth surface. Soapstone can be seen in both historic and modern houses. Over time, it becomes similar to an antique-like patina. Soapstone is more susceptible to stains and scratches and must be maintained with mineral oil. Cost: $58-$75 per square foot installed.
Solid Surface
Solid surface countertops, which are made from acrylic and polyester blends, are available in a wide range of colors, textures, and styles. This type of material is nonporous, which makes them ideal for food preparation since they do not stain. They can be formed into any shape or size and are durable. Burns and scratches can be sanded and buffed out. Homeowners who do not like to see the seams in their countertops will prefer this type of material. A solid surface countertop is a great option for a mid-range kitchen renovation. Cost: $45-$75 per square foot installed.
Engineered Stone
This countertop combines natural stone with solid surface materials. About 95 percent of engineered stone countertops is from crushed natural stone, like quartz, and the remaining 5 percent is comprised of synthetic resins. The advantages are that they are nonporous and scratch and stain-resistant. They are very durable with a hard surface but can be slippery and cold. Cost: $65-$85 per square foot installed.
Ceramic Tile
Ceramic tile is less expensive than some other countertop materials. Made from individual clay-based tiles that are adhered to a cement board core, it is durable and easy to clean and can be installed by a DIY homeowner. Porcelain tiles are now available in many different design options and can mimic marble or wood. However, the grout lines between the tile can be hard to clean. Larger tiles can minimize the number of seams to make it easier to keep clean. Cost: $35-$40 per square foot installed.
Stainless Steel
No longer solely for restaurants, stainless steel brings a modern aesthetic to a home kitchen. Stainless steel countertops are heat resistant. They are made to specifications so the countertops will not have seams. They are also easy to clean and are germ resistant. On the downside, these countertops can be noisy and can scratch easily. Cost: $35-50 per square foot installed.
Marble
Marble is another natural stone option but does have limitations. Its unique appearance with veining is highly sought after by homeowners. It is relatively soft though and stains easily so it must be resealed often. It is also one of the more expensive materials. Marble is most likely not the best choice for a large family that uses the kitchen for many different activities. Cost: $40-$100 per square foot installed. Choosing a material for a kitchen countertop is a huge decision because of its impact on the kitchen's design and function. A countertop that is chosen after a thoughtful decision process can add value to the homeowner in its functionality and to the overall aesthetic of the kitchen. The range of materials that are available for kitchen countertops is diverse and one can be found to fit any budget.