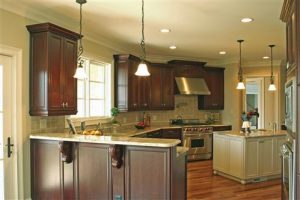 If you are renovating your kitchen, you will have to make a decision between three different styles to use in your home. While looking for the cabinets, you need to ask yourself if you are looking for semi-prefabricated, prefabricated or Custom Assembled Kitchen Cabinets. In case you are concerned about the budget, you should go for semi- prefabricated or prefabricated cabinets since they are cheaper compared to custom made cabinets. They also take less time to deliver if you are looking to have the cabinets assembled faster. Features that dictate the price of kitchen cabinets.
The custom cabinets are made according to the specifications you give or according to the kitchen designs. They are normally made in high quality finishes and materials and they meet your needs. You can choose the layout, the inlay and the type of the cabinets' design you wish to have with the colour that will match your kitchen. Since they are made just for you, they will make your kitchen to have a distinct and upscale feel and look. However, these types of cabinets take longer to make compared to Pre Assembled Cabinets (KITCHEN) since they have to be made from the scratch. They are more expensive because of the materials and labour needed. However, the price will vary greatly based on the company, carpenter, features, size and materials you want for your cabinets.The difference between prefabricated and semi-prefabricated kitchen cabinets.
The prefabricated cabinets are the right option for someone who wants to stick to the budget. They are normally mass produced by the use of lower quality materials. They can be found in different finishes, styles and sizes and they can be sent to you the same day or in few days after your purchase. The prefabricated cabinets normally offer a specialized option and it can be the ideal solution for people who have a limited budget.
Semi- Prefab Kitchen Cabinets, they are a hybrid between the prefabricated and custom cabinets. They have a few more options in the storage features with the style and designs compared to the prefabricated counterparts. They offer a great range of finished and wood choices. They have added functionality like vertical dividers, swivel shelves and shelves. The semi-prefabricated cabinets normally take longer to be made and to be delivered compared to the prefabricated cabinets. Semi-prefab cabinets cost more than the prefabricated cabinets but still cheaper to custom cabinets.
Prefabricated kitchen cabinets are available in different varieties
The Pre assembled Cabinets are still available in different colours and finishes. It is not true to say that they are available in limited choice compared to buying custom made cabinets. Even if you may not choose how the cabinets will be built, you can still choose among a wide range of the cabinets that are available and you will still find the one that suit better your requirements and your kitchen decor. Before you buy any prefab cabinets, you need to be aware of the finish and quality of the materials used. If you do not have the idea of what to look for, you need to consult the expert. You can start your search for the prefab cabinets online so that you can have an idea of what to look for in your local store. Before you buy the cabinets, know the width and height of your kitchen.