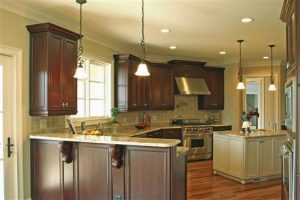 When you buy kitchen cabinets online there are several issues to keep in mind and consider appropriately. For example, the most important thing is your budget, so set your spending limits and stick with them. Next, consider the available space. If it is dark in the kitchen and there isn't very much natural lighting available you'll want lighter cabinets however, if the space is large and bright, dark cabinets might be more to your liking, which is also another consideration. The buyer must like the cabinets so what would be your style and the style of the home where the cabinets will be hung?
Once you have thought about these considerations you'll be ready to buy kitchen cabinets online. There are dozens of different colours and styles to choose from. White shaker is always a nice choice but darker colours like espresso, Swiss mocha, and dark cherry look amazing in large spaces. If somewhere in the middle of light and dark is best for you, maybe maple, birch, honey, or beech will catch your eye. Any of these finishes would make a great choice for any home. It is all up to the person who will be using the kitchen the most. The kitchen should be an inviting place where the entire family wants to gather. Make sure that the cabinets are functional as well as beautiful.
When you've chosen your finish you will need to measure the intended area before you make your final purchase.
Measuring could be tricky so use the design tips, tricks, and templates that are available online. You always want to measure at least twice and visualize where the cabinets and appliances will go. Draw a picture of your kitchen if it helps. If the space is empty, it may also help to tape off the areas where the stove, dishwasher, island, and refrigerator will go. Once you have the correct measurements you can order the right cabinets for the intended space.
Buying kitchen cabinets online is an easy process. You have to take your time and stay on budget to get exactly what you want and need. Measuring accurately will ensure a perfect fit every time. With a bit of proper planning it won't take long for your kitchen to be fully functional, comfortable, and looking beautiful.