Shaker cabinets are a popular choice in renovations thanks to its timeless style. Not quite traditional and not quite modern, the simple and flexible design lends itself to all kinds of homes and styles. Shaker cabinets, named for the Shaker community which innovated them in the 1700s, are also known for being high-quality and made from the strongest wood. The cabinets would have a straight-edged and uninterrupted rail, uncomplicated knobs or handles, and rectangular doors.
While the simple, timeless design makes them ideal for many homes, shaker cabinets can also work well in compact kitchens. Check out the best ways to utilize shaker cabinets in a small space kitchen.
Open up space
White kitchen cabinets are still the most popular color choice for kitchens, and ones with less space benefit from the light, airy design. Small spaces look larger with light, bright colors that reflect the natural light. White cabinets are simple and clean, which pairs well with the shaker cabinet's design. Shaker cabinets also tend to look more polished and refined when painted white, whereas other styles could look unfinished. You could also opt for a light-colored wood like maple or oak.
But remember, there are a lot of different 'shades' of white out there! Check out these tips for picking the perfect white paint for your cabinets.
Go all the way to the ceiling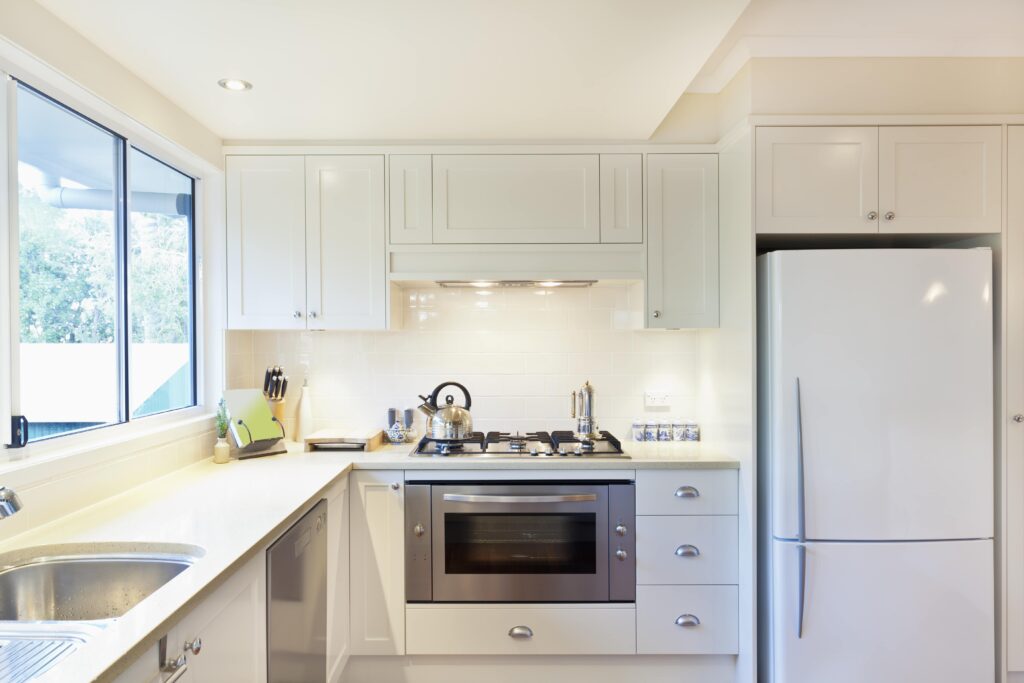 Elongate the look of your kitchen by taking cabinets all the way up to the ceiling! While stopping cabinets a foot short of the ceiling is a common way to display vases or nicknacks on top, the extra storage of more shelves is always worth it in a small space! Make sure to check your ceiling height — tall ceilings (10 feet or higher) can make the larger cabinets look overwhelming, but with the standard 8-foot ceiling they can be an aesthetically pleasing choice. Since shaker cabinets have a simple design, they're also less likely to look imposing.
You may also want to consider the cabinet height from the countertop. The standard distance from the top of the counter to the bottom of the wall cabinet is around 18 inches, but raising the space to 24 inches above the counter, which is common in Scandinavian design, can create a more open and light-filled space.
Add space, not bulk
In small spaces, you need to maximize the space you have and avoid adding any unnecessary clutter. One way to add storage and countertop space is by adding a kitchen island with wrap-around cabinets. Since shaker cabinets are clean and unfussy, they won't add bulk where space is already tight. The last thing you want to do is clutter your countertop space. Another way to eliminate bulk is with minimalist hardware. Very small or narrow galley kitchens can feel even tighter when you have to duck around large, protruding handles or knobs. A more simple design can also help shaker cabinets fit into modern or transitional-style kitchens.
Mix and match
One benefit of shaker cabinets is that they can blend seamlessly with other styles. You can mix shaker cabinet doors with solid slab-front doors. These are good for smaller doors, and the mix of the two styles breaks up the uniformity of the kitchen. Another bonus is that slab-front doors can be cheaper than doing the kitchen in all-shaker cabinets. Many ready to assemble cabinets have the fronts separate from the cabinet body. If you're looking to save budget costs, you can also mix and match customized shaker doors to off-the-shelf cabinet boxes for a more affordable option. Some companies even make cabinet fronts that perfectly fit Ikea boxes so your kitchen can have a custom, boutique look without the massive budget attached.
Draw the eye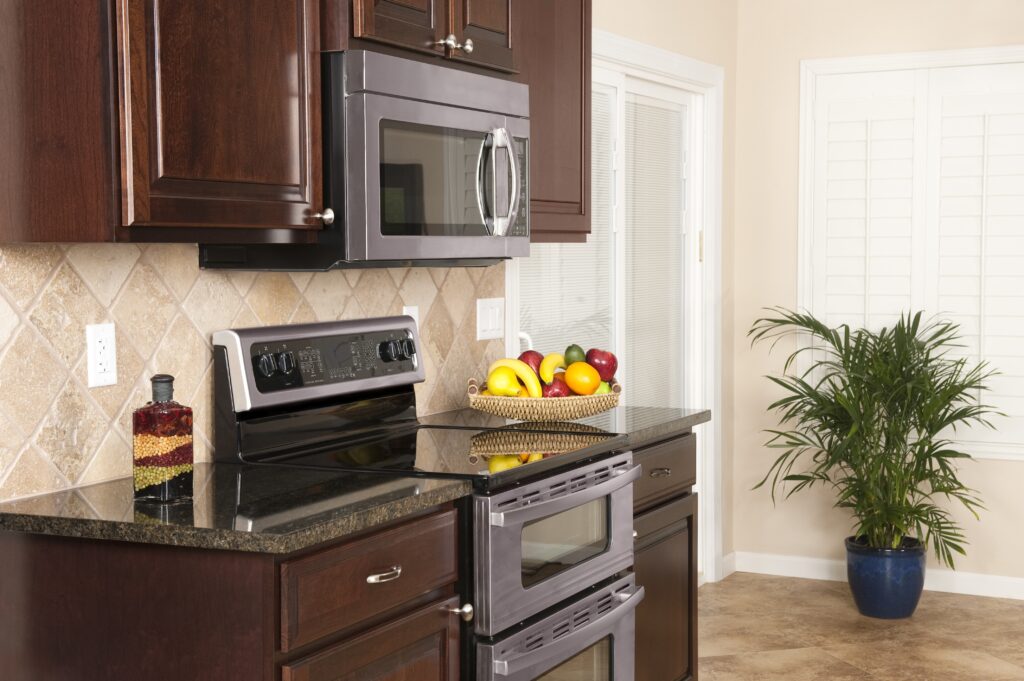 A bold cabinet painted in a deep navy hue with gold pulls could easily be the focal point of your kitchen, but if you've got a detailed backsplash or colorful appliances, it could easily overwhelm and make a kitchen look cluttered. The clean look of a shaker cabinet means they can pair easily with many different looks and styles, and help draw the eye towards your desired focal point.
Thanks to the timeless style and versatility of shaker cabinets, they are a worthwhile investment in your upcoming kitchen remodel and can fully transform your small space kitchen.