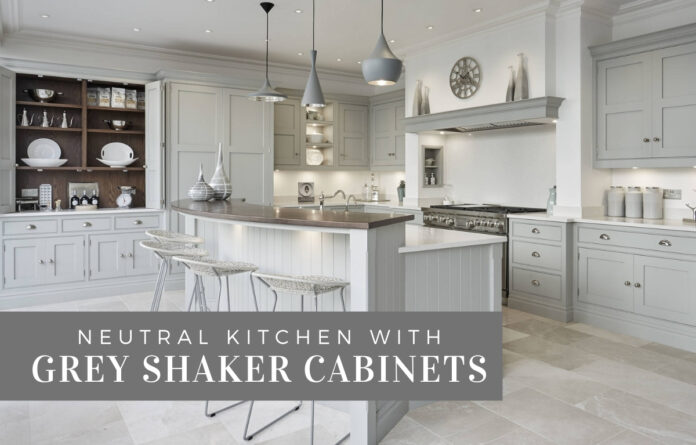 One of the leading neutral kitchen trends is grey shaker cabinets, a combination that is versatile and stylish. The flexibility of gray means it can work in any kitchen, from a crisp and clean space to a cool and moody home. Pairing that with a classic cabinet style that fits perfectly into your home is a winning combination that can be stylish and eye-catching. By styling your gray shaker cabinets, you can create a beautiful kitchen that is anything but neutral.
Dramatic Black Appliances Make Gray Cabinets Stand Out
An easy way to create a sleek and sophisticated space is by pairing your gray shaker cabinets with modern black appliances. Gray and black naturally look good together since the colors are so similar. It creates a low contrast palette, particularly if your cabinets are a darker gray or charcoal shade. You can add in black countertops to keep the space grounded, or choose countertops like marble that contain gray.
Use A Blue-Toned Gray To Bring In Color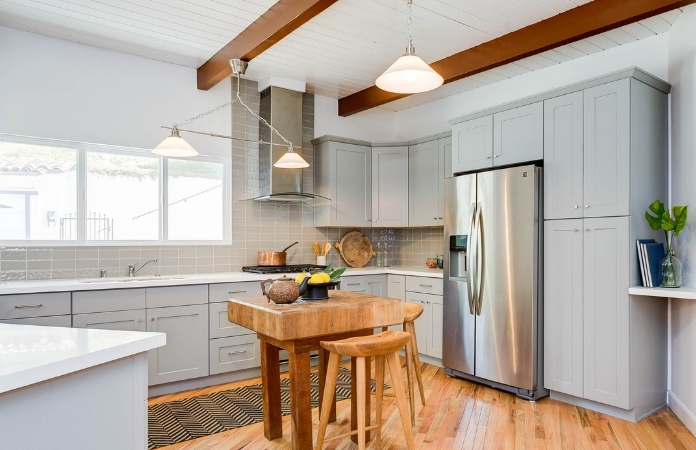 Gray doesn't mean colorless! You can create an elegant kitchen by using a shade of blue-gray on your shaker cabinets. A deep shade of blue-gray is moody and striking, and pair particularly well with metallic hardware like nickel or gold. Lighter shades of gray-blue can bring in more of a feeling of a French country kitchen. You can pair it with a light countertop and classic hardwood floor to complete the look.
Make Your Space Look Big And Bright With White
Now, white is a versatile color that works in just about any space. But using white isn't a cop out! In fact, a white countertop can offset gray cabinets to create a stylish space. A sleek white marble can brighten the space and create an illusion that makes your kitchen look even larger than it is. If you're working with a smaller neutral kitchen, you might want to use a lighter shade of gray on your cabinets as well, as a stark contrast can make a space look smaller. However, if your kitchen is already big and airy, a charcoal gray shaker cabinet paired with a white granite countertop and backsplash is a chic alternative. If you're worried that a lighter gray paired with white backsplash will look too bland, try getting creative with your tiles. Subway tiles with dark grouting brings in more visual interest, or unique shaped tiles like seashell or diamond patterns can make an eye-catching display.
Bring In Bold Colors With A Striking Backsplash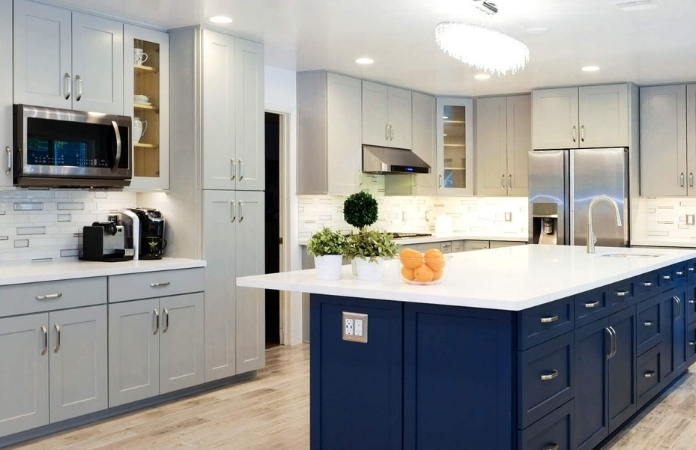 If you want to create a bold modern or contemporary kitchen with your gray cabinets, a solid colored backsplash is the way to go. You can use a tiled backsplash in any color to create a dramatic look. When choosing your color palette, think about the overall look you want to create. A bright red will look modern and dramatic, yellow can be warm and inviting, and blue will be a cooler look. You can add in stainless steel appliances to create a futuristic feel.
Create A Two-Tone Neutral Kitchen By Bringing In An Alternate Color
If you're worried that an all-gray or monochromatic neutral kitchen could look too drab, you might want to opt for a two-tone kitchen. You can create a contrasting look by having darker gray on your lower shaker kitchen cabinets with white on the upper cabinets. This method can be adapted no matter what style you want to keep your kitchen in. A modern farmhouse kitchen could use a warm toned shade of light gray on the bottom, while a Scandinavian style kitchen might opt for a blue-gray shade. Pull in a neutral stone countertop to complete the space.
Warm Up Your Space With Shades Of Brown
An unexpected way to style your gray kitchen cabinets is by bringing in shades of brown. This can warm up the space and create a truly unique kitchen. Bring in warm-toned lighting which will create an ambiance and allow the grays and browns to blend together seamlessly. Make sure to use natural woods where possible, like hardwood floors or exposed ceiling beams, if you have them. Use a beige or cream-colored backsplash to keep the kitchen from seeming too dark.
Use Concrete To Create An Industrial Space
Industrial-style neutral kitchens bring in utilitarian design and raw materials. Gray shaker cabinets can bring the utilitarian flare, while accents made of wood, glass and galvanized metal can complete the look. If you are lucky enough to have exposed brick or ceiling beams in your home, then industrial style is a perfect choice for you. You can also add a concrete countertop to finish the look. Concrete countertops are functional and durable and can create a simple, monochromatic look with your gray shaker cabinets.
Use Patterns To Make A Charming Farmhouse Kitchen
The rustic, minimal look for a Farmhouse kitchen is a trend that has been in style for a while now and does not seem to be going anywhere! Gray shaker cabinets can work in a Farmhouse neutral kitchen because they can have a traditional look and feel. The style is defined by not looking too polished: Farmhouse kitchens might have mismatched colors and textures, weathered-looking paint and kitschy vintage decor. An easy way to create a Farmhouse style is by bringing in patterns. You can use a patterned tile as your backsplash, add patterned wallpaper, and keep patterned tea towels on display. The patterns don't have to be the same, but keep the same color palette to make the room appear cohesive.