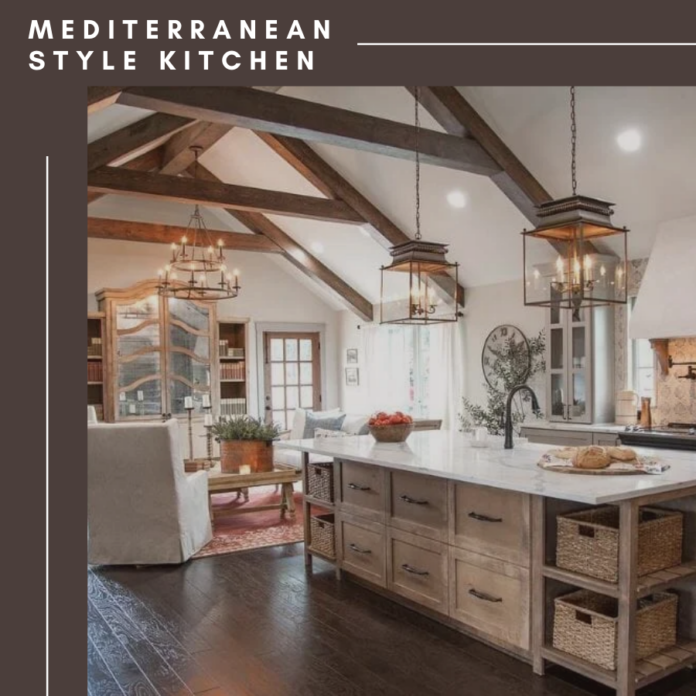 Homeowners that want to evoke an old-world style might consider a Mediterranean-style kitchen. Mediterranean influence kitchens get the architecture design influence from countries like Italy, Spain, and Greece. Elements like dramatic open spaces, exposed beams, and tile work make these kitchens impressive, yet there is a warmth to space using colors and textures. A Mediterranean kitchen design is appealing to homeowners that prefer a relaxing atmosphere and luxurious, beautiful touches. This style is not as standard as some other kitchen designs; however, it can be a beautiful space in the home.
What is Mediterranean-Style Kitchen Design?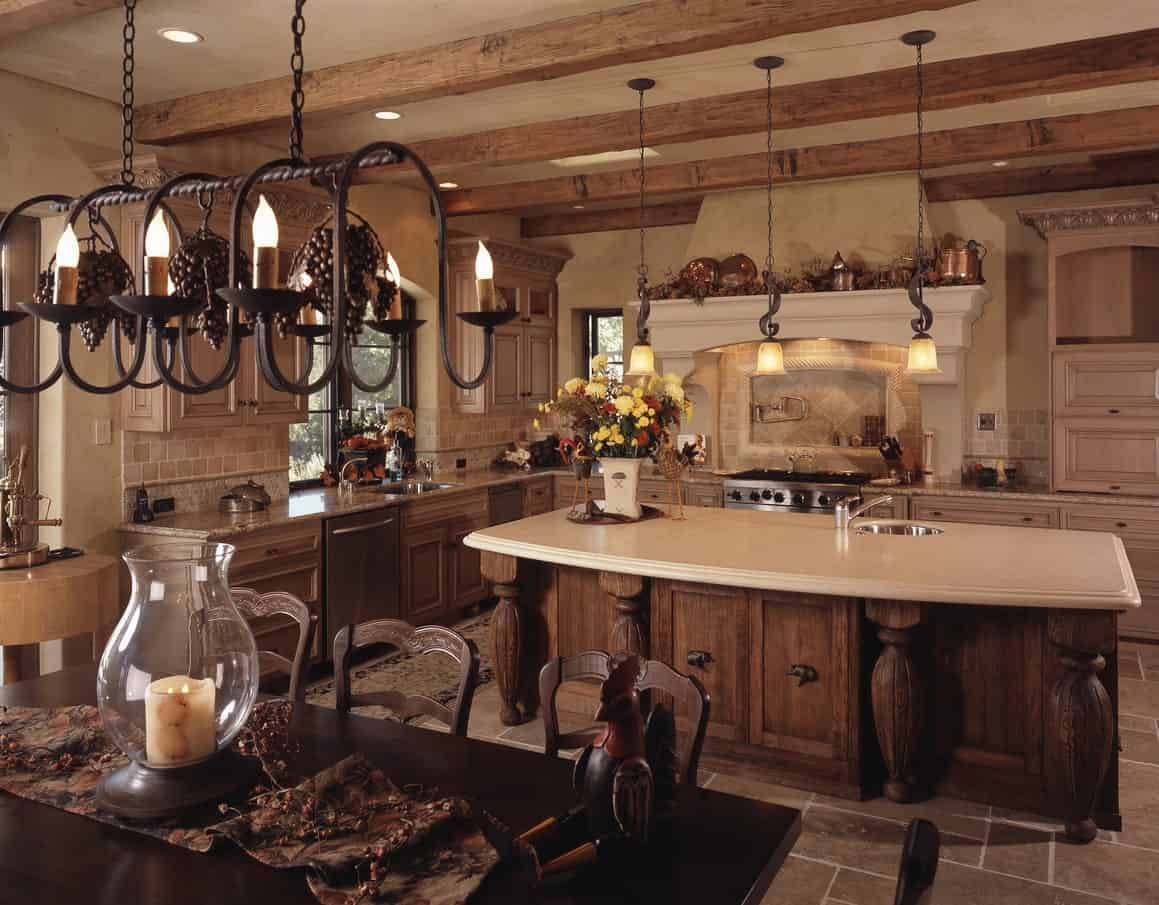 Mediterranean style encompasses the design of the south of Greece, Italy, and Spain. It is a classic, timeless style that never looks dated. These three countries are known for their crystal-clear blue waters and abundant produce and flowers reflected in the design. While they have similarities, each country associates with its color schemes, fabrics, and materials. Mediterranean style has been around for a century. This style originated in the 1920s, when people consumed wealth and leisure. Today, many homeowners remodel with the Mediterranean style in states with warmer climates like Florida and California. Still, location does not have to be a factor when creating this type of kitchen.
Greek
The Greek style includes white stucco walls and whitewash wood floors, and white walls. Cobalt blue accents and wrought iron furniture are common within the lighting, shelving, and accessories. The furniture is often modern, with the use of white-on-white throughout the space. Therefore, it is the easiest to put a contemporary twist on if preferred by the homeowner.
Italian
For a kitchen with an Italian influence, think Tuscany. The rich and warm Italian style uses colors found outside, such as orange, yellow, and brown. Wood textures decorate and furnish the walls and furniture. Furniture is decorative, ornate, and sometimes made of cast iron. The kitchen often centers around the art of cooking, with visible pots, pans, and other cooking utensils.
Spanish
A Spanish-style kitchen is another option in the Mediterranean design aesthetic and is decidedly different from the other two styles. Spanish interior design uses vibrant colors and mosaic murals in yellow, dark red, and blue. Terracotta tile floors and tile archways are quintessential Spanish designs. Rustic, heavy furniture made of wood commonly decorate Mediterranean-style kitchens.

Features of the Mediterranean-Style Kitchen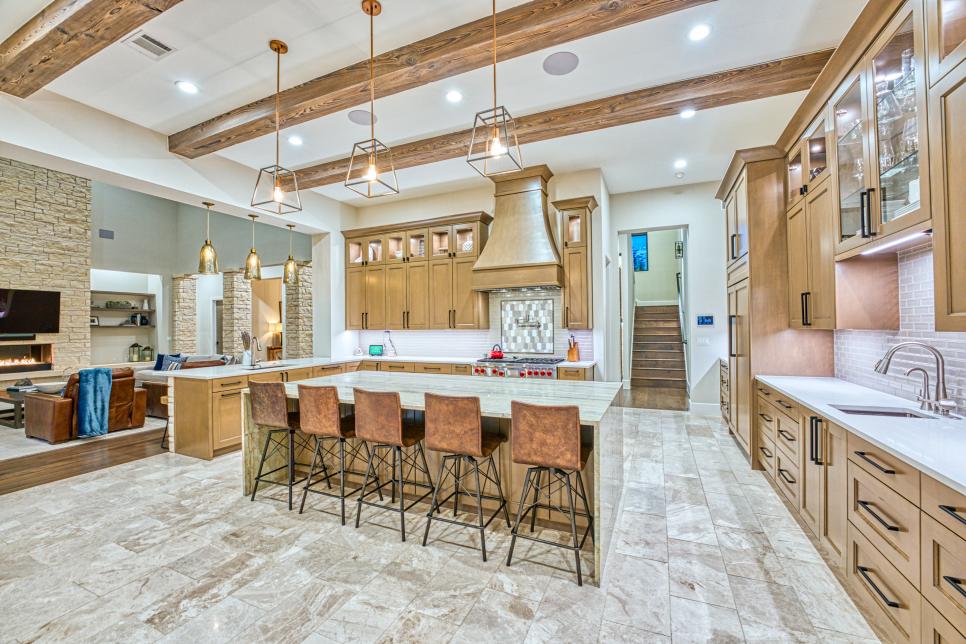 The foundation of the Mediterranean kitchen is a backdrop of earth tones with accents of color. Old World elements like exposed beams, columns, tile and brick, and archways are focal points for this design. Dark hardwood floors give the kitchen warmth. Alison Davin, a designer with Jute Home, describes this style, "If you want a house that is not trending and won't require updating—one with really warm woods, bright walls, and indoor-outdoor living—it's never really going to go out of style."
While traditional Mediterranean kitchens have stuck to warm hues and heavy wrought iron details, today's kitchens incorporate a lighter approach. The emphasis is still on wood, brick, and stone. However, there is white space to offset some of the rich tilework and natural textures.
Color Palette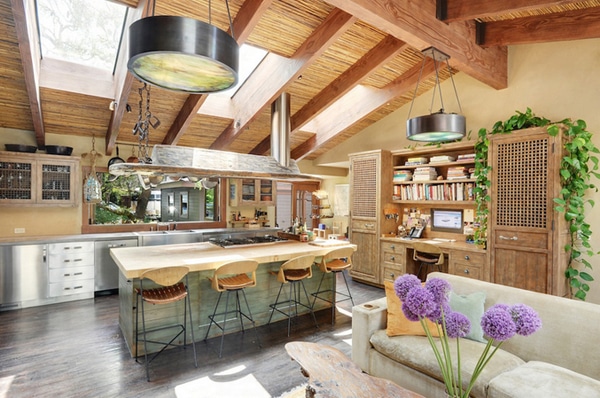 Colors of the Mediterranean are used throughout the space. Warm neutral colors provide the center of the color palette from which to add color to. Shades of blue, such as azure, cobalt, turquoise, or sea green, are incorporated into space. Rich colors like warm terra cotta, cinnamon, browns, and yellows are also used to create a warm and welcoming design. There is room for the homeowner to customize through the accent colors, and more recent Mediterranean-style kitchen designs use white or another neutral color to offset these colors.

For the additional influence of the region colors like red and green might be used in the accessories such as curtains, rugs, glassware, and storage containers.
Tile
Tile is an important component of Mediterranean design. Whether used on the floor or backsplash, colorful or patterned tile is often added somewhere within the kitchen. Mosaic tiles can be utilized on the countertops, floors, or backsplash. Hand-painted patterned tile is authentic but can be expensive. For those homeowners on a budget, a mosaic border can also simulate the look of tile on the floor, wall, furniture.
Cabinets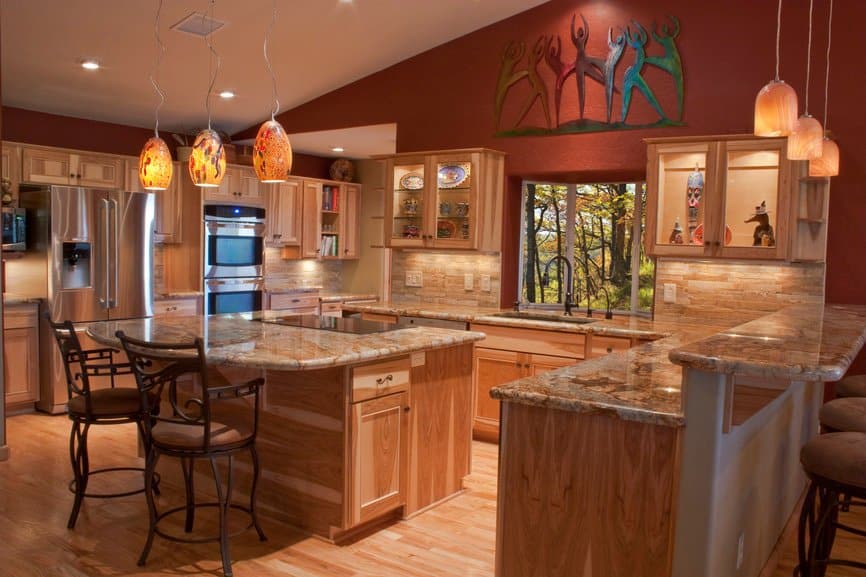 A simple or modern cabinet is not part of this design. Rather, a Mediterranean kitchen has cabinets with details. Wood cabinets with antique details complement the rest of the design. Cabinets are made from wood, sometimes with a rustic finish or others with a very ornate design. The cabinets can be stained or painted in a light, medium, or dark finish. Smaller kitchens should use a lighter or medium tone, so the space feels larger.
Countertops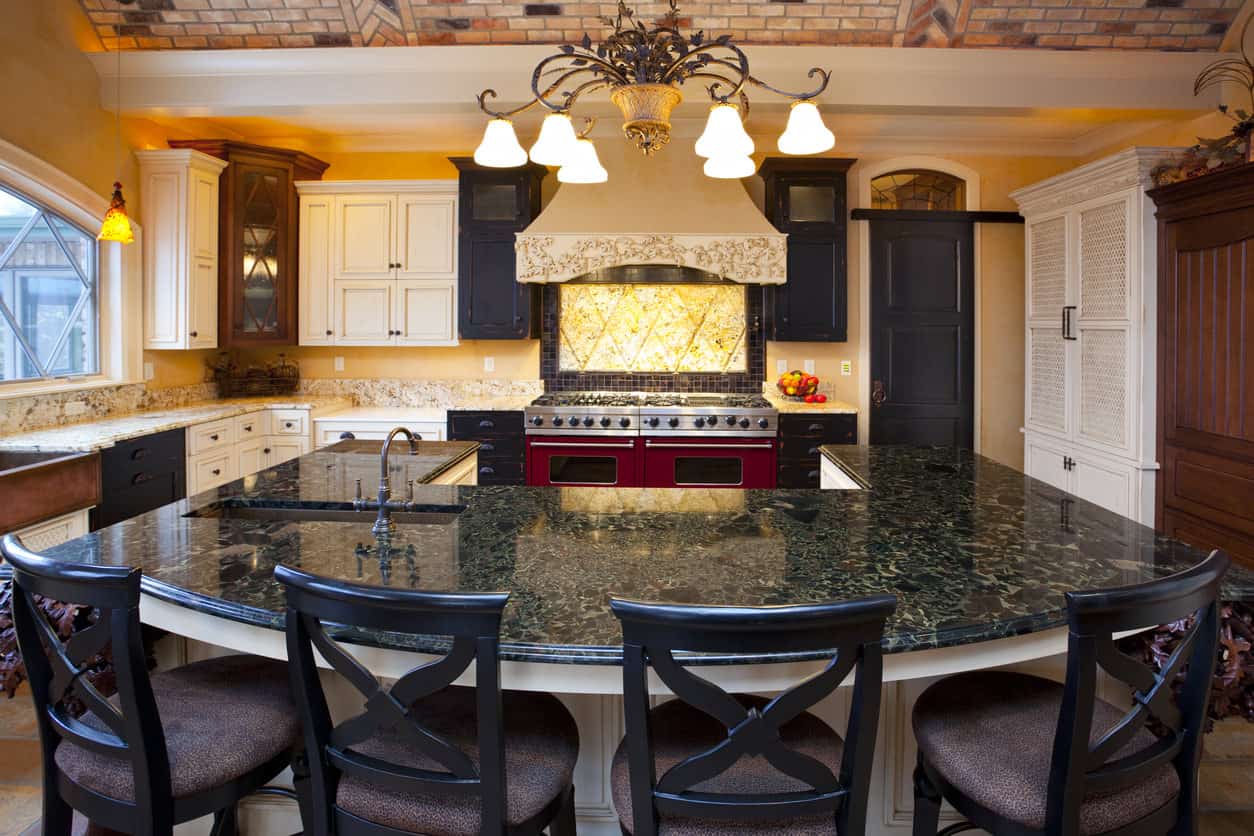 There are many options for the countertops, which can be a focal point of the Mediterranean kitchen. Granite, quartz, tile, or terracotta are all choices that bring color to the kitchen. A traditional bullnose edge on countertops commonly decorates this type of kitchen. A quartz countertop with hand-stamped tile on the side of the kitchen island is reminiscent of Spanish-style. Or the countertop can be muted if the rest of the kitchen is full of color or bring additional texture to the space. Another option is a white countertop for a more contemporary Greek feel.
Backsplash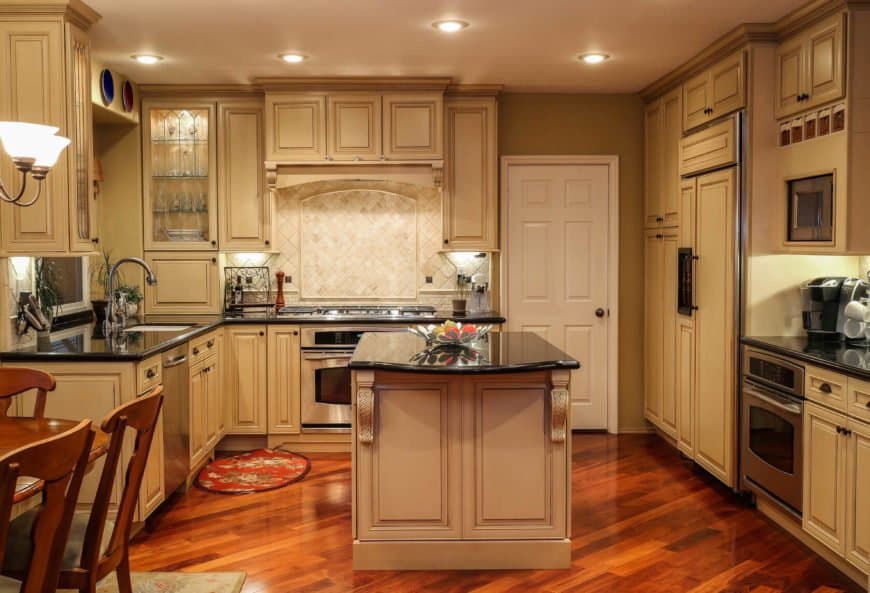 The backsplash provides another opportunity to showcase tilework. Tile can brighten up some of the heavier elements in the kitchen, such as the cabinets or furniture. Backsplash tile is made from travertine, porcelain, glass, or ceramic. It can be painted by hand, as is the case with colorful Mosaics. Having tile above the stove range can be a focal point for the kitchen.
The backsplash can add color, with rich tones like yellows, reds, browns, or different shades of blue to mimic the ocean.
Furniture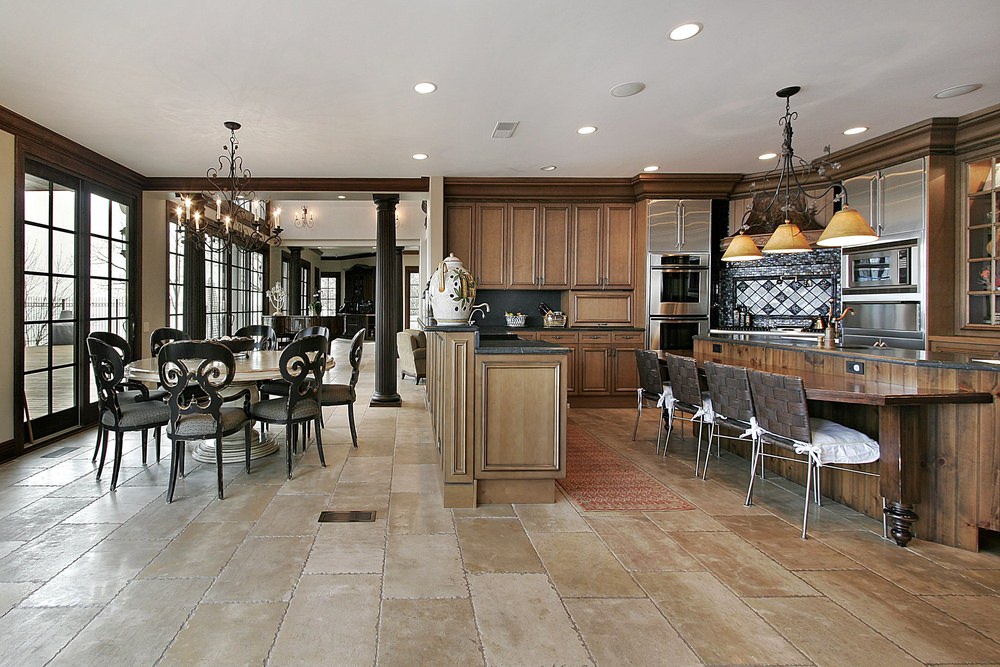 Mediterranean-style furniture ranges from functional to very formal. Usually, the furniture is ornate with decorative accents. A plank kitchen table that seats 8 to 12 people can be found in this type of kitchen. The idea of a large table is that the kitchen is the central part of the home with enough seating for everyone to eat together.
Furniture is known for its sturdy construction, often made of rough iron or dark wood such as pine. Some homeowners may prefer painted furniture to make use of more of the Mediterranean color scheme. If dark woods are being used elsewhere in the space, this can add brightness.
Accessories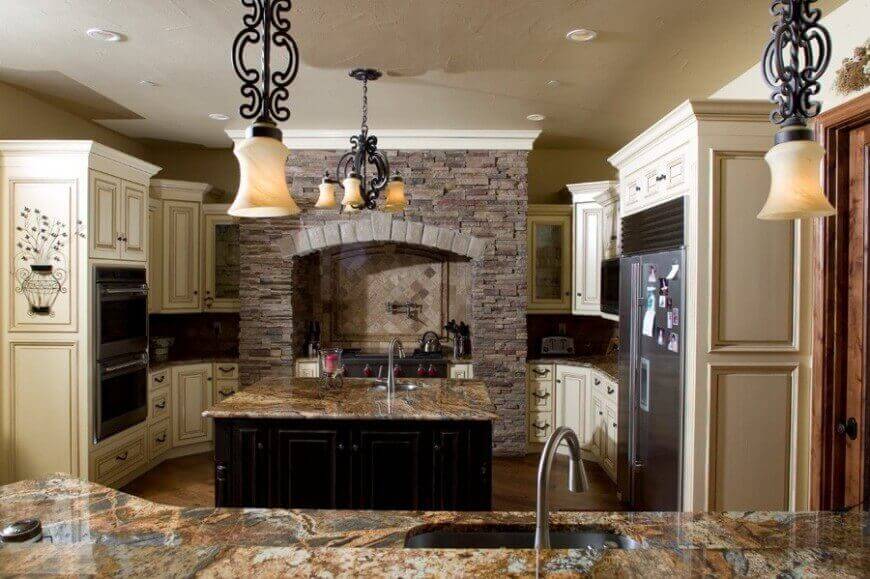 When it comes to accessories and décor in the kitchen, they should be rustic or colorful. They might include a colorful vase, dish, or pot. People can find mosaic tiles from Spain's Islamic influences on mirrors, tabletops, and countertops.
Textiles within the kitchen bring in brighter colors associated with the Mediterranean. For example, coral, scarlet, and gold are reminiscent of the Mediterranean sunset. Homeowners can use these hues on curtains, tapestries, cushions, or artwork in the kitchen. A collection of gourmet olive oils or a window box of herbs for cooking can be part of this design
Small appliances like coffee makers or toasters are available in many colors, complementing the rest of the space. Cookware and cutlery may also add to the visual interest on the countertops.
Flooring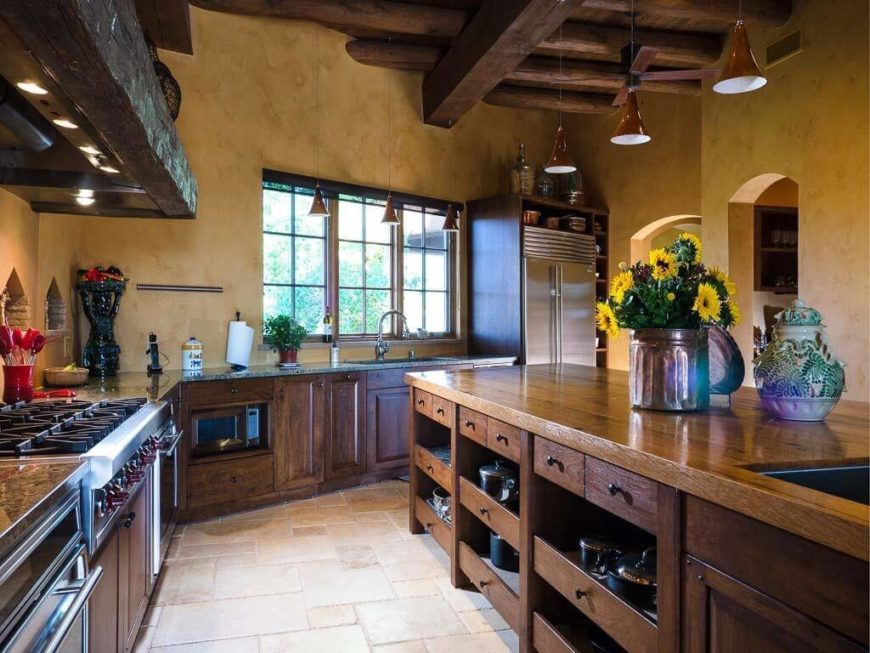 One of the main features of Mediterranean kitchens is beautiful flooring, and many options work with this design. For example, remodelers can use terracotta tile, travertine, or stone floors. Brick or reclaimed wood can add texture and a sense of history. Saltillo floor tile offers a warm and earthy feel.
For a more contemporary take on this style, floors can also be hardwood or engineered hardwood. A deep rich hue like walnut works well in a Mediterranean-style kitchen and pair with a warm white contrast.
Lighting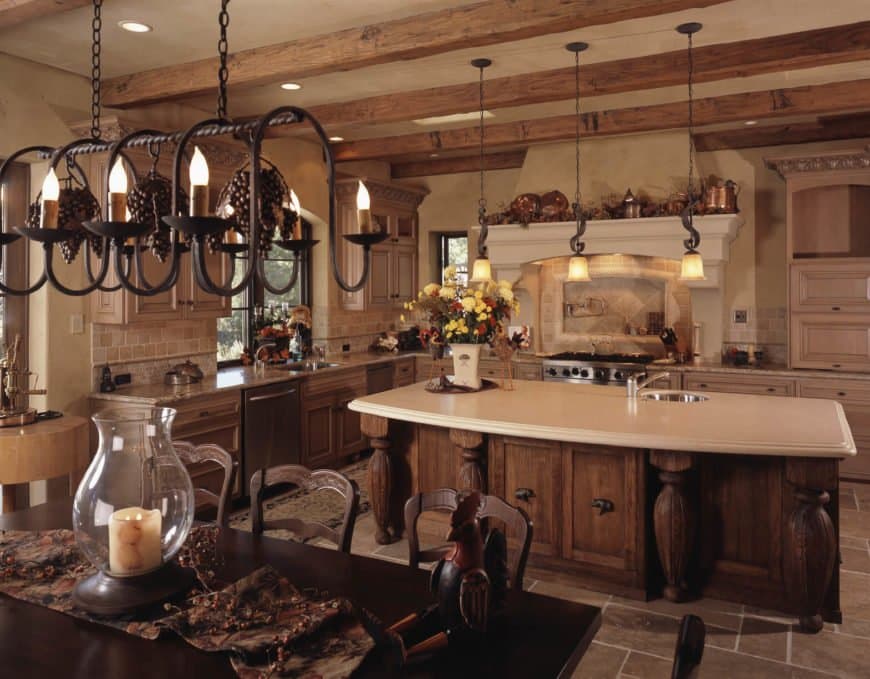 Lighting is always an important part of the kitchen. Oversized lanterns and pendants are often used with this style. Homeowners can also find a chandelier in a Mediterranean kitchen. Many lamps in Mediterranean kitchens use mosaic jeweled glass. Burnished bronze, copper filigree light fixtures, or wrought-iron pendants are all options. Installing a dimmer switch can add to the ambiance of the room.
Sink
A farmhouse sink is quintessential Mediterranean style. It can be ceramic for a more traditional take or stainless steel for a modern twist.
Ceiling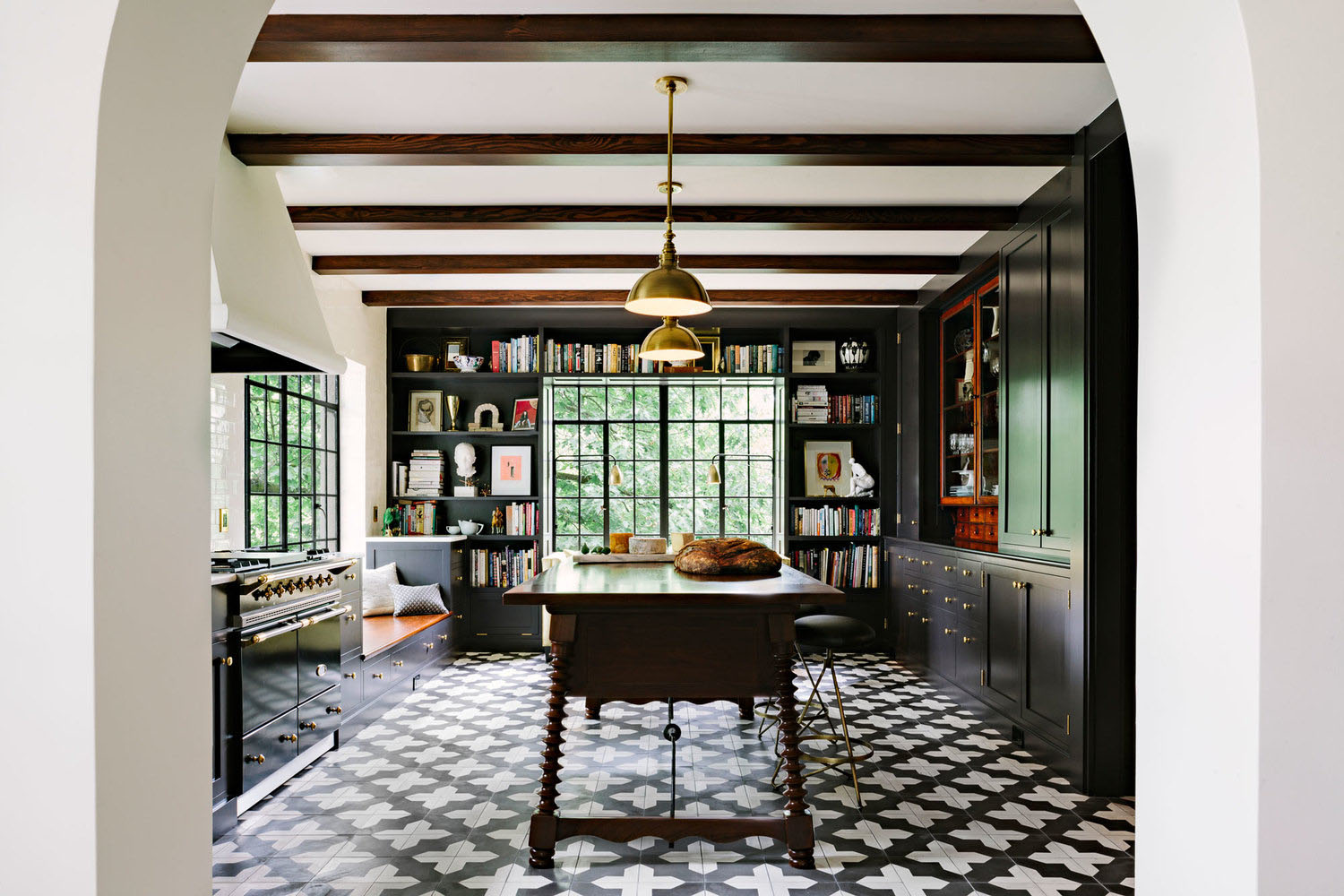 The ceiling is also part of the design. Exposed beams that are dark wood provide a contrast to the walls. The mediterranean design incorporates the curve arcs. In the case of a complete kitchen overhaul, or one that is being built from scratch, Mediterranean-style kitchen homes have arches as an architectural detail. In the kitchen, an arch can go above a breakfast nook, windows, or doorways.
A Mediterranean-style kitchen is full of warmth and color that is inviting and welcoming. Homeowners will want to choose cabinets that reflect the old-world charm of this design.