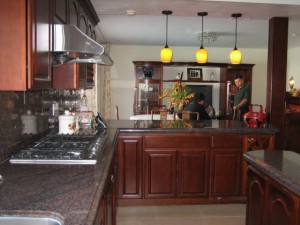 Before remodeling your kitchen, it is a good idea to take some time and review a variety of kitchen designs. Many people draw inspiration for a variety of designs to create their new dream kitchen. For example, you might see one design featuring walnut oak kitchen cabinets, another design with the countertop you want to use, and so on. It is perfectly acceptable to take elements from individual designs and incorporate them into your finished plan.
Once you have determined the features you want to use from various kitchen designs, the next step is to put your ideas down on paper. The best way to do this is get a sheet of paper and measure everything in your kitchen. Measure the length and height of the walls, distance between openings, the sizes of your existing kitchen cabinets, and appliances. Make a rough drawing of the location of each object, along with its measurements.
The next step in creating your dream kitchen is to seek out professional design services to turn your rough draft into a finalized plan. Your finalized design includes a variety of different drawings and 3D renderings. When you use our free design services, we also include a detailed list all of the cabinets, handles, and other items you need to order, along with the model and parts numbers.
To receive your complimentary kitchen design, contact us today at 855-929-8975. We even provide a step by step guide for measuring your kitchen.