One of the most popular choices for kitchen and bathroom remodels is thermofoil, but what makes thermofoil cabinets so unique?
Recent reports by Zillow revealed that 83% of homeowners believe kitchen remodeling improved home resale value, while bathroom remodels brought home a return-on-investment (ROI) of 70%.
The materials you choose makes a considerable difference for your home's aesthetic, remodel ROI, and sell price. Studies show that remodeling can even improve your mood, and 74% of homeowners spend more time in their homes after remodeling.
Learn more about the process behind this application, why it's ideal for remodeling, and discover more information to help you find the right solutions for your needs.
What is Thermofoil?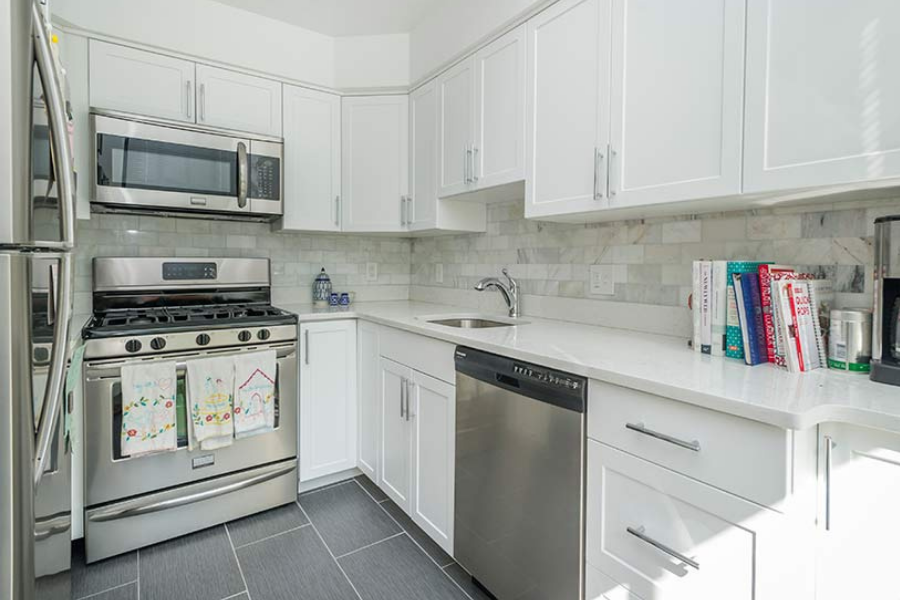 Surface finishes improve aesthetics, durability, and maintenance.
Kitchen and bathroom cabinets need high-quality finishes that can withstand frequent use; otherwise, they're vulnerable to scratches, dents, chips, and breakage.
This is where thermofoil comes in.
How Does Thermofoil Work?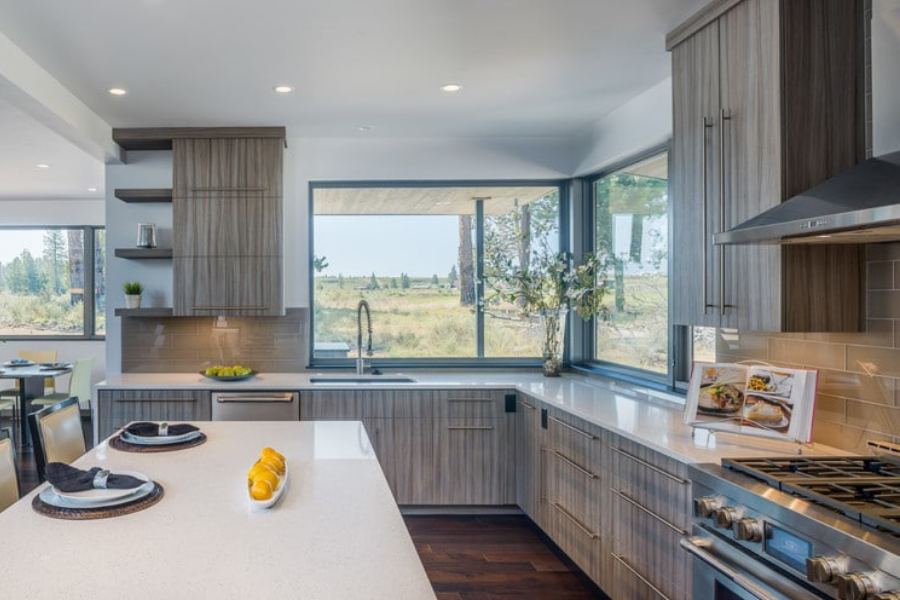 Despite the word "foil" in its name, there is no metal in thermofoil finishes. It's actually made of vinyl material. Cabinet manufacturers vacuum-press a thin layer of vinyl onto the surface.
Thermofoil isn't applied directly to wood. Instead, it's applied to a medium-density fiberboard surface, which stands for medium-density fiberboard.
Think of MDF as a man-made wood created with wood fibers, wax, and resin materials. Manufacturers press all these components together to produce a wood-like material that mimics natural wood and plywood. It's even heavier than real plywood.
Thermofoil is frequently confused with laminate cabinet surfaces. While both enable easier cleaning, laminate is glued, not hot pressed, onto the cabinet surface.
Furthermore, thermofoil is more compatible with MDF than laminate. Fiberboard MDF can damage easily like real solid wood. It chips and warps from damage without thermofoil applications.
Manufacturers produce thermofoil in a range of solid colors, which mimics the look of paint. You don't even have to paint MDF cabinets since they have thermofoil coatings.
Advantages of Thermofoil Cabinets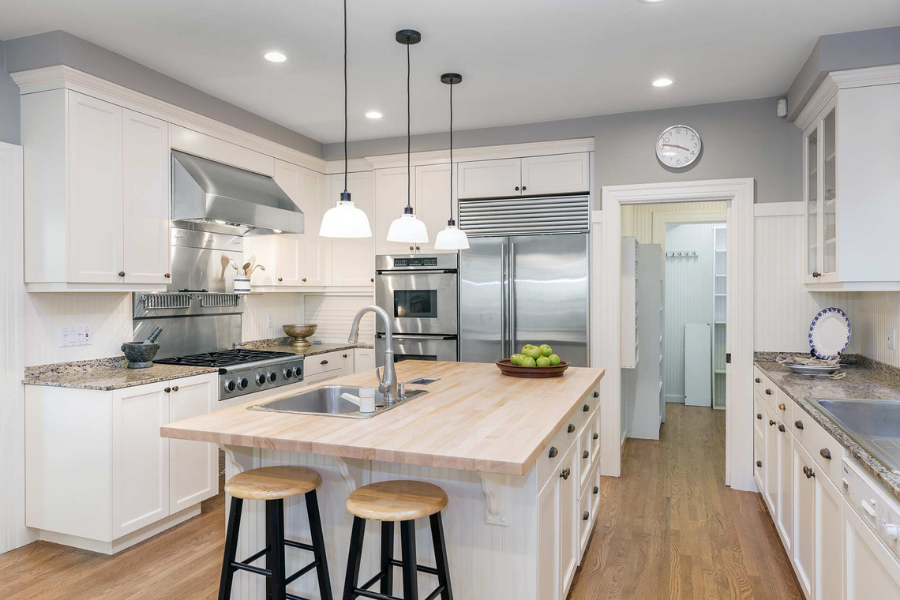 There are several advantages to thermofoil.
Aside from improving MDF surfaces, it's also a nonporous material. Since it's not filled with tiny holes, it's not vulnerable to water damage like plywood and natural wood.
Easy to Clean
Thermofoil is much easier to clean. This is one of the biggest advantages of this type of material.
You don't have to worry about staining if your kitchen cabinets are splashed with cranberry juice; it wipes right off! You can also clean your cabinets with any multi-purpose household cleaner.
Say Goodbye to Paint!
You're not limited to certain colors either, like off-white or eggshell. Work with your contractor to find the ideal cabinet color; it could be light blue, beige, light yellow, or even pink!
Homeowners frequently choose faux wood finishes to mimic the look of real, rustic wood, without the hassle and disadvantages of actual wood.
The range of colors and styles make these cabinets ideal for low-cost interior design projects. Interior decorators and contractors frequently use thermofoil cabinets for design showrooms, home staging, fast house-flipping remodeling projects, and house rentals.
Update Your Current Cabinets with Thermofoil
Yes, you can also apply thermofoil to your current kitchen cabinets.
Homeowners do this all the time. Just talk to your general contractor about the process; however, if you're cabinets are too old, you may be better off ordering new cabinets altogether.
A Sleek, Glossy, and Professional Finish
Thermofoil produces a sleek, even glossy finish to cabinets. That's why they look great in bathrooms.
If you don't want that look for your kitchen, there are less glossy finishes available. That's another reason to investigate these cabinets online before purchasing.
A Cost-Effective Solution
Thermofoil cabinets are less expensive than others made from real solid wood.
Homeowners report paying roughly $300 to $350 per linear foot, but prices vary depending on the manufacturer and quality. How much you'll pay will depend on how many cabinets you need. To estimate cost, measure the square footage of your kitchen (or bathroom) and cabinet space.
Refacing thermofoil cabinets can cost upwards of $1,000 for a full set of kitchen cabinets, which is generally low for kitchen remodeling. The best way to calculate your total cabinet remodeling cost is to measure your space, compare manufacturer pricing, and gather quotes from contractors.
If you have home building experience, you can install the cabinets yourself and avoid hiring a contractor; this will drastically reduce the price of your cabinets.
Lasts for 15 Years or More
Thermofoil cabinets can last 15 years or more with easy, routine maintenance.
This lifespan may not be long enough for some homeowners, but it's ideal for property homeowners who are looking for quick, low-cost remodeling solutions for house flipping or fast home sales.
Drawbacks of Thermofoil Cabinets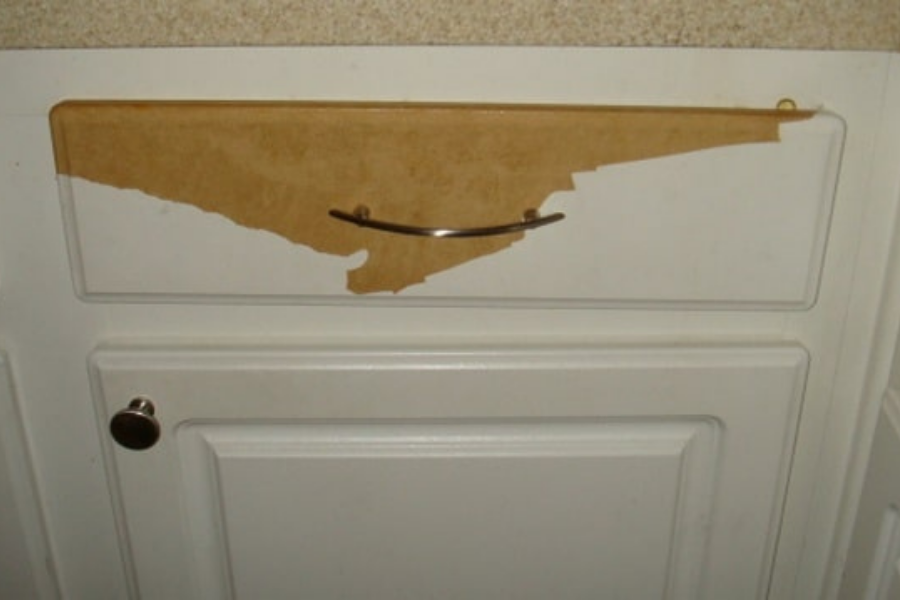 the 15-year lifespan may be seen as a disadvantage for some homeowners. To find out, you'll need to calculate the cost of new thermofoil applications and replacements to the price of real wood cabinetry, for example.
While 15 years may not seem like a long time, you do save a considerable amount on cleaning, water damage, chipping, and surface scratches.
Peeling Cabinets
After 15 years, your thermofoil cabinets may start to peel off; this is the first noticeable disadvantage of this application. Fortunately, you can reface your cabinets to add an additional 15 years to their lifespan. If you're unhappy about refacing, you can sand off the remaining finish and apply a laminate. Handy homeowners can apply laminate themselves, but it takes time and precision. Since paint doesn't stick well to MDF, you will need some type of finish.
Another option is to replace your peeling thermofoil cabinets with sturdy natural wood cabinets. You can also paint or stain wood surfaces, whereas thermofoil cabinets are built to mimic paint.
Susceptible to Chipping
Like peeling, age makes thermofoil cabinetry vulnerable to chipping. All it takes is a blunt impact to the surface. You may find chipping along the edges of your cabinets, as well.
As peeling and chipping takes over, you need to think about replacement solutions. Research the cost of thermofoil resurfacing to see if it's the right decision for you. You may be able to save money by replacing the cabinet doors while keeping the rest of the cabinet components intact.
Chipping is a problem you can expect from most cabinet material, whether they're wood or MDF. Quality materials and consistent maintenance are the best ways to prevent damage.
Vulnerable to Heat Damage
Heat damage is one of the biggest drawbacks of thermofoil cabinets.
Unfortunately, these surfaces damage easily when exposed to extremely high heat. Avoid using high-heat appliances near these cabinets, like blowtorches or candles.
However, you can still operate the microwave, stove, oven, and dishwasher as usual. Be careful about where you install your cabinets. If they're too close to the stovetop, there's a much greater risk of damage.
If you're concerned about high heat damage, consider installing thermofoil cabinets in the bathroom, and choose another type for the kitchen.
The kitchen is the hottest space in your home. Any type of cabinet is vulnerable to heat damage and fire hazards without proper cooking practices.
Natural sunlight won't damage thermofoil surfaces, either. Special heat damage shields are also available for kitchen cabinets.
Exposed MDF Materials
Homeowners want to save money, so it's understandable to let a few peels and chips go under the radar. As these damages increase, they will eventually expose MDF materials. MDF dust can cause skin and eye irritation.
Another concern is formaldehyde. Older MDF materials may contain higher levels of formaldehyde if they were produced before the Formaldehyde Standards for Composite Wood Products Act. Therefore, homeowners may have health concerns over older thermofoil cabinets.
Fortunately, regulations mandate that today's materials decrease the risks of any formaldehyde exposure. MDF is subjected to rigorous testing before being approved for cabinet manufacture.
Formaldehyde is found in MDF binder adhesives, but the latest materials contain extremely low levels, and exposure risks are low. If you're concerned about exposure, there are formaldehyde-free alternatives, like natural wood, rice straw MDF, organic alternatives, and certain plywoods.
Thermofoil Cabinets vs. Wood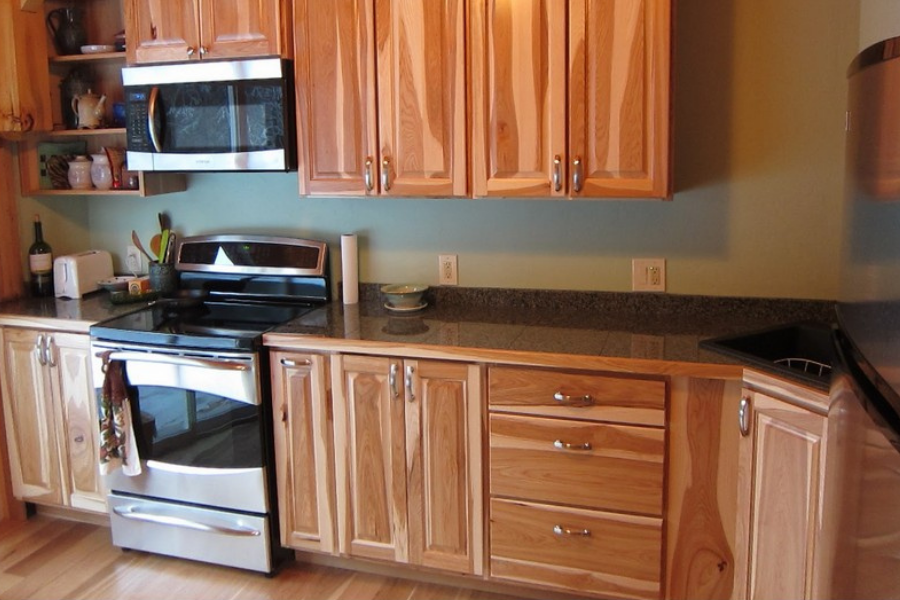 The biggest competition to thermofoil cabinets is old fashioned wood cabinets.
Thermofoil alternatives were created to mitigate problems created by natural wood, like water damage, termites, warping, high maintenance, and cost.
Wood Cabinets Are More Expensive
Cost is a big one.
Homeowners want that natural wood look without the high cost. MDF, thermofoil applications, and faux wood finish can completely mimic the look of real wood cabinets.
Personal Preferences
Despite its mimicry, faux wood finish cabinets just don't cut it for some homeowners. They want the true look, feel, and smell of natural wood. Others don't like the glossy faux wood finish created by thermofoil and prefer wood surfaces without the shine.
Go Crazy with Paint!
Unlike thermofoil, paint looks better on natural wood cabinets. Wood is more porous, which helps paint stick to the surface. However, you would need to prime the surface beforehand and add a finishing coat. If you're planning to install and paint wood cabinets, expect higher costs.
This advantage does provide more surface design possibilities. You may decide to carve beautiful recessed designs into your cabinets or add a fresh coat of paint for a quick kitchen makeover.
Wood cabinets don't yellow over time like some thermofoil cabinets. If your cabinets start to yellow, you may need to reface or replace the doors. Still, thermofoil cabinet replacement cost less than new wood cabinets.
Repairing and Remodeling
Refacing thermofoil cabinet doors can be tricky, and many homeowners simply replace cabinet faces at a low cost. On the other hand, it's easier to resurface and refinish wooden cabinets without buying brand new cabinet doors.
If you're handy, you can repair and finish wood cabinets yourself. You could even add a new layer of wood stain to enhance that rustic look.
The cost of wood cabinet repairs and refinishing adds up, so remember to compare your costs to thermofoil replacements.
Thermofoil Meets Wood: The Best of Both Worlds
Why choose one or the other?
To mitigate problems posed by wood, you can purchase wood cabinets with MDF. This means there's a layer of MDF in the wood to combat water damage.
This creates a more water-resistant wooden cabinet!
How to Choose a Cabinet Supplier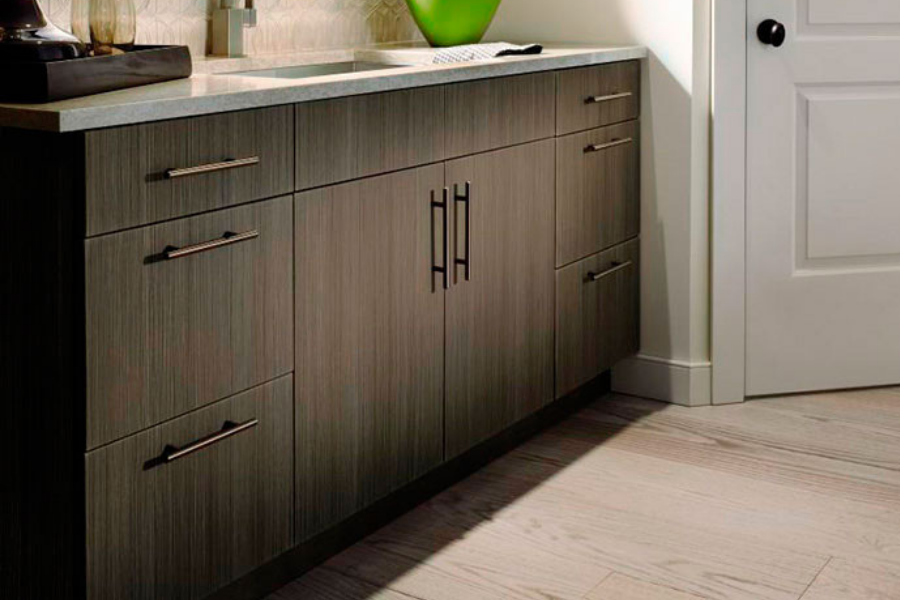 Where you buy your cabinets makes a considerable difference for your remodeling project.
You don't want cabinets that fall apart on the first day! Look for a reputable supplier that values price, quality, selection, safe shipping, and customer service.
Selections and Assembly
Homeowners and contractors crave wide selections, affordable pricing, and design choices. Look for suppliers that offer both self-assembly and pre-assembly options. Self-assembly is an excellent way to save money if you're experienced in home improvement.
Look for a wide range of cabinet styles to match your home design. American designs and European styles feature everything from country kitchen to sleek, minimalist looks. Top suppliers will provide a full product catalog on their websites.
Free Shipping
Want to avoid store pick-up and high shipping costs? Look for suppliers that offer free shipping for orders of $3,000 or more. This is a great way to save on a full kitchen or bathroom remodel.
Excellent Customer Service
Free shipping is a cornerstone of exemplary customer service. Remodeling projects take time, planning, precision, and money. You're going to have lots of questions, and your supplier should be happy to help.
Purchase from companies that are easy to reach by phone, live chat, and email. Specialists should also be available to assist with design help, which is essential for first-time homeowners.
Contractors also deserve a 5-star service. Work with companies that offer high-quality thermofoil cabinets and special discounts for professionals. This is essential for winning construction bids.
Discover Your Dream Cabinets
Cabinets are an important piece of your dream home makeover. Refer to this guide as you weigh the pros and cons of thermofoil cabinets.
Have you found the perfect cabinets for your project? Want to learn more? Contact us today to talk to a specialist who can help.
backend