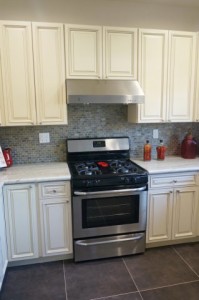 It is easy to buy discount cabinets online if you follow a few simple steps. You must know what you are looking for. You also have to have the correct measurements. Finally, discount cabinets should be well-built with good quality workmanship.
Before you buy discount cabinets online, consider the style of cabinetry you are looking for. There is no sense in looking at white cabinets simply because they are discounted if that is not the finish that you want. There are many finishes to choose from that go from glossy white all the way to black. You should at least know if you want a lighter finish like maple, beech, or ivory. Perhaps the darker tones are your thing. If so, you can choose from chocolate, walnut, espresso and more. Of course, you'll want a variety to choose from so that you can compare the finishes. One of them is sure to match your vision for the space.
Before you finalize your purchase of discount cabinets, you must make sure that your measurements are correct. Take advantage of online measuring tools. Online design help is also available. It is in your best interest to use the tools in order to get the perfect fit and style for your kitchen. Once the cabinets are bought online, they will be harder to return if you got the size wrong.
Buying discount cabinets online does not mean that you should sacrifice quality. Even discounted cabinets should be well-built and sturdy. Remember that you are going to put heavy dishes in these cabinets so you want them to hold up to the weight. You also want them to look nice. There is no sense in updating your kitchen with sub-standard cabinets. It is possible to find fabulous cabinets at a discounted price, that look like custom made cabinets. Consider the type of wood used to build the cabinet. Maple, oak, and rubber tree wood are all very popular cabinet material choices. Look for dove tail construction for extra reinforcement from drawers. Another modern touch that shows good quality is a soft closing door. If you follow a few simple steps, you can have a beautiful kitchen upgrade. Buying discounted cabinets online does not mean sacrificing quality. Get the kitchen you are after by doing your homework, asking for help, and paying discounted prices.