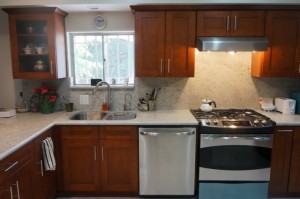 Maintaining the appearance of your rental units is essential in order to retain tenants and attract new renters. There are cost-effective solutions for remodeling your apartment homes to provide comfortable and luxurious living spaces without costing a fortune. For instance, you can buy ready to assemble kitchen cabinets at wholesale prices for remodeling all of the kitchens in every one of your units.
Ready to assemble (RTA) cabinets are made from solid wood to stand up to the wear and tear common with rental homes. Unlike pressboard or lower quality cabinets, these high quality discount kitchen cabinets are manufactured from superior materials to make the kitchens in your apartment stand out and be a major feature. In fact, you are able to ask for higher rental rates when your apartment homes feature newly remodeled kitchens with solid wood cabinets.
Ready to assemble kitchen cabinets are ideal for bathroom remodeling projects, too. You can find sink bases, drawers, overhead cabinets, and full-size floor to ceiling cabinets to use in the bathrooms of your apartments. Some communities remodel the kitchen and bathrooms at the same time, with options for either using the same style or different styles of RTA cabinets.
Why RTA Kitchen Cabinets Cost So Much Less Than Other Solid Wood Cabinets
If you have spent any amount of time shopping around for solid wood cabinets for your apartment homes, you know the costs for preassembled cabinets cost a fortune. It would be easy to invest around $10,000 or more just to remodel a single kitchen in one of your units. For this reason, it is no wonder why so many rental communities are reluctant to invest in solid wood cabinets since their return on the investment is not beneficial.
With RTA cabinets, the costs are substantially less and are often comparable to the prices you pay for lower quality pressboard cabinets. You can affordably remodel one kitchen with solid wood cabinets for around $1,800. This is a much better return on your investment, and well worth the effort to remodel your units with ready to assemble cabinets. The major difference in price is the result of ordering RTA cabinets directly from the manufacturer. There are no secondary suppliers, retail stores, or others involved in the supply chain, increasing the costs of the cabinets. In addition, RTA cabinets are flat stacked when they are shipped, reducing total shipping costs.
Ready to assemble kitchen cabinets do need to be put together before you can install them into your rental homes. For most communities, this extra step is far worth the savings and the ability to offer tenants high quality solid wood cabinetry in the rental homes. For more information about our RTA cabinets, or to obtain a free quote for your apartment homes using our complimentary kitchen design services, contact us today at 855-929-8975.