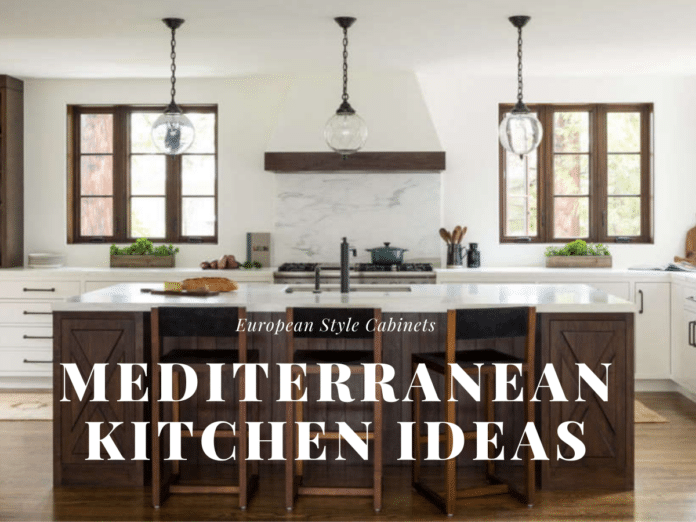 A Mediterranean-style kitchen is a must-have for many kitchens, thanks to its bright and sunny style. While some Mediterranean kitchen trends have become dated, you can still incorporate the sunny style in a modern and stylish way. With European-style cabinets adding a layer of modern design, updating your Mediterranean kitchen into a chic and stylish space is easier than ever.
Start With A Rich Color Palette
Mediterranean kitchens draw their inspiration directly from the region, incorporating colors reminiscent of the sun, sea, and beaches. Common colors are ocean blues, terra cotta orange, warm-toned reds, and bright yellows. It's important to strategize where the colors should be used. Your walls, countertops, and floors might be a more neutral shade, like a sandy tan. Using this method allows the other colors in the room can pop. You can layer in a teal blue accent wall, spicy red for your cabinets. Otherwise use accent items like rugs or curtains to bring in more of the bold colors.
You can use your kitchen accessories to bring in pops of color as well. For example, small appliances like coffee makers and toasters can be in your color scheme. Keeping them on your countertops gives an extra burst of red or yellow to your kitchen. You can do the same with other functional items like cookware or utensils. One can have them on display in storage racks or above your cabinets.
Use Artistic Tiles in a Mediterranean Kitchen
Another great way to bring color into your Mediterranean kitchen is through your tile work. In Mediterranean kitchens, tiles are an important focal point. You can use your backsplash or floor tiles to bring in colors and patterns. Tiles painted by hand are a great way to make your kitchen stand apart — you can get creative designs that show off seascapes or are inspired by the culture of the region. You can select tiles made from ceramic, porcelain, glass or marble, depending on the look and finish you want for your design.
Stick to Natural Materials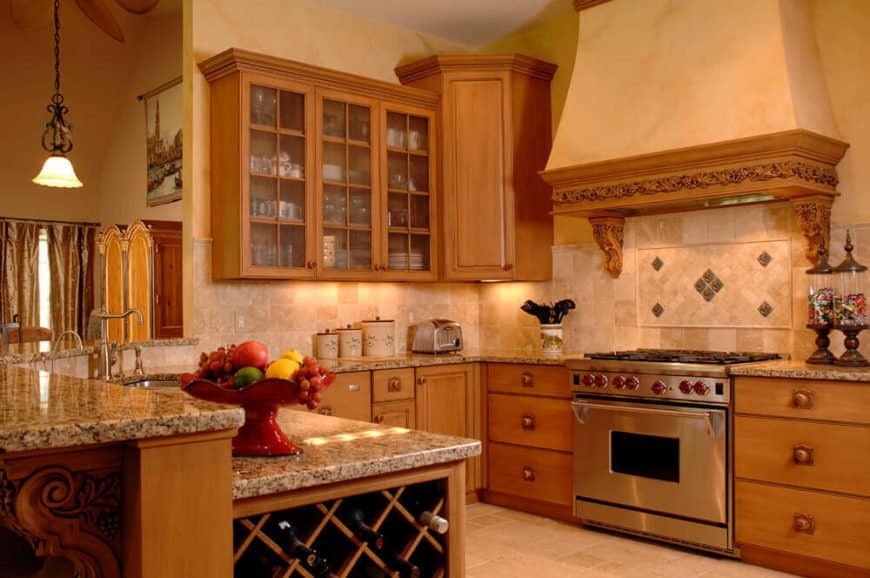 Natural materials are more often found in Mediterranean kitchens, as they tie into the old world style of the region. You will see lots of tile, stone and wood, as opposed to laminate or concrete. You can have hardwood floors, in a lighter shade for a sun-drenched feel, or opt for a warm Saltillo floor tile. If you are lucky enough to have ceiling beams, exposed dark wood beams are a perfect look for this style kitchen. The dark wood tones can also be used in your Euro style kitchen cabinets: a solid wood like cherry or walnut can add depth to your kitchen.
Bring In a Touch of Wrought Iron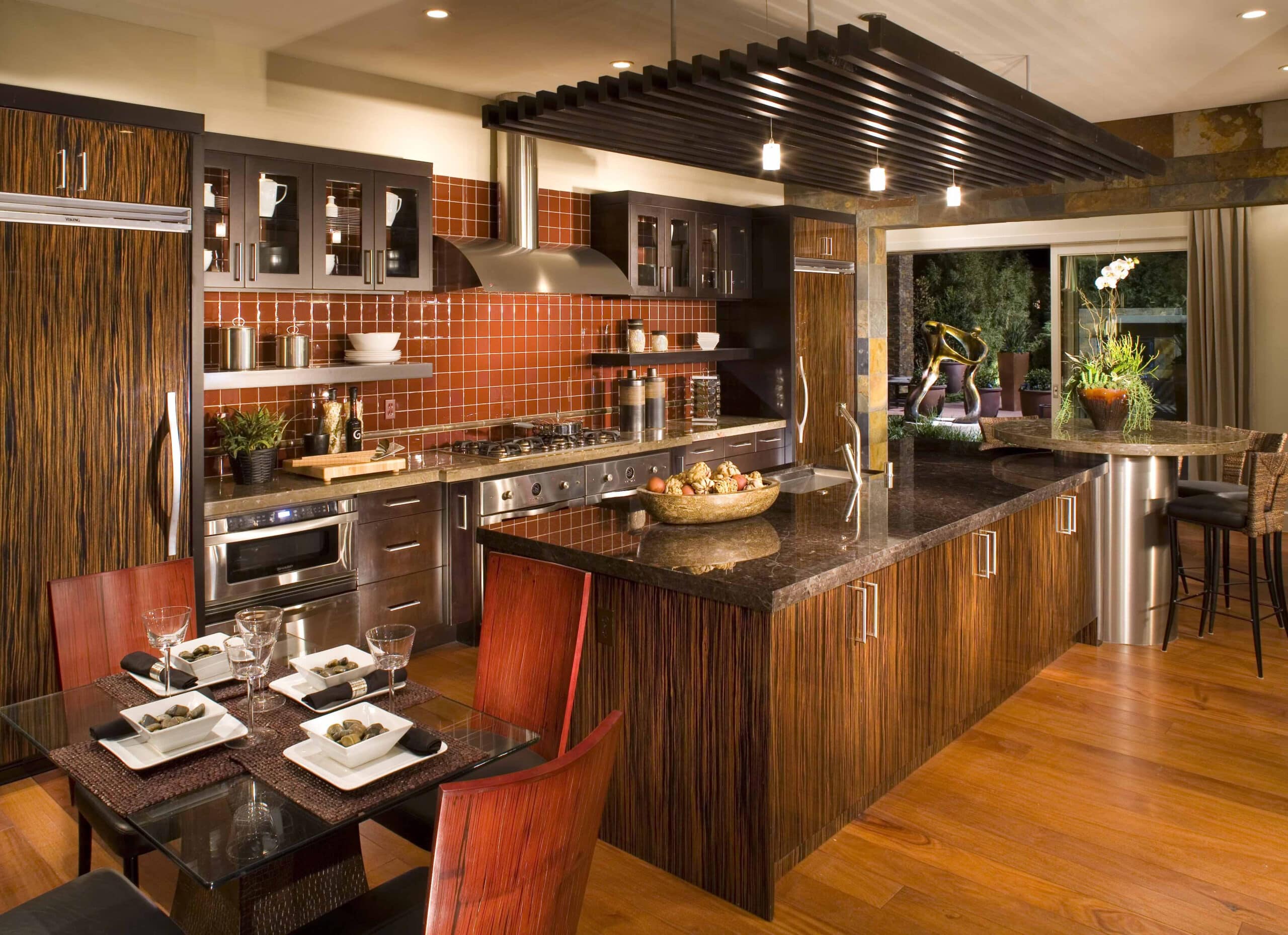 Another common material found in Mediterranean style kitchens is wrought iron. You can pull it in through your light fixtures, giving that Old World style without making the whole kitchen look traditional or dated. You may also want to use wrought iron in places like your pot racks or the hardware of an open shelf. These metallic details will help solidify your kitchen's overall feel.
Use Hardwood Furniture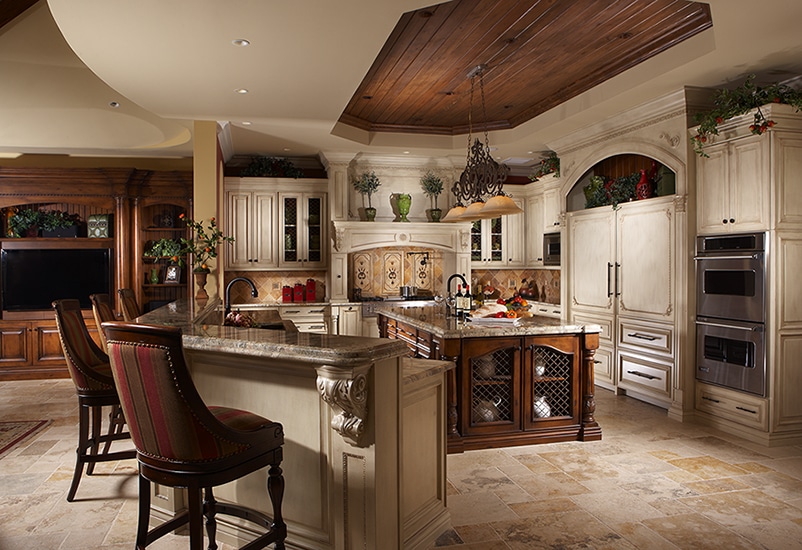 In contrast to your European style cabinets in your kitchen use hardwood furniture like bar stools or tables, and stick to natural wood options. Mediterranean kitchens often use quality hardwoods, so you can leave these items in their natural state. Some may even add some weathering to their furniture to give it a more rustic vibe. However, you may want to make sure your pieces don't look too old or vintage. That may take your kitchen's style from a European beach home into more of a farmhouse or country kitchen style. Skip things like chipped paint on your chairs and stick to a rich hardwood instead.
Enhance The Room With Texture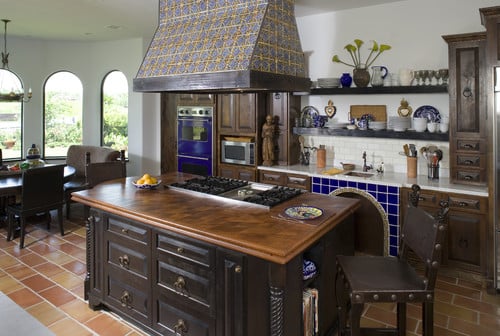 It's not just the color that makes a room look Mediterranean: you can use texture to bring the style into your space. Textured walls can make your kitchen look like a vintage villa! Adding texture to your walls is an easy DIY: you can use additives in your paint to create a grainy texture, or simply use a stippling roller to create a slightly bumpy finish on the walls. You can also use drywall cement to create a textured finish on your wall. Use a trowel to apply the compound in a sweeping motion to create a curvier look that is often found in Mediterranean or Tuscan homes.
Avoid Straight Lines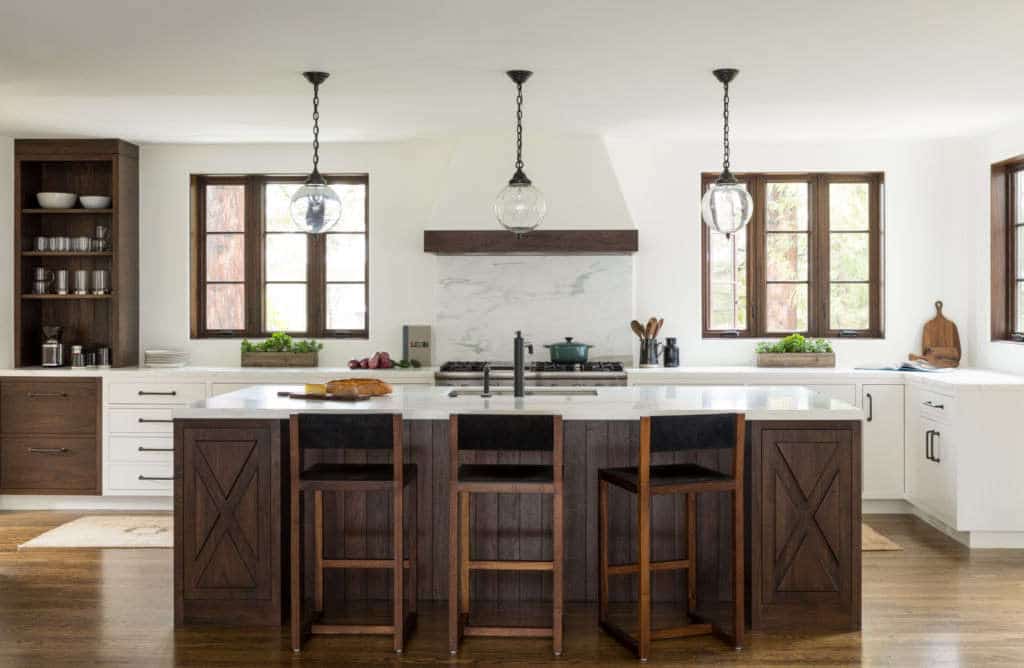 Speaking of curves! Mediterranean homes tend to have a sense of fluidity, inspired by Tuscan and Spanish design styles. This means these kitchens tend to avoid straight lines and instead embrace round and curved objects. While a Scandinavian home may be all about simple clean lines, a Mediterranean home will embrace things like a curved kitchen island, flared hoods and round cabinet knobs.
Add an Archway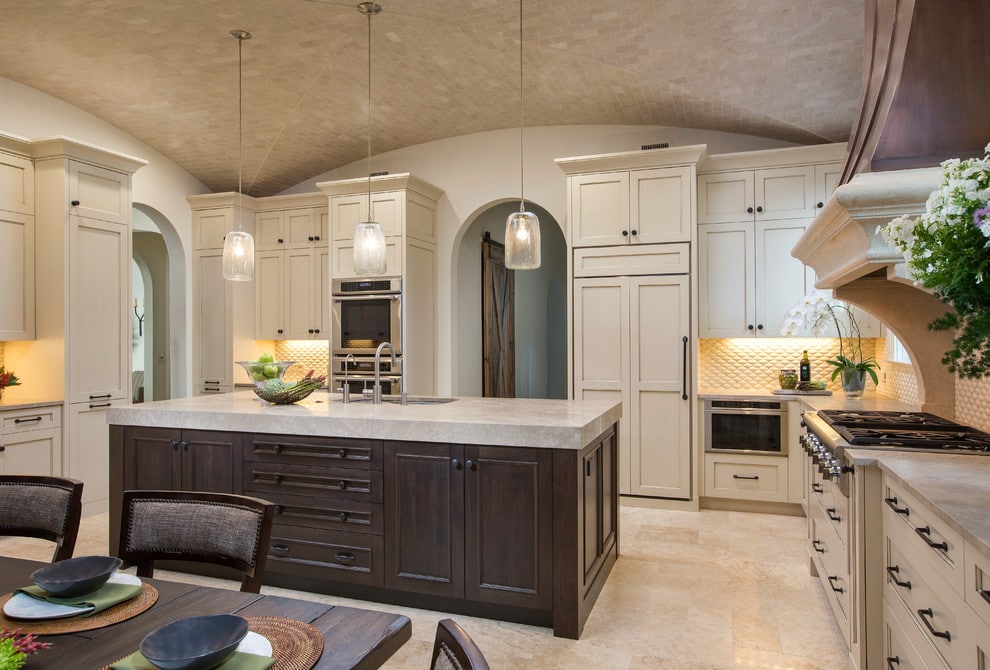 Modern homes typically don't have archways, but they were a staple in older homes. That touch of Old World design is perfect for a Mediterranean-style kitchen. An archway would be used as a passageway to the kitchen or dining room, using moldings or stones as decorative finishes. With most homes these days using an open-concept design, an archway might not make sense as a connector between the kitchen and the rest of the home. However, you can use an arched design in creative ways to bring the traditional style up to date. You can add an arched entryway to your pantry, for example, or arched windows above a breakfast nook. This way, you can keep the modern European style design of your home while still bringing in the classic rounded features.
Use Contrast To Keep it Modern
While your color scheme may consist of spicy reds, creamy beiges, and dark woods, you can make it a touch more contemporary by swapping out your beiges or tans for a bright white. This automatically adds contrast and gives your kitchen a more modern look. Dark walnut European-style cabinets will make white countertops pop. With a patterned tile backsplash to bring in more visual interest, this look will help keep your kitchen looking bright and fresh despite more traditional stylings elsewhere.