Getting the most from your laundry/utility room

If you are among the fortunate few to have their own laundry room (or "utility room"), you probably appreciate the usefulness of it – especially if you previously had to frequent laundromats! In that case, show it some well-deserved love by modeling it with efficient storage and the kind of decorative touches that ensure you feel right at home.
Typically, the goal is to combine style and function. If you have no natural light to work with, choose materials that can brighten a room and are practical and attractive. For instance, white cabinets and walls can complement wood countertops, the synergy serving to lighten the space. Add an easy-to-clean tile floor and ceiling spotlights and you have the look of a spacious room despite the lack of windows.
Have a very high ceiling? Capitalize on it! Install a hanging clothes rack. It comes in handy when you need to air-dry certain garments, or make room in your closets. You may even implement a pull-down rack that retracts when not in use. Now that's efficient use of space!
Interestingly, it has become common to look beyond the standard white or pale colored cabinets that have been the norm for providing laundry rooms with a certain degree of perceived vigor. Now, darker colors are becoming popular. People are finding that combining a dark shade with dramatic fixtures and hardware successfully creates an all-new original look that has never previously been associated with the laundry room. Themes typically associated with these emerging styles are Industrial and Gothic.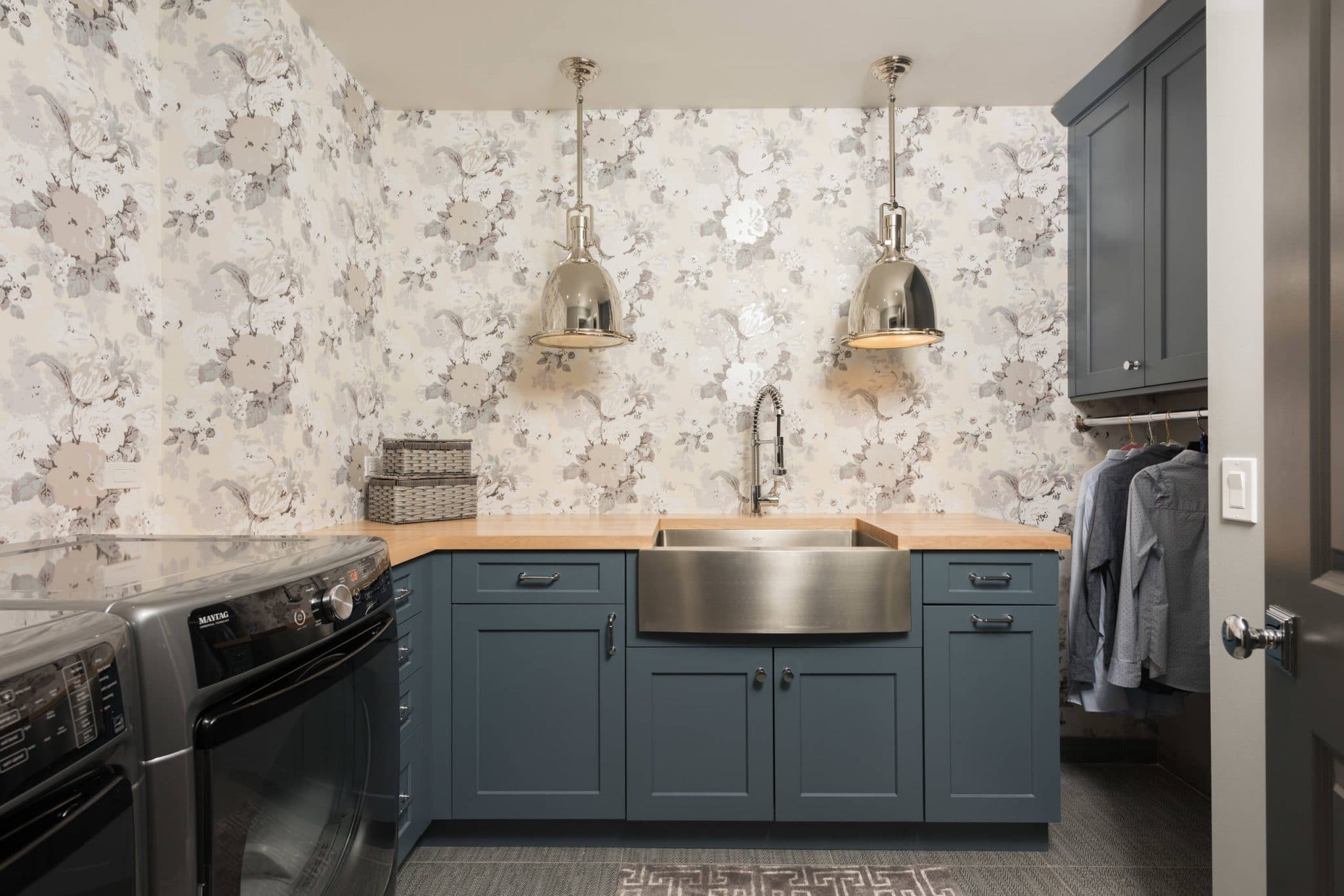 Another fun deviation that's become popular is opting for open shelves over closed cabinets. Sure, concealed storage may be preferred for appliances and cleaning products, but open shelves can display the more attractive wares, like baskets, vases or ceramics that would otherwise be hidden. Meanwhile you can still maintain cabinets beneath the counters so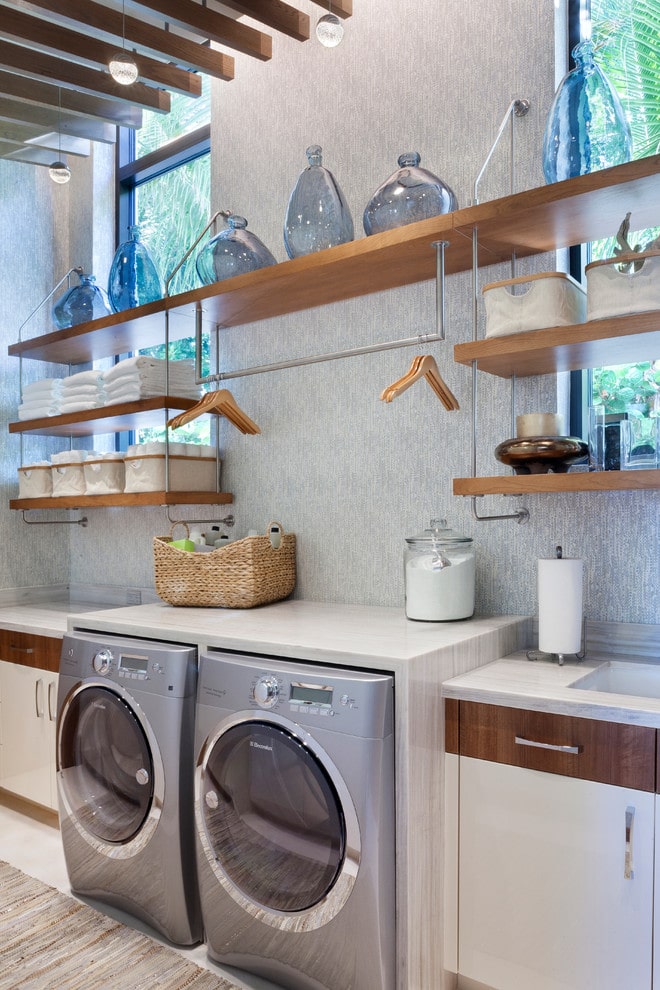 you still have plenty of room for devices and accessories.
If the utility/laundry room happens to connect to the kitchen, you'll have no choice but to work with the circumstances. So, do whatever you can to separate the zones. We're not talking about roping off the area, but you should absolutely use paint or even paneling to help make the distinction. You want each room to have an identity of its own. Adding racks and rails can help, especially in a smaller space with an average height ceiling. A wall mounted frame can be perfect for drying clothes and a simple alternative to the ceiling mount design. You may even consider a rack with a heating element to make clothes drying a snap. Any of these will further serve to separate any association to the kitchen.
Just like for any other room, you may find yourself needing to sort out the storage alternatives. For instance, if you're working with a blank canvas and are just installing a washing machine and getting started, you'll want to consider practical storage options. In that case, you'll likely want to install cabinets. That's standard. But you may want to look at larger spaces, too, like those provided by closets that can accommodate utility items such as a bulky vacuum cleaner or an ironing board. Think "efficiency" when planning out the area and have a firm idea of 'what goes where'. Naturally you'll want to include some hooks or perhaps a peg rail to one of the walls. Give yourself options for hanging a variety of wares like aprons, towels, wet clothes or other items that you need to be easily accessible.
If you are planning to install cabinets, consider the style. Ventilation grills in cabinet doors is a popular design choice among the shaker variety, and are ideal for utility purposes, particularly when air flow and ventilation is desired. These days, you can choose a washer, dryer, cabinets, countertops and sinks from a single physical location, if necessary. To maximize versatility, a deep sink makes the inevitable necessity of washing by hand possible.
The devil is in the details. The utility room isn't where you'd hang out necessarily, and you aren't likely to bring guests around the laundry. So, an interesting prospect presents itself, allowing you an opportunity to experiment decoratively. Go nuts with your design, the colors and accessories, and see just what your sense of style and imagination can conjure!