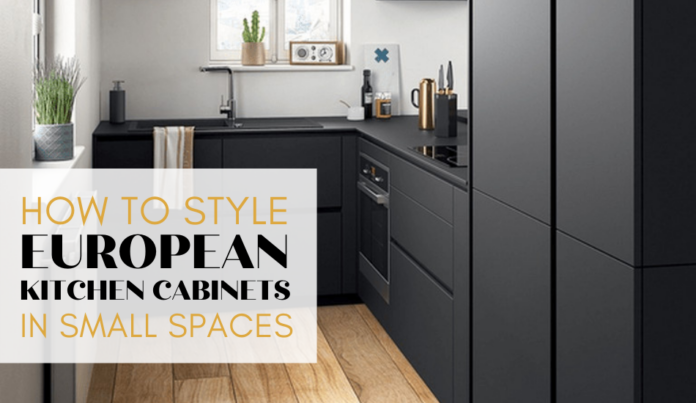 If you find your kitchen is short on square footage, don't despair. A lack of space doesn't have to impede your design potential! Whether you're working with a tiny space or an oddly-shaped kitchen, a few creative choices can get your kitchen looking stylish and staying functional.
European kitchen cabinets are an ideal match for small spaces. These cabinets are often frameless, which opens up space inside for extra storage options. Since these cabinets are best known for appearing in small European apartments and homes, it's no surprise that they're a good fit for small kitchens. Read on for more ideas on how to style your European cabinets in small kitchens.
Create An Optical Illusion with Painted Cabinets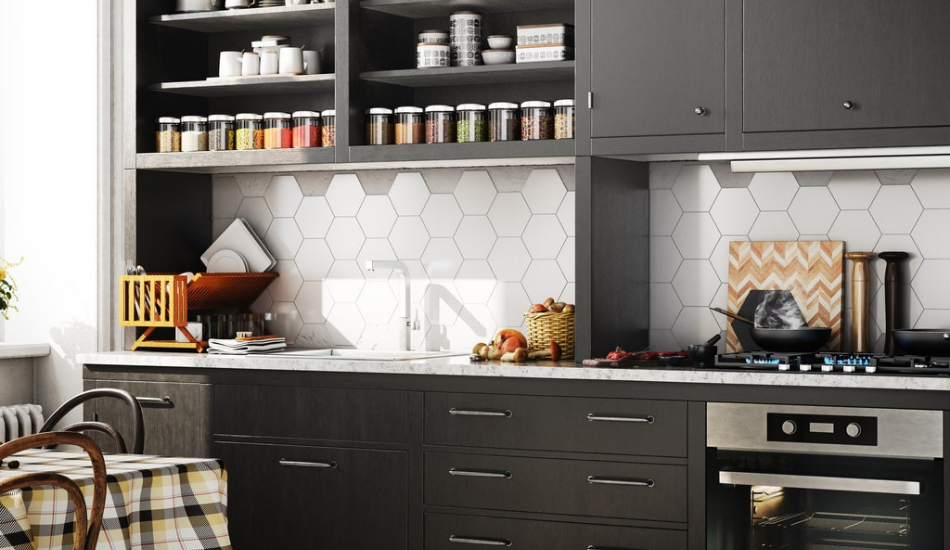 Painted kitchen cabinets is a trend that isn't going anywhere. It's an easy way for homeowners to revamp their existing kitchens without doing a major renovation. In small spaces, painted cabinets can do a lot to help the space feel bigger than it really is! Choose a neutral paint color for the walls, like white or beige, and then a more dominant color for your cabinets, like a charcoal grey. This creates a sense of division in the room and creates the feeling of a larger space. You can extend the feeling by painting your upper cabinets in the neutral shade to elongate the room and create the illusion of more space between the floor and ceiling.
Another way to make your kitchen feel bigger is by sticking to a light color scheme. Lighter colors reflect the light and make a room feel lighter and more airy. You can go for an all-white white space, or play with shades like cream, beige or even pastel blue.
Try Floor-to-Ceiling Cabinets to Elongate the Room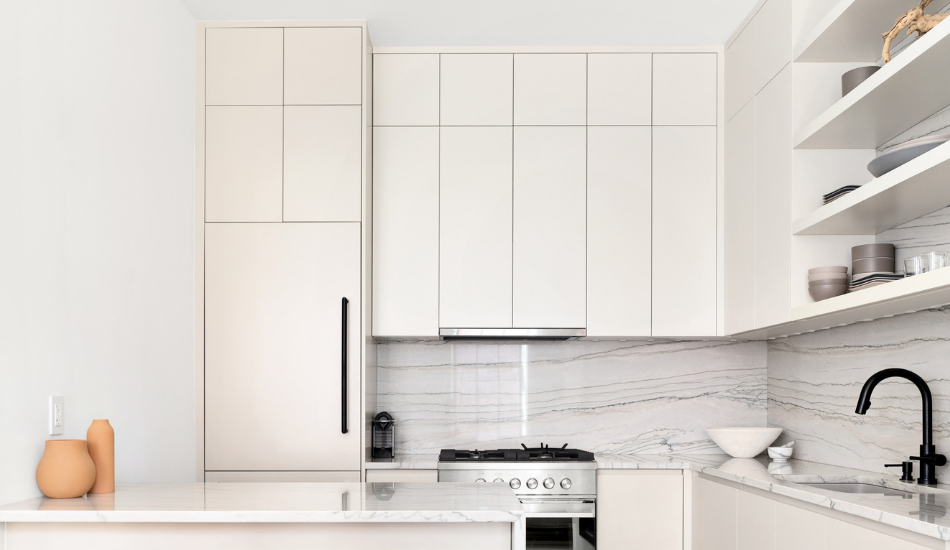 Another way to create the illusion of a larger space is by installing floor-to-ceiling cabinetry. This tricks the eye into thinking the ceilings are higher than they are, and makes the room feel open. The high cupboards are a good place to store the less frequently used items — keep a step stool on hand to reach those top shelves!
You can also paint your European kitchen cabinets the same color as your walls to make the space blend together. With a white or grey color scheme, this makes the kitchen look light and airy and the cabinet feel less imposing.
Optimize Your Storage Options In Small Spaces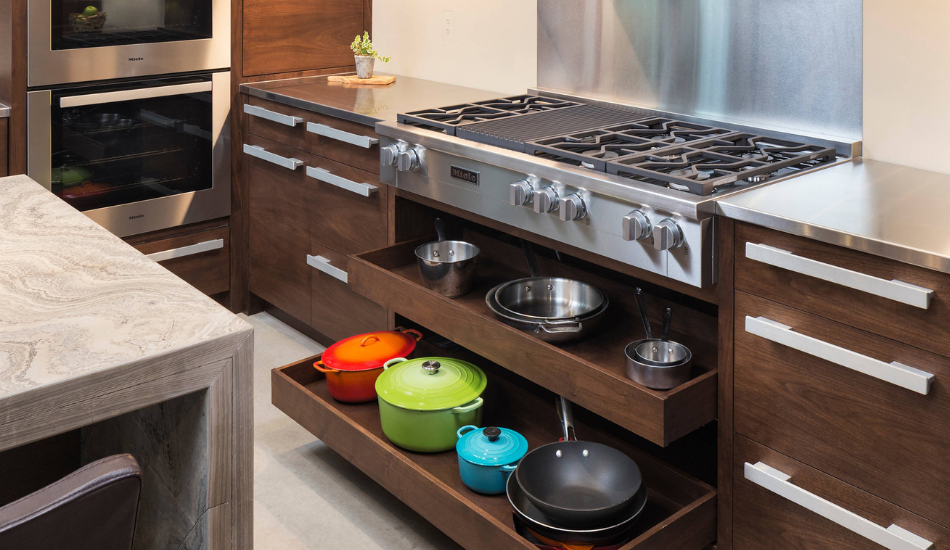 When you have small spaces, you need to get creative when it comes to storage. European kitchen cabinets are a handy choice in this regard as they can easily be outfitted with additional shelves or pull-out racks to maximize your storage. Add in shelves to make sure all your dishes fit in one cabinet instead of two, or remove a shelf to create extra space for large pots and pans. You can also install wire shelving below your upper cabinets for things like hanging wine glasses or storing spices.
Another way to maximize your storage options is by using pull-out drawers or cupboards to store large items. A breakfast cupboard can hide away items like coffee makers or toasters so clear clutter off your counter, and a pull-out drawer can make it easier to grab your frying pan or mixing bowls.
Distract The Eye With a Dramatic Tile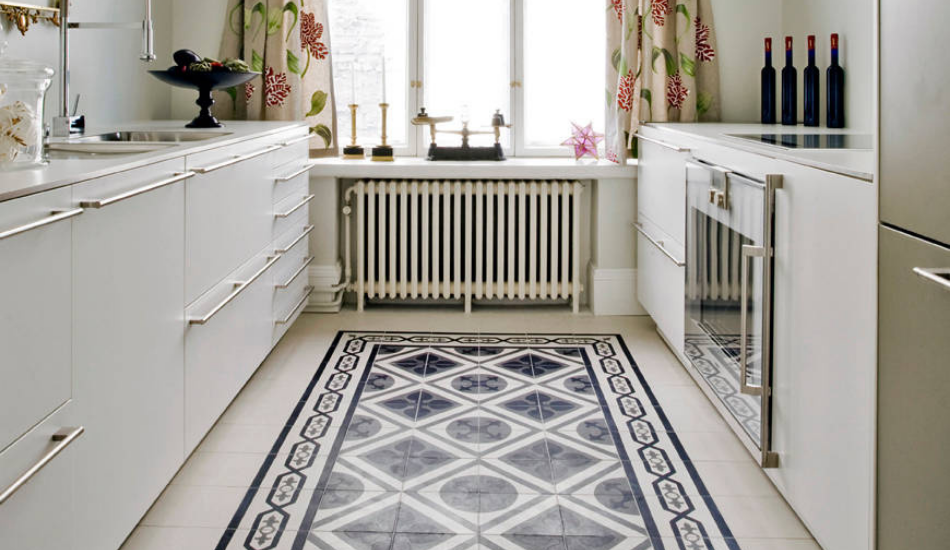 One way to make a room feel bigger is with strong patterns. Opt for a bold tile on your floor to draw the eye and make the most of your small space. Balance the bold floor with neutral cabinets and light walls, and keep the kitchen looking airy.
It's best to keep the rest of your kitchen simple, as too many contrasting colours or patterns can overwhelm a small space. Look for sleek, contemporary details like light, reflective materials. Try a stainless steel fridge, white cabinets and a glossy countertop and backsplash to keep all the focus on your dynamic floor.
Get Rid Of Items That Take Up Too Much Space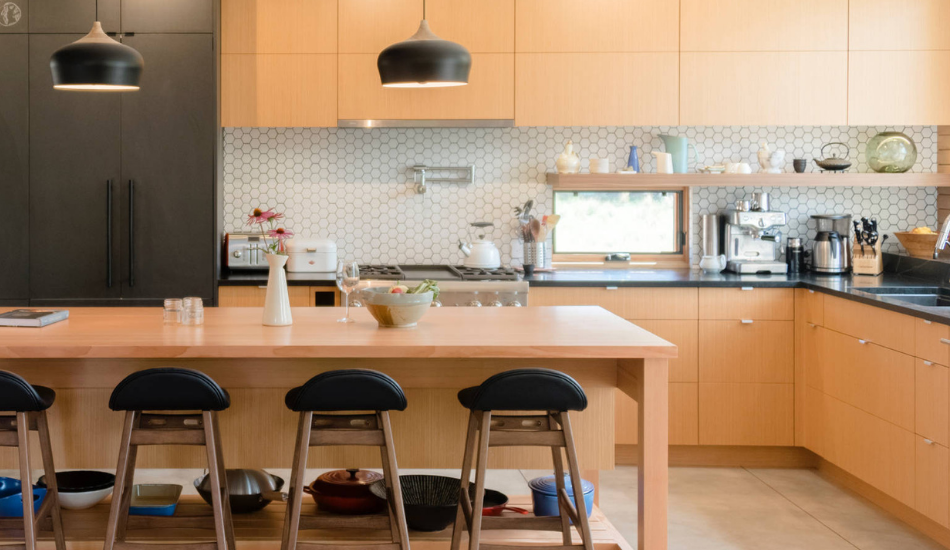 One easy way to make your small space feel bigger is by swapping out a table and chairs for a kitchen island. While a kitchen island may sound like it would add the same amount of bulk to a small space, its long and thin design means it will clear up passageways while providing additional workspace and storage. Choose an island that has storage space underneath for storing away barstools, or add additional cabinets to the island so you can house linens or cookbooks.
Another way to find extra space in your kitchen is by opting for a double sink instead of trying to cram in a dishwasher. The oversized sink will save you headaches when trying to wash dishes, and can make space to hold your prep bowls and plates without cluttering your work surfaces.
Use Every Space and Surface for Increased Functionality
Don't let any space go to waste! Use your windowsill to stow bottles or potted plants, add decorative baskets to your shelves to store items, or use a recess in the wall as a spice rack.
You can easily find small spaces that can be put to better use, like the gaps between shelves or the very back of your cupboards. Stack items when you can to better utilize your space. You can also add extra storage to your cabinet doors by adding a utensil rail, magnetic knife board, over-the-door racks or hooks.
While organizing your kitchen, you might want to take this as an opportunity to downsize. If you have items that are rarely used, or don't serve much of a purpose in your kitchen, it might be worth getting rid of them. The key to a small kitchen is functionality. Instead of taking up space storing a bulky electric can opener, get a handheld one that easily fits in your utensil drawer. Trade-in a big blender for an immersion blender, and ditch the single-purpose gadgets like a strawberry pitter or an egg slicer.