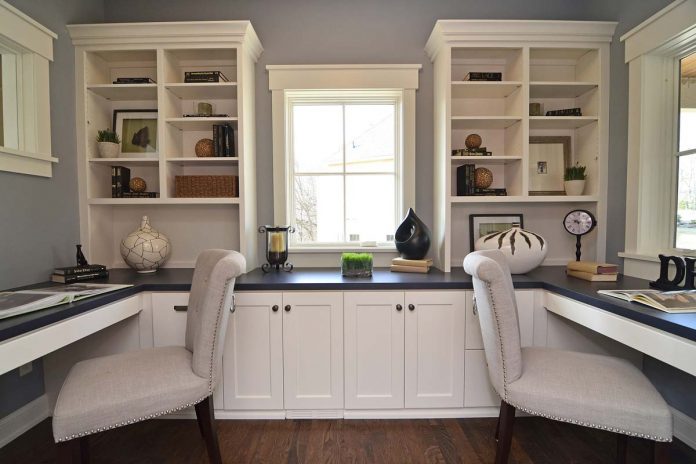 Select Home Office Cabinets for Productivity and Style
Your home office can be a place of serenity or high energy productivity–sometimes both depending on how you're using it. Whether it is your primary (or exclusive!) environment for getting work done or simply where you open your mail, there is a strong case for that old phrase "from the comfort of your own home". Even if you're just using the room to do some online shopping and pay utilities, your furniture and decor should deliver comfort and inspire industry.
Similar to other spaces in the home, your storage needs will only grow as you use the space. And like the kitchen or bathrooms, cabinets in your home office have a significant visual impact on the overall design. Performing a remodel without putting due consideration into the cabinetry could leave you short of sufficient space once your use of the area grows along with your love of it.
Considerations for Home Office Design
Just because the space is dedicated to getting work done doesn't mean that it needs to be austere and devoid of personality. You shouldn't automatically consign yourself to a barebones setup with a second-hand desk and uncomfortable castoff chair. Why not? Because you want the space to be inviting. Nothing can damage productivity like deliberately wanting to avoid the area where you need to get things done!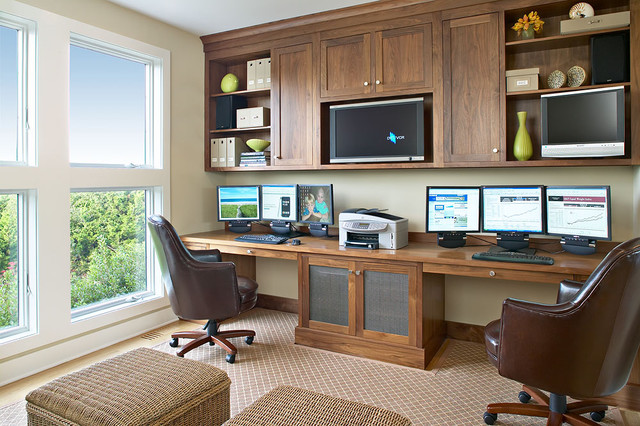 With this in mind, here are some thoughts about designing your home office:
Location in your home: Pick a spot in your home (where possible) that provides not only sufficient but ample space. Avoid a scenario where you feel cramped. Remember that the more time that you spend here, the more you could come to resent the area if you feel squashed in it. Surrounding traffic flow through your home is also a relevant factor, as keeping it distraction-free could also entail making sure it's as out-of-the-way as possible.
Form and function are married: In all of your home office furnishings, you can't neglect the golden rule that you should want to be in there getting things done. Too much emphasis on a stripped down and functional space without appeasements for your appreciation of beauty and design can leave you with a bad taste. Nods to workflow, positioning, storage needs, comfort, and style all dovetail to make the right home office. It is YOUR home, after all: why work in a spartan cubicle there?
Note: Are you interested in a new home office remodel but lacking in a sense of direction for your design? Don't worry about it! Our experts can make anything out of kitchen cabinets–even a desk itself!! Get help with a free design today.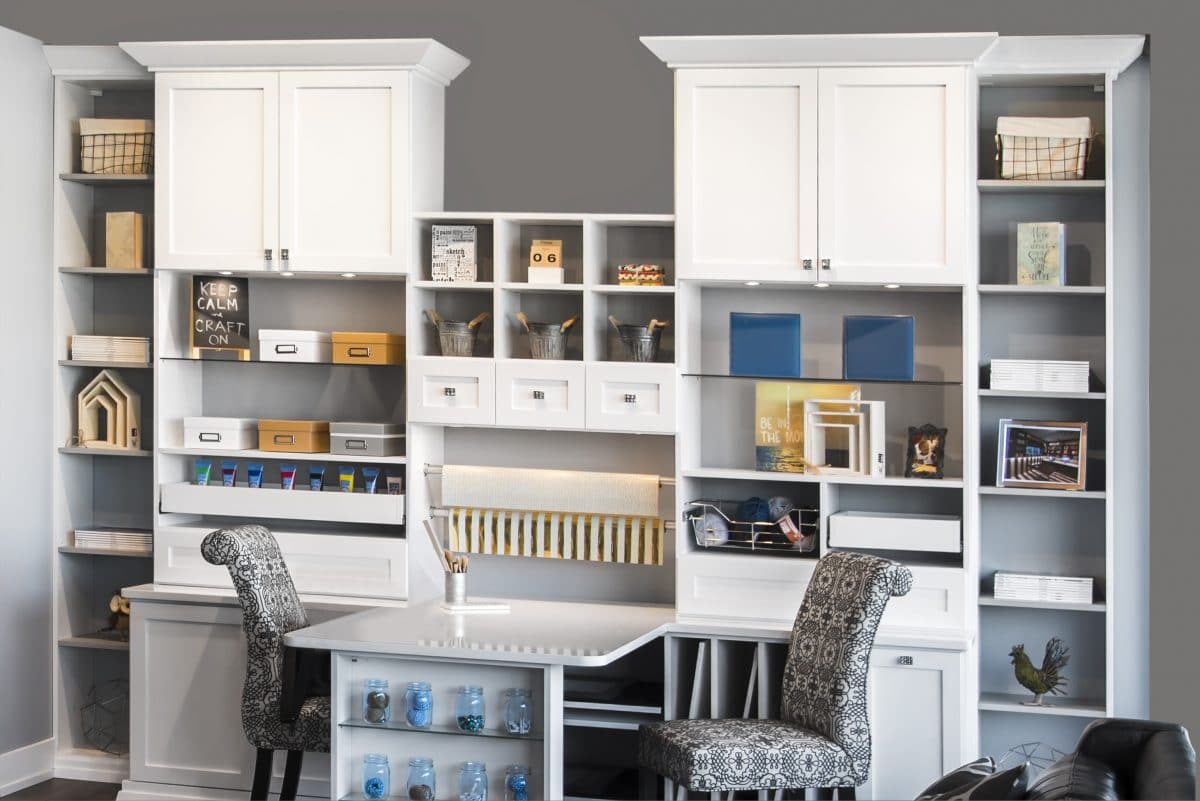 Sit in comfort: While it should go without saying, we think it bears a dutiful note. You could spend hours each day sitting in it, or need to park yourself there for short periods while handling correspondence. Regardless, an uncomfortable chair can become an insidious deterrent to productivity. Make sure you get one that suits your needs ergonomically.
Love what you see: If you can provide yourself with an amazing window view of an ocean bay, then by all means do. For the most part, though, the internal decor is going to play the largest role in forming the visual appeal of your home office. One could extend this argument to the fact that an appalling contrast between a great external view and lackluster internal design could be just as disastrous. Use your furniture and cabinets to make a unified design statement and you won't regret it every day that you walk in.
A Functional Space That You're Enthusiastic to Visit
Whether you go with a more modern approach using flat panels or put in a beautiful expanse of white shaker cabinets for a traditional American look, make sure that you're proud to walk into your home office. With the right design focus, it will reflect your constructive side and influence your ability to get more done. If you're working within the constraints of a relatively tight budget, you should consider RTA cabinets to fill your storage needs–there are many tasteful selections available that can help you save tremendously.