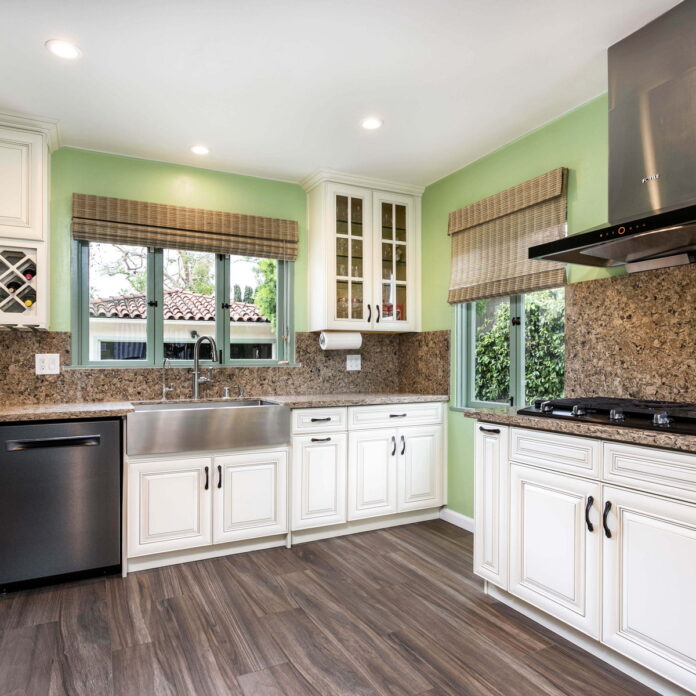 A kitchen renovation can be a costly affair, but it doesn't have to be. If you'd rather not break the bank but still want to turn your kitchen into a brand new space, you can use these simple and budget-friendly ideas to elevate your space. That's where budget kitchen ideas can come up to transform your home. Using your white shaker cabinets as a base, you can achieve any look by using these 10 budget kitchen ideas.
1. Change your lighting
The easiest and most cost-efficient ways to change the look and feel of your kitchen with the lighting. The way the light flows in your kitchen, both natural and artificial, can alter the space to appear larger and brighter. The type of lighting fixture you use can also help with the style of your kitchen, making it look more modern or traditional, depending on the fixture. A pendant light can make a statement, particularly in a pattern or dramatic finish like rose gold or matte black, and a chandelier can instantly make your space look more glam.
2. Add a Creative Backsplash
A backsplash can add personality and style to your kitchen. When you have white shaker kitchen cabinets, you can create a clean and modern look with subway tiles, or do something striking like marble or other non-traditional materials. You can use colorful or patterned tiles to make a unique, attention-grabbing look. You can choose to bring the tile all the way up the wall to the ceiling for a bold, striking look, or use partial tile and paint on the rest of the wall to bring in extra visual interest.
3. Try a New Countertop
Aside from your cabinets, the countertops in your kitchen can make the biggest impact. While granite or marble can be pricey, you can get a similar look for a fraction of the cost. This is known as quartz or laminate countertops. Another cheaper option is butcher block, a countertop that works best in farmhouse style kitchens.
4. Swap Out Your Cabinet Hardware
White shaker cabinets are the perfect blank slate to create any look. You can use your hardware to transform the look of your kitchen. Sleek, stainless steel pulls can make a kitchen look modern, while more ornate knobs work best in traditional kitchens. You can even use different types of hardware throughout the room for an eclectic, kitschy vibe. Antique stores and flea markets might be a great place to look for affordable and unique pieces!
5. Get Organized
Sometimes, you don't need to renovate a room, you just need to reorganize it. Clearing off countertops and creating a neater, cleaner space can transform your kitchen by making it brighter and more put-together. Use your shaker cabinets to store items that could cause clutter on your countertop, like plastic containers or spices. You can add a spice rack to the interior of an upper cabinet near the stove. Another option is to add pull out drawers to lower cabinets to keep pots and pans. Your shaker kitchen cabinets can store a lot!
6. Update Your Floors
Floors can be a surprisingly expensive part of your home to update. However, you can do it in a budget-friendly way without sacrificing your style. Laminate floors are an affordable option, and can even be installed yourself if you have the patience and know-how. Vinyl floor tiles are also an affordable option. These are available in a variety of colors to create unique custom designs. You can make a classic checkerboard, a chic uniform color or get creative and make a pattern. If you have hardwood floors in your kitchen, you can breathe new life into them with a stain or even a coat of paint.
7. Unlikely Decor Pieces
You might not think of a kitchen as a place to show off a throw rug, but an unexpected piece that brings in color and texture can liven up any room. You can add a runner under a kitchen table or an area rug by the kitchen sink to break up the room. If you want to keep the room balanced and neutral, try a rug with one or two similar colors. On the contrary, having a bolder color rug will make more of a statement.
8. Fix Your Faucet
You can transform your kitchen from under $250 by just switching out your faucet! You can get something chrome and traditional, or make a statement with matte black finish. If you want to truly make a statement, you can even swap out your sink to match. If that's too much of one look for you, you can instead match your faucet to your hardware, creating accents of your chosen finish like polished brass or rose gold throughout the kitchen.
9. Add A Kitchen Island
While a built-in center island may be a costly addition, a freestanding island can do the job for a cheaper price. It can provide necessary counter space and storage, but won't take up as much space. Using a movable island allows you to push it against the wall when you need extra space.
10. Update Your Color Palette
With white shaker cabinets as your base, you can bring in any color to transform your kitchen. By painting your walls or switching up your hardware, appliances, and accessories in a coordinated palette, you can reinvent the space. You can create a classic, simple black and white space by using white counters and your white shaker cabinets. Or you can paint the walls blue and pull in a blue patterned backsplash tile to create a Mediterranean inspired space. Whatever color scheme you choose, by sticking to it you automatically make your kitchen look polished and expensive — even if it's not.
Budget Kitchen Ideas Overall Thought
An upgrade doesn't have to mean a full kitchen remodel. Using these tips can bring new life to your white shaker kitchen. Budget kitchen ideas can change small aspects to transform or bring new life into your household.