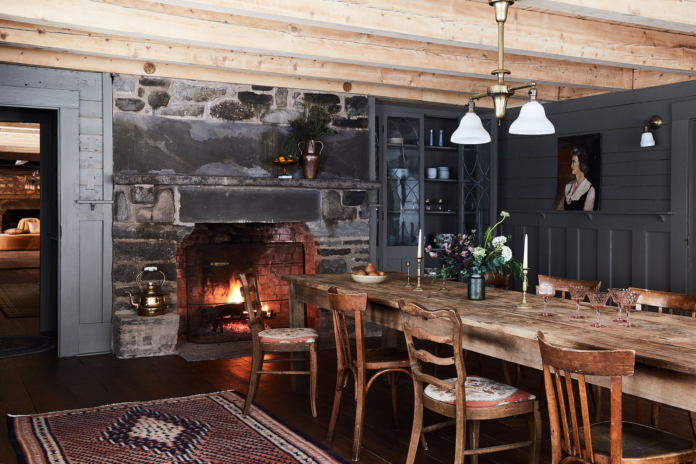 Comfort, coziness, warmth and homeliness are what define a rustic kitchen. To create that elusive feeling of comfort and homeliness, adding organic textures and natural materials will help bring in a rustic vibe to your kitchen. Also antique finishes and fixtures with patina can create the warmth and time-worn feel you'll want in your rustic kitchen.
Although a grey palette is usually picked out by those who want a cool, sophisticated look, if you're a lover of all things grey, it can easily be transformed into a rustic vibe, depending on the hues you use. Choose greys with warmer undertones like greens and browns, or pick out greys in softer shades so they blend in with the rest of the kitchen, rather than create stark contrasts as in modern kitchens.
Considering that a kitchen is where the home is, creating a rustic kitchen welcomes you and your family home after a long day of school or work. Add a splash of grey to add some elegance along the way.
Weathered wood walls and floors boost up the rustic factor in this warm grey kitchen. The sleek grey cabinets add depth and elegance to what might otherwise have looked like a cabin interior. The dark metal finishes on the hardware and window frames make the space casual but stylish.
2. French Linen Farmhouse
While painting the lower cabinets with a pretty and polished chalk paint gives them the French Linen flair, adding open wooden shelves on top is what gives the kitchen its rustic attitude. The dark metal pot rack and the weathered table in the center adds a farmhouse charm that can't be beat.
Source
The glazed gray cabinets and whitewashed ceiling give a rustic charm to this log cabin kitchen. The weathered wood and metal elements add a boldness to the large space while still retaining the comfortable casual vibe.

Source
This gorgeous airy space incorporates a few rustic elements that amp up the warm and charm factors, like the stone facing on the island, and the dark metal finish on the hardware. But it makes it all sleek and chic with the pale gray cabinets and stainless steel appliances.

Source
Rustic sometimes seems to imply that anything goes, clutter and all, but this kitchen is stunning in its simplicity. If it were all white it might have seemed stark, but the grey tones warm up the space while keeping it clean and minimalistic.

Source
Imagine being enveloped by the warmth of a wood burning fireplace, surrounded by dark moody cabinets and woodwork, and sipping a comforting hot chocolate on a cold night. This lovely rustic kitchen brings all those elements together and still looks stylish.
Want to be added to this list?
Click here
to bring up our submission form. We will be in touch shortly with feedback.