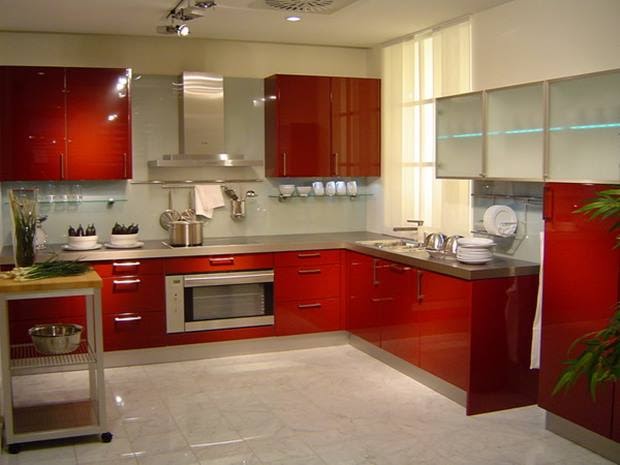 Go bold or go home! If you're interested in red and white kitchens, it is probable you already have this mentality. Home to you is fun and loud and not afraid to show it. Still, with such a big idea, it's hard to know where to start. Let me assure you though, by starting here you're on the right track.
White and red kitchens can give several distinct and very different vibes: antique, retro/vintage, and modern. If your style is more sophisticated and elegant, red is good for the ballroom but not the kitchen. However, if you want some fun for your new apartment or want to spruce up your rustic kitchen, give red a shot. Unlike colors such as purple and orange, red is more likely to create a long-lasting look that won't go out of style while still stepping outside the neutral box.
There are so many ways to go with a red and white kitchen that it is best to walk through some examples and explain what makes them a great design. I hope that you are able to find some inspiration for your red kitchen dreams!
For a lot of people, incorporating red into the kitchen might be a little too much. This design shows a great way to incorporate some color into an otherwise simple room. Just adding some red on the island cabinets and using a red and white to the window shade will liven up a space without feeling like the room is dominated by a bold red.
This is a mostly white kitchen, but the decor add pops of red color to give the room some life. It has an antique style that will make anyone that enters feel right at home. This is a very narrow view of the room, but the kitchen is certainly on the small side. For this reason, it's best to keep the foundation light — use white cabinets and white walls. The decor is vintage and gives the kitchen the red pop making it a beautiful white and red kitchen.
It's probably best to start by saying that glossy red cabinets are not for everyone. If you are going to chic and sophisticated, it's best not to go for a really bold cabinet. However, if you're going for either a modern kitchen or a 50s vintage vibe, the glossy red could be for you. Like with most bold designs, if you go bold with one thing, it's best to keep the rest simple. Otherwise, the room will become busy and lose that retro or modern flair you want. In this case, there is just a solid countertop and no backsplash. To try to make anything more of a with red cabinets would be a mistake.
This is a modern and sleek design that really can go with any color. Simply adding red paint to the walls really brings this room to life. You can replace the red with blue, green, and or even purple if you're feeling bold. This is an easy and adaptable design that will go with any house. Just add a fresh coat of paint and this kitchen will feel brand new.
Besides adding some paint, the easiest way to incorporate red into the soul of a kitchen is the backsplash. Using tile to make a great backsplash can be expensive, but it doesn't have to be. A simple design is a great and cheap way to add life to a space. This kitchen also uses a red countertop to complement the backsplash, plates, and decor and contrast with the white cabinets.
The kitchen isn't the most common place to flaunt your patriotism, but with this design, it really works. You get the red through the cabinets, the white through the counters and appliances, and the blue on the walls. The key to adding a third color to a white and red kitchen is to match the shade of the red and the third color. That is done well here — that is to say, if the walls were electric blue or the cabinets bright red that room would look gimmicky and poorly designed. So if you want to go for a tri-color theme, do it! Just be sure to do it right.
Want to be added to this list?
Click here
to bring up our submission form. We will be in touch shortly with feedback.