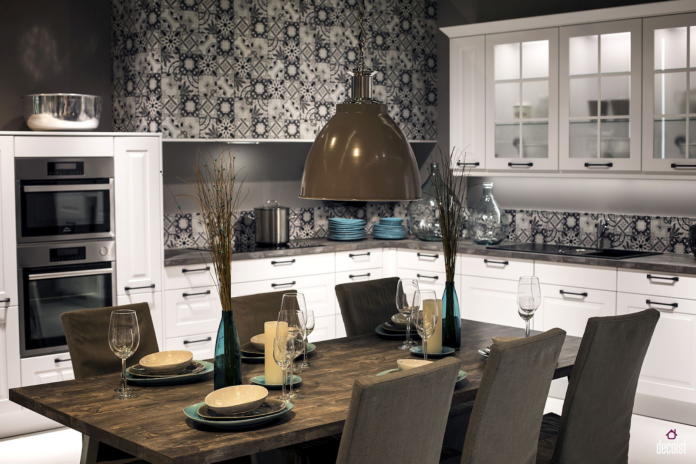 Black, white and grey is a classic combination of colors that never goes out of style. As current and modern as it looks, it's not a trend, but more of a timeless color palette that gives freshness and energy to any space. All the colors in the palette contrast each other, but also work well together, so that part of the design work is already done for you.
Although contemporary kitchens are a natural fit for black and white and grey combinations, it also works well in a retro kitchen or a traditional kitchen, or even a farmhouse kitchen. It's a versatile design decision that can help make your other decisions easier, without having to rely on other textures and accents and finishes.
A black and white and gray palette is also practical, especially in a kitchen, where you can paint the surfaces white where you want them to be clean and bright, and black where you want it to provide a bold background, and gray to provide a contrast.
We've put together a few examples of kitchens where this classic combo is taken to the next level. You can do a lot with these three colors.

Source
The glossy white cabinets lend an air of cool functionality in this small kitchen. All the appliances are also white, with a bold black accent wall and breakfast table, and a grey island that takes center stage. Every element is selected carefully in this small kitchen to make full use of the space.

Source
This stunning black and white and grey kitchen brings the drama with the gold accents. The island alone is a collection of elements that captures your attention and keeps it there – the solid black cabinets with the bold veined marble countertop, and the gold ed

Source
All the sophistication of black and white and grey put together comes through in this one kitchen. The crisp edges of black and white play off of each other, with the shiny nickel finished knobs doing the job of a set of buttons on a tuxedo suit. The pale grey subway tiles on the backsplash only help enhance the lines.

Source
This poolside kitchen looks as cool and laid back as could be, thanks to the black cabinets that recede, the grey flooring and soffit that add an element of interest, and the white island highlights the space. The gold bars add a swanky flair to the open shelving.

Source
Black and white and grey colors belong in a farmhouse kitchen. A fresh coat of white paint is almost a calling card for a farmhouse kitchen. Here all that white is countered by a good dose of black to balance out the glare effect. The crisp lines of the black beams and the bar chairs gives the space the edge it needs, and the glossy grey tiles on the backsplash look pretty and polished.

Source
Rather than large swaths of black or white or grey, this kitchen relies on a wall of tiles to bring in the color, pattern and texture. Those are some hardworking tiles. White cabinets offset the tiles well, the grey paint provides the background, and the black hardware lends sophistication.
Want to be added to this list?
Click here
to bring up our submission form. We will be in touch shortly with feedback.