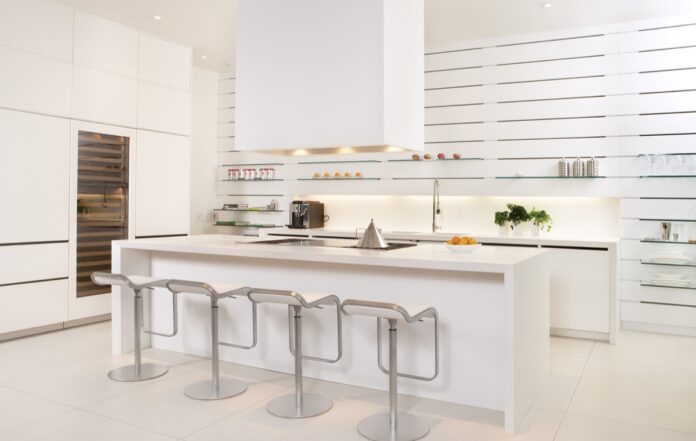 White kitchens are extremely popular, but it's no mistake. There are many reasons to create an all-white design for your kitchen. First, it is timeless. Various color schemes end up becoming fads and date a kitchen with a few years, but white will never go out of style. Second, since white is neutral, it will go with any accent color, but if you don't want to use an accent color, white is the easiest color to match across the kitchen. If you buy white cabinets and white countertops you can rest assured they will match. The same can't be said for any other color (except black). And lastly, white is constrained to just one style. All-white kitchens can be modern, elegant, antique, rustic, and the list goes on.
Going with an all-white kitchen will save you the time and stress created by picking the perfect color palette but still allow you to make a unique kitchen. All it takes is a little imagination and creativity. So if you're looking to get inspired and create a white kitchen that you will love, you came to the right place. Here you'll find different design ideas for everything from antique to modern kitchens. Each design is sleek and crafted to perfection. So get started on your design or renovation journey right here and explore these all-white kitchen designs.
Kitchens don't get much cozier than this. Even though there is just barely room for a stove and sink, the space is extremely functional. The all-white cabinets open up the room beautifully, and they make great use of the natural light coming in over the sink. Importantly, the counter space is not cluttered. When working with snug spaces, it's best to get as much stuff as possible off the counter and onto shelves and into cabinets. A few tasteful storage containers add some life to the white backsplash without dominating the room and the pots and bowls add some color to the all-white scene. And lastly, the track lights have will spread light evenly across the room once the sun sets.
If you ignore the massive stainless steel refrigerator, you might be transported into a Victorian home outfitted with the original cabinetry and supporting structure. Not only are the cabinets and island detailed with craving, but if the cabinets are at least 100 years old they certainly have me fooled. The wear and tear is not a fault so much as the defining aspect of the room. And the glass windows of the cabinets allow additional natural light to enter the space which is largely closed off.
3. Paneling and Open Shelves
This kitchen design is both modern and simple. It has an extremely modular design with white kitchen cabinets without knobs or handles and a fridge disguised into the paneling. Additionally, the backsplash is plain but well light to create warmth amidst the sharp whites. The best part about this kitchen, however, is the shelving on the back wall. Instead of more white cabinetry, there is open glass shelving. Because of the design, the shelves can be adjusted to various heights can be spaced out to accommodate your storage needs. Open shelving gives the illusion of a bigger room, and while this kitchen is certainly not small, it is a great inspiration for small and large kitchens alike.
This is a very narrow view of this kitchen, but it is safe to say that the kitchen is small and this is a great example of how to incorporate a rustic theme into a snug space. Creating open shelving and the light wood keep the room from feeling catastrophic. Plus, the open shelves are a way to showcase some rustic decor. You'll notice the milk jug and glass pitcher. Lastly, the white appliances keep the room on theme. Stainless steel is certainly the go-to nowadays, but keeping everything white really ties the room together.   
Want to be added to this list?
Click here
to bring up our submission form. We will be in touch shortly with feedback.