As we move into a new decade, interior designers rush to predict the trends of the future in our homes. While many of us think of all the future tech that is available, much of that is already here! Faucets that don't require touch, toilets that have bidets and different showerheads are all on the market.
How many of you envision a bathroom with lots of silver metal and classic white tiles with all this tech? So much of this imagery comes from imagining living in space colonies 50 years ago, lacking color and metal everywhere. 
The vision of the future of bathroom interiors is probably going to surprise more people than you think! Let's see the bathroom trends of what bathroom trends are going to affect us next in 2020!
2020 looks like it's going green
Having some plants and flowers in your space will bring more life to your bathroom. This can add natural green colors and texture into your bathrooms and optionally, a light fragrance.
The nice part is with easy access to water, plants are easy to maintain, especially those that thrive in humidity. However, this doesn't mean ANY plant will do well in the bathroom. Plants like aloe vera, bamboo, and even orchids do well in the bathroom. You also need to be aware of how much sunlight a plant can get to maintain its health.
Wood will make more of an appearance in bathroom interiors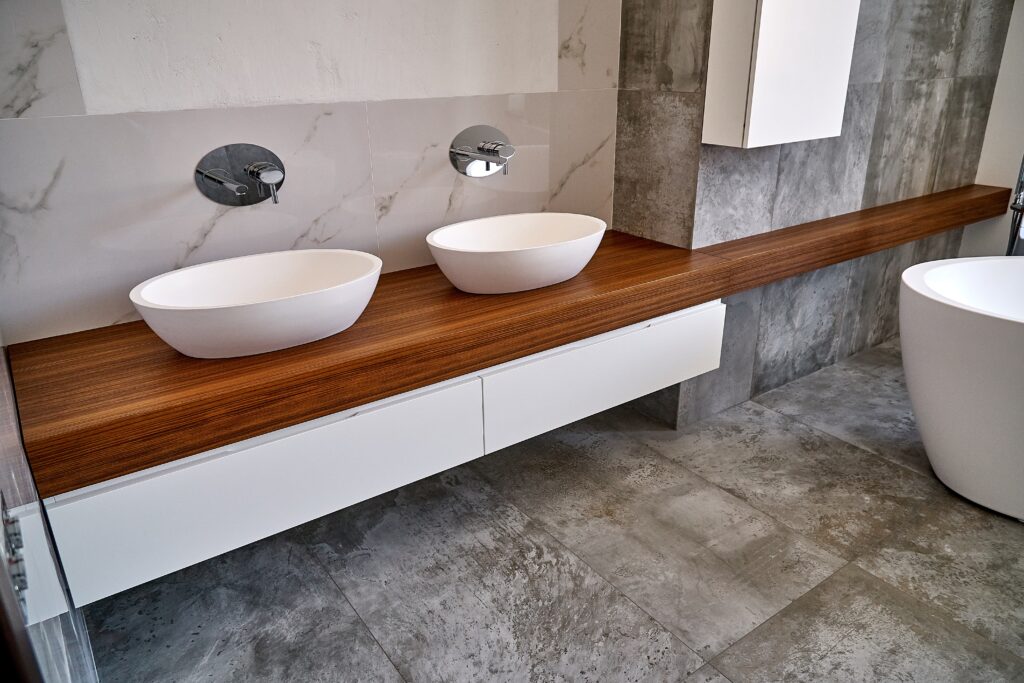 Wood is usually found in only bathroom vanities or other furniture because wood normally does not do well with water. However, sealants and modern design allow the wood texture to become a more usable texture in the bathroom without fear of rotting.
Wood tiling on floors and walls add a nice neutral texture to the bathroom as an alternative from to white. The emphasis is on using real wood patterns rather than veneers or faux textures. While wood simulations are prevalent, it doesn't have the same feel as real wood in a space.
Freestanding tubs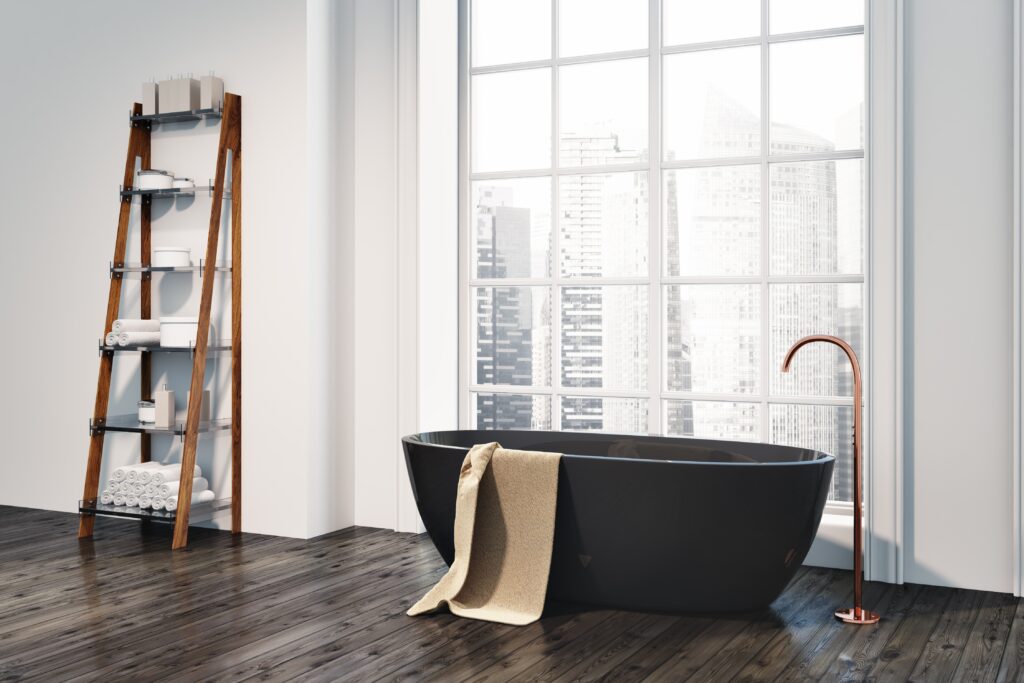 Tubs are becoming large statement pieces and are no longer incorporated into the walls. They have become the centerpieces of the bathroom and can demand attention in any bathroom. There are ways to incorporate the tub seamlessly into the bathroom without visible pipes, keeping in trend with more minimalism. 
Since these tubs are standalone, they bring into mind a different kind of tub that is standalone… the hot tub. Homeowners are entertaining jacuzzi jets into their tubs to add to the luxury of their bath experience.
Tubs that are still built into the walls are using clear glass around them to add spaciousness to a bathroom. While these glass panels are transparent, they still provide a sense of privacy, despite being fully see-through.
Floating modern vanities
Minimalism is influencing this trend of objects taking up less space in the room. Part of this movement includes installing vanities into the wall so they appear floating with no contact to the ground. This can make the room look more spacious and additionally, store items that could not normally fit into vanity cabinets. Floating vanities are also ADA (Americans with Disabilities Act) compliant and can accommodate those with mobility issues or wheelchairs.
Creating a floating vanity is a major renovation since the structure has to be bolted into the wall for support. The space makes it easier to clean under a floating vanity, making the room simpler to maintain. However, standing on it to reach tall spaces or sitting on it is never advised, even if it looks sturdy.
Colored bathroom sinks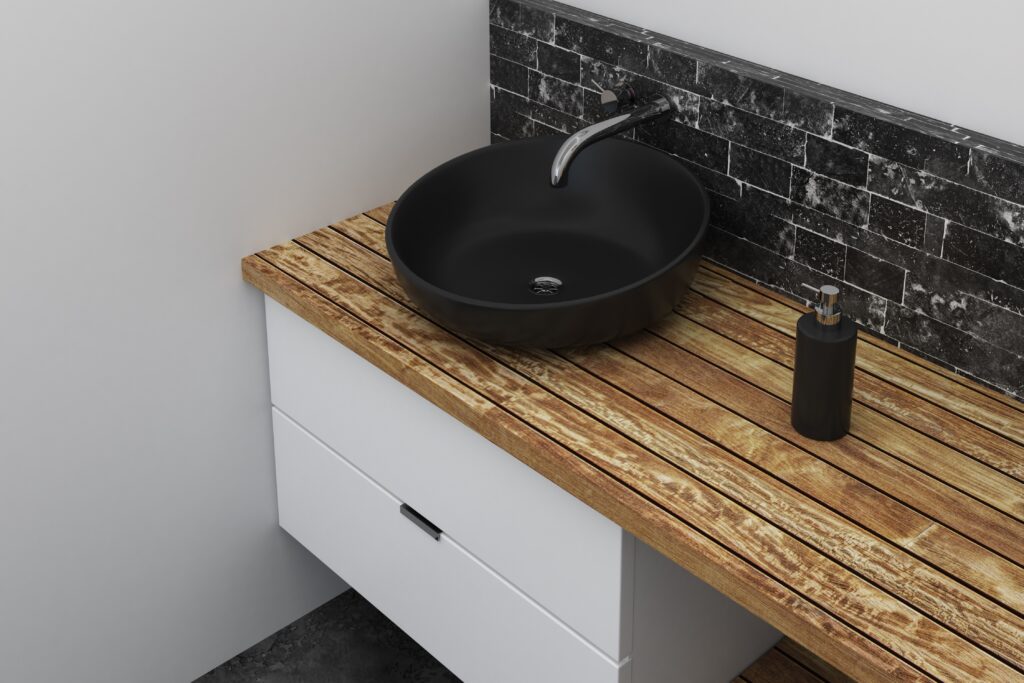 This trend may be affected by a similar trend happening in kitchens where the emphasis is placed on a unique sink. People use the sink more than any other appliance in the bathroom. It's logical to pay more visual attention to the sink although we are used to its function more than appearance.
This means less vanity bathroom tops where the sink is incorporated into the surface seamlessly. Custom colored sinks are usually undermounted but that means making sure that the opening fits with the sink perfectly.
A colored sink may also be a misnomer, it's not just the color change by itself that's in trend. It's the details of the sink that highlights the bathroom like an unusual structure or a pattern in the basin. We are used to solid colored sinks that texture of ANY kind will stand out. Having the right kind and amount of detail will matter more than having ample patterns.
Minimal Effective Lighting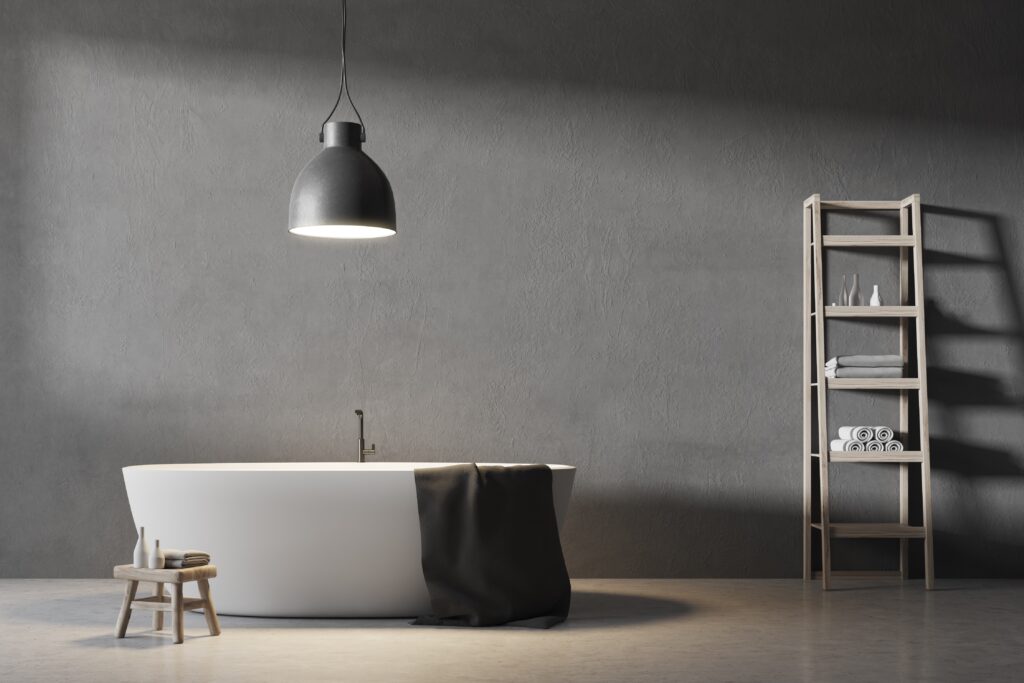 Bathrooms definitely need lighting for people to perform their functions so we are used to having the most light possible. Thanks to LEDs. we no longer need large florescent bars in our bathrooms which make them look glaring. Light Emitting Diodes produce brighter light without heat or big bulbs and we can shrink their size without losing light.
The most popular instance of this are small, long bars either above or in sconces next to the bathroom mirror. There are also mirrors, like from Tona, that produce ambient light around the frame at a push of a button.
Matte surfaces
Another departure from traditional bathrooms, we are trending towards less reflective surfaces in our bathrooms rather than glossy. The picture of the typical bathroom involves porcelain surfaces and shiny metals that are polished to show their cleanliness. 
However, matte surfaces make surfaces less bright and reflective, which people say feels calmer and more relaxing in a space. This coincides with the choice of materials that are also popular, like wood, that tends to naturally be less shiny.
Yet of all the matte colors, it's matte black that is drawing the most attention. It's a stark contrast to the white bathrooms we are used to seeing.
Going for the gold, or at least, not silver
As we getting into darker colors for your bathroom, we're starting to see gold and brass as optimal hardware choices.  Other popular choices in hardware are matte black and bronze, especially oil rubbed bronze which has a deep chocolate color.
However, silver-toned metallics like stainless steel or chrome seems to be not in trend for the forthcoming year. For the longest time, we've seen many of our bathroom fixtures as silver. It is such an expected color that when we see "not silver," we immediately notice. Because so much silver in the bathroom immediately blends into the background, other hues will stand out.