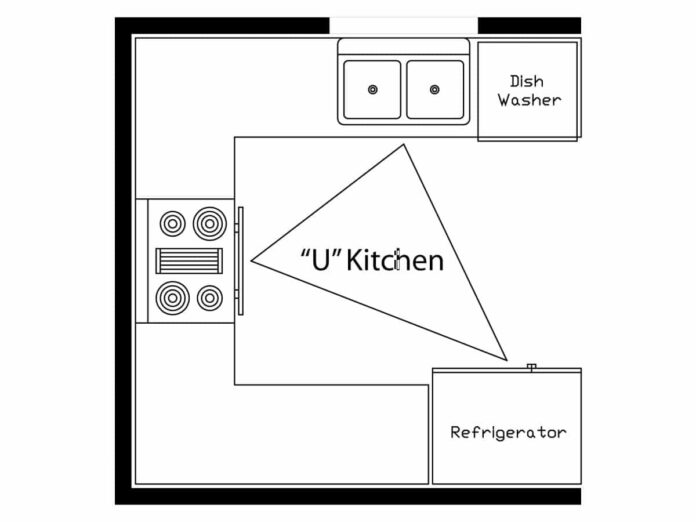 You find yourself required to give some thought to the kitchen. Maybe you have your own place for the first time, or perhaps you are about to embark upon your first-ever kitchen remodel. What do you need to know? You've heard about the Kitchen Work Triangle, but have you ever really understood its philosophy?
With its roots dating back to the 1920's, the KWT's main points are comprised of the cook top, the sink and the refrigerator. By keeping the three in close proximity the ability of a single cook is maximized. Typically, the space between these areas is no less than four feet and no larger than nine, adding to a total sum approximating between thirteen and twenty-six feet. The idea being that a smaller area will be too cramped while a larger area would result in the unnecessary expenditure of personal energy. The KWT is all about efficiency.
A proven formula, it is perfectly reasonable to suggest that you should always consider the KWT when designing your kitchen. You'll learn that cooking is much easier and traffic minimal when you implement the relatively easy guidelines. Do you currently find your efforts in the kitchen stifled? Is it as though you are running back and forth? Determining the pitfalls specific to you is the first step toward resolution.
There are many aspects to consider – does your kitchen space serve a variety of purposes? Perhaps even those beyond the realm of daily culinary tasks? It is common for today's kitchen to house an island, a variety of sinks, a dining area that also may serve as a homework station… This is why confining your cooking area is important; it allows FREE USE of the remaining space!
It may be useful to know that it is not imperative for all sides of your triangle to be equal. More vital is the need to keep the paths between each point clear. A triad's shape may vary and that's acceptable, sometimes inevitable. You should keep kitchenware (utensils, pots, etc…) in close vicinity of the stove. But outside the equation, a prep space should be established. Small designated areas by the sink and stove are adequate. Or you may even implement a second triad that is between the pantry, refrigerator and tableware. Having both triangles connect at the fridge may provide an even more skillful kitchen solution.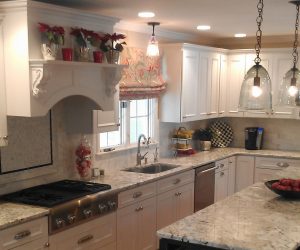 Another option is to have the cooktop and sink on the same side, about three feet apart. This will enable you to keep an eye on what's cooking while you wash and prepare other ingredients. Some people prefer to leave the refrigerator accessible at all times, so the person at the range and anybody else who needs something from it is uninhibited. In this case, the triangle may be skewed as not to cause conflict with the cook.
In the simplest of terms, the Kitchen Work Triangle connects from the center of the sink, to the center of the cooktop, to the center of the refrigerator, and finally back to the sink. All other stations are placed nearby. We hope this insight is helpful. The goal is to get the most out of your kitchen, to ease your daily routines. Despite some minor modifications the KWT has been popular for nearly 80 years, proving the old proverb, "If it ain't broke, don't fix it!"