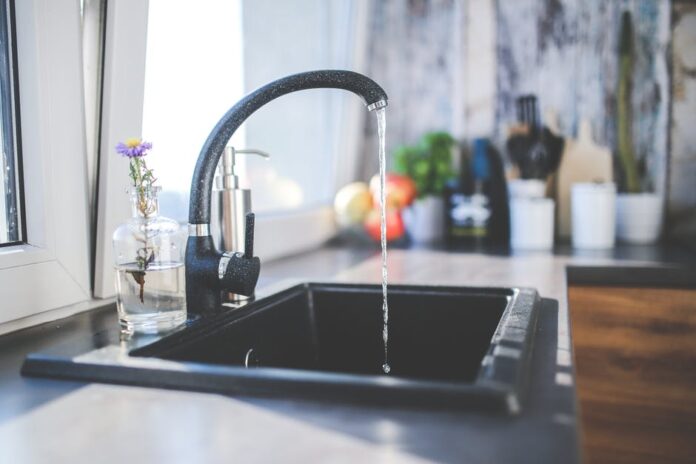 Are you bending over too much to do dishes? Is your sink taking up too much counter space? Is your sink already crowded after a few dirty dishes? These are telltale signs that you have the wrong sink size.
The wrong kitchen sink size is a nuisance, increasing the risks of chronic back pain, dripping, messy counters, and broken dishes. These nuisances lead to costly repairs, replacements, and even medical bills down the road.
The right kitchen sink size also depends on the sink's design, and not every sink is so easily replaced. For example, if your integrated sink is the wrong size, you would need to remodel the kitchen counter. That's one reason why it's so important for you (and your contractor) to nail down the right size before construction.
Avoid costly mistakes from the start. Remember these tips and tricks as you choose the ideal sink size for your kitchen!
Standard Kitchen Sink Sizes to Know
The ideal sink size depends on a few factors, including your height, physical needs, overall kitchen size, counter size, cabinet sizes, and design preferences. You also have to think about sink upgrades, like spray faucets, water filters, strainers, new plumbing, and sink organization accessories.
Despite these variables, there are general standard sink sizes to help you choose the ideal size for your needs. On average, customers who purchase single-bowl sinks prefer 30-inch-long dimensions at most. Experts recommend at least 22 to 27-inches in length, which also works for small kitchens.
Length is one factor, but you also have to consider the depth of the sink.
Kitchen sinks should be at least 7 to 7.25 inches deep; anything less and your dishes will quickly pile up and reach the faucet. Heavy dish loads would benefit from 8 inches and up. If your sink is less than 7 inches deep, install a pull-out faucet or a faucet with a taller neck.
Standard sizes for single-bowl vs. double-bowl sinks are also different. Double-bowl sinks have two basins separated by a steel, marble, or granite divider, or counter space if it's an integrated sink. Double-bowl sinks require more room can reach up to 48 inches in length, while larger single-bowl sinks are typically 33 inches or less.
You can also install a 40-inch long oversized single-bowl kitchen sink with more depth, which is more accommodating for large families.
Standard sink sizes only tell you so much. You must adequately measure your kitchen and counter, consider your needs, and work with a contractor to hone in on the ideal size.
Why You Need a Properly Sized Sink
What about the needs of homebuyers?
Back and neck pain, lack of space, drippy sinks, and the risk of damage are a few reasons why proper sink sizes matter, but did you know that it's crucial for home sellers?
According to recent real estate studies, almost 40% of homebuyers want homes that don't require any remodeling or renovations. The wrong sink size, especially if it's an integrated sink, can scare off potential buyers, which keeps your home on the market even longer.
Another study found that homebuyers regard kitchens as the #1 most important space in the home, which is reason enough to upgrade your sink before you sell. Expect buyers to consider kitchen sink sizes before making an offer.
Kitchen upgrades add a considerable amount of value to buyers. Let's take a closer look at different kitchen sink designs to discover the right sink dimensions.
Types of Kitchen Sink Designs
Let's start with the classic integrated sink. These sinks have a seamless look and incorporate well into various kitchen styles. You don't have to worry about grime sticking to hard-to-clean rims and seams.
While these sinks are found in millions of homes, they're the most challenging sink to "resize."
Unlike most sink designs, you can't simply drop in a new sink. As you learned earlier, you'll need to replace the entire kitchen counter first. That's why these sinks are better for bathrooms than kitchens.
If you want to install an integrated sink, consider everyone's needs in your household since these sinks are harder to replace. Deep basins are better for soaking dishes, but smaller members of your household may benefit from shallow sinks; this applies to other kitchen sink styles, as well.
Drop-In and Top-Mount Kitchen Sinks
Drop-in sinks, also known as top-mount sinks, have been growing in popularity for years.
These sinks are the easiest to replace. Once you've outgrown your sink size, just drop in a larger size. Kitchen counters require minimal remodeling, except for a new sink hole.
These sinks are installed from the top and don't require professional installation for simple replacements. However, you may need a professional countertop contractor to cut the new sink hole. You don't need a new hole if your new sink has the same length and width as the previous model.
Drop-in sinks have visible rims, but some homeowners don't like the look of them. Sink rims can trap stubborn food debris and gunk if they're not watertight, but you can prevent sink loosening with proper installation.
As an alternative, you can try an undermount kitchen sink. These are nice if you want a deeper sink size without the rims. They're also installed underneath the counter and kept in place with sink clips. These sinks are harder to install on your own than drop-in sinks.
Apron-Style Sinks
Apron sinks get their name from the wall (or "apron") that spills over the front sink counter. These are similar to drop-in sinks, except the front of the sink jets out beyond the counter.
These sinks are also called farmhouse sinks and are commonly found in farmhouse-style homes. Originally, they were simple basins mounted on top of freestanding counters or kitchen tables.
Since apron sinks protrude out from the counter, they can make sizing a little tricky.
Unlike other sink sizes, you have to think about how far you want your sink to jet out. Since sink depth determines apron length, your apron could be as long as 10 inches.
Standard kitchen countertop sizes are also 25 inches wide on average, so placement is critical for determining apron sink size. You don't want your sink to protrude too for out or limit back counter space. Consider your kitchen's dimensions when calculating placement and protrusion, too.
Apron (or farmhouse) sink sizes range from 20 inches long, which is perfect for small kitchens, to over 60 inches for large families or even triple-bowl designs. You can also buy apron sinks with attached drainboards, which requires more counter space.
Drainboard Sinks
Drainboard kitchen sinks come with convenient, attached drainboards. These sinks are typically installed like drop-in or farmhouse sinks, but they also come in undermount styles.
Drainboard sink size ranges from simple to advanced with attached cutting boards and sink organization. Since these sinks come with multiple features, they require more counter space than regular drop-in sinks.
Best Sink Sizes for Small Kitchens
More Americans are squeezing into smaller kitchens, but this doesn't have to limit your sink options.
Drainboard sinks with removable cutting boards work well in compact kitchens. They also come with drying attachments if your tiny kitchen doesn't have a dishwasher.
Nearly every sink style works in small kitchens, as long as your sink is between 22 to 24 inches on average. Anything over 27 or 30 inches is too large for a small kitchen. You also need to conserve as much counter space as possible.
Since you have less space, single-bowl sinks may work better in your kitchen. If you want a double-bowl and save space, you would need smaller basins, which would lead to crowding in your sink.
Kitchenette Sinks
What if the smallest sink is too large for the tiniest of kitchens?
22-inch sinks may be too big for your tiny kitchen or kitchenette. This is frequently the case for old studio apartments and tiny homes.
Tiny kitchens would need a sink similar to a kitchen island sink or a "prep bar" sink. These small single-bowl sinks are just 15 inches long. You would also find these in a home bar.
Prep bar sinks are tiny, and dishes pile up quickly when you don't have a dishwasher. If a 22-inch sink fits just fine, go for that or even a 24-inch if you can. See if your tiny kitchen will accommodate a deeper sink bowl, too.
Wall-Mounted Sinks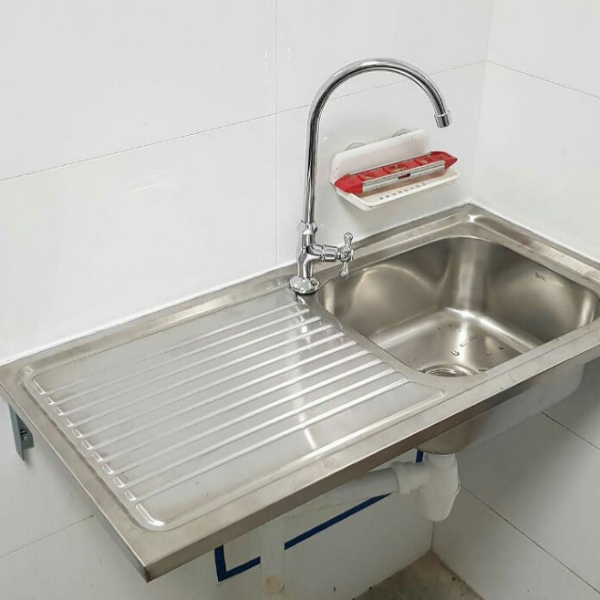 Another option for small kitchens are wall-mounted sinks. These sinks take up very little space, and don't even require counter space for installation. They simply mount onto the wall.
Wall-mounted sinks work great in small studios or lofts with open layouts. However, you would need to purchase additional upgrades, like freestanding counters, kitchen storage, and stoves.
Unless you're experienced, wall-mounted sinks require professional installation. You also need additional plumbing fixtures
As an alternative, you could try a small "Macgyver" kitchen island. Macgyver islands come with everything, including drawers, counter space, kitchen storage, trash bins, and small sinks. These work great in open kitchen layouts.
Round Sinks
While most kitchen sinks are rectangular, circular or oval-shaped sinks take up less counter space. These are more common for bathrooms, but an oval-shaped sink would make more room for extra faucets.
Corner Sink Sizing
One kitchen sink style that isn't as common, but may suit your needs, is the corner sink. This style features two sink basins positioned at an angle, forming a right angle. It's technically a double-bowl sink.
You would find these in homes with square or rectangular kitchen islands and bars. You may also find them in some commercial kitchens.
Since these sinks fit into a corner, they save more counter space than some large double-bowl sinks. You may want to consider this style if you host a lot of people in your kitchen but don't want an oversized sink.
The "back" lengths for standard corner sinks are typically 36 or 42 inches, but the front-facing measurements are much smaller. A 36-inch corner sink is only 17 inches at the front, while a 42-inch sink is just 24 inches up front.
How to Find Your Kitchen Sink Size
Before you buy a new sink, you'll need to take some measurements of your current sink. You can use a standard ruler, but flexible measuring tape is much easier.
If you're replacing your sink with a drop-in sink with rims, start measuring from the outer lip of the sink, not the basin itself. If you have an undermount sink, start measuring where the edge meets the counter.
Next, find the length of your sink. Fix your measuring tape to the left edge of the sink and stretch it over to the right; that's your length.
To find the width, measure from the back edge of the sink to the front edge. Find your sink's depth by measuring the top edge of the sink down to the bottom.
If you want a deeper sink replacement, add a couple inches to your depth. 10 inches is a good size upgrade from 7 inches, for example.
Don't forget to measure your kitchen countertops, counter height, and kitchen cabinets to find the right proportions.
Sizing Tips and Adjustments
Your sink works with other kitchen elements to create a convenient layout.
If your overhead cabinets hang low, you'll want to avoid faucet necks that are too high. Plus, if your kitchen counter height is too low, chances are you're straining yourself at the sink. Consider moving your overhead cabinets up and increasing the counter height to reduce back strain.
Likewise, consider lowering your kitchen counter height and overhead cabinets if they're too high. You don't want to risk any kitchen accidents.
Discover the Perfect Kitchen Sink Size
Don't risk the consequences of the wrong sink size. Find the right measurements and sink style for your needs, whether you're selling your home, downsizing to an apartment, or accommodating a large household.
Refer to this guide as you find the ideal size for your kitchen sink, or check out the blog for even more kitchen remodeling ideas.
Kitchen sinks and cabinets go hand-in-hand. Do you have the right fixtures for your remodel? Contact us today to learn more about our selections or book a free kitchen design consultation right away!