Know the basics for optimizing your kitchen's efficiency
After years of study and use, kitchen operation has been analyzed and broken down to a bona-fide science. Despite the wealth of informative output in regards to kitchen technique, few people know of its existence or seek it out. And yet most kitchen logistics have been resolved, for all to benefit from, right down to the measurements. This certainly helps make kitchen set up infinitely easier. Perhaps from reading this you will reap the benefits of all the work that has already been put into the study of kitchens.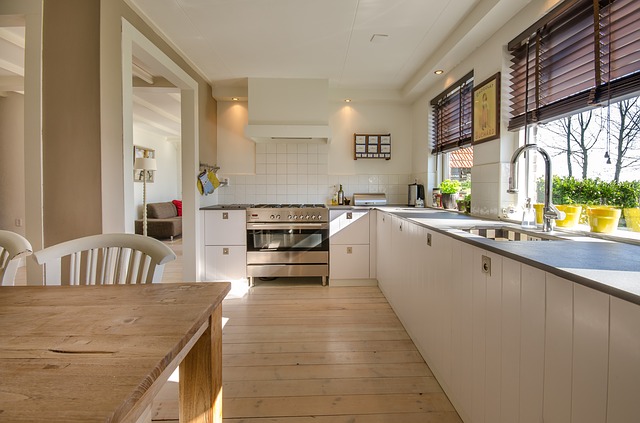 Kitchens perform a variety of functions. Primarily, they store food and cookware, allow counter space for meal prep and cleanup and provide the facilities to cook and bake. When arranged with care, these chores work together seamlessly, facilitating a smooth endeavor. Once you have everything in its proper place you may begin to take advantage of a perfectly designed kitchen. Let's outline some of the essentials that should be implemented…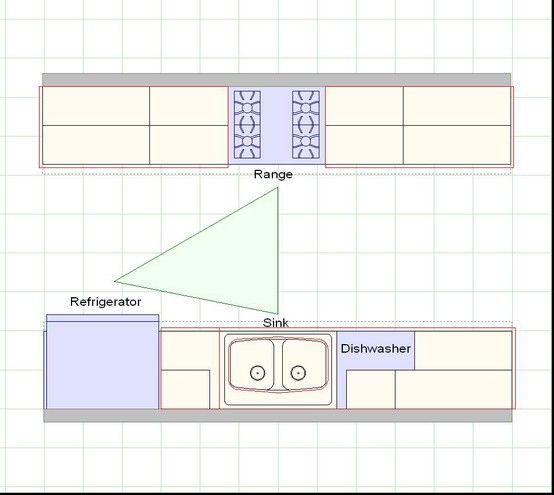 Near the kitchen's entrance, store all refrigerated and dry goods. From there, it's toward the dining area that you want the cooking space. Between the latter two should be the sink (an important spot for its utilization). Together, these points create the Kitchen Work Triangle. Ideally, a work triangle will measure less than 21 linear feet. At its largest it should not exceed 26 feet as it defeats the purpose of efficiency – it simply runs too far from one point to another.
Typically, when the kitchen features an island with a sink, a prep area is split between the island and the corner of the kitchen. It's a version of the triangle – though always compact. Obviously, in regards to the three main functions of a kitchen – storage, prep and cooking – the ideal setup is subjective, everyone has their own system and preferences. But let's continue with the basics…
With dry goods and refrigeration located at the kitchen's entry point, having a pantry on one side and a countertop on the other will provide an ideal scenario of convenience. This will facilitate the ease of removing contents from the fridge and placing them on the counter (the size of which should be 15" x 24").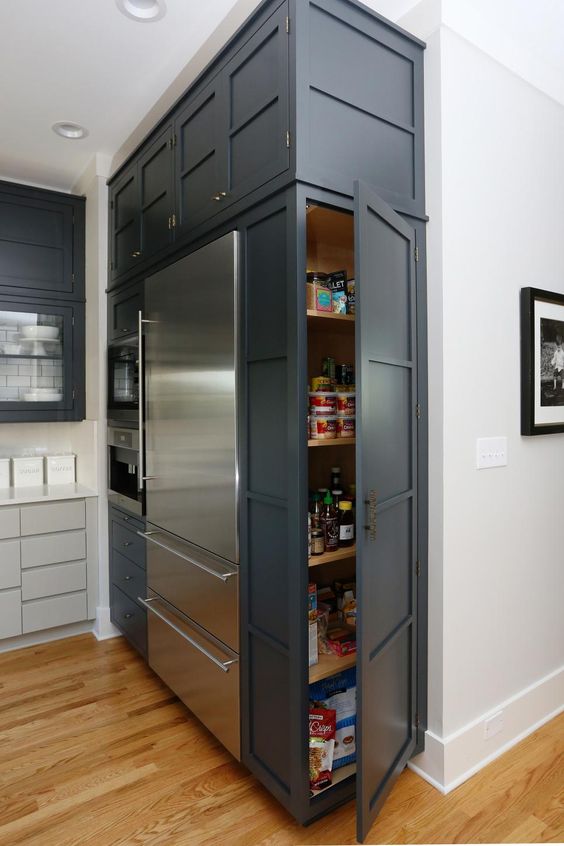 The pantry meanwhile holds the dry goods but may also house brooms, paper towels and various supplies. The accompanying drawers can hold plastic bags, foil or anything else that can store food. Cabinets in the immediate vicinity are perfect for holding mixing bowls, cake pans, utensils and other items generally used in the meal prep process.
The larger areas adjoining the sink are recommended for prep and cleanup. On either side, the sink countertop space should be no less than 18" x 16". You will find the usual output of discarded glasses and dishes in these areas each day, as well as the inherent dishwasher. Immediately below, trash bins are on the floor.
Keep prep areas clear of unnecessary items as you will be constantly removing plates, bowls, and utensils. Here you want at least 36" of clear countertop to facilitate easy preparation (much more space is needed in larger kitchens). This is exactly why kitchen islands are so common, they offer spacious and illuminated areas that aid the simple execution of a number of kitchen chores.
Naturally, you would find the cooking centers around the range, cooktops and wall ovens. Baking sheets, pots and pans should be in the vicinity of your burners and ovens. You may want to put small appliances (such as a toaster or coffee maker) in this area as well so they do not get in the way of prep.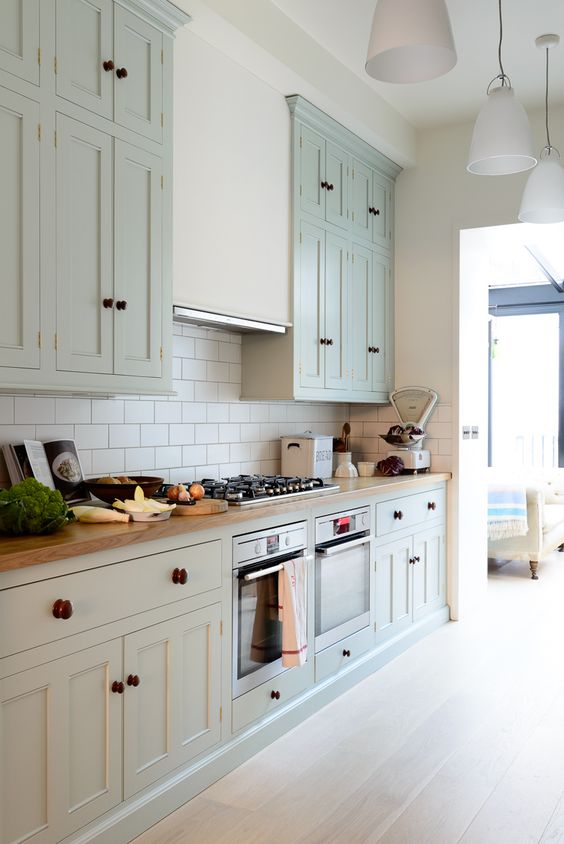 The countertops on either side of the cooktop in an average sized kitchen should measure 21" to 36". Ideally, place a wall oven above the cooktop next to one side so that hot food may be removed and set down quickly. Seasonings, breadboards and potholders may fit into the closest drawers and cupboards. Toward the dining area is where you would place the serve ware.

Being mindful of measurements in your kitchen may prove to be invaluable. You want to make the most of the available space, but often potential problems arise with the depth of the typical refrigerator. To best accommodate the triangle, buy a fridge that is 30" deep or less (excluding handles) – unless your kitchen is designed to accommodate more than that. And avoid a common comedy of errors by immediately confirming that the fridge doors open freely without issue and are non-obtrusive.
The kitchen work triangle can work in just about any scenario, even when you are at the mercy of established designs. When doing a remodel, however, you have a real opportunity to build around it. Check with your designer or sales rep and have the specs to your kitchen ready – they can set you up with the absolutely perfect cabinet and counter dimensions that will enable the system to be implemented with ease – the way it was intended to!