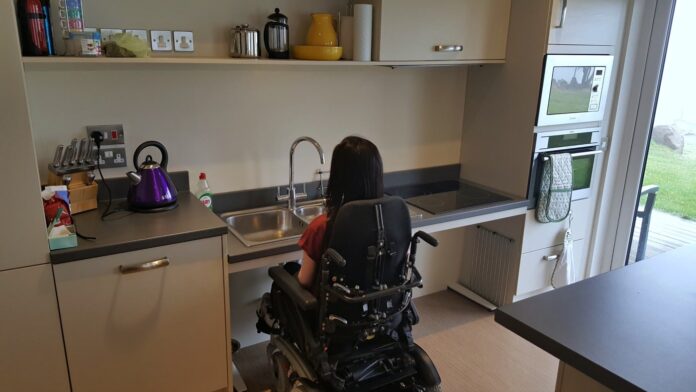 Standards, measurements, and considerations for remodeling a kitchen to suit wheelchair users.
Today, roughly 53 million people have a disability of some kind while two million Americans use wheelchairs. Homes with wheelchair accessible kitchens are a necessity. With the right layout, it is possible to make a home that will improve the quality of life of Americans with disabilities and help them live more independently. Kitchens that are Americans With Disabilities Act (ADA)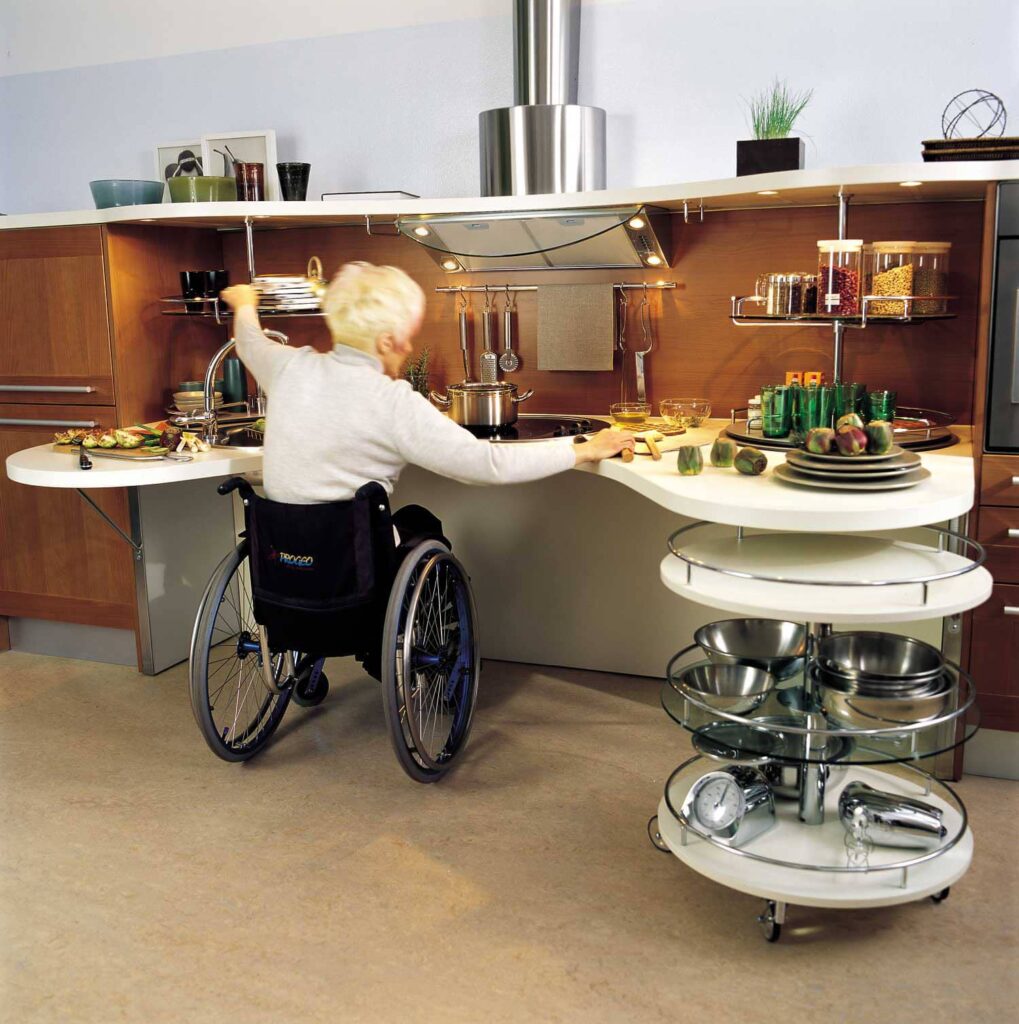 compliant have barrier-free layouts that anyone can use, disabled or not. Creating an ADA kitchen that is fully functional for wheelchair users will involve small, common sense adjustments like lowering knobs to be within reach, but it will also involve more important considerations like lowering counters and offering knee space underneath them.
There are several challenges that a designer can encounter when remodeling a kitchen to make it ADA friendly. It is desirable to have work areas that can be accessed from a single position. Doing this, requires balancing the requirements for cabinets, counters, and appliances in such a way that everything is within reach. Some modern kitchens use a lift system that adjusts to the height of the user. Companies like Barrier Free provide ADA accessible kitchens to "military bases, cruise ships, private residences, children's hospitals and several rehab centers." They have introduced devices like the Approach Counter Lift that enables clients to adjust their countertop height, and it provides ample knee space for wheelchair users. The Approach cabinet lift system will move cabinets down to meet various height standards.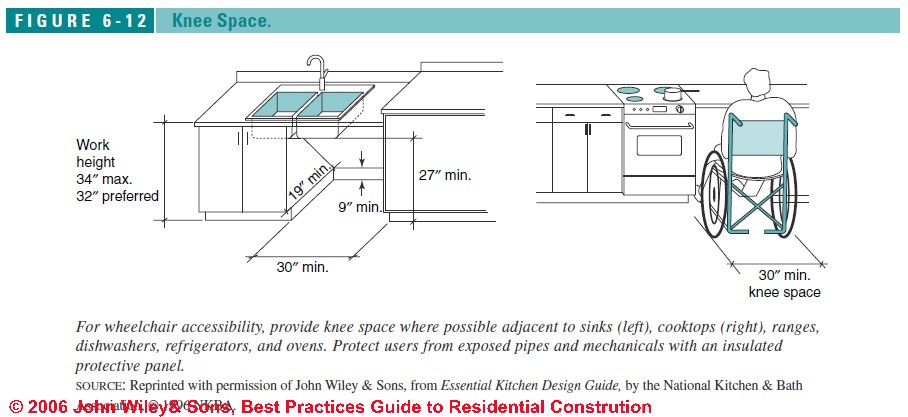 The American National Standard Institute (ANSI) offers a series of standards titled the A117.1, which provide a foundation for this specific kind of kitchen remodeling. However, these standards should be modified in accordance to the "size, reach and specific capacity" of the user. Doorways and passageways must be at least 32 inches wide and have no thresholds. Also, they should not be longer than 24 inches. The smallest work aisle that makes use of both sides for counters and appliances must be at least 40 inches. Those with appliances on only one side, can be as small as 36 inches. However, if a walkaway has a turn or corner, one of the legs should be widened to 42 inches; this is so that the wheelchair can make the turn.
According to the ANSI standards, a constructor should leave 54 inches from a table or eating counter to a wall for the use of wheelchairs. For U-shaped kitchens, the space for clearance should be approximately 60 inches. Constructors should keep in mind to leave space below or near "sinks, cooktops, dishwashers, refrigerators, and ovens" for those that are using wheelchairs. For a seated user, knee space under the counter should at least be 30 inches wide; in front, 27 inches high and 19 inches deep. A wheelchair footrest will also be necessary, and this should be at least 9 inches high. The best height for seated occupants should be about 32 inches, and it should not go above 34 inches.

A vast majority of wheelchair users can reach shelves that are 15 to 48 inches high, so storage located in the range of 20 to 44 inches is often the best for accessible kitchen layouts. Kitchens that are designed to be accessible to wheelchair users should incorporate "open shelving, roll-out shelving, drawers, and shelf racks." Also, it is important to use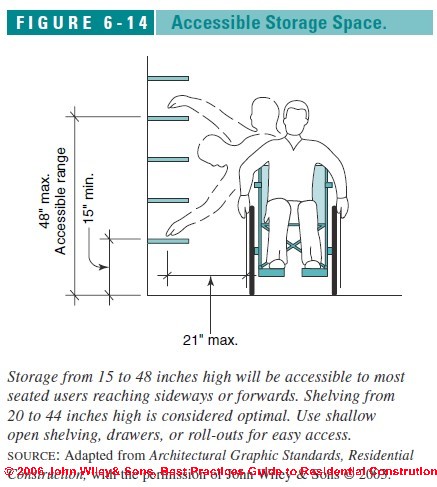 hardware that suits people on wheelchairs. "Controls, handles, door and drawer pulls," must require minimal strength so that a user can operate them with only one hand. These hardware items must not require twisting or any exertion that requires wrist effort. Lever-action handles can be useful for operating faucets and doors. The ease of their use should be tested by trying to work their controls with a closed fist. Additional hardware pieces for kitchen cabinets include "touch-release drawers and doors, full extension drawers, and swing-up hardware that enables cabinets to remain open at the top."
An ADA friendly sink should have a height of 32 to 34 inches. This sink should be shallow, and the drain should be located in the back of the construction so that it doesn't take up knee space. The garbage disposal must also be placed outside of the area allocated to knee space. Work at the sink can be facilitated for wheelchair users through the use of amenities like tall faucets and pull out sprays. When remodeling for people with wheelchairs, it is important to use twice as much lighting, and to use "floors, walls, ceilings, and counters" of a light color that reflect plenty of light. Also, constructors should include light within the drawers and cabinets to enable seated people to find items faster.
backend