You Don't Need Demolition to Create a Bigger Space
Not all of us can afford the huge luxurious bathroom we've longed for, one that has plenty of space as well as a separate tub and shower. It's the stuff dreams are made of. Imagine lounging in a chaise, not far from your king-size bath. That could be a bit beyond your means, but what if you were to simply bring out your bathrooms' full potential instead? And what if you were able to create the illusion of a bathroom that is much more spacious than it actually is? This isn't a fantastic delusion – this is something you can do with a little effort, know-how and style. It's all a matter of careful considerations and educated decisions – regarding everything from your colors to your fixtures. Such visual trickery can serve to make any bathroom feel grand. This advice can be similarly applied to cramped or small living rooms or kitchens.
Paint Everything White
Create a light open feel with plenty of white. Combined, white paint, white tile with a white vanity, etc… creates natural neutrality that seems vast. Instead of absorbing light it reflects it, making the most of the colors' abilities. White makes any space appear larger, particularly in the bathroom where there is typically an abundance of the color to begin with. The white tub, toilet and sink contribute to a seamless appearance that creates a delightful sense of airiness. White may be neutral but it doesn't mean it's dull or generic in appearance. You can put texture to work by carefully selecting tiles, molding, and fabric, anything to create a rich experience for the eye.
Of course you may also vary the shades of white. In the same palette are grays and beige tones that can extend as far as powder blue. Match the tile with the walls accordingly, and go for the theme of your choice. Obviously a spa-like appearance is very popular in modern bathrooms. The gradual changes in hue achieve one, creating a nice continuous visual that makes the space seem larger.
Incorporate a Floating Vanity
Naturally, tighter spaces pose a number of challenges. You have a need for storage but it competes for the space the room needs to keep from being claustrophobic. There is a reasonable solution – incorporate a modern floating vanity cabinet. You can store your everyday necessities within, and since the floor is visible underneath (wherein you can place your feet) it contributes to the perception of an expansive floor plan. Particularly in small spaces, such efficiency goes a long way.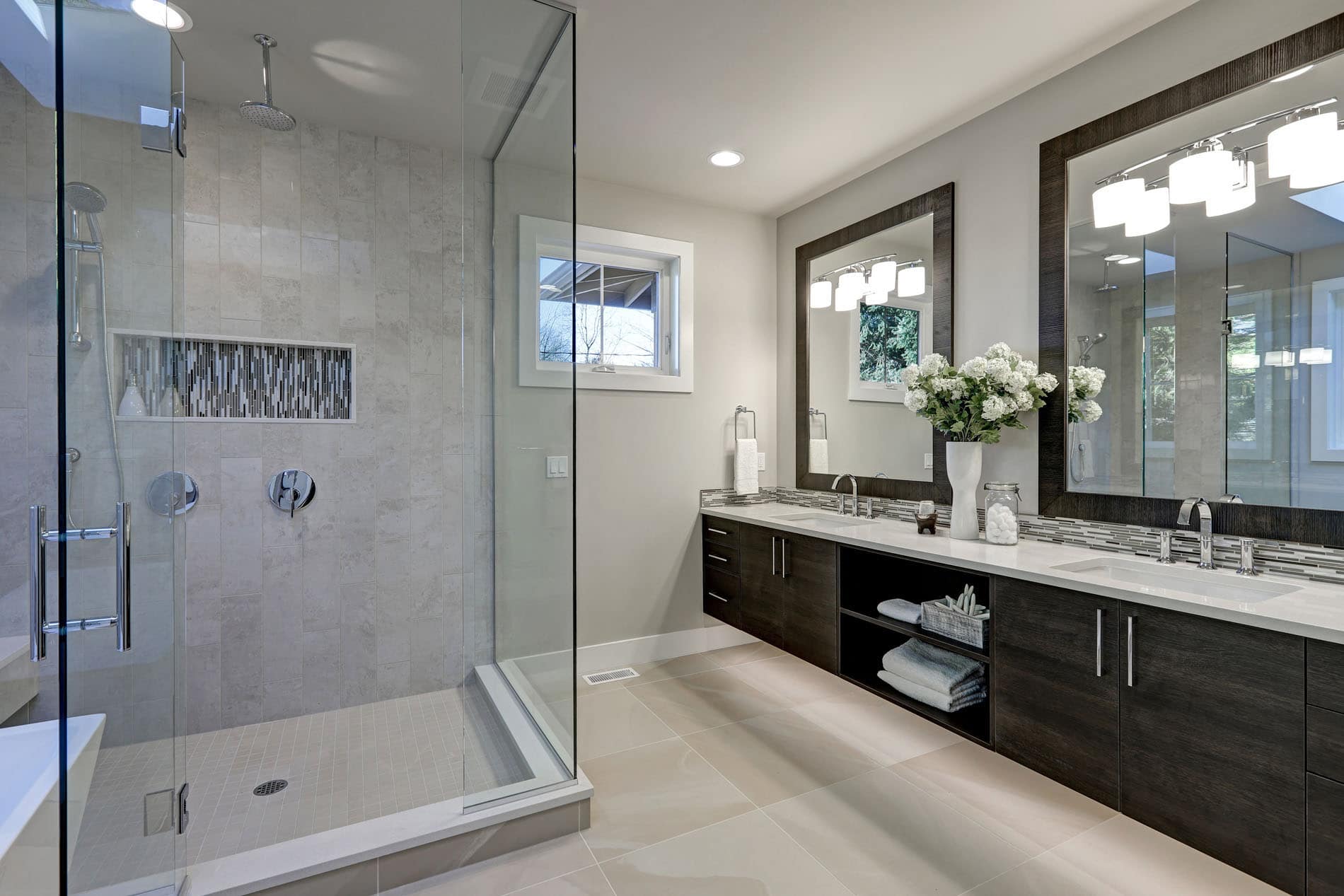 Consider a Petite Vanity
If you've got storage covered via other rooms, use a petite vanity. Because if large size vanities are not necessary, you should forgo the space consumers so that the area will be less confined. The added streamlined and attractive modifications you apply will be appreciated by all who use the facilities.
Out With the Curtain, in With the Glass
Instead of a shower curtain, go with the popular sliding glass panels. They will allow for a greater sense of depth, rather than be cut off boldly with the sudden appearance of a shower curtain. You can still have the privacy an opaque surface offers, simply opt for a frosted or tinted glass panels. If you're renovating, consider doing without a tub altogether. If it's not something you typically use anyway, installing a shower-only unit can free up much space. Plus, they are more user friendly, getting in and out is not as difficult as from a tub.
Use Lots of Mirrors
One of the oldest 'tricks' in the book is the use of mirrors. A room can appear much more spacious with a large mirror present. It can seem to double the size of the space and add to the overall ambiance. A wall-size mirror is your best bet if you want to create 
the perception of greater scope. Or, going wall to wall with all-encompassing mirrors will provide the illusion of vast surroundings. You may choose framed mirrors if you prefer the look stylistically, but it will 'bring it all in' and result in a tighter feeling.
Lighting
Incidental things that you may not have considered can give the illusion of space as well. For instance, bright lighting is an easy tool to apply. There isn't much natural light available in bathrooms so it's important to compromise with plenty of the artificial kind. Borne of practicality, the need to shave and apply makeup, adding varying sources of light is necessary for most households. Recommendations are relatively identical whether you're finding lighting solutions for the kitchen or bathroom. If you have just a single bulb overhead for all of the room's light, install an adapter so that it may hold two or three additional bulbs. A lighted mirror with provide further illumination. Be strategic in their placement, you want to avoid shadowing with light coming from all directions.
Ultimately, "it is what it is". Whatever you have is what you have to work with. But with a little flair, ingenuity, a bit of science, and possibly a touch of illusion, you really can bring out the most of your bathroom space!