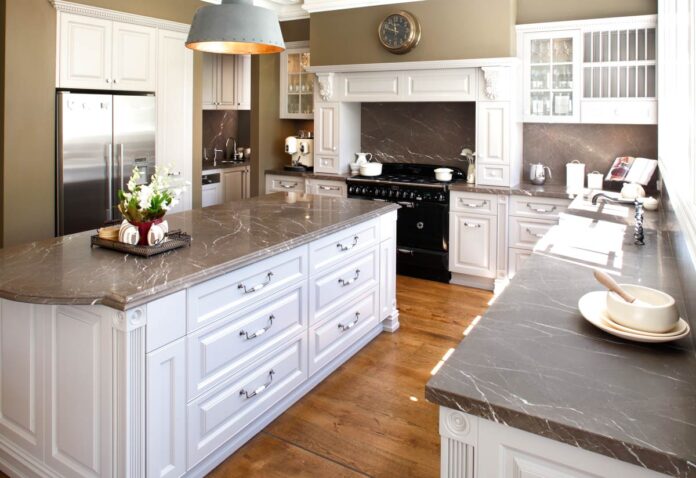 We've compiled a list of some of the best traditional kitchen ideas for 2020. Whether it's the neutral color palettes, the decorative embellishments, or the luxury building materials that draw you to the traditional design style, we think this list has something to inspire you.

Before we dive in, let's go through the basics. First, what is the traditional design style? Interior designers categorize it as warm and classic. These kitchen designs draw inspiration from Old World styles, but tend to use warmer color palettes. Traditional kitchens tend to incorporate more detail and ornamentation than styles like mid century modern or Scandinavian. The more ornate, the better.

Traditional kitchen designs, by nature, draw inspiration from the past. They often reject the notion of simplicity and sharp lines associated with more modern styles. So how do you bring this style into 2020 without compromising its values? Well, it's a challenge. But incorporating some modern elements like a tile backsplash or stainless steel appliances can bring your design into the year 2020 while keeping your kitchen traditional at its core.

As you browse these kitchen design ideas, keep a list of the elements that most inspire you. Do you prefer a warm palette, or do you like the modernity that a cooler white palette provides? Are you enamored with a classic chandelier, or did you appreciate the designs with midcentury inspired pendant lights? Maybe you expect to love marble kitchen countertops, but will come away from this list appreciating a more rustic wood countertop look.

Leave us a comment to let us know which traditional kitchens spark your interest the most. We'd love to help you transform your kitchen into the traditional style kitchen of your dreams.
1. Traditional Colors, Rustic Accents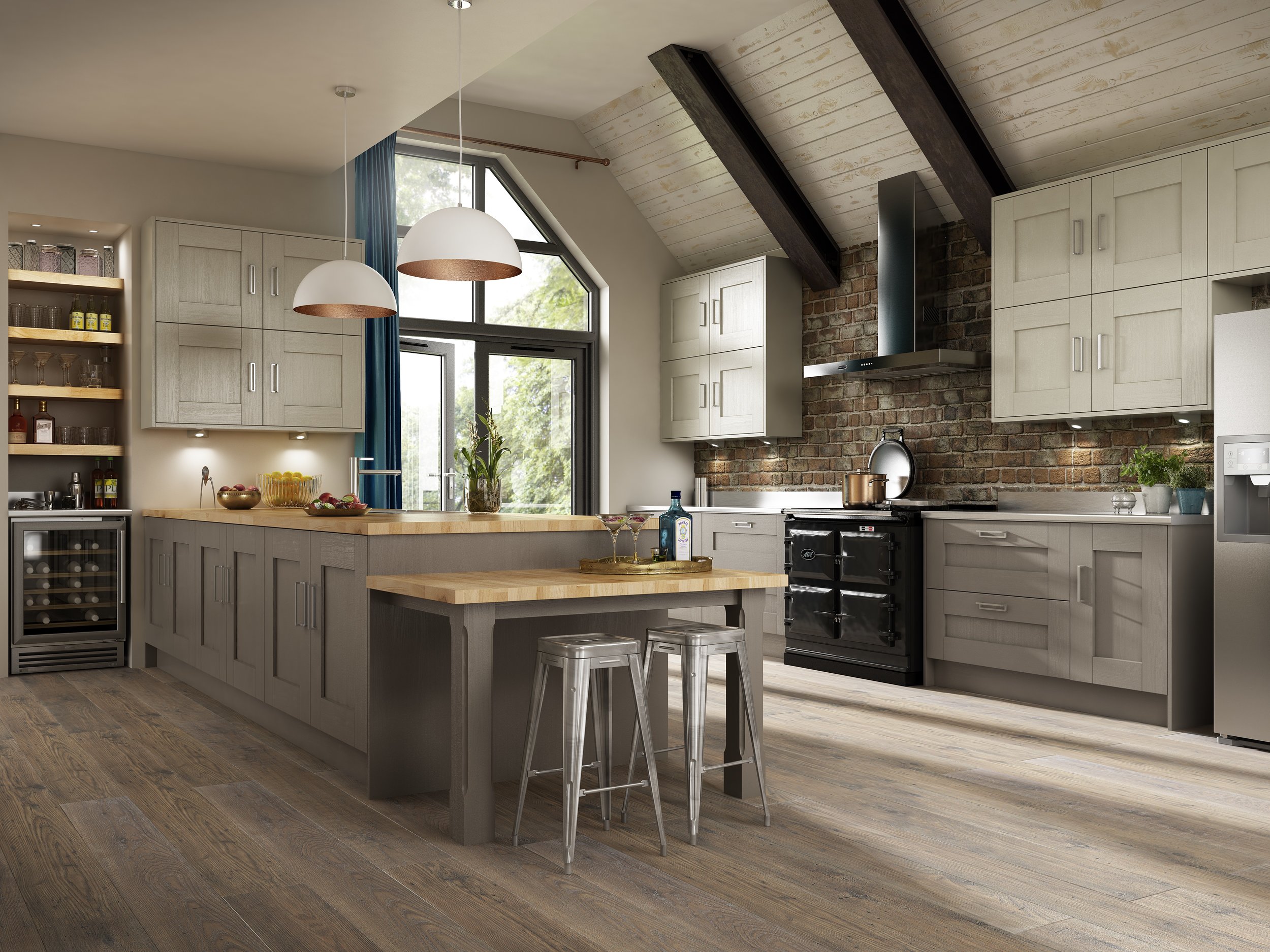 Source
First of all, the sheer size of this kitchen is enviable. Beyond its magnitude, a marriage of textures and styles make this kitchen a formidable inspiration source. A traditional-inspired palette pairs well with rustic wood elements, stainless steel appliances, modern open shelving, and a brick wall backsplash. This massive cabinet-filled kitchen island has plenty of storage for the avid home chef, and a mini kitchen island juts out to serve as a small bar. This kitchen design is applicable to either a home or a hip new restaurant.
2. Champagne and Chandeliers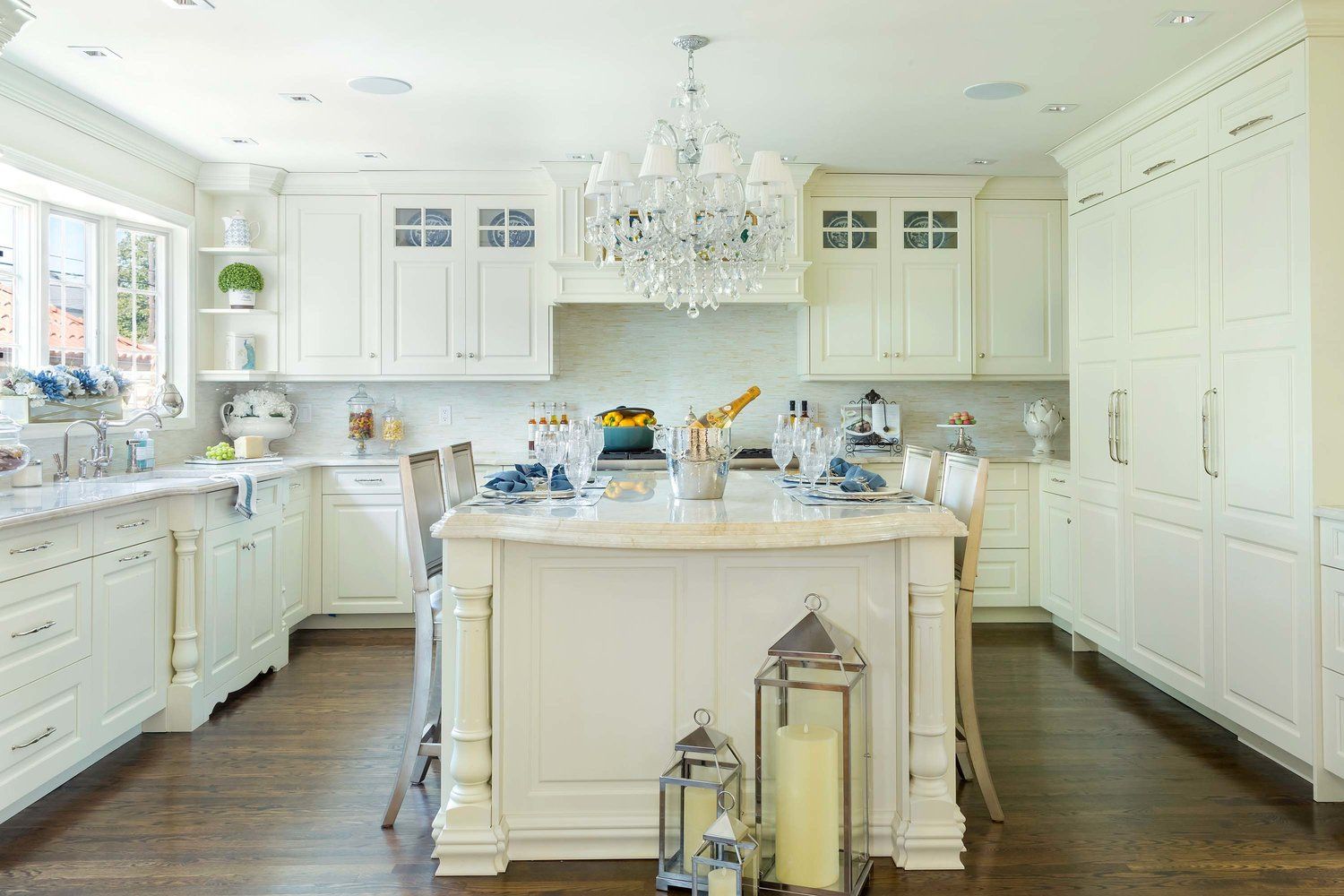 Source
Nothing says fancy quite like a bottle of champagne chilling underneath an ornate chandelier. But this traditional inspired kitchen isn't unapproachably fancy. Cabinets in a warm creme color wrap around the entire kitchen, matching with the kitchen island. The decoration of kitchens can add personality to the traditional style, which is achieved in this image with the trio of lanterns sitting on hardwood floors.
3. Traditional Meets Farmhouse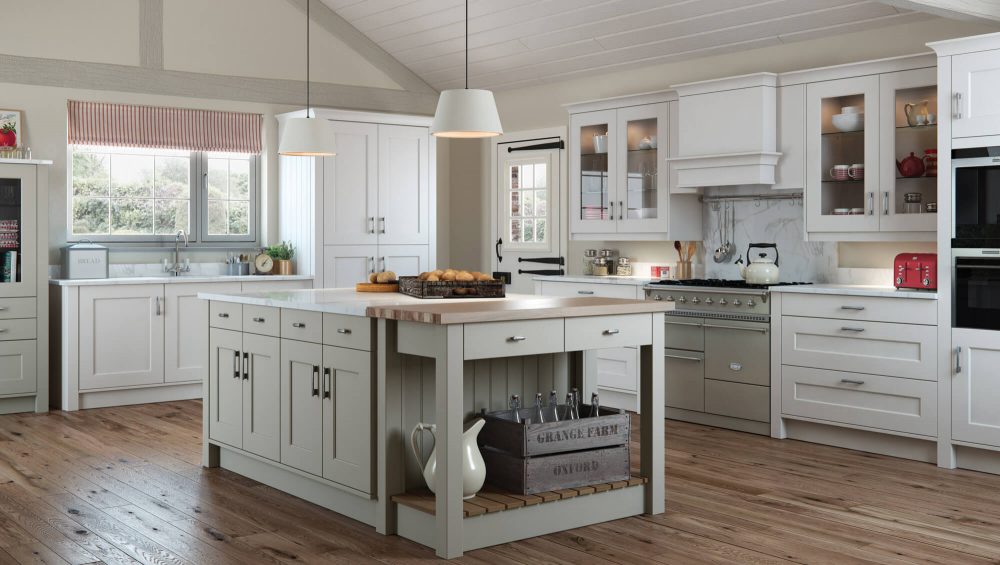 Source
Traditional kitchen design elements are displayed prominently in this example. A neutral color palette adorns kitchen cabinets, as do crown moldings. Many of the countertops look to be marble, which is another staple of this design style. However, this design offers farmhouse design elements in equal measure. Rustic wood floors and ceilings, a striped awning above the kitchen sink, and an upcycled farm crate add some country charm to this kitchen. If you're a little bit country and a little bit fancy, this kitchen design is the way to go.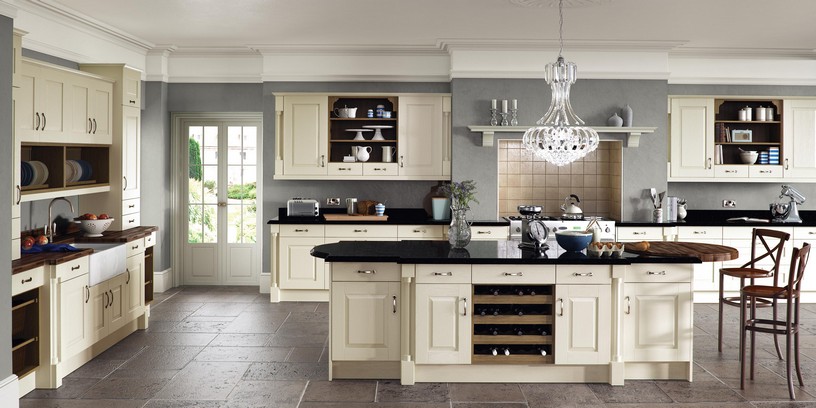 Source
A wine rack built into the kitchen island? I'll take two, please! Here we have another example of a neutral palette used to achieve a traditional kitchen look. Warm cream cabinets are accented with little decorative columns. Upper cabinets infuse some modernity with open shelving cubbies. The tile backsplash above the stove is at once traditional and modern — modern in its placement, but traditional in its color and texture. This design really strikes a balance between new and old.
5. Black is the New Black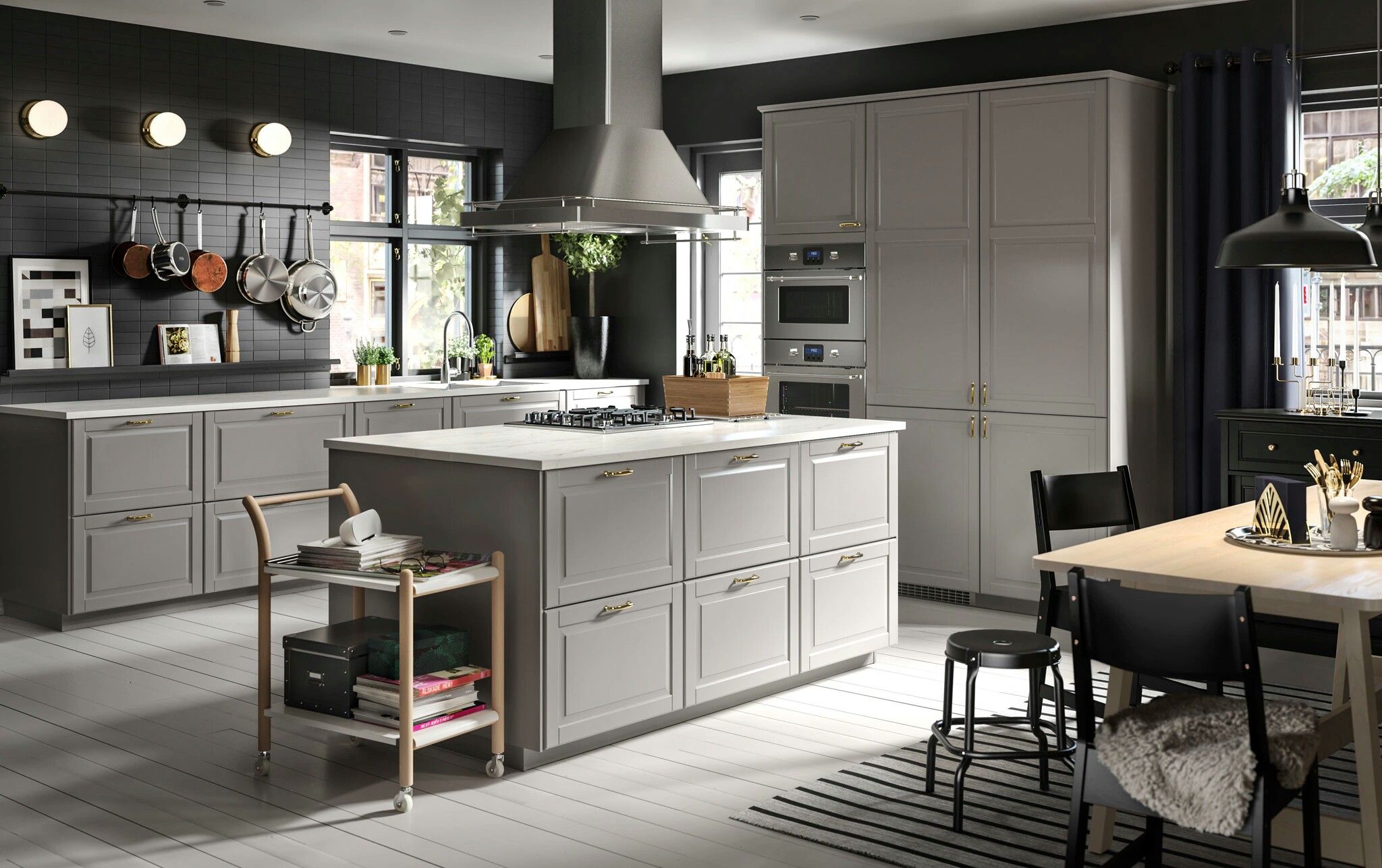 Source
Here's an example in which modern dominates tradition. Black walls and stainless steel appliances don't often find their way into traditional kitchens. However, traditional elements warm up this kitchen. Decorated fronts and gold handles add aesthetic value to these warm grey cabinets. Though it's not clear if these countertops are marble or just solid white, a traditional marble white countertop in a design like this would add some personality.
6. Pink Walls & Pink Hydrangeas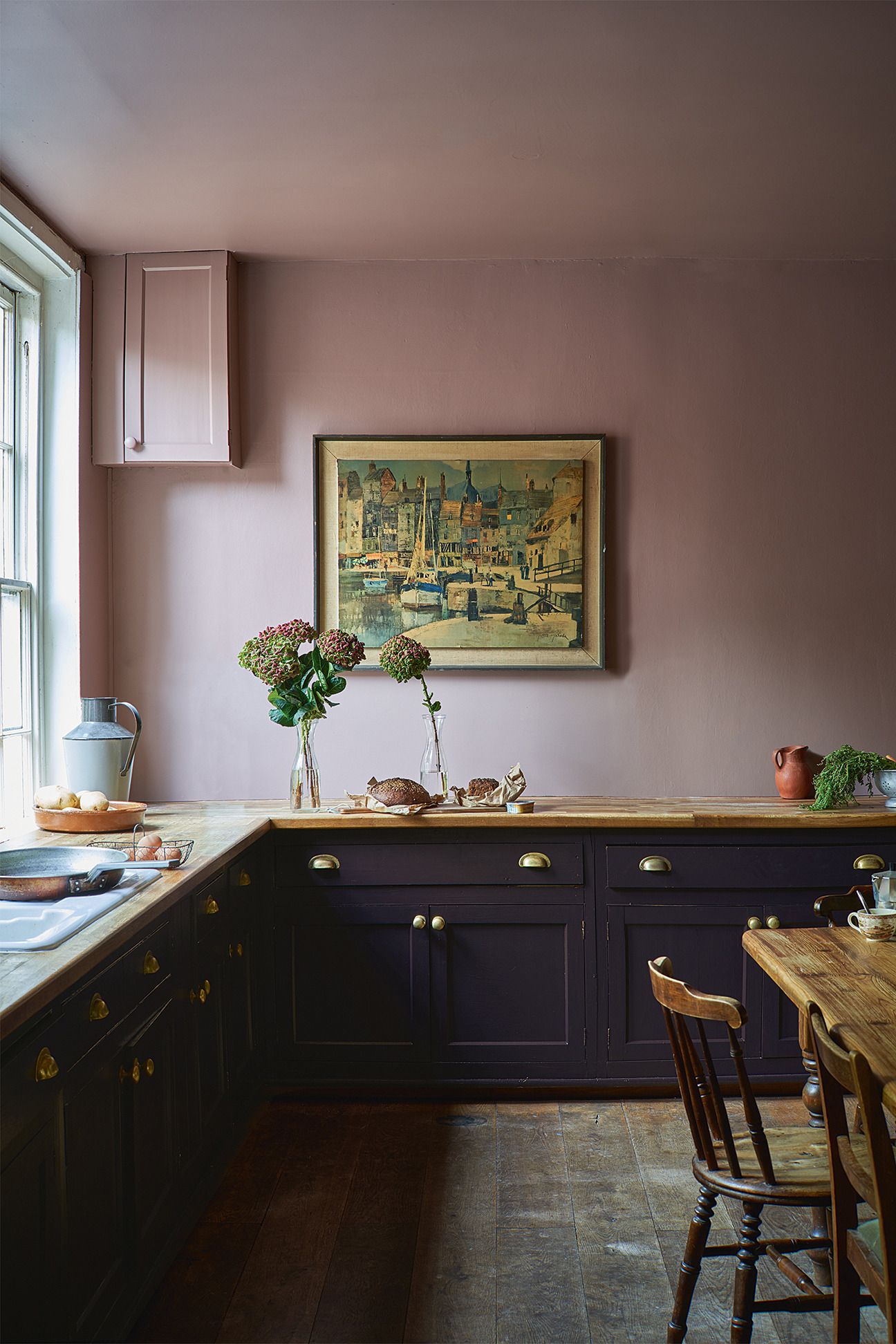 While traditional kitchen designs rarely stray from neutrals, a bolder color palette can definitely modernize the overall look. Here, pink walls and ceilings contrast with a deep blue set of lower cabinets. Wooden countertops add a rustic element to this kitchen. Ornate accents, painted ceramics, and a vintage painting allude to the rich history that the kitchen traditional style draws inspiration from.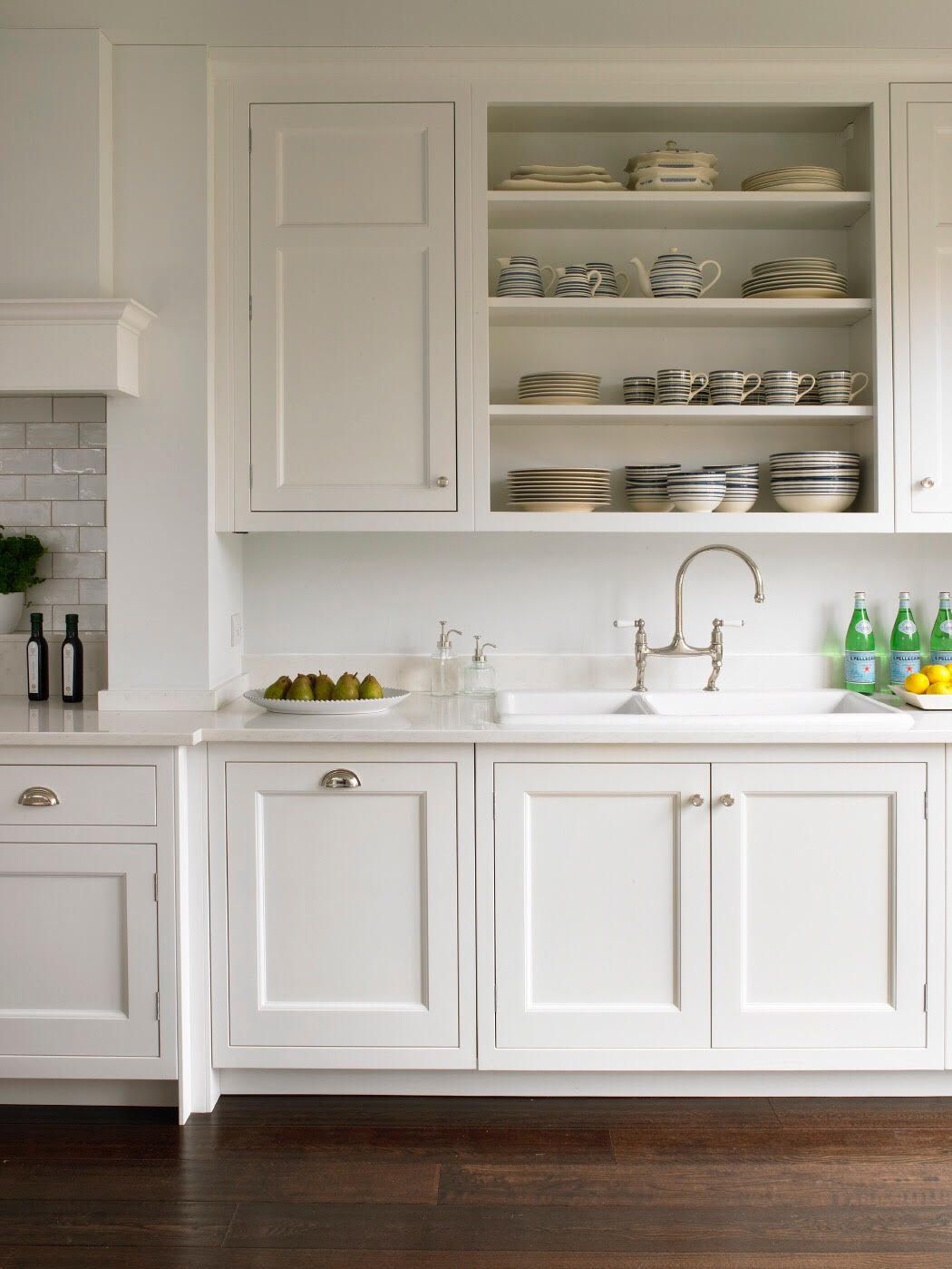 Source
If you felt lost in the last two designs of kitchens, no worries, we're back to more traditional, neutral kitchen ideas (for now.) This closeup shows how a warm cream color can be applied to both the cabinets and walls for a unified look. Here, we have another example of using a more modern open shelving unit to display cookware. This open shelving allows you to add some color without overwhelming your design.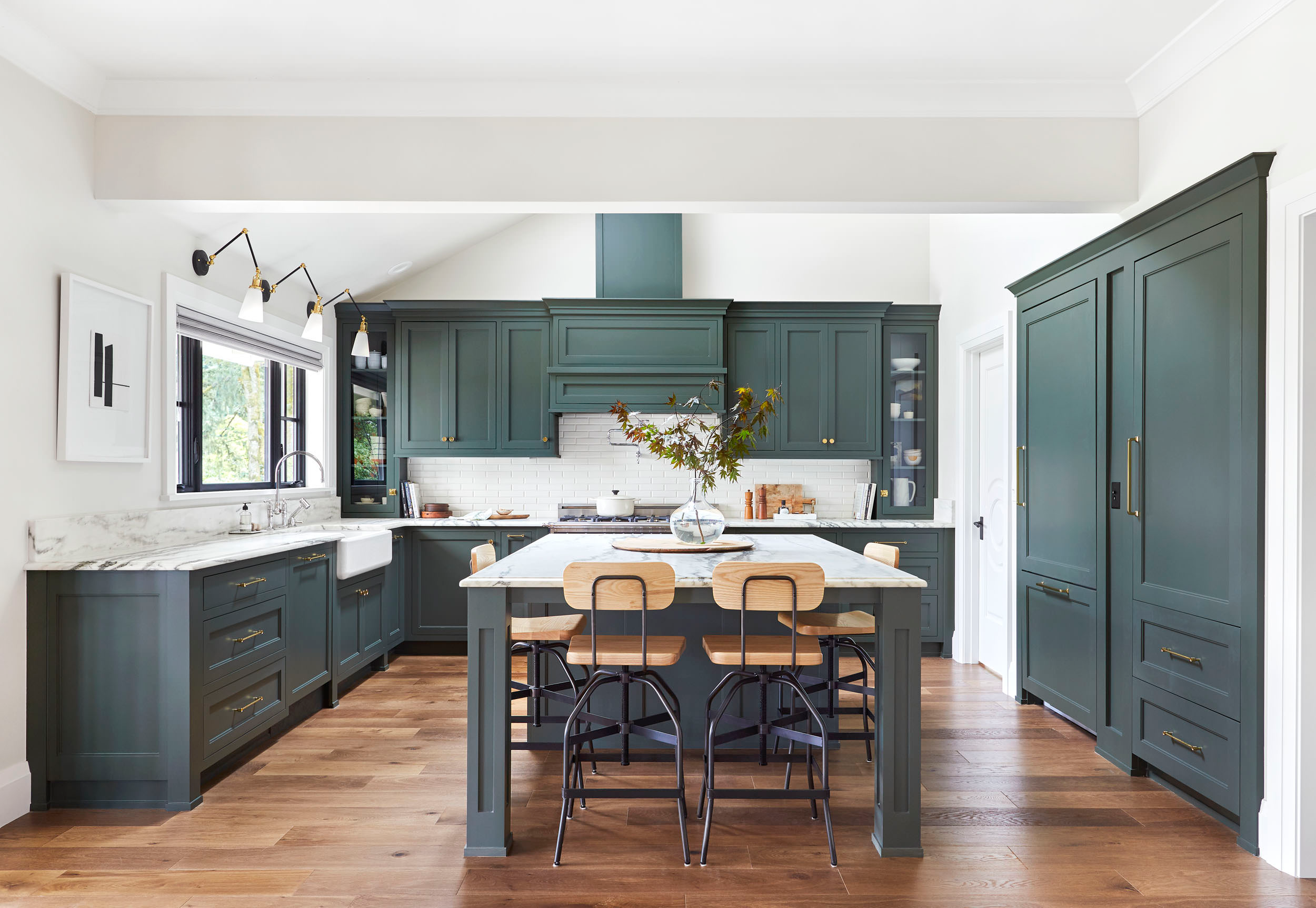 Source
No, but really. Where's the fridge? It's hiding behind this clever cabinetry designed to hide more modern looking appliances. That's one way to avoid incorporating other styles into your kitchen design — just hide the things that don't match! This kitchen uses gorgeous large traditional style cabinets with crown molding and marble countertops. The deep green color deviates from the standard neutral tones of most traditional kitchen designs.
9. The "I Studied Abroad in Greece One Semester" Kitchen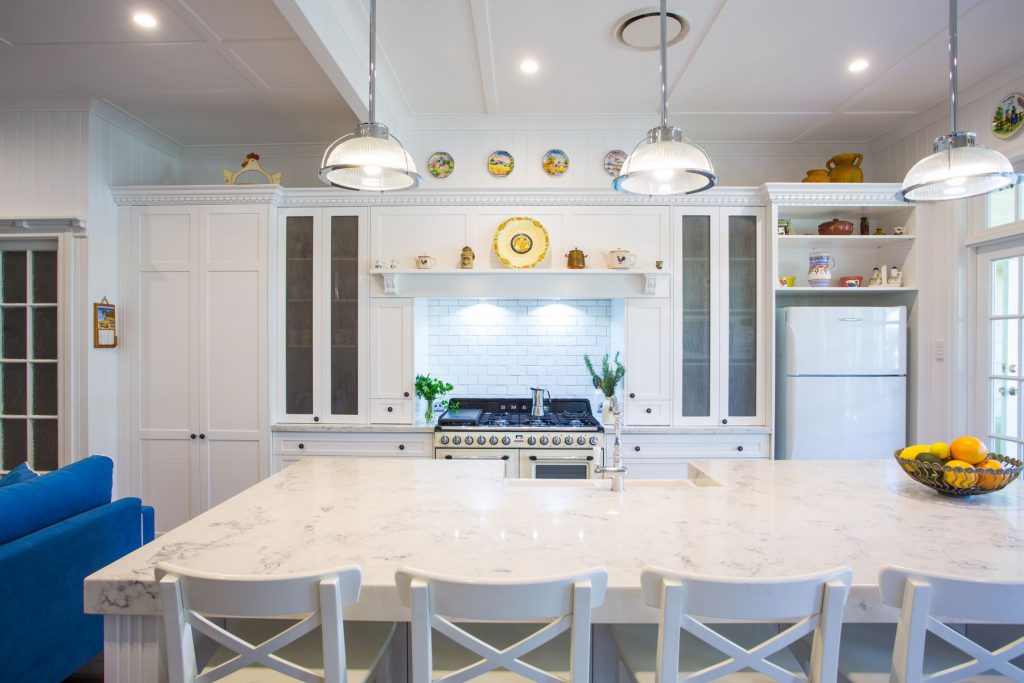 Source
Have you ever wondered how to incorporate an interesting anecdote about your past into your interior design? Well, this kitchen somehow does just that. This traditional inspired kitchen design screams "I studied abroad in a mediterranean country, and I have the ceramics to prove it." And you know what, kitchen? I'm not mad about it. The overall white color palette with ornamental embellishments and pops of bright blue feel like an oil painting of a small Greek village overlooking the sea.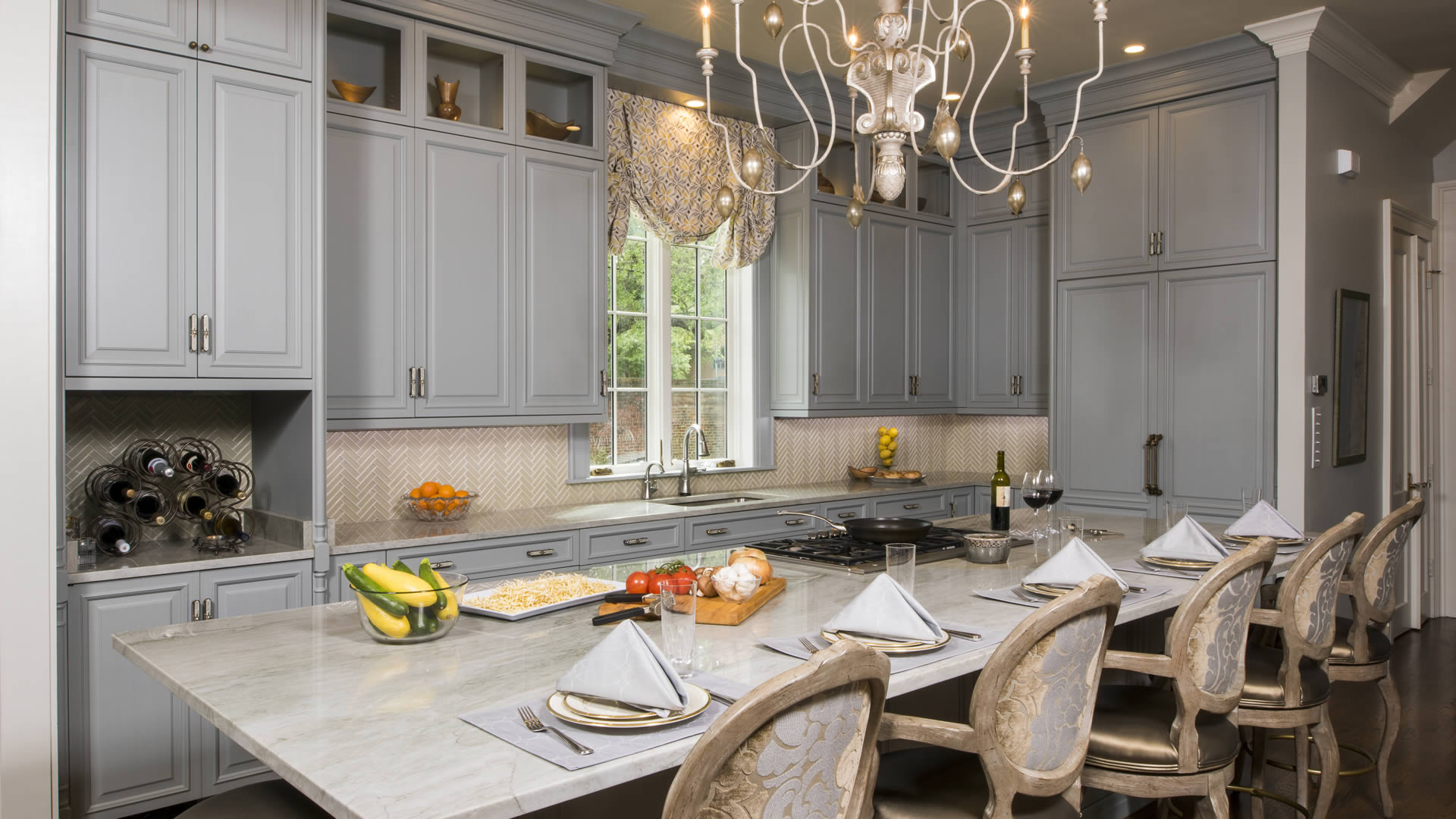 Source
If Marie Antoinette opened a home in the Hamptons in the year 2020, this would be her kitchen. Tall blue-grey cabinets feature the high ceilings of this kitchen, and a long, marble-topped kitchen island pairs well with the very French aesthetic of this kitchen. These upholstered kitchen barstools are a great example of incorporating vintage elements into a modern kitchen design.
11. A King-Sized Kitchen Island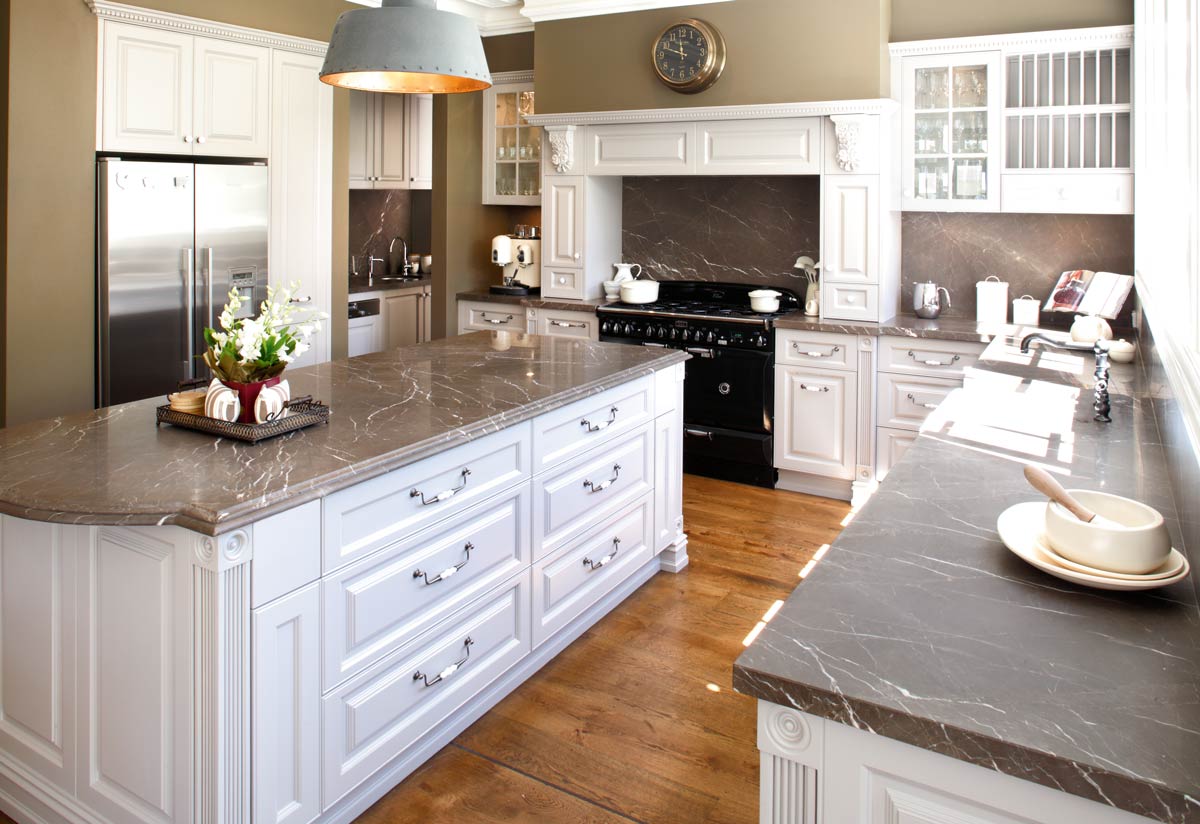 Source
Just think of all the pots and pans and cutting boards you could fit in this king-sized kitchen island. This marble-topped kitchen island is filled to the brim with drawers. But its beauty isn't compromised by its functionality. Ornamental elements adorn the edges of the island, the upper and lower cabinets, and the ventilation area above the stove. Some darker neutrals contrast nicely with the brighter white paint used on the cabinets in this kitchen. This kitchen is proof that you don't need to choose extremes to create interest and impact.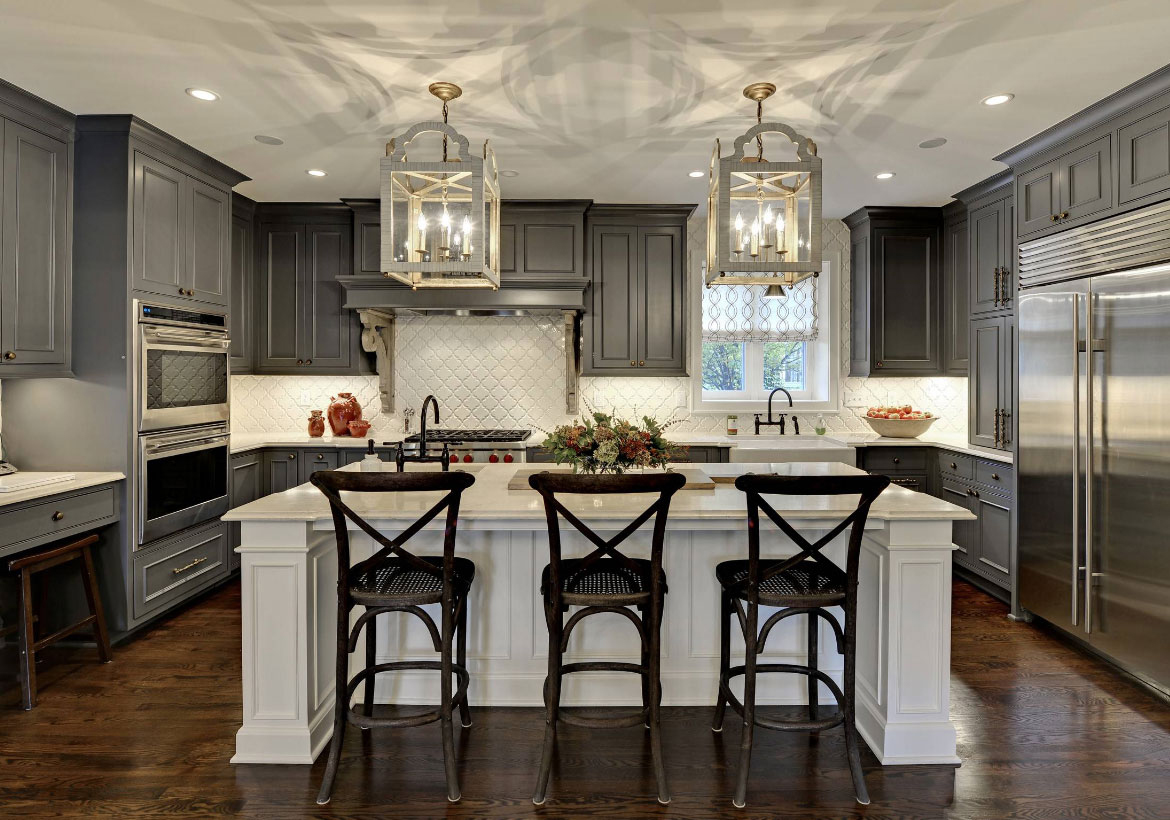 Source
These aren't your average kitchen pendant lights. These hanging lanterns are not an accent but a focal point. This traditional inspired kitchen island provides room for tall wooden bar stools to be tucked away when not in use. Grey cabinets decorated with crown moldings contrast with a large, stainless steel fridge. This kitchen truly encompasses a mixture of modern and traditional features.
Which of these traditional design kitchen ideas inspired you the most? Let us know in the comments. We'd love to help you turn your ideas into reality.
Want to be added to this list?
Click here
to bring up our submission form. We will be in touch shortly with feedback.