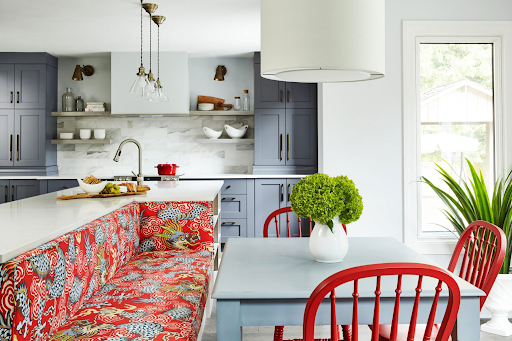 Love grey but need a dose of excitement? You can still have your grey kitchen but turn up the heat with bold splashes of red. The contrast works both ways – the grey will help cool down the red to a comfortable, liveable everyday palette.
Red brings in a fun factor, a high energy vibe. There's probably no other color that can look as striking, no matter what shade of red you add. Think fire engine red for retro accents, a cherry tomato red in a farmhouse kitchen, or a dark moody red in a sophisticated space.
White is a common combination color with red, and so is black. But why not try something different by adding grey instead? A pale grey does the same job as a white, without as much of a glaring contrast with the red. And a dark somber grey can tone down the red and help make the space look sleek and chic.
Don't forget to use your walls and flooring to your advantage in such a high contrast space. The right hardware and appliances can make all the difference between a kitschy kitchen and a luxe loft.

Source
Hot reds and cool greys tempered with loads of white makes a classy kitchen that's definitely not boring. If you can picture the room after removing the reds, you'll notice that the space would indeed look nondescript. It's the red that brings in the movement and excitement.

Source
The eye-catching dragon print fabric on this banquette could stop traffic if there was traffic. And yet, the fun and cheerful print doesn't seem too rowdy in here, thanks to the gorgeous grey cabinets and sleek hardware and light fixtures.

Source
This is an all-red kitchen, with the cabinets and the shelves and the island all painted a dark cranberry color, while the grey is the accent color, in the stone walls and weathered beams. It works because it's a large space, paired with bold rustic elements.

Source
This gorgeous gray kitchen sparkles with all the different shades of grey on display. Between the pale gray cabinets and deep grey walls and gray veined marble countertops, it's a visual feast, even without the reds. But bring in the red and it becomes a whole another space altogether – exciting, attention grabbing, and yet remaining classy.

Source
A kitchen that doesn't scream red even though its walls and cabinets are red is because it's wine red. The almost-white pale gray contrasts well with the wine cabinets, while the coal colored grey acts as the perfect accent on the oven hood.

Source
This bright orangey red will put a smile on anyone's face at the end of a long day. However, it doesn't stop there – for a small space, it's hard working, practical and functional. The dove gray walls offer a calming contrast to the glossy red cabinets.
Want to be added to this list?
Click here
to bring up our submission form. We will be in touch shortly with feedback.