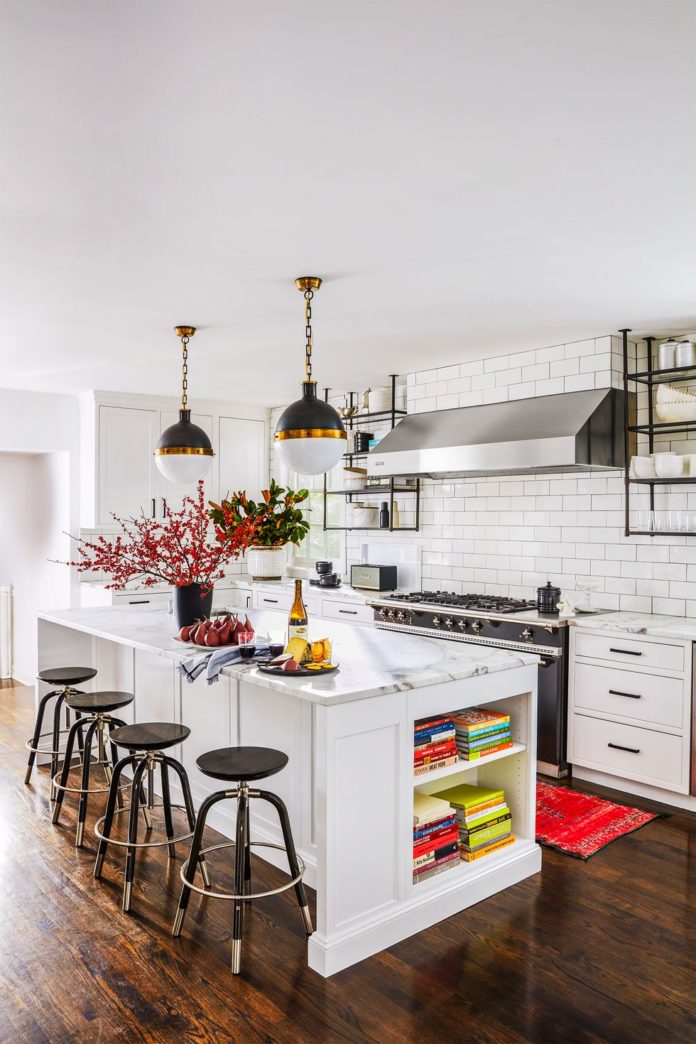 Modern white kitchens usually have a few things in common. They are typically simple, modular, and part of an open floor plan. Also, they almost always have stainless steel appliances and at least one strong accent color. The great thing about modern kitchens is that they are extremely stylish, but don't require a lot of pomp and circumstance which will end up saving you a ton of money.
So if you're looking to revamp your kitchen, a modern inspiration is a great place to start. Whether you're going to do it yourself or consult an interior designer, it's always a good idea to have a few ideas to get started with. In that vein, we complied a few different models and described the best elements of each to help give you a jumping-off point. Each is different and has its own set of advantages. We hope you find some things you like!
1. Open-Shelving for the Win
This kitchen design is both modern and simple. It has an extremely modular design with white kitchen cabinets without knobs or handles and a fridge disguised into the paneling. Additionally, the backsplash is plain but well light to create warmth amidst the sharp whites. The best part about this kitchen, however, is the shelving on the back wall. Instead of more white cabinetry, there is open glass shelving. Because of the design, the shelves can be adjusted to various heights can be spaced out to accommodate your storage needs. Open shelving gives the illusion of a bigger room, and while this kitchen is certainly not small, it is a great inspiration for small and large kitchens alike.
This is a unique and fun kitchen with white cabinets but a marble counter and backsplash. Many modern kitchen designs are a bit rigid and simple, but this kitchen design is anything but. The pendant lights help draw the eye upward which emphasizes the high ceilings and large size of the room. We love this design because it is modern but not boring. You wouldn't initially think the marble pattern would complement the light shades, but with everything set against the white, it all comes together perfectly. And the grey drawers in the kitchen island add a nice contrast and help to bring out the grey in the marble counter. The room itself is quite minimal, but the kitchen design elements make the whole room pop.
This kitchen is a bit on the busier side for a modern room, but it still qualifies. Every piece in this kitchen is expertly paired with another to tie the whole room together. The marble countertops match the marble storage container on the shelves, which we a great alternative to bulky cabinets especially give the dark accents. The black oven matches the stools, shelves, lights, and handles. Even the flowers on display complement the rug. And I haven't even mentioned the tile backsplash. Subway tile can be a cheap way to spruce up a kitchen. And, pro-tip, try adding the same tile to your bathroom to tie all of your interior design together.
Most modern kitchens that go for a modern feel combine white and silver, white and grey, or white and black. White and brown is a rare combination, but to say it works with this design would be an understatement. The room uses various shades of brown incorporated in throughout the rooms via the marble counter, floor, open shelves (that eliminate the need for upper cabinets), stools, kitchen island, and accents. However, all of the browns still don't overshadow the white because of the predominately white countertop and square tile backsplash. The only part of this room that doesn't work extremely well is the stainless steel appliances, but that is a bullet you take if you want to incorporate brown.
Want to be added to this list?
Click here
to bring up our submission form. We will be in touch shortly with feedback.