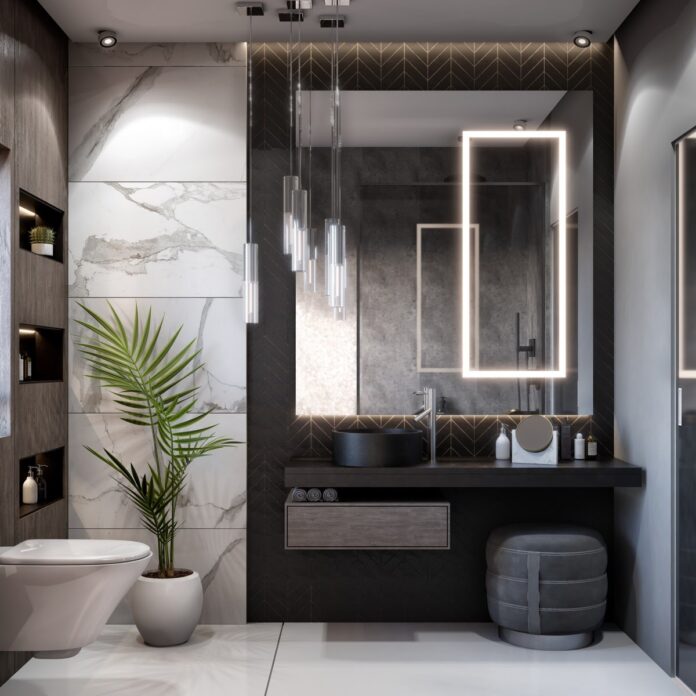 Here are some of the best modern bathroom ideas for 2020 so you can end the year right. Whether you're renovating your current bathroom or building from scratch, we think these bathroom designs will help you get inspired. After all, home bathrooms are sacred places.
Modern bathrooms aren't all about futuristic technology, although there are plenty of voice activated toilets if that's your thing. Rather, modern interior design is focused on simplicity. Modern furniture often uses clean lines and organic materials to prioritize form and function. Simple color palettes allow for designers to highlight certain elements. For example, a modern interior designer may use a mostly white color scheme in order to highlight the colorful bathroom tile they choose for the shower.
Modern bathroom designs will often prioritize light. It's important to both emphasize your bathroom's natural light sources while also installing plenty of artificial lighting to maximize your bathroom's lighting throughout the day and night. Color schemes can also serve to amplify the effects of both natural and artificial lighting. Modern bathrooms frequently use sleek, simple shelves and cabinets to augment storage space. Other features, like backlit mirrors or deep basin sinks, can add a modern look to your bathroom.
So what will your modern bathroom design look like? You can incorporate any number of modern bathroom design elements to fit your vision. Take a look at these bathroom designs, and let us know in the comments which you're most inspired by.

Source
In this modern bathroom design, a variety of textures combine to form a balanced, sophisticated look. A variety of interesting lighting effects illuminate dark neutral features like the deep brown accent wall and a dark wood shelving unit. Incorporating a natural element, such as a potted plant, can help keep your modern design scheme looking fresh and lively.
Which of these modern bathrooms inspired you the most? Do you prefer stone elements or tiles? Are you a fan of floating shelves and cabinets, or are you interested in a more traditional look? Whatever your taste, we'd love to help you achieve the look. Comment below to let us know which of these examples piqued your interest.

Source
Your bathroom should be a top priority when tidying the house. Cleanliness is key, so why not apply that principle to design? With simple, clean lines and a nearly all white color palette, this bathroom looks modern and bright.
3. Black and White and Modern All Over

Source
Here's a great example that incorporates black accents without compromising the room's overall brightness. Light wood cabinetry and shelving sit beneath this black bathroom countertop, allowing for plenty of bathroom storage.

Source
Modern interior designers seem to be obsessed with using white subway tiles lately, but what about large white square tiles? This unique take on the trend feels very sleek and contemporary. Paired with a floating sink and minimalist cabinetry, this modern white bathroom design definitely tips its hat to Scandinavian design. You could easily add a pop of color with bright hand and bath towels, or keep it neutral like this image.

Source
This modern design is so modern it's futuristic. Everything seems to be floating, from the shelves to the sink to the cabinets to the toilets. This floating furniture isn't levitating under a magic spell. It's actually a fairly simple look to achieve (assuming your walls are sturdy enough to support heavy furniture and appliances). This modern look is also accented by shiny concrete floors and dark wood accents.
6. Neutral Tones and Textures

Source
When in doubt, choosing a neutral color palette will help you design a simple and classy room. In this modern bathroom design, a neutral palette allows the use of different patterned tiles without clashing. Open shelving next to the mirror vanity uses internal led lighting to add some needed brightness to a bathroom that seems to lack a natural lightsource. While there are some dark wood accents here, the majority of the bathroom design uses light beige and cream tones to accentuate installed lighting.

Source
This bathroom design uses a sleek but simple color scheme of navy and white throughout various elements. Navy blue wood paneling wraps around the room, and hints of blue are visible in the textured floor tiles. Marble accents elevate this shower to luxury status, and a sink with white cabinets allows this bathroom owner to tuck away any bathroom odds and ends that don't fit this otherwise modern and elegant design.

Source
Wouldn't we all be so lucky to have this much natural lighting in our bathrooms? And this modern bathroom design maximizes their incredible natural light with a few simple tricks. By placing the bathroom sink and a large mirror directly across from the light source, this bathroom design doubles the effect. A mostly white color scheme also brightens the space, and highlights the use of natural textures like the beautiful, vaulted wood ceilings. Plus, a dual basin sink allows for the homeowners to peacefully coexist on those ever-important hectic mornings.

Source
Do you remember those commercials with a couple sitting in two bathtubs on a hill overlooking the water? Well, this is about as close as you might get to making that bathtub-with-a-view a reality. But bathtub placement isn't the only luxury item in this modern bathroom design. Marble countertops and walls ooze with opulence. And if this massive natural lightsource weren't enough, a full wall of mirrors behind the floating sink vanity amplifies that lighting tenfold.

Source
Reminiscent of a sauna, this modern bathroom design uses a single shade of wood to unify the overall design. By embracing simplicity of materials, this bathroom becomes a blank canvas for your daily routines. Wide wooden drawers allow and a side vanity separate from the sink helps avoid the possibility of clutter.
Source
When you're living in a garden unit, there's no better way to bring the outside in than with an earth tone color palette. Soft beige and brown shaded tiles line this modern bathroom's shower walls and floor, and a cooler grey color is used to accent other bathroom walls. A contrasting set of white bathroom cabinets under the dual sink vanity brightens this room up a bit.

Source
This modern bathroom design feels like it was plucked right out of a luxury resort and spa. But luxury doesn't have to stay on vacation. Bring your spa home with some simple, elegant elements like stone walls, steel accents, and warm lighting.

Source
Maybe your favorite vacation is to a luxury spa and resort. In that case, bring the spa vibes back home with warm tones and exquisite building materials. But what if your happy place is the rainforest? Well, maybe this modern bathroom example is the one for you. This bathroom's flora statement wall is certainly a unique way to bring the outside in. A gorgeous mirrored wall gives the illusion that this room is doubled in size. White accents, like a modernist white bathtub and chic white sink cabinetry, also make this bathroom design look modern and sophisticated with an eccentric flair.
Want to be added to this list?
Click here
to bring up our submission form. We will be in touch shortly with feedback.