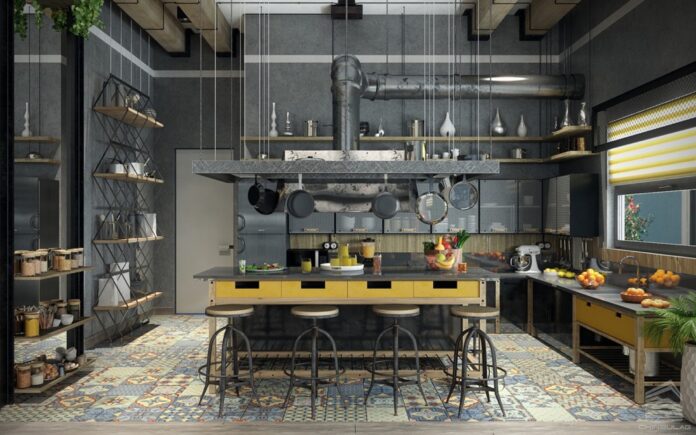 Maybe it's time to redesign the kitchen in your office space, or maybe you're just inspired to revamp your home's kitchen. Whatever the reason, an industrial look can add both utilitarian and aesthetic value to your kitchen.

If you ever worked a part-time job in the food service industry, you may have a negative association with the idea of an industrial style kitchen. You can likely conjure the image of the stainless steel appliances and cabinets where you spent your high school evenings. But industrial kitchens are not all about the fry grease. Once you see a few examples of modern industrial kitchens, those old memories will begin to fade into the background.

Minimalism pairs well with the industrial kitchen style. Many of the industrial kitchen design images you'll find on Pinterest feature neutral color palettes, exposed brick, and white kitchen cabinets. If you love the simplicity and functionality of minimalist interior design, you'll find plenty of inspiration for your new industrial style kitchen.

However, minimalism isn't a requirement. Industrial style kitchens can borrow design elements from brutalism, mid-century modernism, or Scandinavian themed kitchen ideas. The possibilities are endless.
1. Dark walls and bright accents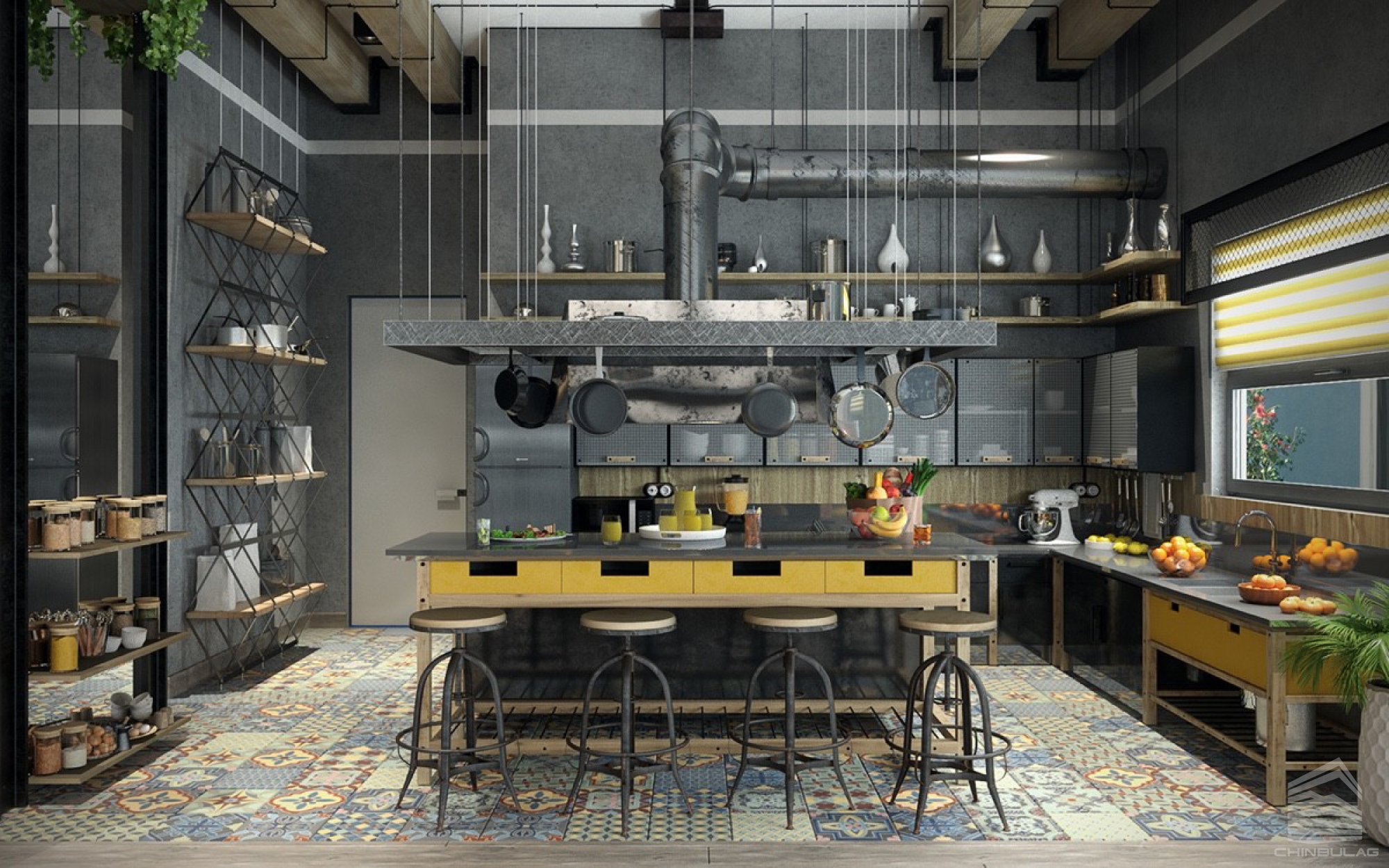 Source
In case you still believe that industrial kitchen design always equals minimalism, this gorgeous kitchen is here to prove you wrong. Bright yellow drawers on this kitchen island and eccentric kitchen tiles contrast with dark grey walls and industrial appliances to provide a more energetic feel.
2. Brick and wood and metal, oh my!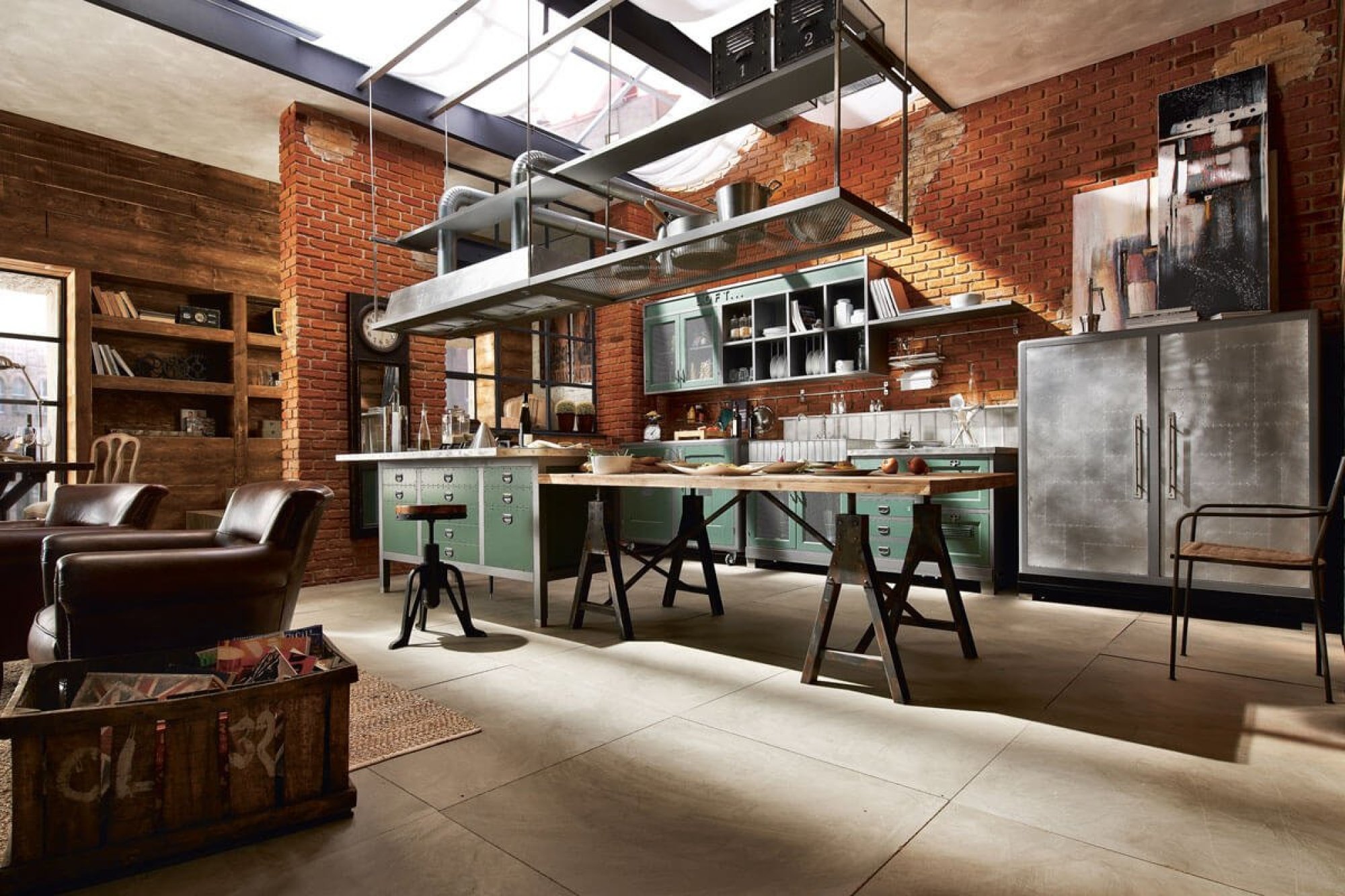 Source
Here's an example of how different materials can combine to create a unique industrial kitchen look. This open concept kitchen floor plan seems to bleed into a living room space, giving the kitchen a relaxing vibe. Industrial appliances are warmed up with pops of color and natural lighting.
3. White walls and wood countertops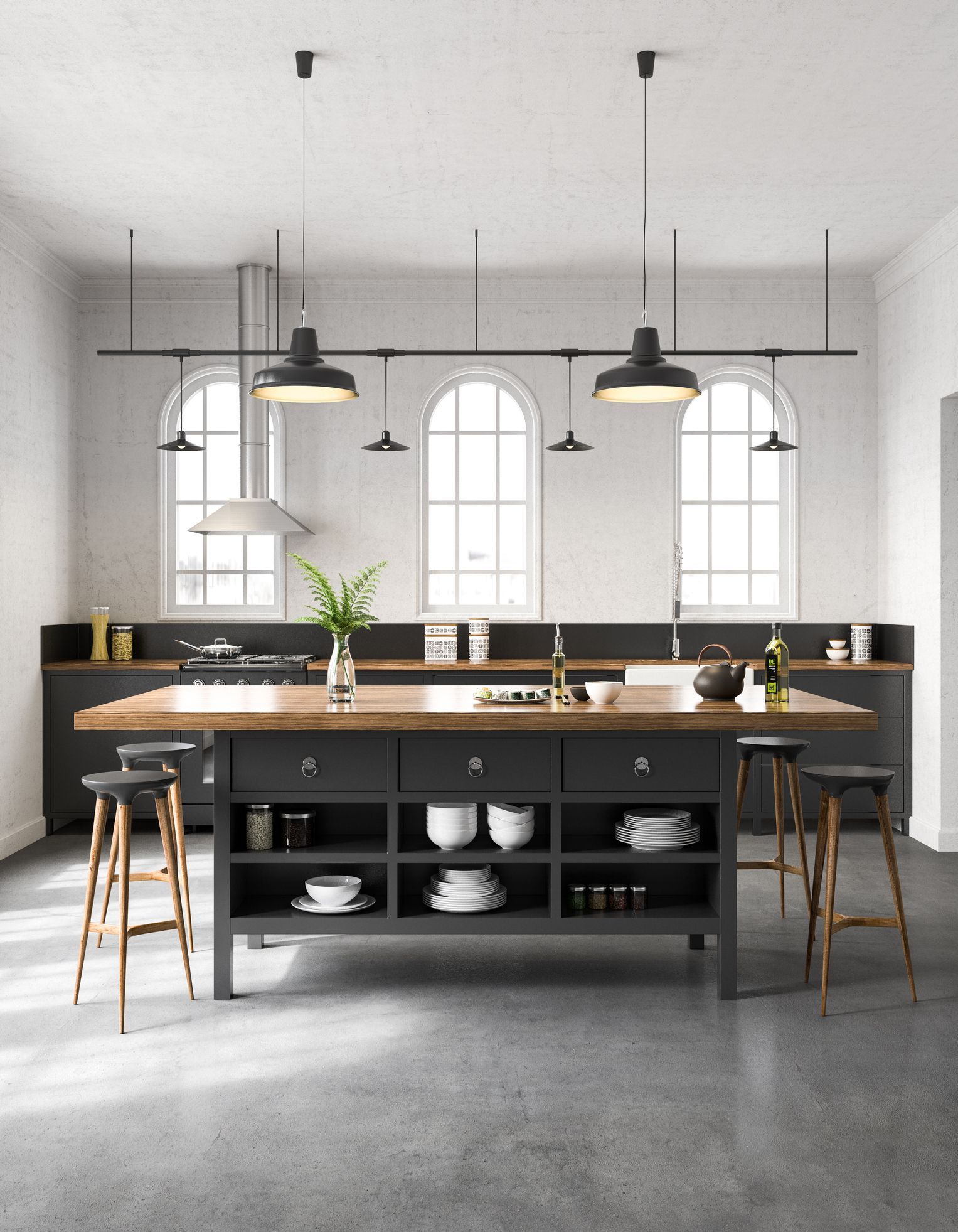 Source
Okay, so sometimes industrial kitchen design does equal minimalism. In this example, a light brown wood countertop warms up the otherwise monochromatic industrial-inspired kitchen design. Sleek black cabinetry provides ample storage for an avid home cook. This minimal color palette works well in a kitchen with lots of natural lighting.
4. When your favorite pub is your house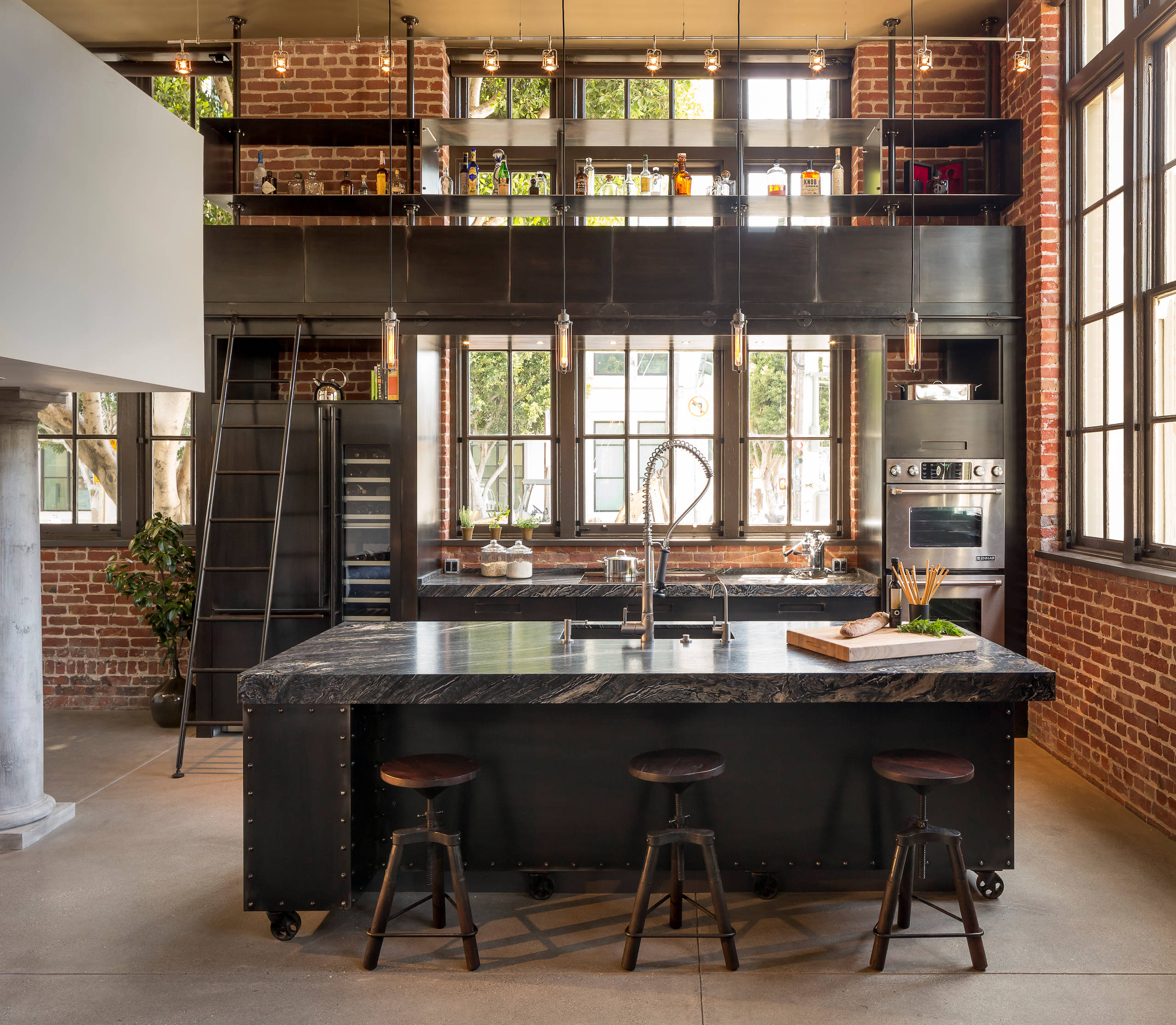 Source
This industrial inspired kitchen gives off a real hip pub in your favorite American city vibe. If you love good books and a strong old-fashioned, this gorgeous kitchen might be your perfect muse. Dark marble countertops sit atop a black kitchen island with leather-seated industrial bar stools. I mean, come on. You know this kitchen owner makes a good Negroni.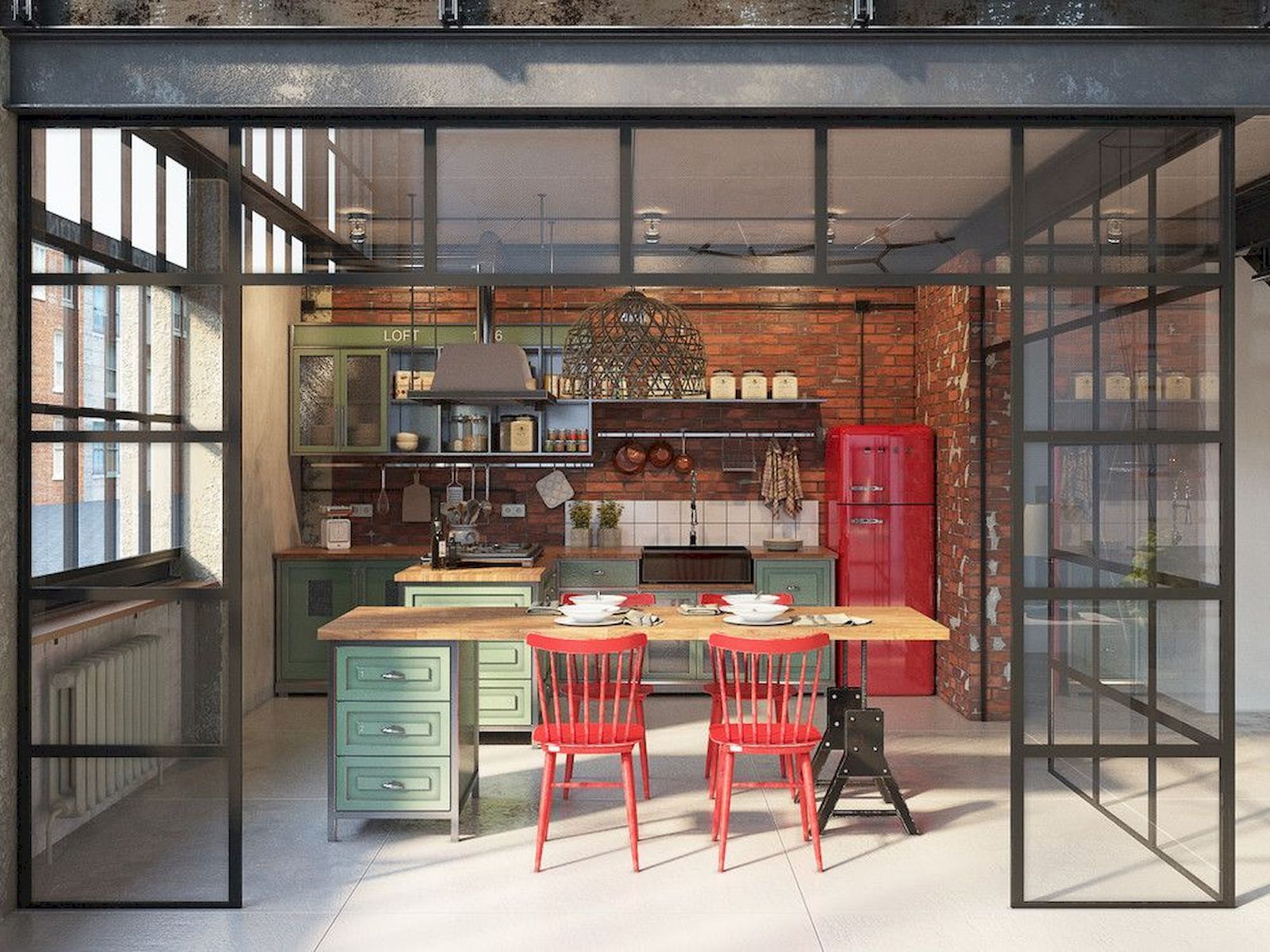 Source
So, maybe you're sold on some industrial appliances, but where's the color? Here's a great example of how you can incorporate multiple vibrant accents into an industrial kitchen concept. Here, a vintage red refrigerator pops against exposed brick walls. Open industrial shelving pairs nicely with light green cabinets. Lots of natural and overhead lighting contributes to the warmth of this design.
6. Cafeteria seating, but make it fashion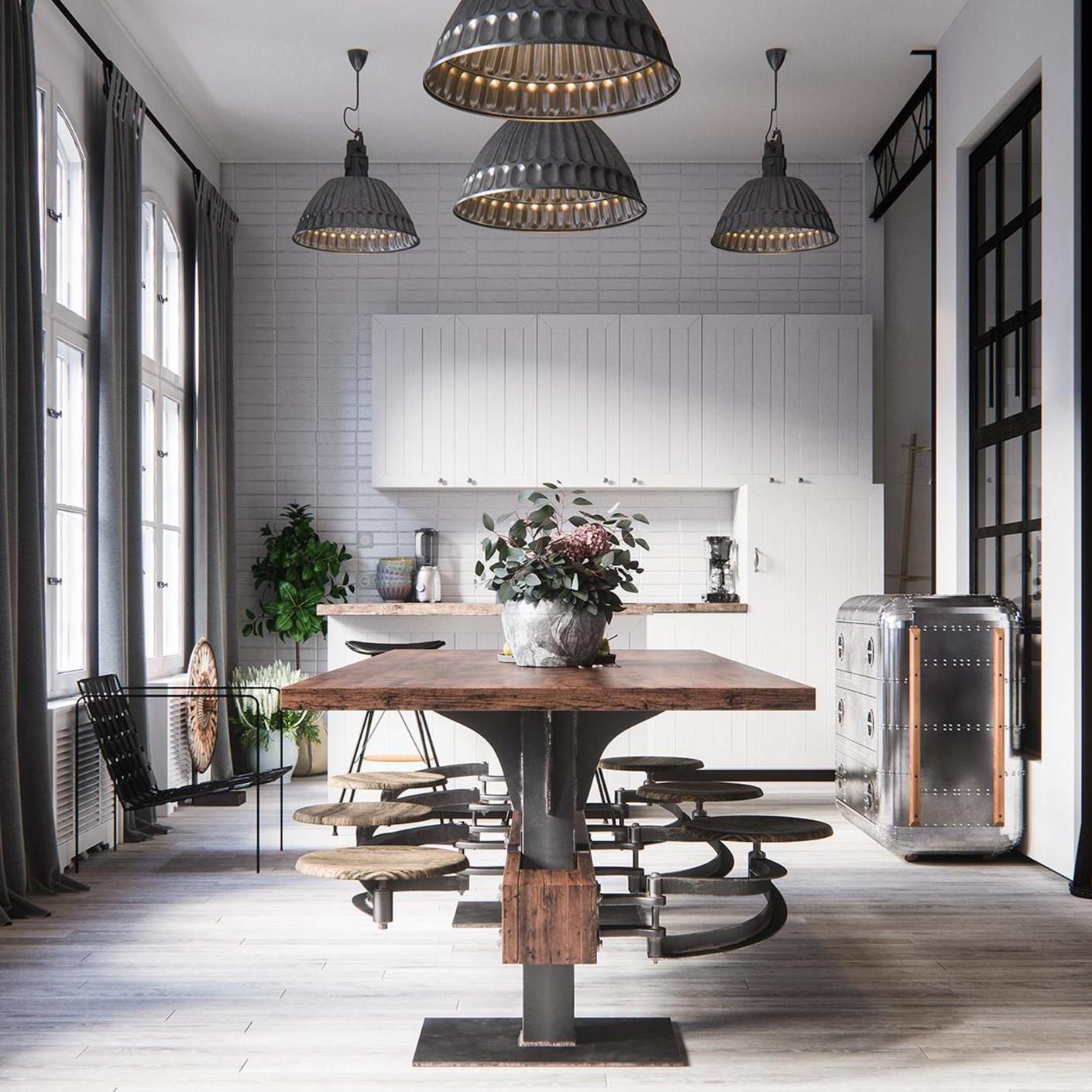 Source
Doesn't this table remind you of a way cooler version of your elementary school cafeteria tables? I mean, way cooler. This wood/metal combination is a staple of the industrial interior design style, and it really stands out against this kitchen's white cabinets. If you need to conserve space in your industrial-inspired kitchen design, the tall cabinetry and utilitarian furniture displayed here might help you achieve the right balance.
7. Open shelves and black accents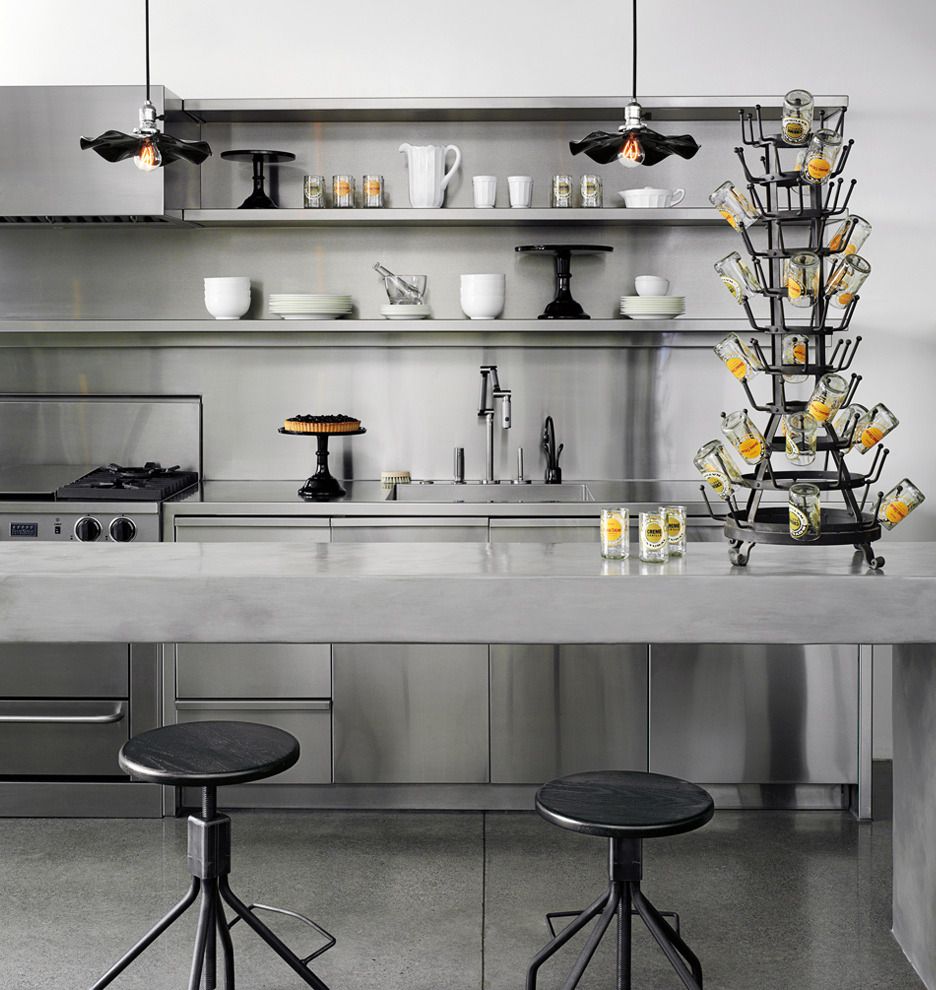 Source
Using sleek, open shelves in your kitchen can provide extra storage and display appliances that fit within your kitchen's color scheme. In this kitchen, black and yellow accents provide a bold pop against the industrial grey backdrop.
8. Sharp lines and geometric light fixtures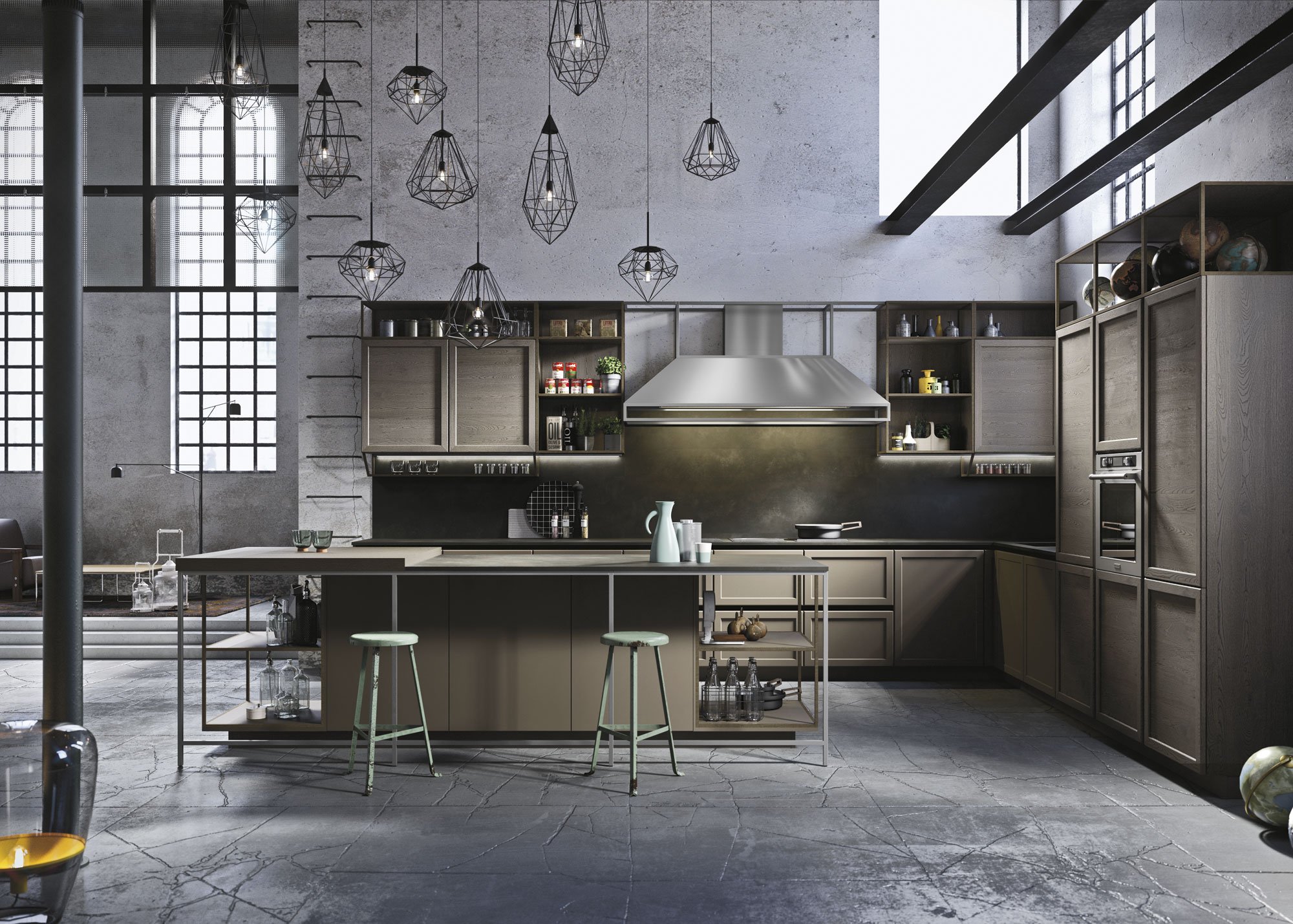 Source
This industrial inspired kitchen pairs cool grey concrete walls and flooring with a warmer grey kitchen island and cabinets. The sharp lines of the industrial appliances highlight mint green bar stools and a smattering of geometric lamps.
9. Reclaimed meets industrial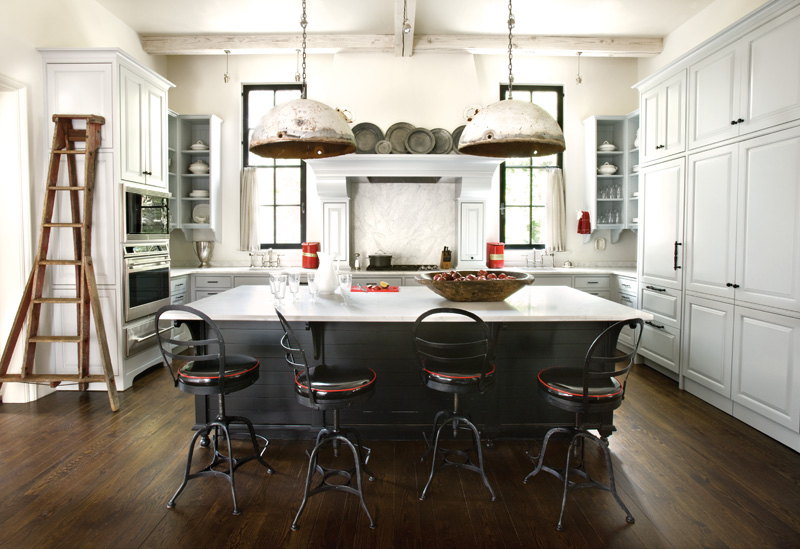 Source
We're bouncing back from minimalism here with a real curveball. When you think "industrial appliances," you likely don't imagine rustic, reclaimed light fixtures with a slight farmhouse vibe. But sometimes opposites really do attract, and in this example, they combine to make a super unique kitchen concept. Check out the huge white cabinets. Talk about utilitarian design!
10. The tile backsplash to conquer all tile backsplashes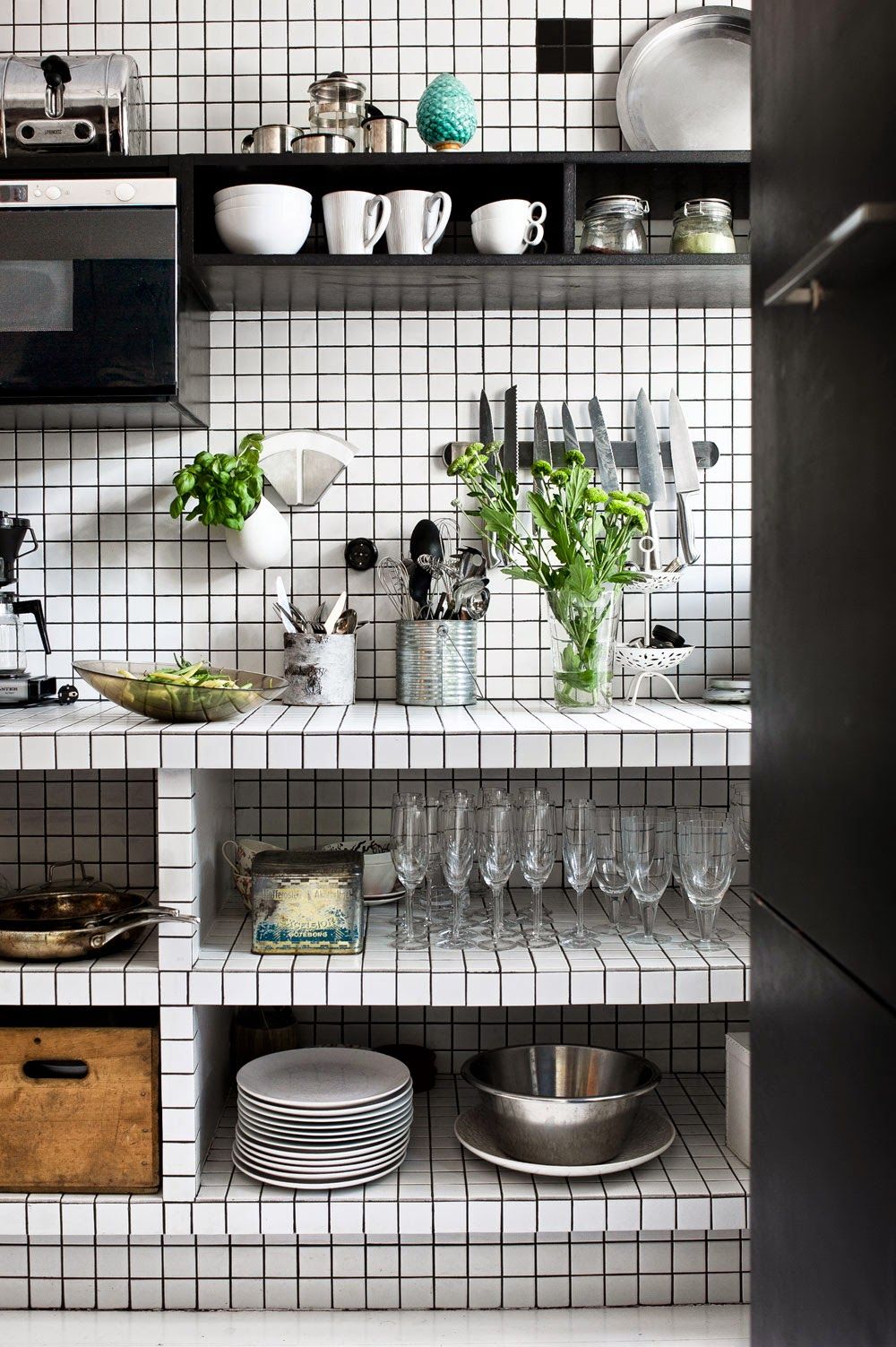 Source
If you've ever watched HGTV, you've probably caught a realtor touting the kitchen's "tile backsplash." Like industrial kitchen design, tiles are both of aesthetic and utilitarian value. So if you're a tile-phile, here's some bold inspiration for you. Open shelving displays cookware and allows fresh produce or decorative plants to really pop.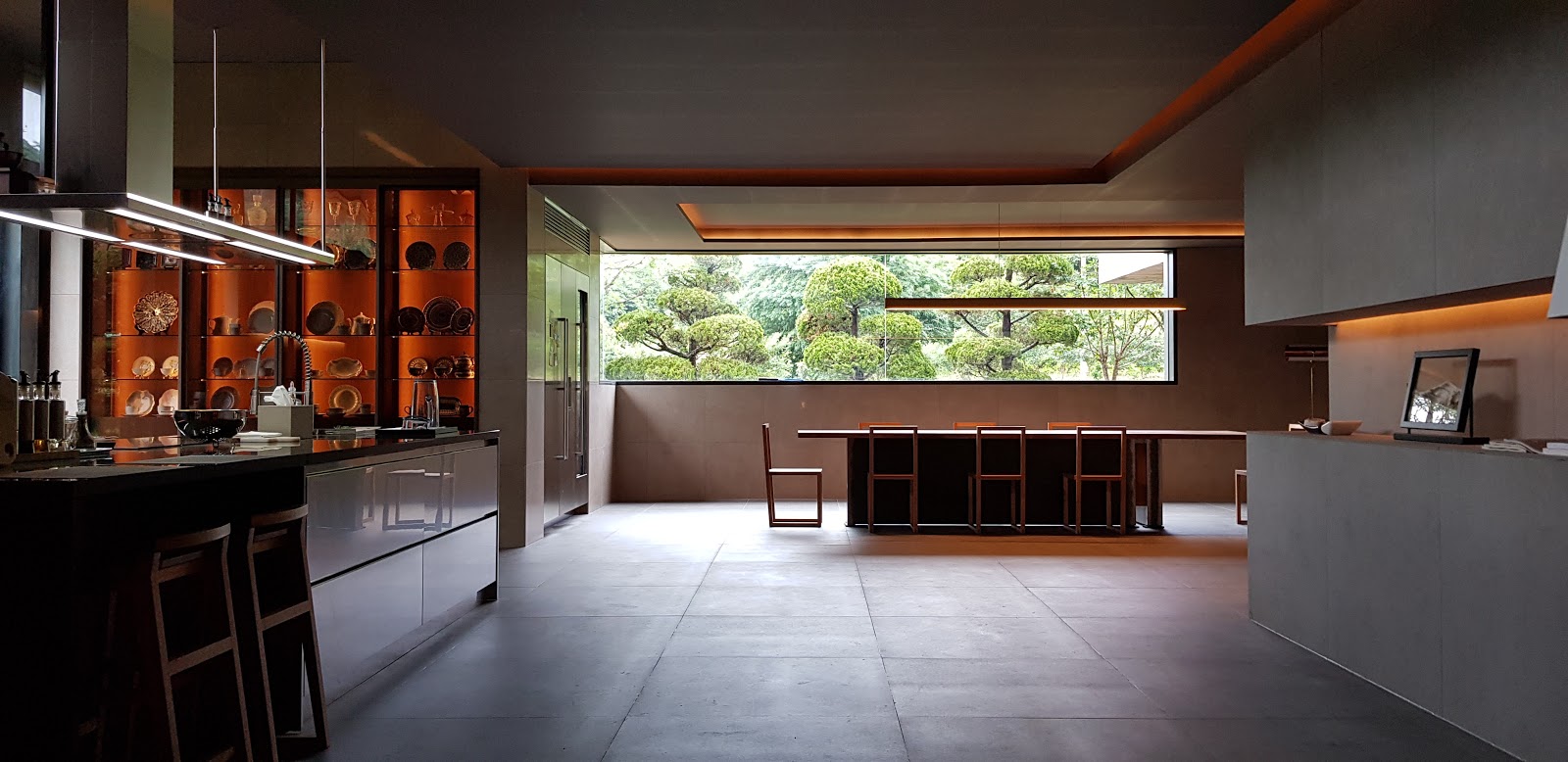 Source
Do you recognize this kitchen? This absolutely stunning kitchen was featured in the Oscar-winning film Parasite. If you've seen the film, you are probably laughing about this being included in the list, but hopefully you'll also remember how truly stunning this entire house is. This massive kitchen island is the perfect prep space for your Ram-Don, or whatever your comfort food of choice may be. Concrete walls and flooring contrast with backlit cabinets. Dark ceilings help to highlight the beauty of the industrial metal kitchen appliances.
12. High hopes and higher ceilings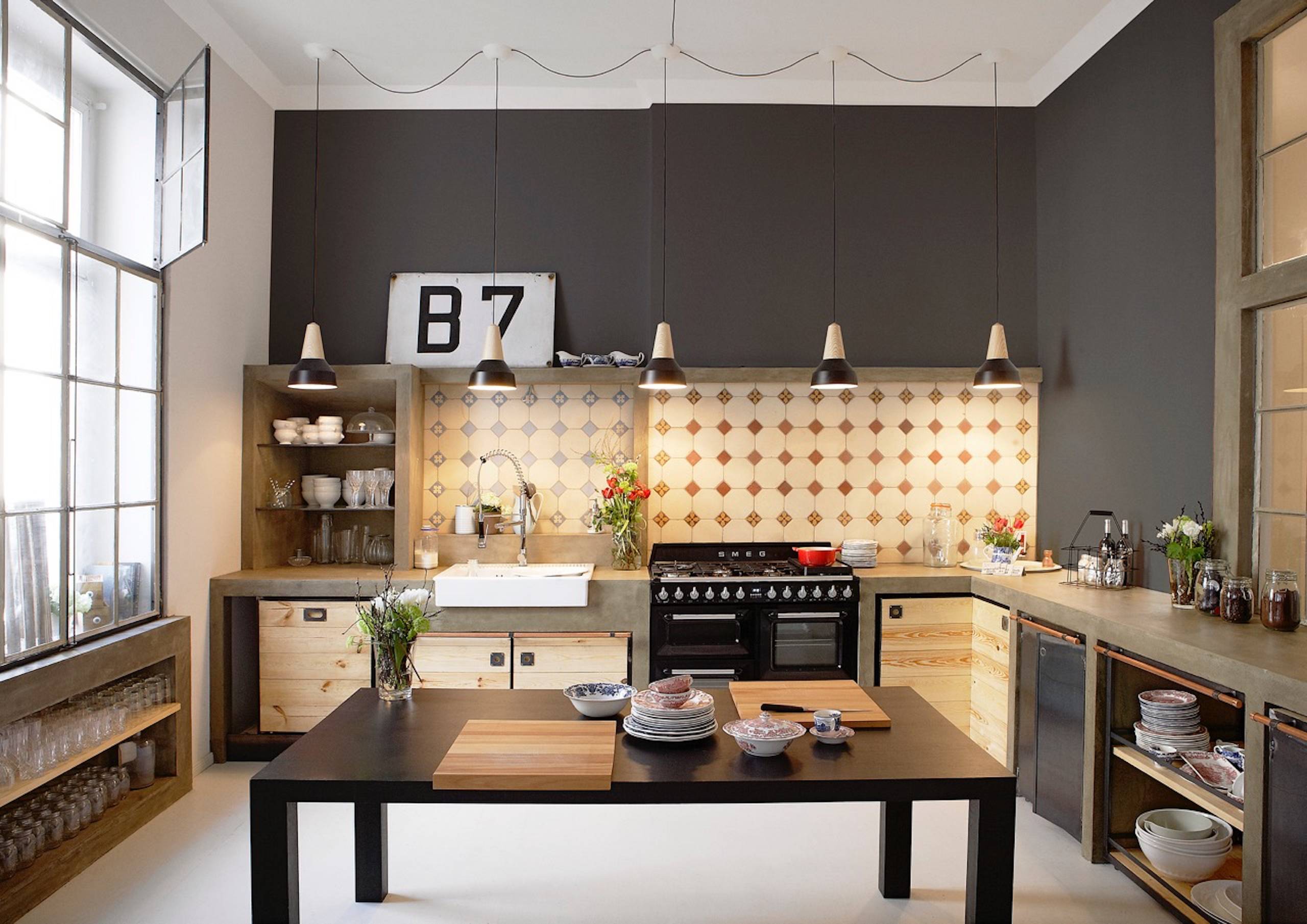 Source
If you're a city-dweller, you may be blessed with the high ceilings of a condo (lucky you!). High ceilings are a great canvas for industrial kitchens, because they create plenty of space for large appliances and light fixtures. Raw wood cabinets pop with the contrast of dark grey accent walls.
13. An Anglophile's paradise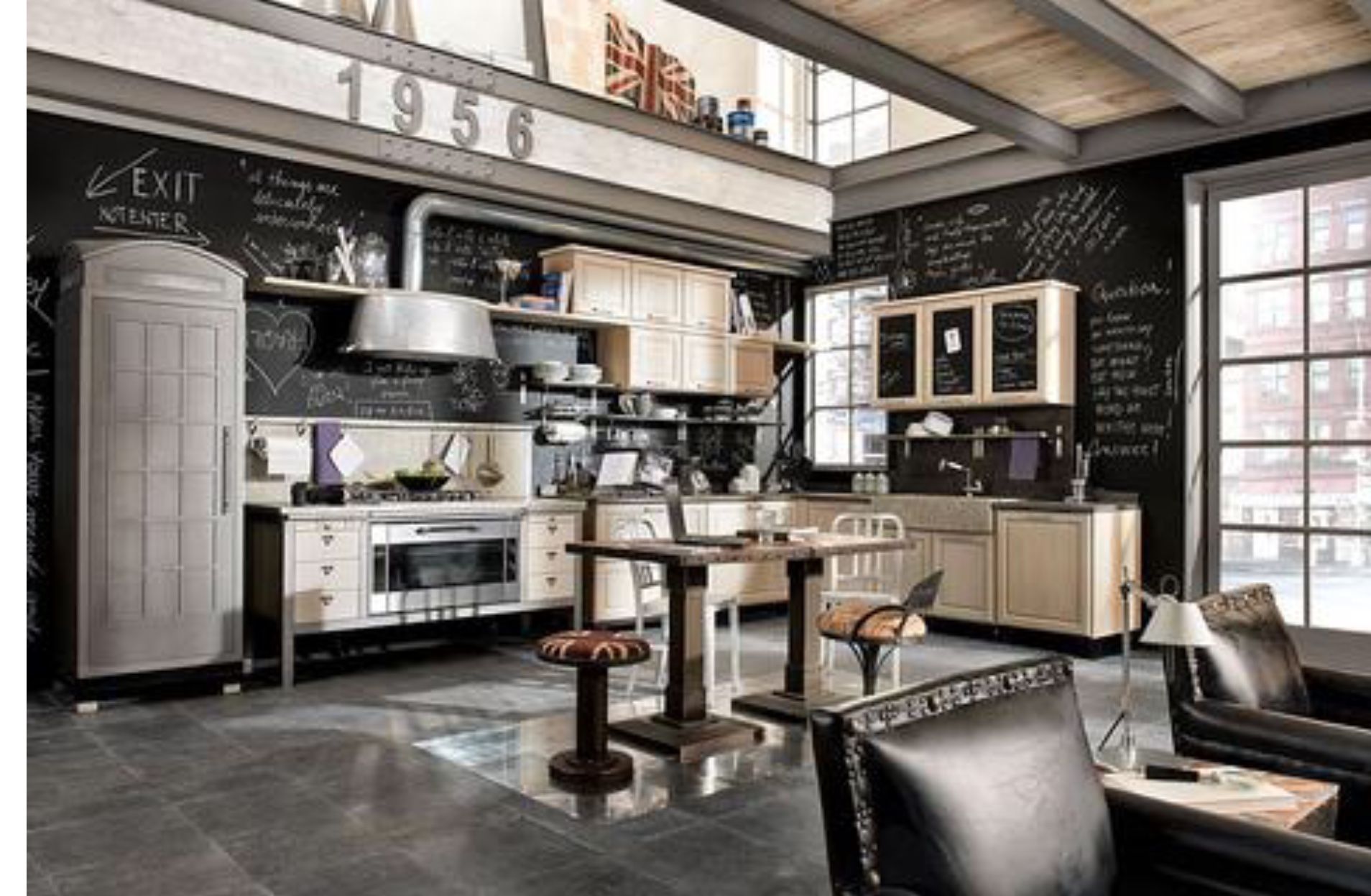 Source
This kitchen fulfills a very specific niche. Have you spotted all the union jacks yet? Is that fridge a Dr. Who tardis replica? Even if these accessories aren't your thing, this kitchen is a beautiful example of how industrial kitchen appliances pop against a black wall. These chalkboard painted walls also highlight the stunning light wood cabinets.
14. Industrial kitchen in a loft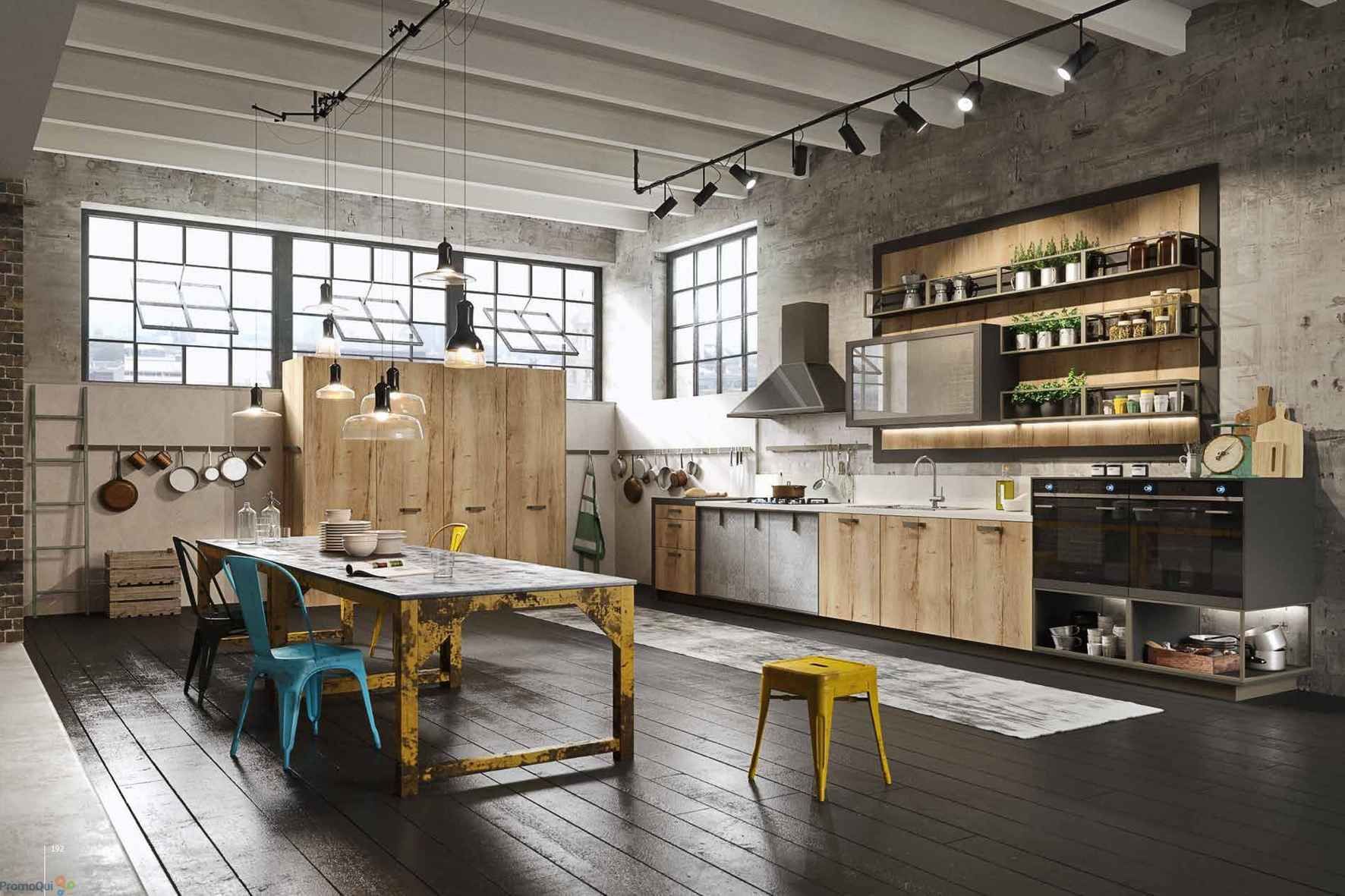 Source
Often, loft spaces are developed in former warehouses or factories. That seems to be the case in this example. By embracing its industrial roots, this kitchen design feels warm and down-to-earth. Again, bright colors pop against a more neutral palette. Lots of open shelving highlights kitchen appliances and plants. Huge locker-style cabinets allow for plenty of storage space, minimizing clutter.
Want to be added to this list?
Click here
to bring up our submission form. We will be in touch shortly with feedback.