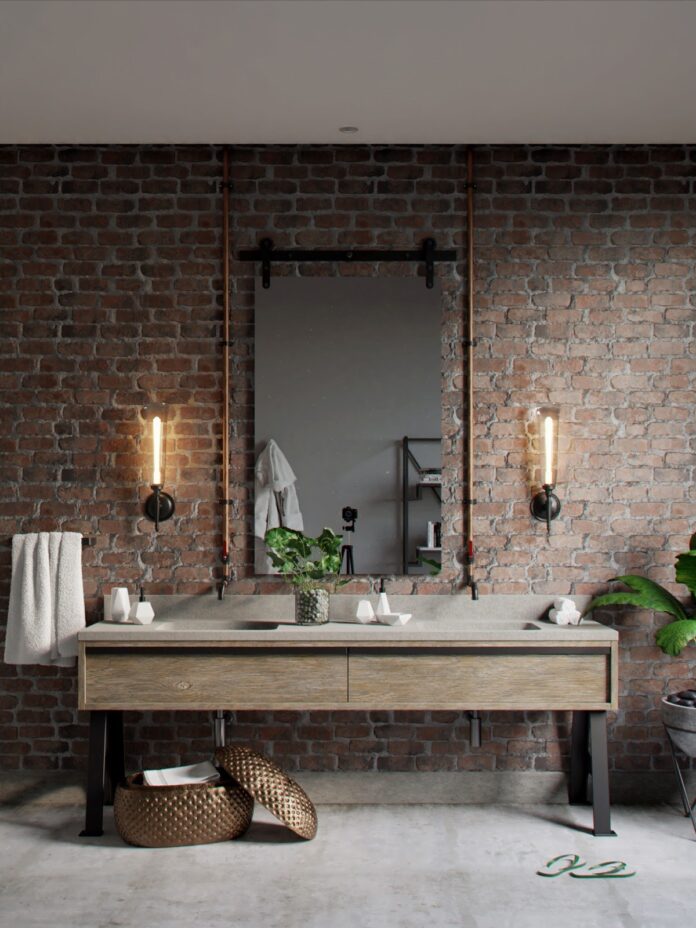 Whether you're looking to spruce up your home or business bathrooms, we hope you'll find plenty to be inspired by with these industrial bathroom ideas. From steel appliances to copper bathtubs, there's something for everyone.
Industrial interior design features furniture and appliances that prioritize both beauty and function, with a heavy emphasis on function. Industrial interior design challenges what we think of as beautiful. Often, industrial textures are the very things that people wish to hide. Some people want to cover concrete walls with layers of brick or paint, but industrial interiors embrace their natural speckled grey texture. Instead of hiding the bulb or dimming its shine with a lamp shade, many industrial inspired bathrooms will prominently feature the lightbulb itself in designs. It works, therefore, it is beautiful.
Of course, there are ways to incorporate industrial elements with other design influences.
Using vintage furniture in industrial bathrooms is a great way to take the concept of functionality as beauty even further. Industrial bathroom interiors can be easily elevated with the incorporation of more luxurious textures, like marble or quartz. Using rustic, reclaimed wood with some industrial features might give your bathroom a bit of a farmhouse feel as well.
Scroll through the images below, and take note of which images inspire you the most. Leave us a comment below with your favorite example. We'd love to help you design a beautiful and functional industrial bathroom.
1. Contemporary Cement Bathroom

Source
Not everyone loves the bright white bathrooms of modern minimalists. Sometimes, it's okay to embrace your dark side. That's exactly what this gray industrial bathroom design does. With both concrete and grey brick walls, this bathroom stays in a dark, limited color palette. By avoiding color variety, we can focus on some hand-selected design elements. For instance, this sprawling exposed light fixture is a unique way to create overhead lighting.

Source
If you're blessed with a lot of space, the options are endless for your bathroom design. But that also means you can go overboard. Focusing on the industrial elements is a great way to ensure simplicity and style. This large, spanning bathroom highlights concrete walls and floors by avoiding too much clutter. Adding some plants to your bathroom is a surefire way to make sure the bathroom looks lively.

Source
Floating shelves are a popular contemporary convention. By creating one floating shelf with the same concrete that the walls are made of helps tie this room together. Additionally, these worn down window panels add to the industrial look. But not everything is as weathered and industrial in this bathroom. A sleek, modern bathtub sits atop newly tiled floors. And that's what's beautiful about this room — it embraces both the old and the new.

Source
Gone are the days when exposed pipes were a bad thing. Now, we're in an era of decorative pipes. This bathroom really uses color and light to its fullest. With a solid mix of edison bulbs and some subtle LED backlighting, this majority black industrial bathroom avoids being too dark. Admittedly, this bathroom likely belongs to someone with a flare for the dramatic.

Source
This industrial bathroom has that oh-so-coveted exposed brick. Also notable—this massive bathroom mirror framed by exposed pipes. This sink cabinet set borrows some design principles from the mid century modern style, proving you can really mix industrial elements with anything and pull it off.

Source
Geometric design never goes out of style. This industrial bathroom design uses lines and shapes to create movement. Two round mirrors feel playful displayed side by side. Round hanging edison bulb pendant lights brighten up the room. Open metal shelving provides ample storage under twin sinks.
Which of these industrial bathroom designs inspired you the most? Leave a comment below. We'd love to help you get started on your next design project.

Source
Exposed brick didn't used to be considered a selling point in a home. Within the past decade, that became type of thing that can get a home listing noticed by potential buyers. Brick walls are a great way to showcase your home's natural character. Pairing them with some other contrasting textures, like these light hardwood floors, is a nice way to create variety. A solid, dark brown cabinet with industrial metal drawer handles is a great way to bring some storage into a bathroom on the smaller side.

Source
Textures are everything when it comes to industrial bathroom design. There are so many industrial textures to choose from, so why not choose them all? That's what this bathroom did and it works. White subway tiles sit behind the wood based sink with metal drawer handles. The sink's countertop looks to be made of a stone or concrete texture. Large rectangular floor tiles sit underneath a painted medium grey accent wall. And with the addition of several ornamental elements and light fixtures, the list of textures could go on and on. The moral of this example: more is more.

Source
Industrial bathrooms often use a neutral or greyscale color palette. This is not out of some sort of aesthetic elitism, it is simply because those are the colors of the industrial textures used. However, this example proves just how lovely an industrial bathroom can look with a bold pop of color. Teal contrasts nicely with warm wood accents, and a patterned tile brings even more vibrancy to the room.

Source
If a tree falls in a forest and no one hears it, how will we know to upcycle its wood? If these concrete walls weren't enough to convince you of this bathroom's industrial status, how about these thick metal chains holding up the tree slab turned sink. Here's all the proof you need to convince you that you can really make something beautiful out of industrial elements others would try to hide.
11. Dark and Moody Industrial Bathroom

Source
Going monochromatic doesn't mean you have to go mono-texture with your industrial bathroom design. This all black industrial bathroom uses tile, metal, and concrete to form this dark and moody look. Everyone looks great in black, and so will your bathroom.

Source
While industrial materials may come cheaper than some luxury ones, you don't have to compromise on elegance. This bathroom uses some gorgeous overhead lights and a raised bathtub platform to create an upscale ambiance. If you really wanted to sit in the lap of luxury, you could add in a marble backsplash or build some custom bathroom cabinets for more storage.
Want to be added to this list?
Click here
to bring up our submission form. We will be in touch shortly with feedback.