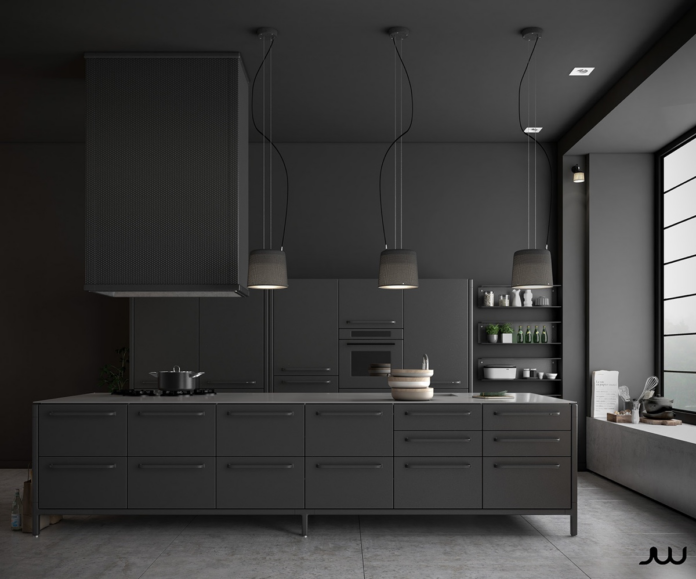 If you've never considered a black kitchen, you'll change your mind after seeing these stunning designs. Glamor is a given in a black kitchen, but you might be surprised that black can work well in a romantic setting, a rustic kitchen, and of course in modern kitchens. 
Black also brings in a level of boldness, and sometimes might appear masculine, but you can add your own flair to create the black kitchen of your mood, using contrast, texture and accents. What black does is create a cohesive background for all of them.
You do want to watch out for an overload of black that can make your kitchen into a gloomy cave, which is the opposite effect of what you'd want in a kitchen. A trick of the designer trade is to counter all that black with generous amounts of a lighter, brighter contrasting color. Using a high contrast color could also help make the space seem larger, because black tends to shrink a space by absorbing light.
Once you get the ratio right, of how much black you use in your kitchen, you can go to town on what kind of a cherry you want to add on top – Copper? Gold? Chrome? Everything works well with black, if you do it right.

Source
The entire ceiling is painted black, including the supporting beams, and yet what you see is not the black but the grand chandelier taking center stage. The supporting characters aren't too shabby either – the metallic paneling on the island, and the big white pendant lights over it. It helps that there's a skylight to bring in more light.

Source
Even the exterior walls are painted black in this beautiful house in the country, but it only acts as a foil for the large plate glass windows looking out into nature. The black here acts as the backdrop for the changing scenery of seasons. The industrial pendant lights all in a row add some interest to the space.
3. High Contrast Statement
Source
If you think black is bold, how about a high gloss yellow? The bright yellow brings in a dose of fun and charm to this space, which would have otherwise been pretty ho-hum. The white subway tiles add another layer of texture.
Source
It's shocking how much black is in this space – counting the cabinets, the flooring, the refrigerator, the oven hood and the backsplash. But bringing in warm wood tones in the island and the upper cabinets completely transformed the space into something inviting and approachable.

Source
The effect of white and light against the dark black wall of cabinets and flooring is a stunning study of a black kitchen done right. But the attention is all on the gorgeous black pendant lights glowing a deep copper color that goes well with the warm wood tones on the dining table.

Source
All dark? Yes. A bit extreme? Yes. But you can't turn away from the meditative mood this black on black kitchen creates. Even the lamp shades are black, and so is the pot on the stove which is also black, as is the oven hood. If you think you're daring, try this out.
Want to be added to this list?
Click here
to bring up our submission form. We will be in touch shortly with feedback.