Many people know the term RTA, or Ready-to-Assemble. This terminology is commonly used in furniture and cabinets. They are meant as the budget options for homeowners and remodelers looking to change their home aesthetics under a budget.
Many companies have swapped their inventory of furniture to the flat boxes of RTA furniture to save space on inventory in warehouses. Since the RTA furniture is in flat boxes, it is easier to store and hold more quantity. A big name store known for these is IKEA. With countless items in their catalog, having all their furniture in flat boxes makes storage and delivery more viable.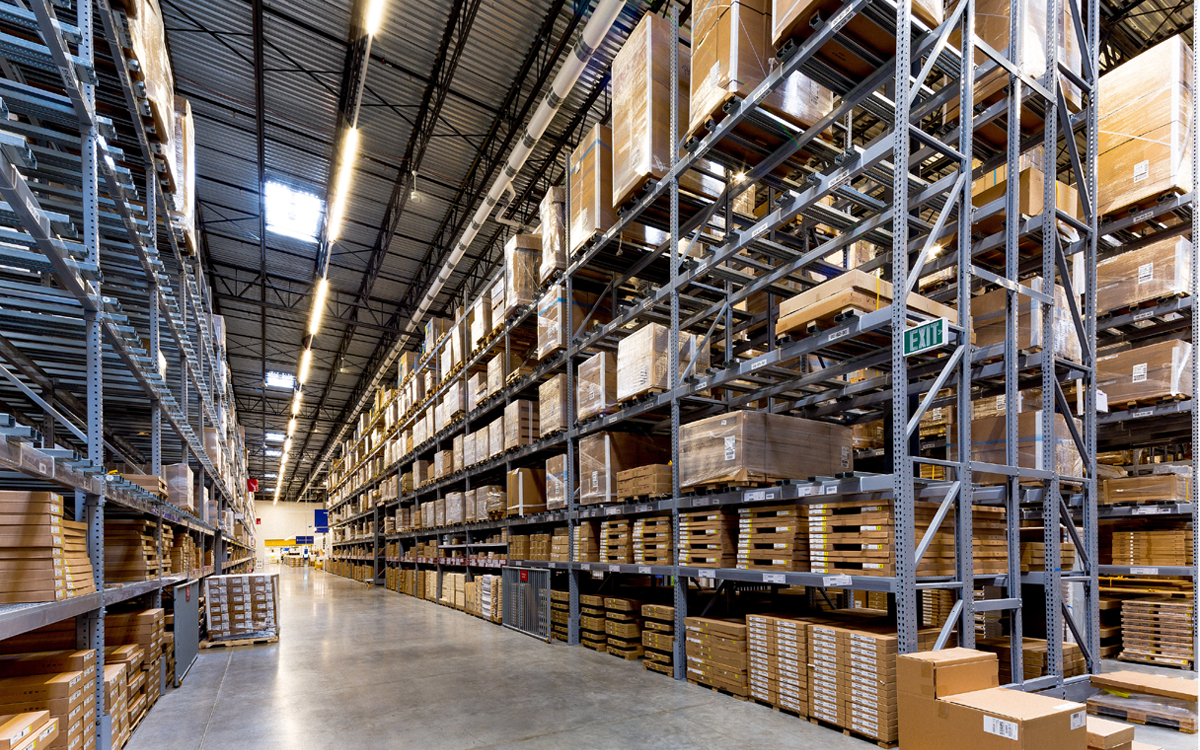 Now that we have some knowledge on RTA furniture, exactly how easy is it to assemble? There are countless videos and diagram instructions on how to put these together. The real question, can the average person assemble a cabinet or table with ease by themself?
What is inside an RTA flat box?
RTA flat boxes will have all the framework or the body of the furniture broken down into a few flat boxes. This applies to beds, nightstands, tables, and even kitchen cabinets. Big box stores that store flat box furniture like IKEA have these lined up on their warehouse shelves that never end. 
Inside, you will find panels or metal poles that will typically make the frame of the furniture piece. In a bag or small box will be the hardware. This will include the screws, bolts, cam locks, cam screws, and any included tools that may be required. Not all RTA furniture products will include tools. If your product does not include the hardware, contact your retailer as you cannot assemble the furniture piece without any of these. Also included
It is common to mistakenly think a piece is missing or not included. Check to see how many boxes are included in the furniture product and check all the pieces are available. If panels or crucial frame pieces are missing or damaged, be sure to call your retailer for a replacement.
Tools needed?
When assembling RTA furniture, very basic tools are typically needed or provided. These may include a screwdriver or a hex wrench. Some boxes may include a combination wrench that has both of these tools together. This means to put furniture together, not much else is needed. Typically, the hex wrench is a tool that the common household will not have, and they will include the corresponding size hex wrench.
The screwdriver is more common, but has two different screw types. The "+" shaped screw requires a Phillips head screwdriver, while the "-" shape requires a Flat Head screwdriver. The Phillips head is the more common option used everyday, so you can expect this type of tool to be used when assembling RTA furniture.
Installing furniture or cabinets is a different story. Furniture like nightstands, bed frames, or even tables can simply be put together out of the box. Kitchen cabinets would require additional tools, materials, and possibly knowledge on how to properly install and mount cabinets to the wall. This may require a handyman or a contractor depending on the skill necessary.
Needed manpower?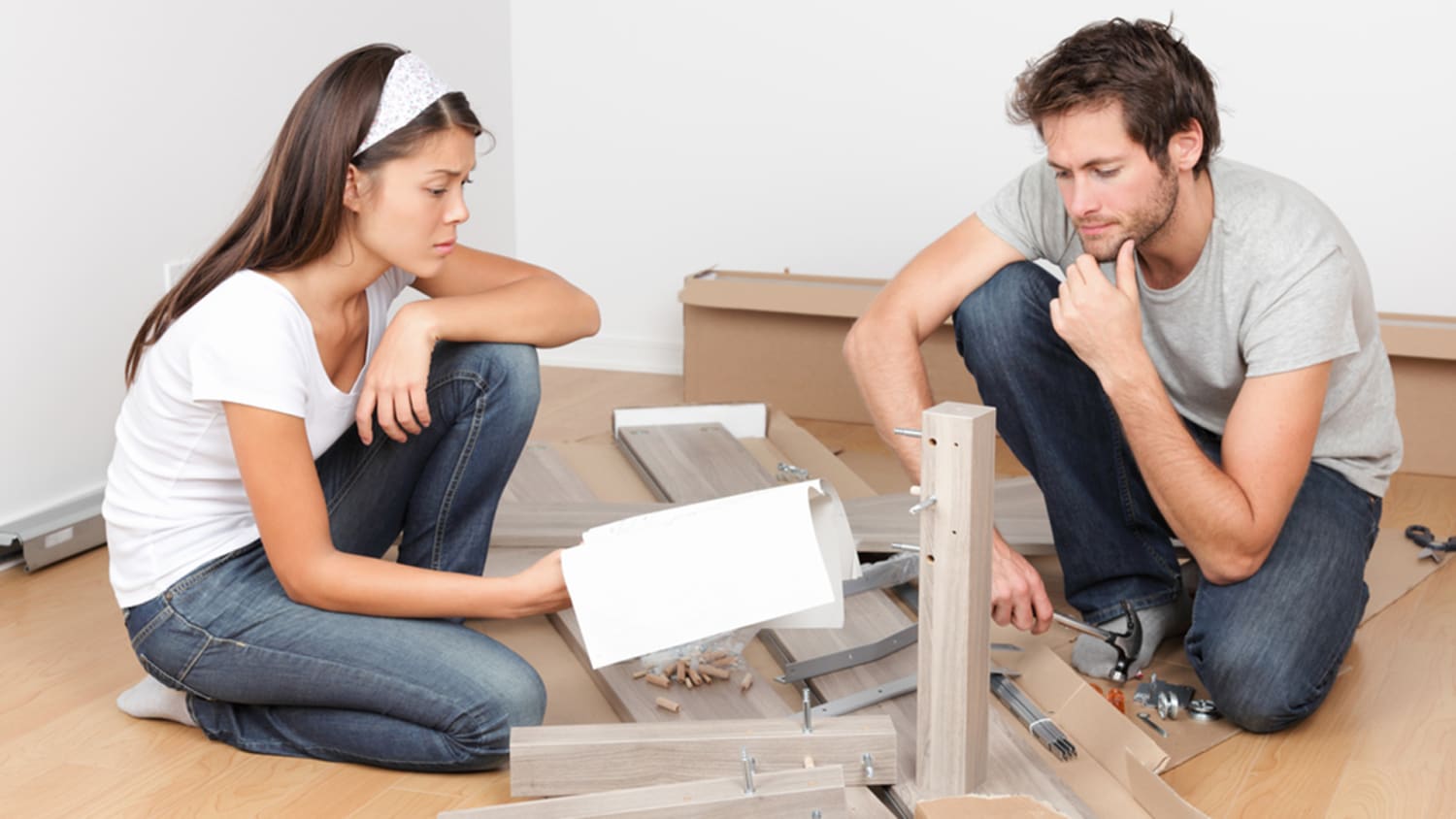 Assembling furniture can be relatively easy simply by following the written diagrams and instructions. Some furniture will require some physical labor and strength. It is recommended to have 2 or people when assembling or installing heavier pieces of furniture. Smaller pieces like a nightstand or a standalone shelf can be assembled by a sole individual, while a dining room table or bed frame may require 2 people to assemble and move the product once completed.
Besides having a helper, always work with safety. It is recommended to work on a carpet, blanket, or large piece of fabric like an old bed sheet to prevent damage to your floor. Also be sure to protect yourself as well. Although no fancy tools may be needed, use of work gloves and goggles are always recommended. As you may need to get on your knees when assembling the product, it is best to wear long pants like work jeans to prevent your legs from accidently getting scratched up or dirtied. Don't be afraid to get a little dirty when putting together RTA furniture. Not the best time to dress to impress.
How to put together furniture without power tools?
Without the use of power tools, how can you put together stable furniture? It's all in the construction and the included hardware. RTA furniture will have predrilled holes that indicate where the screws will attach two panels together.
The other more common assembly is with cam lock construction. This uses a cam connector and a connecting bolt with a cam screw or wooden dowel. Depending on the sturdiness required for the assembly, the product will use a metal cam screw. The cam connector will be inserted into a large hole shape that is pre-drilled in a panel. Then a cam screw is inserted into the edge of the corresponding panel. The two pieces of hardware interlock into each other. Tightening the cam connector clockwise will lastly lock the two panels together. Some may say these connectors are not the strongest. It is recommended furniture that uses cam lock struction needs solid wood, otherwise cracking will easily occur. To reinforce the panels, adding in wood glue or a staple gun will secure the two pieces of wood without worry.
The last form of connection is with hex wrench. The included flat head cap screws are large bolts with a hexagon shape on the fat part. These are usually included in furniture with metal frames, as a standard wood screw is not strong enough for these products. Products like these will usually be bed frames or long desks that are expected to hold lots of weight everyday. Tightening a hex key is usually more secure than with a screwdriver, so don't be afraid to add in a little bit of elbow grease when assembling here.
Follow the visual instructions or assembly video to put the RTA product together step-by-step. Once you finish the steps, have a friend or second person help stand the assembled furniture piece and/or move the finished product. You don't want to risk scratching the surface or edges of your newly purchased dining table.
Can anyone put together RTA furniture?
Of course. RTA furniture is much like an adult's version of assembling a box of Legos. Those used to reading those instruction manuals to put together houses, cars, or even a city can put together basic furniture. Some extra manpower and tools are of course needed in comparison to toy bricks, but these are not too different. If you have questions on how to assemble your piece of furniture or if instructions are unclear, don't be afraid to contact your retailer to resolve these issues.