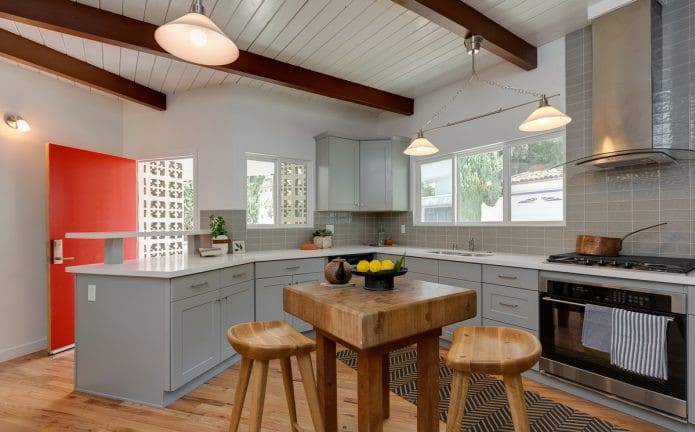 Few people like cleaning up their kitchen, but scrubbing the cabinets is probably at the bottom of the list for chores. With easy-care cabinets, you can cut out a lot of the time and energy needed and focus on more pleasant tasks instead.
Although cabinets do not usually get dirty as surfaces like the countertop and floor, they can take even longer to clean because of their vertical nature, the hardware, and particular features of their surface. Cabinets can quickly become covered with grease, splatters, and stains, especially if you do a lot of cooking or frying nearby. Your best bet to get a low-maintenance kitchen is to go for basic cabinets that are high on convenience and storage space and low on fancy decoration.
Avoid Excessive Detail, Dimension, and Fancy Finishes
When you are first shopping for kitchen cabinets, especially the doors, consider how easy it will be to clean them before you make your final choice. Slab or Shaker doors are smooth, solid pieces that can easily be wiped down with a cloth or sponge.
Other doors with raised panels, carved trim, or beadboard inserts will be much more difficult. Although things like glass panels, lattice, and shutter-style features may look very attractive, cleaning them would be a huge headache.
Paint options can also help make your cabinets easier to clean. Choose satin or gloss finishes rather than matte, and avoid artsy techniques like crackle paint.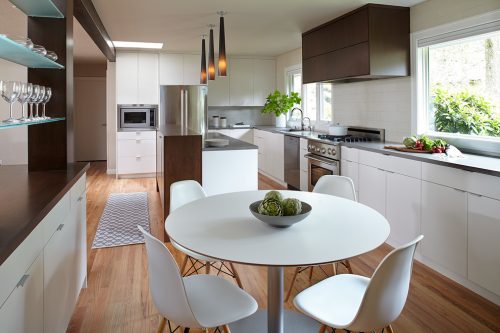 Avoid Using Excess Trim and Add-on Features
Besides opting for smooth doors like suggested above, also choose cabinet construction that does not include a lot of trim or features such as light rail molding, corbels, crown molding, and legs or feet for the bottom cabinets. All of these options may look quite nice but require a lot more scrubbing than plain surfaces. This is especially true for 3D options that have open spaces on the sides or behind them, like cabinet legs.
Well-sealed Stain Makes Cleaning Easier than Paint
Some people may find that glossy paint makes it easier to both see and clean up splatters and dirt. One thing to consider when choosing the finish for your kitchen cabinets is how much the dirt will show up and how easy it will be to repair the finish if it is damaged in any way.
A low-maintenance kitchen not only makes it easier to spot clean or do a thorough cleaning every week. Too much scrubbing can even damage the finish on cabinetry. Stain is more forgiving. If the cabinets get scratched for any reason, you can easily find the touch-up kit or even use a permanent magic marker to disguise the damage.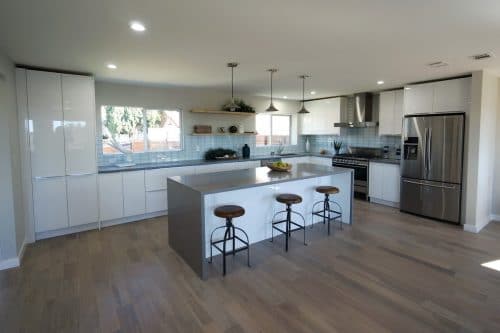 The Right Wood Grain Can Camouflage Dirt and Stains
While you should always clean your kitchen regularly to keep it looking its best and staying healthy, sometimes stains or dirt on cabinets stubbornly refuse to go away with your everyday cleaning regimen. If you want your kitchen to look better longer, choose cabinets that camouflage dirt and stains instead of showcasing them like white or light-colored paint would.
Dark stain works best, especially if your cabinets are made out of a would like hickory or oak that have distinctive grain patterns. While maple is a popular wood type for building cabinetry in the kitchen, it's smoother appearance makes stains and damage more obvious. Wood grain contributes to less maintenance and cleaning time as well as looking very attractive in any style home.
Choose Flush Cabinets Ends Instead of Other Options
A flush end to your cabinet consists of plywood or whatever wood your cabinets are made out of that create a smooth end to the corners and front of the structure. This makes it easier to clean because there are no protrusions or different surfaces to worry about.
Another style that is popular in the kitchen cabinetry involves what are called matching ends. These sides include three-dimensional or raised-panel construction so they match the cabinet doors. Just like a highly designed cabinet door takes longer to clean, so too does a similar cabinet end.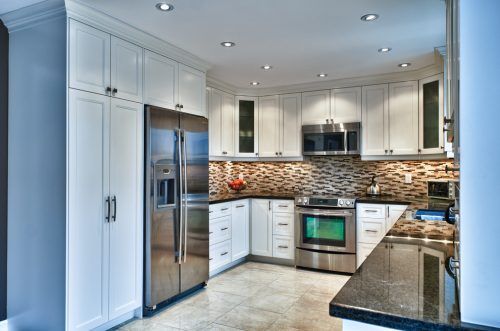 Always Use Functional Hardware on Cabinet Doors
It makes logical sense that a cabinet door without hardware will get dirty or faster than one with knobs or handles to pull on. When you are cooking or doing some other task in the kitchen, your hands are frequently dirty, oily, or have some crumbs on them. If you open a cabinet without a handle, you are transferring all of that directly to the door.
Not only does having hardware help keep your cabinets cleaner, the material you choose can also keep your kitchen looking fresher for a longer period of time. Metals like chrome and stainless steel show smudges, fingerprints, and water spot much more easily than either brushed or polished nickel, ceramic, or satin or oil-rubbed bronze.
Never Choose Glass Cabinet Doors
As mentioned above, the material you choose for your cabinet doors has a lot to do with how much maintenance is required to keep it looking new and clean. Nothing requires more frequent scrubbing and polishing than glass. It attracts dust and problems, shows fingerprints easily, and any smudges or greasy spots will make the cabinets look filthy much sooner than they would on wood. The problem is only made worse if there are multi-panes of glass separated with metal or wood trim.
Many homeowners enjoy glass cabinet doors because it creates an inviting and open style and shows off their fine dishes. Although no other material is transparent like it, there are other excellent options to gets the same feeling in your kitchen.
Avoid Open Cabinets and Shelving
Cabinet doors exist for a reason. They not only help keep your groceries and dishes out of sight, but they also help keep them clean. All the dust, splatter, grease, and other dirt in the kitchen will end up on your plates and bowls instead of the cabinet door if you install open shelving or bins.
This not only means you have to clean every plate and bowl whenever you want to use it if you want it to be truly spotless, but you also have to clean inside the shelves and inside the cabinets on a regular basis as well. If you do have decorative plates and bowls that you want the world to see, consider putting out just a selection as a centerpiece on your table.

Prevent Dirt, Grease, and Moisture to Minimize Maintenance
Nothing affects the amount of maintenance and cleaning you have to do in your kitchen more than preventative measures to stop dirt, crumbs, grease, and moisture from reaching your cabinets. This is especially true for the sink cabinet that may get wet frequently. Make sure no water reaches any of the wood or you may have rot and mold problems, which are much more serious than cleaning up.
Install a powerful stovetop hood to vent smoke and grease particles out of the kitchen before they can reach the cabinets. Cover your pots or use a splatter screen. Clean up spills promptly and they will not have a chance to cause stains.
Prevention and the best choices for low-maintenance kitchen cabinetry can help you spend more enjoyable time cooking or eating with your family and friends instead of cleaning up messes.