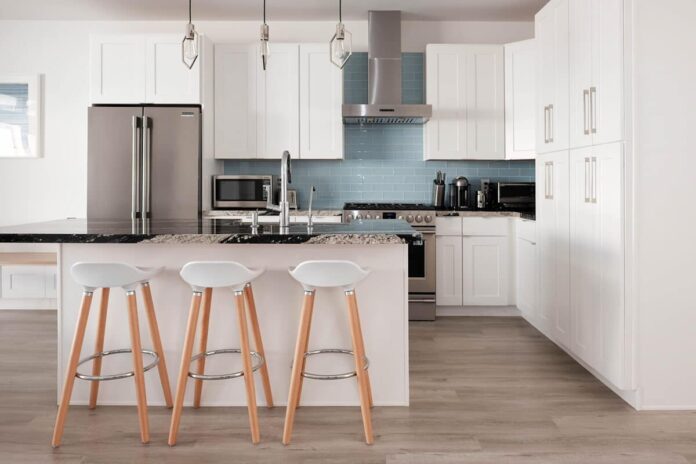 Who would've guessed that shaker kitchen cabinets from minimalistic furnishing ideas from early America would be considered modern in the 21st century? That's right. The whole idea behind shaker kitchen cabinets and other shaker furniture came from…well, Shakers! A group of settlers with devotion to god, hard work, and simple living.
Despite being a modest, 1790s religious community, they were marvelously innovative! They crafted all sorts of inventions (most notably, bearing metal), used ahead-of-their-time scientific farming methods, and became an economic success through selling well-made, simply-designed furniture!
Bestonlinecabinets offers over 15+ different premium shaker style cabinets for you to choose.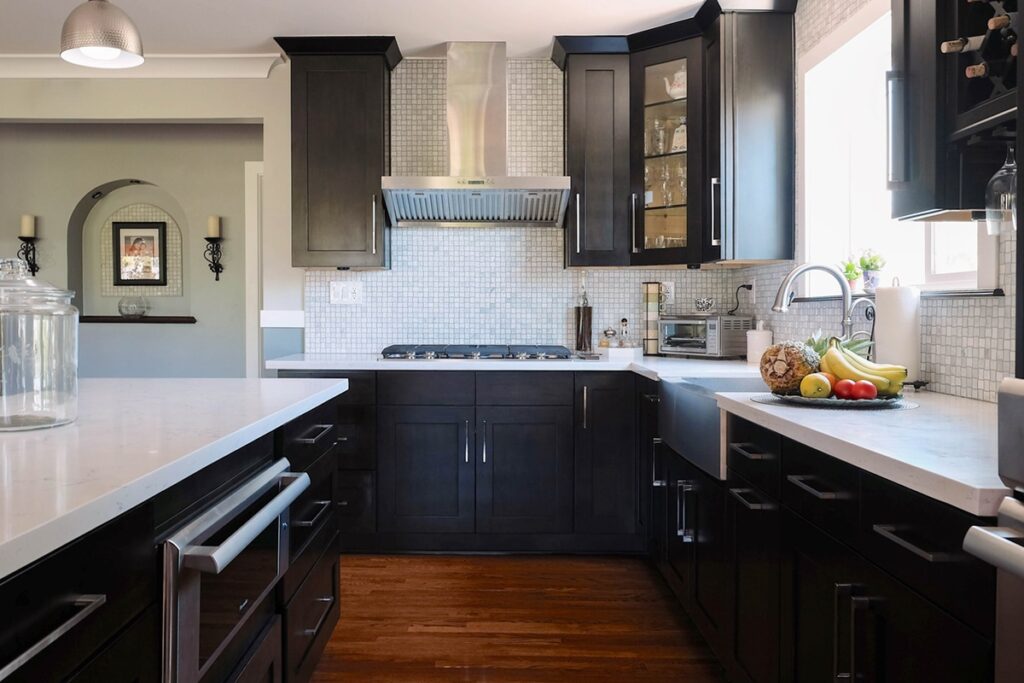 Although the core design principles behind Shaker cabinets haven't changed all that much, the quality has gone up and the costs have gone down.
If this guide doesn't make you want to go with shakers for your next kitchen furnishing project, I don't know what else will!
Stick around and you will learn:
Why Shaker cabinets will leave your wallet fatter than other types of cabinets
How you can achieve any look and feel, from rustic farmhouse to the modern American home, by using all sorts of finishes
How to stand out from the kitchen cabinet crowd by making use of cool 'n funky accessories
And much, much more!
Let's get started, shall we?
A Melding of Spirituality with Design
As we have already discussed, Shakers were a group of religious folks from the 18th century.
They were a group of Christians that immigrated from England to America. While they are known for unique religious views, their design aesthetic may be their most enduring facet. Popular Shaker furniture includes tables and chairs, mostly made from wood.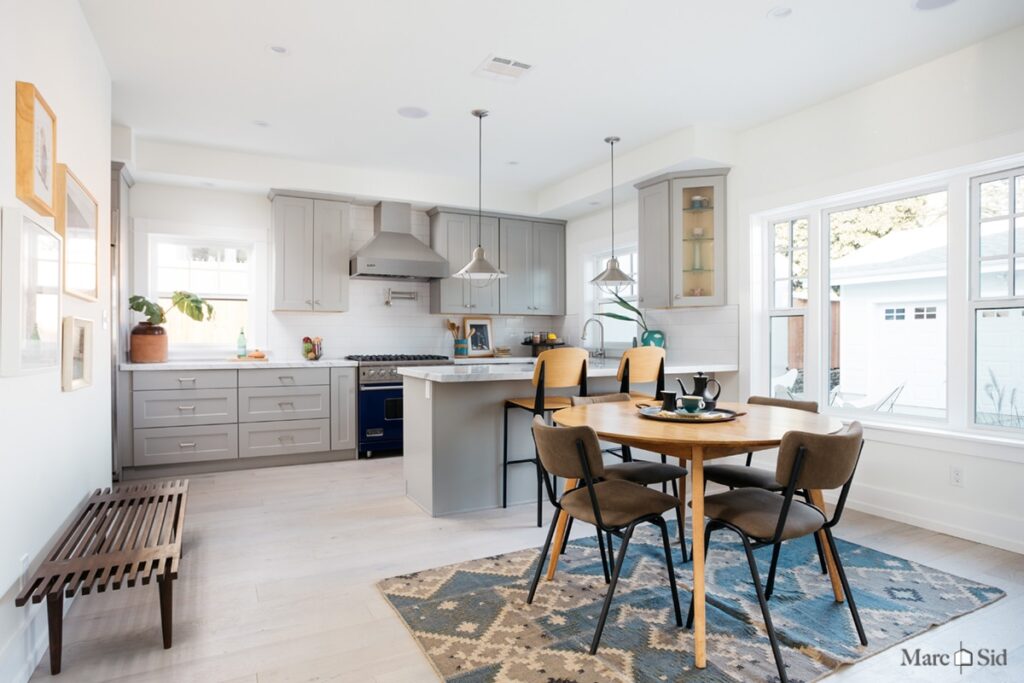 Thomas Merton, a 20th-century Christian monk once remarked that "the peculiar grace of a Shaker chair is due to the fact that is was built by someone capable of believing that an angel might come down and sit on it." Others have compared the Shaker style to haiku poetry, noting that it is more about essence, less about flash. Another way to think of Shaker style is the art of cabinetmaking at its most basic but essential.
The best Shaker style cabinets resonate with artisan quality. It is clear to see that a craftsman worked hard to fashion the wood, join corners, and painstakingly apply a finish. Most of the time, this is because they are in fact, made with such care. Their simplicity means imperfections have no place to hide.
This leads us into how the simplistic views of these settlers forged a style that is still in high demand today.
Simplicity as a Bedrock for Style
You're probably wondering what religion, poetry, and philosophy have to do with kitchen remodeling. You see, though, these historical views of Shaker style underline its popularity.
Far from the heavily gilded and overly ornate style often associated with these devotional ideas, Shaker style is breathtakingly simple and reverent at the same time. This perspective couldn't be more simultaneously modern and timeless.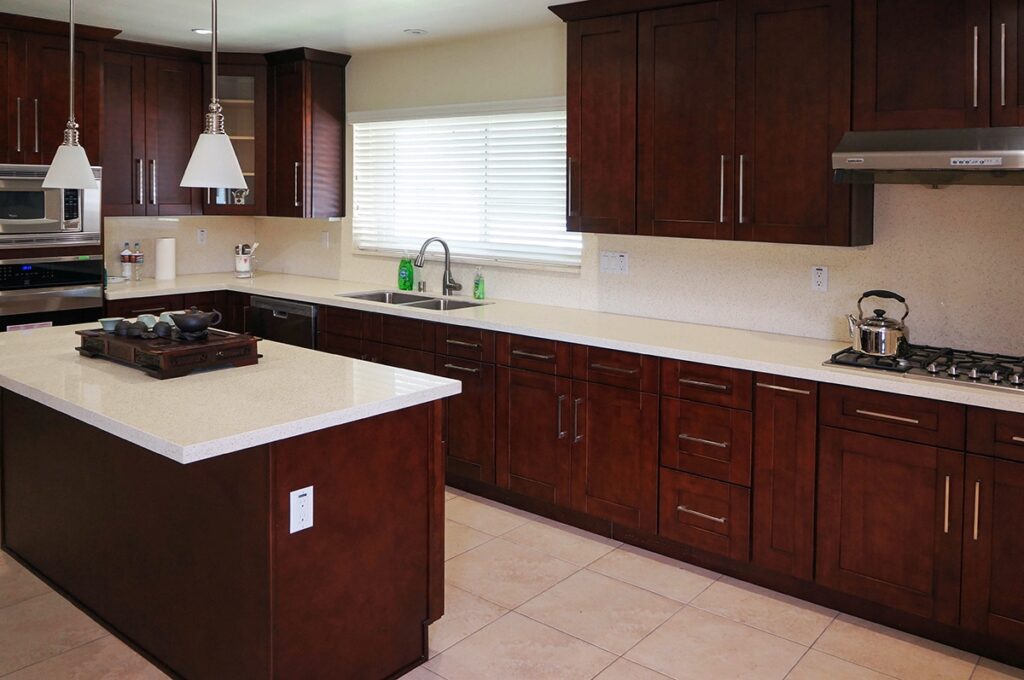 But wait, there's more.
We've broken down 20 reasons why Shaker kitchen cabinets are so popular. While each relates back to the same ideas mentioned by Thomas Merton and others, they show why this style is a perennial good choice.
1.Timeless style
People often gravitate to Shaker kitchen cabinets without even being aware of it. A Shaker-style kitchen from 20 years ago can look as sharp, modern, clean and inviting as a brand new kitchen today. Shaker cabinets typically are constructed out of wood. They are considered a framed cabinet style.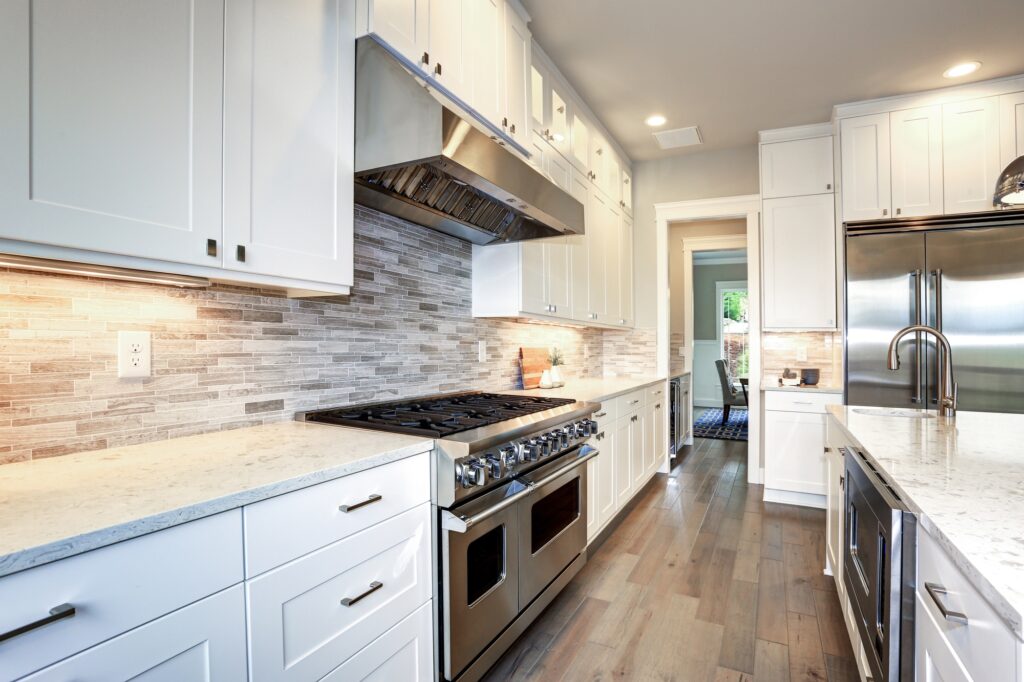 Unlike other wood cabinets that can have raised molding, crown trim, rosettes, and other flashy parts, Shaker style evokes its reserved style.
Common features of Shaker kitchen cabinets include:
Simple styling
Rectangular trim with minimal adornment
Either painted or stained wood
Each of these is a timeless element that transcends trends. Kitchen remodeling is an investment. By choosing Shaker kitchen cabinets, you can experience a refined look that will be pleasing to the eye for years.
Timeless style doesn't always necessarily mean "modern" or "cutting edge". With shakers, it could go both ways. Let's take a look.
2. Modern design
While Shaker cabinets are timeless, they look very similar to what we think of as "modern styling." These cabinets are perfect for modern kitchens. The clean lines can work well alongside even very modern touches, such as futuristic appliances, unique accent materials, modern artwork, and other popular kitchen choices.
Shaker kitchen cabinets are traditional, without necessarily looking "country" or "farmhouse." This is due to shared aesthetics with modern design schools, such as Bauhaus, Arts and Crafts, and others.
Sometimes, however, modern cabinet design can be too stark. This is where a Shaker design can shine. It is clean and simple, but it also has structure. Shaker kitchen cabinets are more than just a sanded slab of wood. Although it is simple, they have a trim design.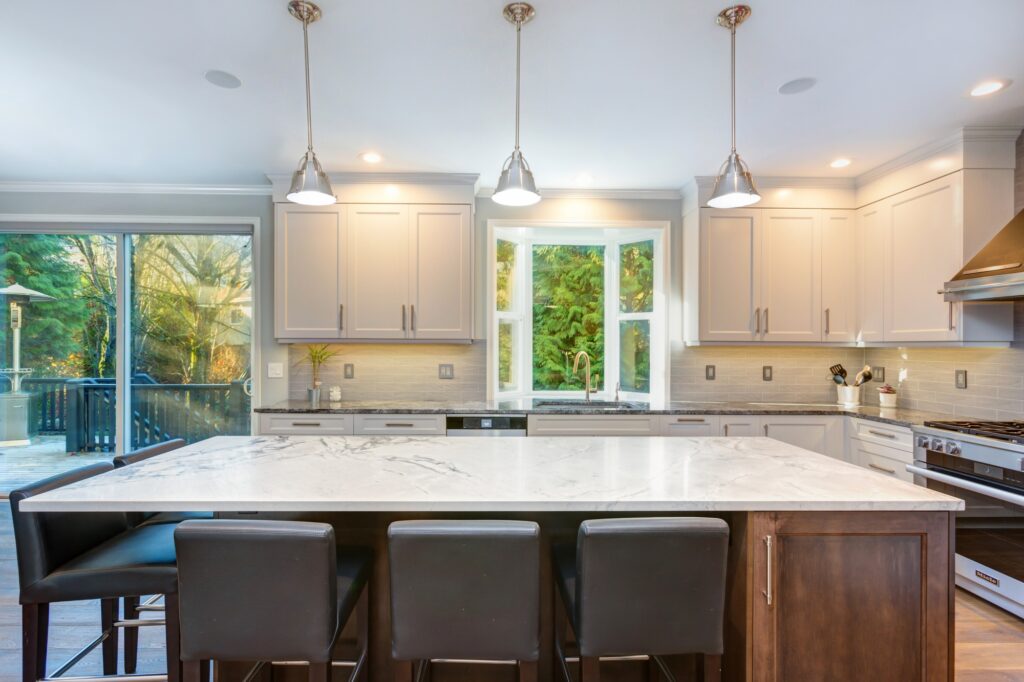 If you want to go full neon and techno, Shaker cabinets make a pretty good backdrop. The best thing is that when you tire of any very trendy design choices, you can change your wall paint color, pop in new appliances, and swap out futuristic cabinet handles, and you'll still have your sturdy Shaker wood foundation.
Modern design often means a higher price tag. But as we are about to find out, that is not always true!
3. Cost-effective, cool looks
One of the best features of Shaker-style cabinetry is that the lack of fancy millwork means less cost. Another way to look at it is this — with Shaker kitchen cabinets, more of your money can go to quality construction, better woods, more durable hinges and drawers, and other aspects that you will enjoy day-in and day-out.
Of course, there can be a wide range of prices for even the most modestly designed cabinet, but with Shaker style, you can focus on what's important, and have the added benefit of a pleasing design. We'll take clean sturdy craftsmanship over flashy but cheap design any day.
When you adopt a Shaker style, the minimalistic approach can also help you shave costs for other kitchen design components. Kitchen island stools, for example, can mirror or complement the Shaker look, and reduce the overall cost for the kitchen project.
Another cost consideration is the future. Since Shaker kitchen cabinets feature a timeless design, if you invest in them today, you can save money down the road if you ever want to update your kitchen's look.
Think of it this way: with Shaker style cabinets, you can build a foundation. You can add whatever you'd like on top of this foundation, and follow trends if you want. You can rest assured that your simple, clean, high-quality Shaker cabinet is there as a solid footing for your home.
Great, isn't it? A modern look achieved at a reasonable price. But what about the maintenance?
4. Easy to clean means easy to enjoy
Highly ornate kitchen cabinets may look great and can be made from the most durable materials, but no one wants a kitchen cabinet choice to become a cleaning nightmare. The clean and simple lines of Shaker style kitchen cabinets are, well, simple to clean.
A high-quality kitchen cabinet should require little more than mild detergent and a soft cloth, with occasional oiling with a wood-grade oil. Imagine all the dusting that could be involved with over-the-top, highly gilded cabinet choices.
Avoid all of that nonsense with the simple lines of Shaker kitchen cabinets. The Shakers were simple folk who kept their furniture sturdy and clean. Be more like the Shakers, and spend less time wiping down cabinets and more time enjoying your kitchen.
This all being said, it is important to properly care for your cabinets, regardless of the design. Cabinet doors can take a fair amount of abuse with kitchen-soiled hands, and sunlight bombardment. So revere your simple cabinets, enjoy their easy care, but make sure to include them in your regular household cleaning, and you'll see them be not only timeless, but they'll also have a long life.
With ease of cleaning, an affordable price, and a timeless, modern design, you're attracting a new minimalistic feel to your kitchen.
5. Simple design equals a more simple life
The Shakers made their furniture and cabinetry utilitarian, meaning they served their purpose, that's all. A utilitarian design can be simple. There's no fluff, nothing unnecessary to get in the way.
This simplicity can bring calmness. Clutter is associated with stress. Maybe the Shakers knew this and it influenced their simple decorating methods, similar to Japanese design. We spend a great deal of time in our kitchens. It's a central hub of the home, even if it is not located in the exact center of most houses. From little kids to the oldest in the family, a kitchen is like a launching pad for the day. We can think of no better place to infuse with calmness.
So, if you are looking for ways to add some calm to your life, Shaker kitchen cabinets may be the right design choice.
Of course, homeowners should take care to make sure their simple aesthetic does not become a clean slate on which to pile more clutter. Simplicity is not only about reducing stress, however; it can play a role in how different elements collaborate in your kitchen.
All of this newly-garnered simplicity will improve other areas of your kitchen. That brings us to our next point.
6. Simplicity means other things in your kitchen can take the stage
While Shaker kitchen cabinets provide a clean look that encourages simple living, they can also provide the ideal backdrop for more interesting decorative elements. If you have exotic tastes, you might want to dial down flashy cabinetry, which can clash when paired with different styles.
While cabinets can be the focal point of a kitchen's design, they often play a supporting role. A solid kitchen cabinet, in a neutral color or wood tone, can be a canvas for a myriad of looks. Best of all, when the look becomes dated or you simply tire of the color on the walls or your artwork, you can easily change the things you no longer like.
Cabinets are not as easy to swap out. By choosing Shaker kitchen cabinets, you can experiment with different looks, and have the confidence of returning to a solid blank slate when you are done.
You might be curious about what makes these kinds of cabinets ever-so-minimal compared to other styles. The answer lies in a linear design.
7. A linear design keeps your eyes moving
One big benefit of Shaker kitchen cabinets is the strong vertical lines that are often featured. Although there are several variations, one popular Shaker style involves flat solid cabinet doors with two-to-four-inch border trim of the same material and color.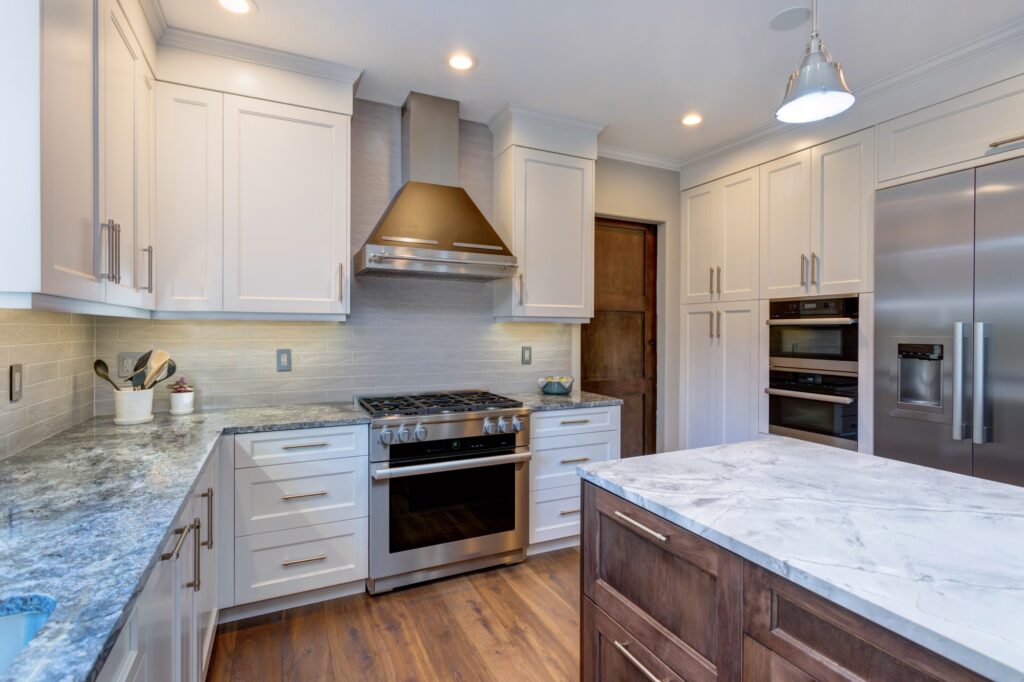 On a kitchen cabinet, this trim creates an illusion of length, which can make a room look taller. This optical illusion, combined with a lightly colored cabinet, can create a sense of depth in a smaller kitchen. Another tip is to extend your Shaker kitchen cabinets to the ceiling, which enhances the tall appearance.
If you are looking to make a room look taller, avoid horizontal lines as much as possible, such as in using wide open shelving. The exception is on lower cabinets and drawers, where people generally do not focus when entering a room. The horizontal designs on shorter doors, such as kitchen drawers, can actually help add depth to a room, especially when used in conjunction with taller wall cabinets.
There are other ways to increase the perceived size of a room with Shaker kitchen cabinets. A tall pantry-style cabinet that extends from the floor to ceiling provides a lot of storage space and adds to the tall room illusion. This can keep clutter off of countertops, and give the kitchen an overall clean and neat look.
For all of our classic-style kitchen lovers, you might feel that shakers have "too modern of a feel" compared to other styles. Let the next point tell you otherwise.
8. Shaker kitchen cabinets are a classic
Another reason why Shaker kitchen cabinets are so popular is because it is a classic American design style. To many, this style is an iconic cabinet design.
Since they are easy to clean and have a simple, timeless design, it makes sense that Shaker kitchen cabinets are considered a classic style. Shaker kitchen cabinets are a classic, too, because they've been pushing the simple and modern look for over 300 years. What other design trends have lasted that long?
The classic look of a Shaker cabinet may even be the template for many kitchen cabinet designs that we see today. Shakers took simple pieces of wood, and since they thought it was wasteful to devote labor and resources to such things as ornate carvings, they fashioned functional but beautiful pieces.
Don't feel that a classic, wooden style can't be ultra-modern as well! Did you know that…
9. Wood is trendy
Shaker kitchen cabinets are often made of wood, although the style can be constructed from MDF (Medium Density Fiberboard) and other composite materials. Wood cabinets have enduring popularity. They are durable, easy to clean, is a classic look and can bring warmth and texture to a room.
Wood grain can vary from the tight lines of maple to the wider texture of oak. There are a variety of natural and stained colors available in wood. Cherry, mahogany, and more exotic species of wood such as ash, beech, and more are used to make kitchen cabinets, including Shaker styles.
Stained wood is very attractive and projects an air of elegance, regardless of the door style. Shaker cabinets, however, retain a modern, go-with-anything style. Even cabinets with a darker stain can provide a balance of sophistication with a clean, modern aesthetic.
Stain comes in a variety of shades, from light blonde and honey tones, to dark coffee and steely grey.
Besides wood, there's a lot you can do with these shakers. Let's take a second to discuss the trend of white kitchen cabinets.
10. White cabinets are still very popular
While Shaker kitchen cabinets are available in a wide variety of paints, simple white also has enduring popularity. Wood painted cabinets have had a slight dip in popularity, in favor of white, which has been a leading choice for several years.
An overwhelming 43 percent of homeowners prefer white cabinets, and this style is often featured in popular home renovation television shows. Why is white so popular? White cabinets create the ultimate in a refreshing, open experience.
Shaker kitchen cabinets are a perfect match for the white kitchen look. They are unfussy, uncomplicated, and clean, which can also be said about white cabinets in general. Unlike other cabinet styles, which can look low-end or unfinished in white, Shaker styles bring an understated look that connects with the simplicity of white, while also adding some elegance and a finished look.
A white finish also helps bolster some of the benefits we mentioned in other sections. White is simple, clean, modern, timeless, classic, and the ultimate blank canvas for either bold colors or dark contrasts.
But this is just one style of finish. Let's explore the others!
11. Shaker cabinets can look like other materials
Since a Shaker cabinet is so simple in design and construction, it can take on the appearance of other materials and styles. With a solid finish, such as in the case of a white cabinet, Shaker kitchen cabinets can look like metal or MDF.
Add some paint or an interesting stain, and the wood grain can add some depth and character. A Shaker cabinet also does not have to look modern or refined. With some unique finishes, the look can take on a farmhouse or rustic appearance.
Some distressing on the cabinet doors can lend and industrial tone to your kitchen, especially when matched with interesting choices in hardware and plumbing fixtures. Since Shaker cabinets are so versatile, a homeowner can pull off nearly any look. Talk about a good plan for the future. Investing in Shaker kitchen cabinets can pay off years down the road, when you may be looking for a change in the kitchen.
Now that we've gotten a good idea of the design behind shaker cabinets and the different styles that are offered, let's take a look at how they will mesh with our other appliances and gadgets.
12. Simple cabinetry melds with built-ins and modern appliances
Another great feature of Shaker kitchen cabinets is how their simple geometric lines fit in well with modern appliances. Bulky and ornate cabinet faces can look out of place when added to counter depth appliances such as refrigerators. Some people like the idea of disguising their appliances and making a wall of cabinet doors that covers a hidden refrigerator. A Shaker style cabinet works well with this plan.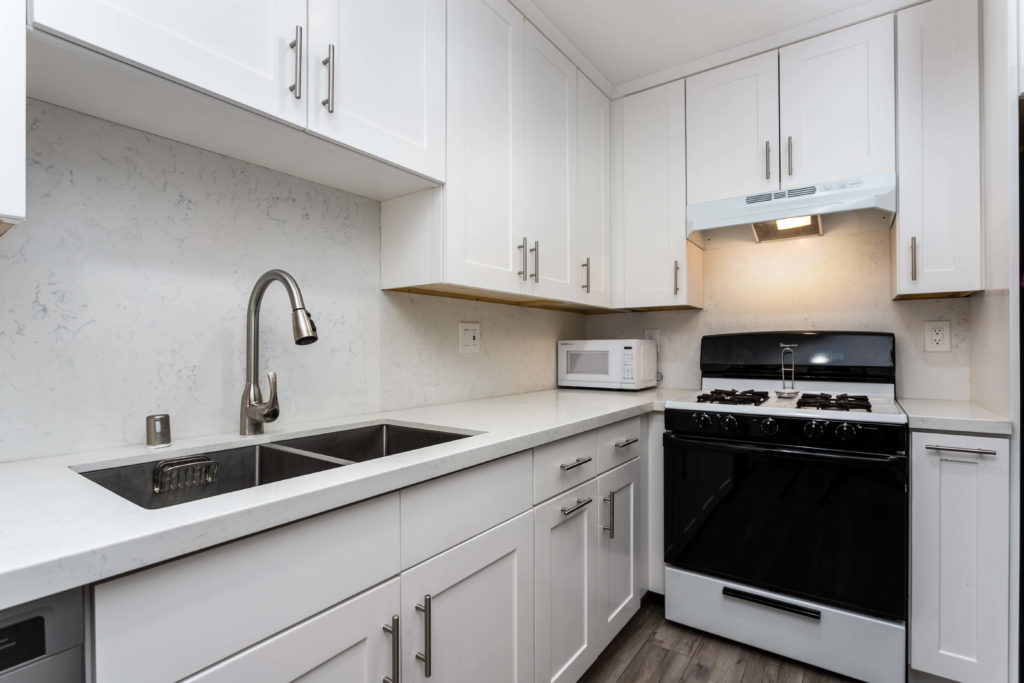 This also works well with other appliances, such as ovens, dishwashers, microwaves and more. Because Shaker kitchen cabinets are simple, they also work well with anything from restaurant-style appliances, to retro, colorful mid-century-style appliances.
Few other cabinet styles can boast such versatility. A Shaker cabinet looks great next to a $5,000 high-end oven, and a first-time homeowner bargain range. Let the simple classic style of a Shaker cabinet match-up with your appliances, and you'll see why the style is so popular.
There are even more customizations we could give our shakers. Let's take a closer look.
13. You have an empty slate, add some Shaker-style appointments
Up till now, we've talked a lot about how the Shaker aesthetic is subdued. It hides in the background, is clean and simple, etc. However, there are some identifiable characteristics that lend the style its own unique decorative value.
For example, Shaker style furniture often uses wooden knobs — typically round in shape. You might think these types of knobs are best used in dresser drawers, but they can look great in the kitchen too. Adding a color contrast is an option, as is a different wood material for a unique look.
Beyond door handles, there are other ways to add some Shaker style to your kitchen, which are additional reasons why the style is so popular. Think accent furniture, bowls, counter stools, plant stands, lamps, and other elements. Each can either be Shaker-style or take cues from the same look.
No luck finding a Shaker furniture and design store in your area? Expand your search terms to include Mission Style and Amish, which are different but have a similar simple aesthetic.
An interesting note: Shaker chairs are also enduringly popular, but one of their key features is more functional than decorative. The typical Shaker-style chair has extra horizontal pegs bracing the legs. These give a unique look, but are intended to act as places for wall hooks to latch onto when hanging the chair at times when a clean floor is needed.
If you have other forms of shelving, you have to decide how your new style of shaker cabinets will mesh. If you're a fan of open shelving, you're in luck!
14. Shaker cabinets work well with open shelving
Another reason why Shaker kitchen cabinets are popular is that the simple, classic and refined look matches well with the open shelving trend. This look is easy to pull off, although it can lead to a cluttered-looking kitchen if the homeowners aren't fastidious about organizing what goes on the shelves.
For those who like to display pottery, dinnerware, mugs and glasses, open shelving can make a room look bigger, and turn everyday items into little pieces of art. The look begs for simplicity in other areas of the kitchen, however. This is where Shaker style can truly shine.
Shelving is available in Shaker style, including rustic appointments, country or modern brackets, or contrasting materials. Each looks great next to white Shaker cabinets, and can also work well with a variety of other shades and stains.
The important thing is to make sure that your storage needs are met. Cabinets serve a purpose beyond decoration. They are one of the most functional elements of a kitchen. Avoid using open shelving if you need the space for food and other storage. A shelf loaded with cereal boxes may have been funny on Seinfeld, but no one remembers that show as an icon of kitchen style.
But design isn't all about matching styles that are the same or similar. There is beauty in contrast.
15. Shaker kitchen cabinets are great for contrasting
A popular kitchen trend is using contrasting materials and styles, as we discussed with open shelving. Contrasting means taking two or more unrelated design elements and combining them. It can be a great look in a kitchen, but it also can be a mess. The key is balance and finding materials that complement each other.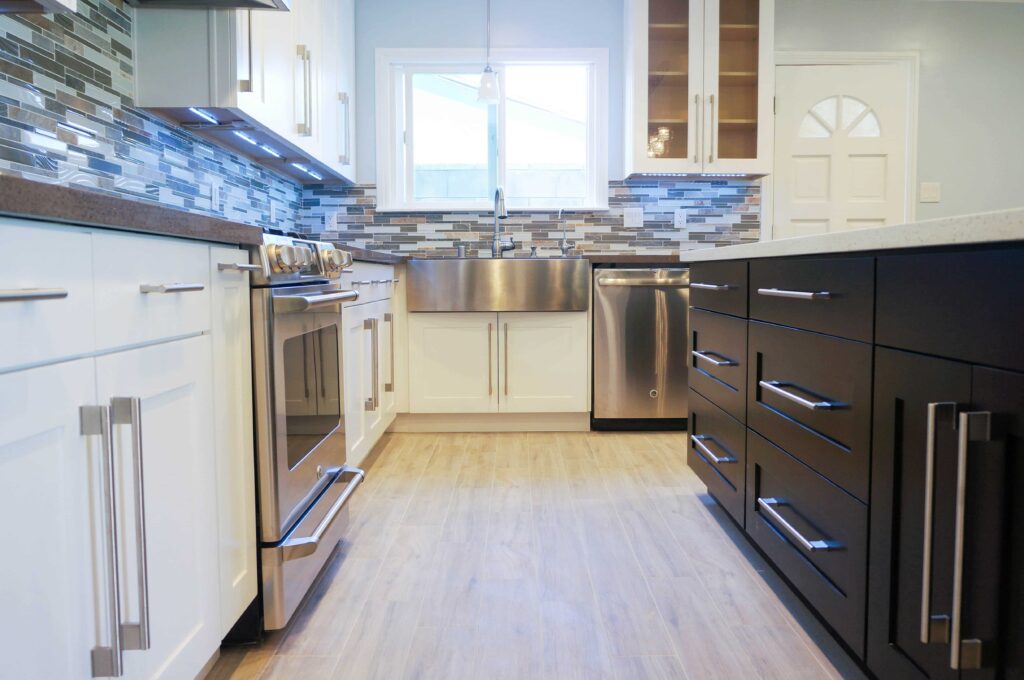 Since Shaker cabinets are so simple and provide an easy backdrop, the style essentially complements anything. While there are some styles that might clash with some of the traits of Shaker cabinetry, such as ultra modern futurism with clear acrylic chairs or garish uses of leopard prints, most anything will blend well with Shaker style. In fact, maybe that futuristic safari look will be the next big thing.
When contrasting, think materials and motifs. If you have blonde wood Shaker cabinets, try incorporating painted white or colorful wicker chairs with a zinc-topped table and sea glass tile backsplash. If going for a white Shaker kitchen cabinet look, go nuts with color and contrast, because with the white backdrop, you can!
There's a ton of unique, modern styles you could try out with your shakers. Just take the next point on this list as an example.
16. Like the look of a tall backsplash? Try a Shaker design
Speaking of backsplashes, a newer trend is to move cabinets slightly higher to allow for taller backsplashes. These can let you add color and design in an area that is often overlooked. Remember how we talked about Shaker cabinets adding length to a room? Double down on lanky kitchen walls by combining tall shaker cabinets with some vertical backsplash action.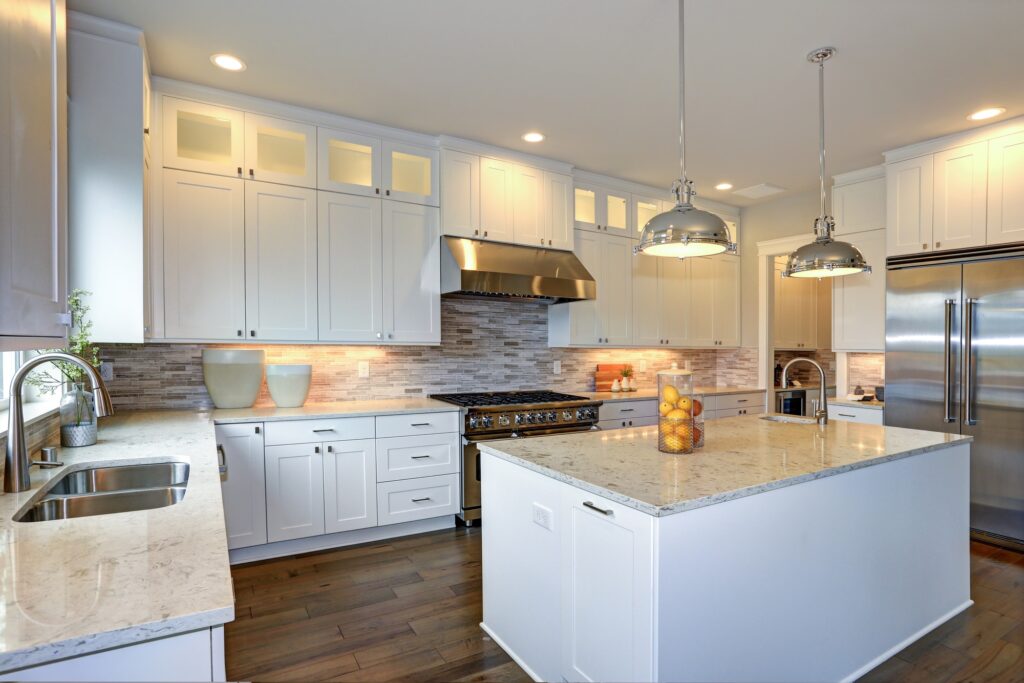 Remember the last time you saw a great backsplash? It probably was in a kitchen design store, in a magazine or online. In many homes, the backsplash area is not given a ton of attention. Change things up and take full advantage of those kitchen walls.
Shaker kitchen cabinets work well when homeowners want to open up their kitchens and explore unique decorating styles, such as the tall backsplash trend.
You now have a great idea of different ways to lay out your shelving for both style matching and unique contrast. But why stop there? There are many accessories that will take your shakers to the next level!
17. Simple cabinets welcome funky accessories
Door handles are often given very little attention, which is a shame. These small touches can bring a ton of variety and character to any room. The choices are nearly endless. Wrought iron, nickel, even glossier materials like chrome, silver, brass, and gold. But the funkiness does not end with door handles. Shaker kitchen cabinets are popular because, with a simple cabinet foundation, daring styles can bring a kitchen to life.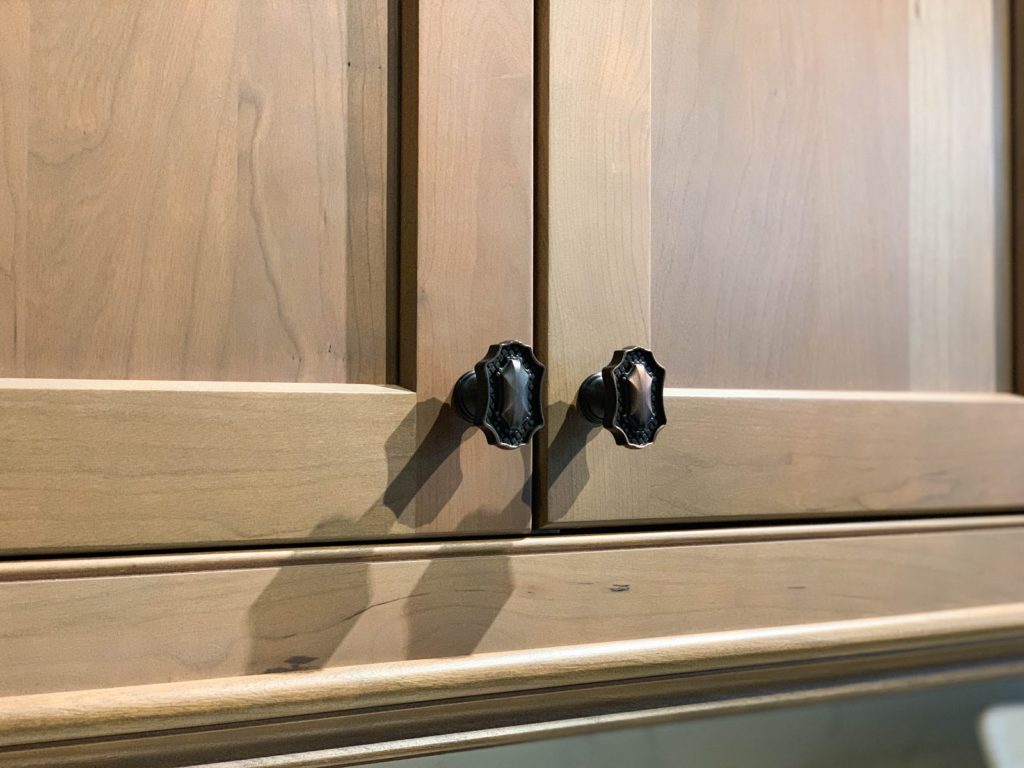 Other styles, such as farmhouse or formal cherry kitchen cabinets do not play well with some of the more extreme design choices. Can you imagine a neon pink flamingo wall clock next to a dark mahogany cabinet with layers of moulding and trim? Neither can we. But, next to a wall of white Shaker style cabinets, the look goes from camp to class. And while this may also be the case for many other styles of white cabinetry, even darker Shaker styles can help you embrace your inner art school student.
Pair some modern art with dark grey Shaker cabinets, honey-colored french country wood counter stools, copper fixtures and antique store drawer handles, and you'll have a unique genre-bending kitchen. Best of all, if you ever get tired of the look, the base grey cabinets can take on a multitude of other looks.
If you liked these unique design tweaks, wait until you hear our next point.
18. A simple cabinet door looks good with leather
Have we not yet spoke of leather? It is an under-utilized design choice in the kitchen, but one that highlights the popularity of Shaker style. Leather is a growing trend in kitchen handles. It can evoke a nordic-chic aesthetic, especially when paired with light wood. Nordic cuisine has taken the fine dining world by storm, so why not add it into our daily kitchen lives?
What is nordic-chic, or Scandinavian-style? It is a unique combination of simple austerity and modern design. Imagine contrasting black lower cabinets with open wood shelving, large white subway tile, blonde chairs, geometric rugs and throw pillows, and small ornate pieces, such as a chandelier over the kitchen table or a wall of copper pots. Now add some leather straps as door and drawer handles and you'll get the idea. The individual components are simple, and they often relate to nature, the woods, and the ocean.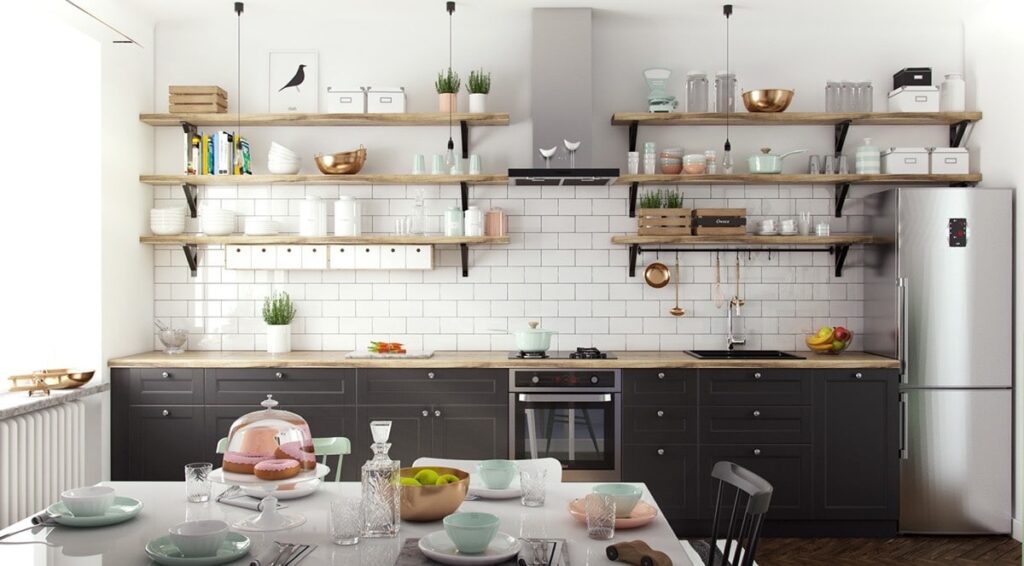 Of course, you can find these handles at Ikea and other Scandinavian design stores, which further adds to the connection, but we think that Shaker style cabinets can take this look to another level, as opposed to the more stark modernist cabinets one normally sees in a Nordic look.
If leather is not your style, it couldn't hurt to go more traditional. Let's look into wooden door handles!
19. Shake up your Shaker style with wood handles
We mentioned the traditional use of round wooden handles in Shaker furniture. We're not talking about that subdued use of wood in the kitchen. From bar handles to uniquely colored woods, cabinet and drawer handles can integrate with Shaker style very well.
Wood handles can be the same color and species as the cabinet doors and drawer faces, but for some excitement, go in a different direction. Add black wood pulls to a white or light maple cabinet, or white handles with a dark coffee colored cabinet. The contrast will make the cabinets pop, and again, if you tire of the contrast, it's a simple change in the future.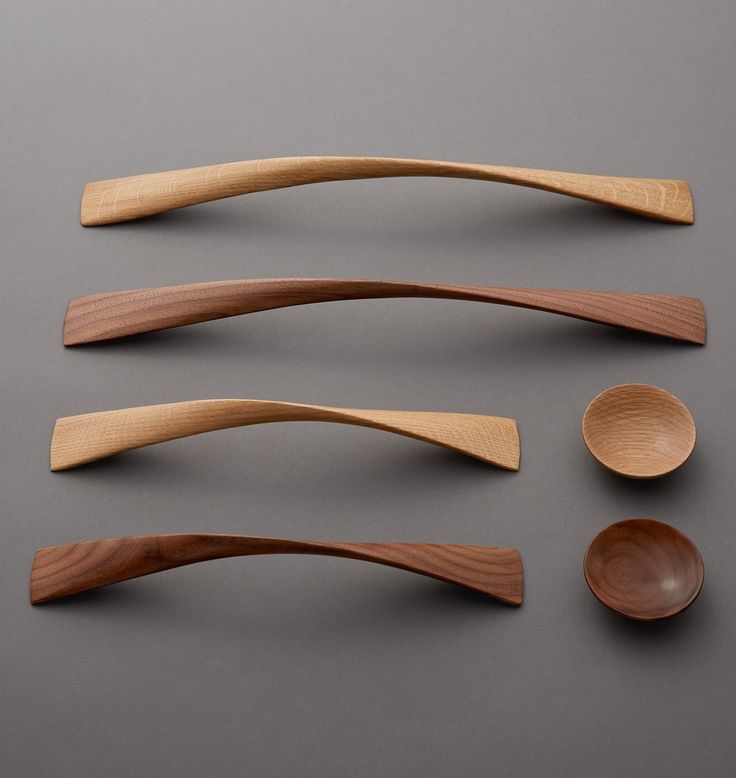 You can also experiment with different sizes and shapes — no need to stick with tradition. There are countless options, just remember comfort and utility should always trump design.
We've covered a ton of ground on the various customizations you could make. You may be worried about the amount of time you'd have to invest to pull this off.
Let me ease your mind with our next point.
20. Shaker kitchen cabinets are available ready-to-assemble
A final reason for the popularity of Shaker kitchen cabinets is their availability as an RTA product. With RTA cabinets, not only is purchase simple, but assembly and installation is a breeze.
At bestonlinecabinets.com, we have an extensive line of Shaker style cabinets in various finishes. Our White Shaker and Grey Shaker styles feature one-piece solid wood construction to greatly reduce the shrink and expansion of five-piece construction. Since our Shaker cabinets are designed using specialized routers from one piece of wood, the appearance is customized to appear seamless, and therefore the paint applications are more durable, too.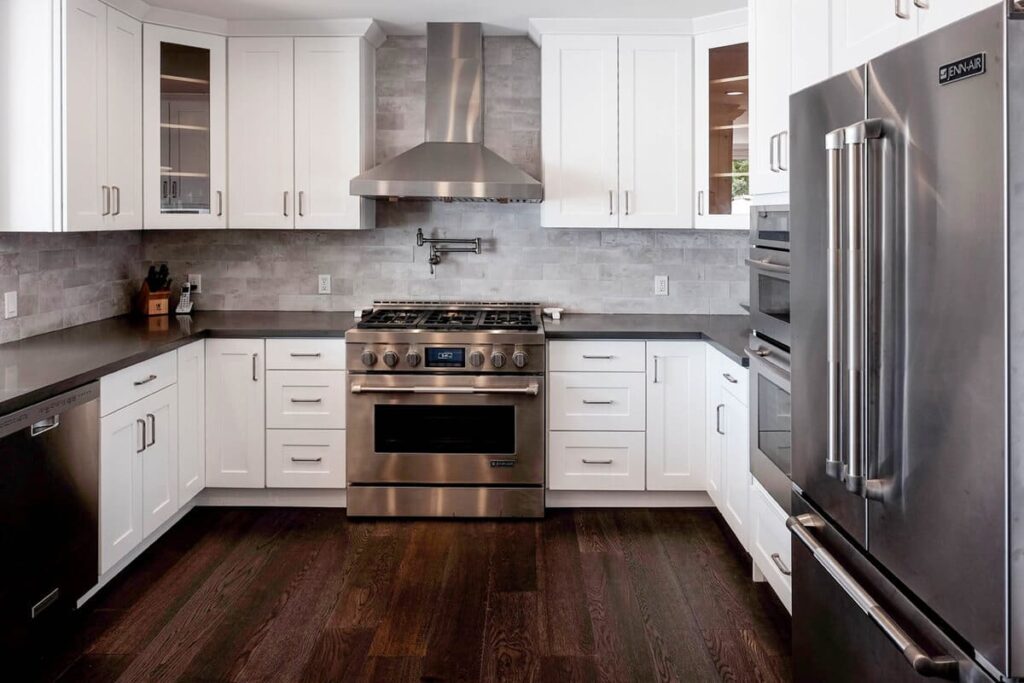 Solid wood options include Mahogany, Pomona Cinnamon, Maple, Walnut, Espresso, White, and shades of Grey. All styles and colors are easy to clean and maintain and can fit modern, traditional or eclectic styles.