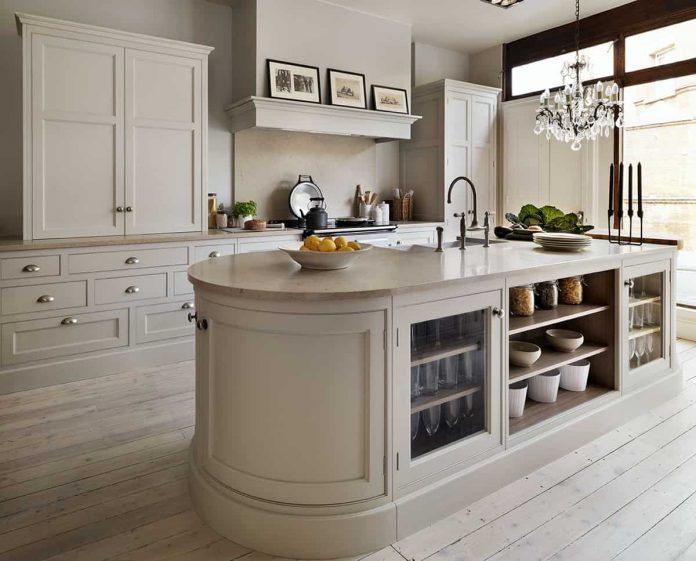 Colored cabinets are on the rise for the upcoming year in 2020. In kitchens, we are going as far away as possible from safe and all-white layouts. While there are a large variety of colors to choose from, certain colors have emerged as trending in the upcoming decade.
However, which of these eye-catching colors work best for cabinets? Kitchen cabinets are a staple in any interior so your color choice is going to be significant. Although RTA kitchen cabinets are the popular option to go with cabinets, some offer the possibility go with colored cabinets instead of the traditional white shaker. Untraditional colored cabinets can be produced through thermofoil cabinets for those looking for unique options.
Not only are these the hottest colors for 2020, but strong color choices for a foundation piece like kitchen cabinets.
Navy Blue Colored Cabinets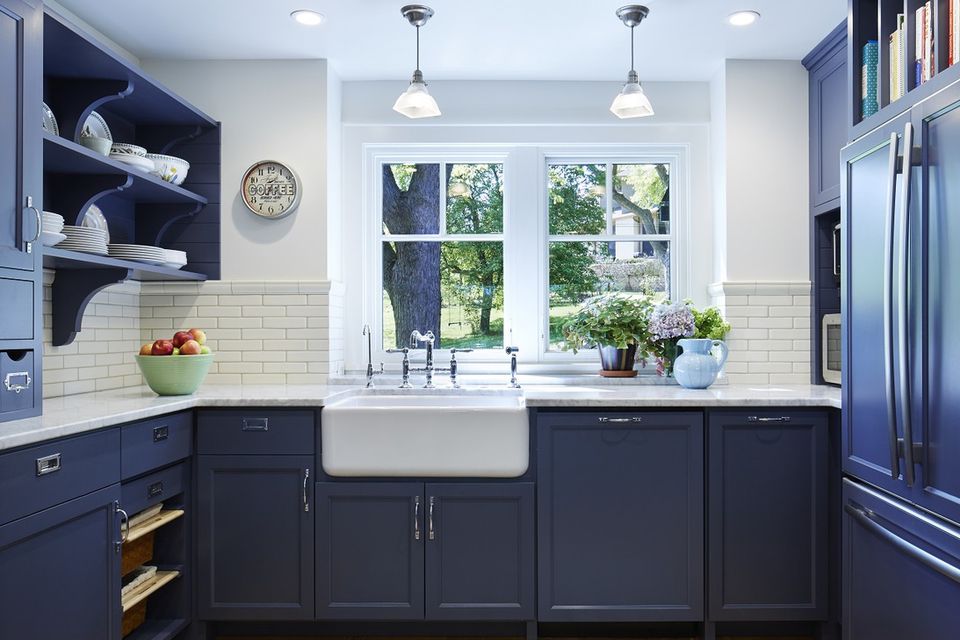 Continuing its popularity from 2019, navy blue is still a popular choice for colored cabinets. This dark hue feels sophisticated and is reminiscent of natural elements like water and the sky. It is still fashionably paired with white cabinets in two-tone cabinet layouts, with the blue predominantly used as base cabinets. This color resonates nicely with several textures including wood, metal and veined stones like marble and granite. Navy blue substitutes for black in color schemes. Pairing this blue with black will sap the energy and even elegance that the blue was meant for.
Hunter Green Colored Cabinets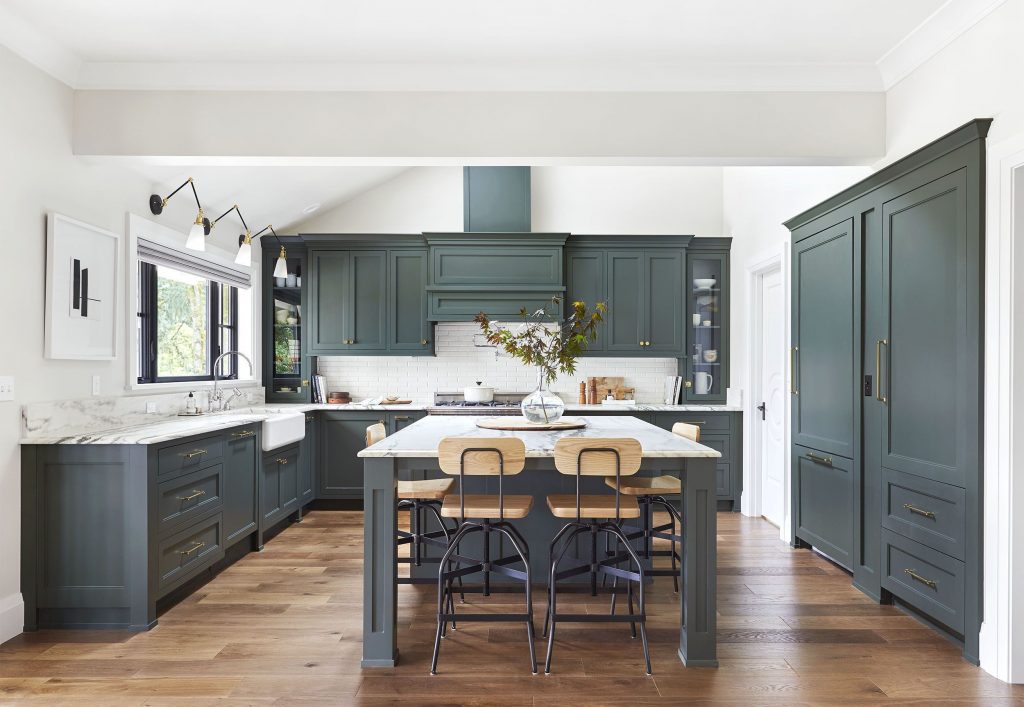 Several greens are popular this year, everything from the fun look of mint green to the brightness of Kelly green. Yet hunter green reads as the same shade like navy blue but feels more like trees and plants from nature. This works best with warmer off-whites or even woody browns, picking up on the warm yellows in the green. If yellow or orange accents are in the kitchen, hunter green will make those colors pop. However, reds and blues will end up fighting hunter green for attention so it is best to avoid those matches.
Light Gray Colored Cabinets
For those that like the sophistication of black but want the airiness of white, light gray is a strong choice. This versatile color can be matched with white, becoming the darker half, or paired with black, becoming the lighter accent. Light gray matches very well with the veins in marble countertops and brass colored hardware. It only works with other colors if they present as the darker shade like navy blue or hunter green. However, polished silver and chrome hardware against light gray are too similar to be put together. Either the gray fades to the background from the silver polish or the shiny hardware is lost in the gray. Light gray is a common color in RTA kitchen cabinets and easier to come across.
Matte Black Colored Cabinets
Continuing as a reactive color choice from the all-white monochromatic kitchens in recent years, matte black is elegant and dramatic. Matte black is far more forgiving than the all-white kitchens that are great in showrooms but impractical to live in. As the darker neutral, this color can go with anything from white, to light colors and even shadier hues. Yet matte black absorbs all the brightness and light in a room, making a room cozier and more intimate. Dark kitchens, especially black, require plenty of lighting so the homeowner can cook without being left in the dark.
Barn Red Colored Cabinets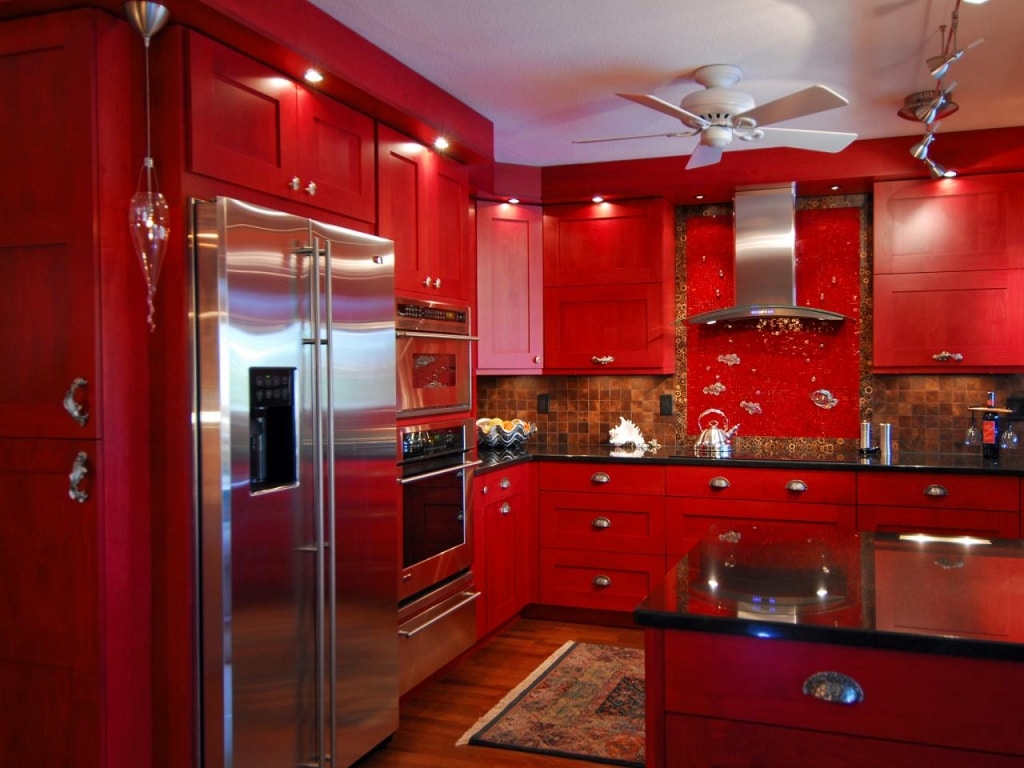 Historically, barns get their red color because rust is added the stain to prevent molding of the wood. This dark red color catches attention in any cabinet and suits homeowners that want to be flamboyant without going bright. It is often seen as the warmer alternative to navy blue in two-tone cabinets, paired with white or cream. Works best when accented by other warmer colors in the color wheel like orange, yellow and even warm purples. However, red is SO warm that cooler colors, especially anything with blue, will fight for attention in a room.
Orange Colored Cabinets
This color has been getting more attention recently, adding warmth and the feeling of happiness to a kitchen. For most people, it's not the first color you would think of for your kitchens, let alone your cabinets. But orange adds energy to a room and is even said to stimulate appetite which is perfect for a kitchen. Orange does not have to be bright like a creamsicle, sunset orange and woods with orange tones are excellent variations. Still considered an unusual color for kitchen cabinets, it's best to try orange accents to see how you like it. Popular combinations for orange are with white or gray which tempers the brightness of orange while still making it pop.
Blue-Gray Colored Cabinets
Mixing two popular hues creates a nice new color for those who want a toned-down version of dark blue. Blue-gray somehow remains classic without bearing the intensity of the darker hues. This color is so versatile that it goes with many textures like wood, metal, glass, and stone. Woods with browns like walnut or mahogany go especially nicely with blue-gray. Unlike darker blues, the mixture of gray enables this hue to be paired even with warm colors. Yellow and orange pop nicely with blue-gray, although it clashes with bright reds.
Sage Green Colored Cabinets
Sage green is a gray-green hue it has been used as a neutral in many rooms. This popular color has been getting more popular since interiors have embraced more plant life and foliage inside the house. Like the uses of the sage plant itself, it is a nature color with a calming presence in your kitchen. Because of the gray, this can be matched with a variety of colors in dark or brighter hues. Sage green works with warmer colors, cooler colors, light hues, and dark shades so it is adaptable to color schemes. Surprisingly, pairing this with black is too austere and swallows this beautiful color into the background.
Taupe Colored Cabinets
If you want the "most neutral" neutral color, taupe, which is a combination of gray and brown is for you. However, if you look up taupe, there are several different variations of it because the color is so versatile. The advantage of having taupe as a kitchen cabinet color is that it offsets bright rooms by being more muted. The disadvantage is that unless you are inspired by your layout, taupe can read as very utilitarian. This color is good for those with a sophisticated palette that know how to work it.