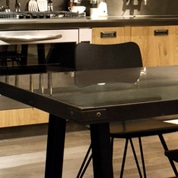 It does not take long to get new oak kitchen cabinets for your home, since all styles are available and in stock directly from us, here at Best Online Cabinets. The amount of time to receive your order does depend upon where you live, as they are shipped right from our manufacturing facility in California. We do require a few days to prepare and put together your order and verify it for accuracy. This procedure is based upon the volume of cabinets ordered and normally takes less than a week to complete. Once that is finalized, your cabinets are prepared for shipment to your home.
Standard curbside delivery of your new oak kitchen cabinets is based on the delivery address. If you live within California, it only takes one or two business days before they arrive. Other western states require two to four business days. If you live in the Midwest or central states, you should allow three to six business days. On the east coast and southeastern states, delivery times range from five to seven business days. So, at most, it takes up to two weeks to get your cabinets if you live on the other side of the country.
Your cabinets are flat packed into cardboard boxes, and most boxes are no larger than 28 inches by 44 inches by 6 inches. Once packed, they are loaded onto four foot square pallets, stacked, and then wrapped in plastic to protect them and reduce potential loss of items. Generally pallets are stacked no higher than 72 inches, but may exceed this to reduce the number of pallets, when it is allowed by the shipping company. You are required to unload the cabinets yourself, once they arrive at your home. It is a good idea to get help from friends or family on your expected delivery day. You might also want to upgrade and add lift gate service to make unloading your cabinets easier.