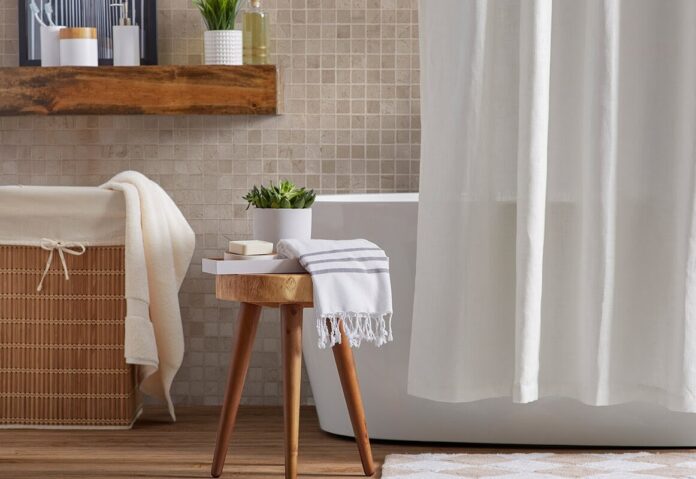 You don't need to travel to Sweden to find wonderful Scandinavian bathroom ideas. We've pulled some great examples of incorporating Scandinavian elements into a bathroom of any size. Whether you're looking to transform your master bathroom or a guest half bath into a Norwegian paradise, we hope you'll be inspired.
When looking through these images, pay attention to the little details. Scandinavian design can skew minimalist, so a lot of the beauty is found in the small things. Scandinavian design also emphasizes light. With harsh dark winters, nordic folks need to make sure their homes keep them in a cheery mood. Even if you live much closer to the equator, some bathroom brightness can be extremely desirable. Scandinavian bathrooms also place a heavy emphasis on textures. You'll see lots of white tiling, unstained wood accents, and simple textiles.
You'll also find some elements that pull inspiration from other design styles. Due to its uncomplicated nature, Scandinavian design pairs well with most other styles. The trick is to not go overboard.
As you scroll through the images below, take note of which you feel like you could execute in your own home. If your bathroom has lots of natural lighting, you may be able to pull off a darker color scheme. However, if you are relying heavily on artificial lighting, using the standard Scandinavian white base palette will ensure success. At the end of the day, you know your taste best.
Source
This Scandinavian bathroom has some odd architecture. It can be hard to find furniture for uniquely shaped rooms. This set of white cabinets under the basin sink are likely a custom build. This Scandinavian bathroom takes advantage of its natural lightsource by avoiding bathroom curtains and using white tiles on both the floor and walls.

Source
Floating shelves are all the rage. Even better: twin sinks so you don't have to share with your spouse. This Scandinavian dives into a few different textures and tones without going overboard. It's all about balance and simplicity. You can get away with some bold textures as long as you keep it to a minimum.
3. Large White Bath Tiles

Source
Large, white rectangular tiles line the walls of this Scandinavian bathroom. This bathroom is a classic example of using a bathroom on the smaller side to its fullest extent. A thin wooden ladder is used to decorate the room, displaying a couple of hanging plants. Scandinavians are also known for their simple but useful furniture. Underneath the sink, you'll see a large white bathroom cabinet set. You can keep all of your randomly-colored hair products and tools in those drawers without compromising the simple, clean design of the bathroom.
4. Maximizing a Small Bathroom Space

Source
Sometimes, multi-function rooms feel like an afterthought. People often think "no one will come into my laundry room, so I don't need to update it." But the thing is, YOU spend lots of time in that room. Even if you're the only one who sees it, you deserve to have a clean and functional laundry/bathroom. And if you're a city-dweller, this bathroom/laundry room might be your only bathroom. This Scandinavian white color palette keeps everything looking clean and modern. Plus, large white cabinets and drawers allow for lots of storage.

Source
Choosing a soft, neutral palette can be a great way to deviate from the standard white Scandinavian bathroom scheme. This example uses a mid-century stool to display some odds and ends. Small, grey square tiling pairs well with light wood floors and a floating shelf.

Source
Some light blue accents can add a bit of personality to your Scandinavian bathroom. You can also add some decorative elements, like a potted plant or some ornamental wall art. This bathroom sink doesn't take up too much space, but still has some white cabinets for storage. Scandinavian concepts can be applied to bathrooms of any shape and size.

Source
Go bold! Make a statement in your Scandinavian bathroom by using black and white materials. This room really delivers a bunch with a black sink floating cabinet and near white stone surfaces. While the black accents of this bathroom deliver the most impact, the majority of this room is light grey or white. That allows the room to remain bright and illuminated.
8. Modern Scandinavian Greyscale Bathroom

Source
This Scandinavian bathroom has a bit of a contemporary vibe. A floating sink, a backlit mirror, and a built in shower alcove are all very trendy elements. This bathroom still embraces its Scandinavian roots with a minimal color palette and an emphasis on lighting. Consider using large mirrors that span a portion of your bathroom instead of small accent mirrors in order to bounce more light around the room.

Source
Have a bathroom with a slanted ceiling? You'll automatically get a bit of a mid century feel to your design with angles like this. However, you can make it more scandinavian by using unstained wood cabinetry and white appliances.

Source
Don't love the all white palette of most Scandinavian bathrooms? How about the polar opposite? Going with all black accents is a bold way to subvert typical design standards. This bathroom proves that it can work. Your mother probably won't understand it, but hey, this is your home.

Source
Of course, we couldn't show you an all-black Scandinavian bathroom without immediately going back to the standard all-white palette. While tiles line the majority of this room, you can see some areas in which a soft grey paint is used. So really, it's not ALL white. This Scandinavian bathroom also incorporates some industrial elements like exposed steel piping.
12. Scandinavian Textures

Source
This Scandinavian bathroom uses white as its base, but in a variety of textures. Large marble floor tiles lead up to subway tiled walls. This bathroom also uses a white shag rug, which has leapt out of the 70s into modern design concepts. There is plenty of storage space with open wood shelving units, some large white drawers and cabinets under the sink, and a separate vertical cabinet set by a large bathroom window. You can always find ways to create more storage like this.
Which of these Scandinavian bathroom designs inspired you the most? Do you like the standard white palette, or are you tempted to add some bolder choices? Let us know which examples are your favorite in the comments. We'd love to help you get started on your Scandinavian bathroom design project.
Want to be added to this list?
Click here
to bring up our submission form. We will be in touch shortly with feedback.