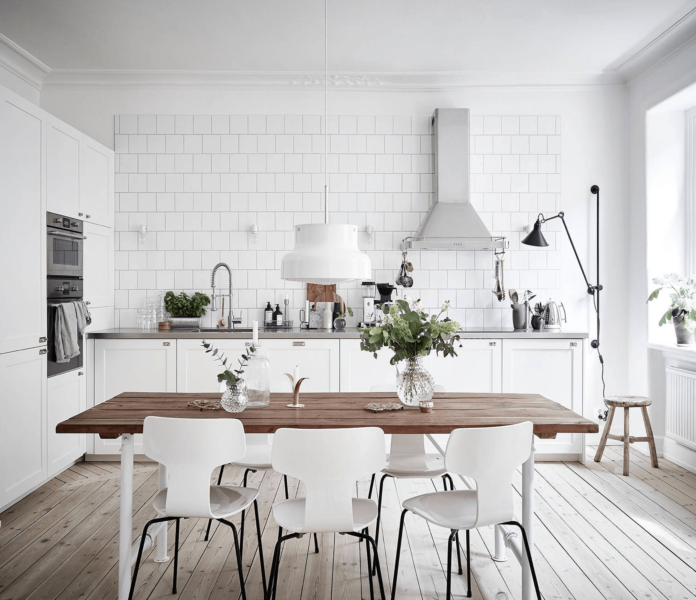 We've pulled together some of the best Scandinavian kitchen ideas to help you get started on your next design project. With a range of color choices, textures, and kitchen size examples, we think these kitchens will spark your creativity. Or perhaps you'll be inspired to update other rooms in your home.

You'll notice that many of these design ideas incorporate bright white. Historically, Scandinavian kitchens incorporated lots of white to maximize the natural light coming into the room. Ever been to Sweden in the winter? The two hour winter sunlight days are absolutely brutal. Using bright white paint and appliances can brighten up their homes for those gloomy days.

But you don't need to live in a harsh climate in order to appreciate the value of the white Scandinavian design. Lots of white helps brighten any room, no matter the latitude. Accenting a majority white kitchen design with pops of color or raw wood makes for a dynamic Scandinavian inspired kitchen.

Scandinavian design isn't only characterized by color choice. The Scandinavian style is also characterized by simplicity and functionality. Clean lines dominate Scandinavian inspired interior design. Many Scandinavian kitchens incorporate simple wood cabinets in solid colors, open shelving, and very straightforward color palettes. Natural materials like raw wood or a brick wall emphasize the utilitarian value of the design.

Kitchens can easily become the most chaotic room in your home. An avid home chef will need ample storage space to keep appliances and cookware. Kitchen surfaces quickly become desired real estate for a meal requiring lots of prep. Anyone with a family knows that kids are just human tornadoes, and a small kitchen can be a nightmare with unpredictable kid chaos. And because a kitchen can be inherently chaotic, prioritizing simplicity and functionality is one of the best gifts you can give yourself. No one does simplicity better than the Swedes, so let's get you started on brainstorming your Scandinavian kitchen design.
Let us know in the comments which kitchen you find the most inspiring.

Source
No, this kitchen isn't quite as flashy as a Kanye West song. But hanging light fixtures and an emphasis of natural light highlight the Scandinavian kitchen concept. Industrial stools sit around a freestanding natural wood kitchen island that uses internal glass-paneled cabinetry to store neutral-colored kitchenware. Large white knob-less upper cabinets also add lots of storage space in this Scandinavian style kitchen.
2. Step into the bright white light

Source
This kitchen absolutely screams Scandinavian. Nay, it yodels. This kitchen is so Scandinavian that the designer chose to stage it with literal glass jars of milk. White features accentuate every corner of this Scandinavian kitchen design. A subway tile backsplash accentuates open shelving and light wood countertops.
3. One for the texture lover

Source
While this Scandinavian kitchen incorporates plenty of white, other colors and a variety of textures balance out the overall design. A stainless steel fridge contrasts with dark cabinets, white subway tiles, and open wood shelving. Scant mint green cookware feels accentuated in this otherwise neutral palette.

Source
Told you there'd be lots of white in these Scandinavian style inspiration images. And for good reason — this majority white color palette absolutely illuminates the room. A light wood flooring also brightens the room, while a darker wood kitchen table top provides a bit of contrast. Large white kitchen cabinets provide a ton of storage space.
5. Yellow, Red, and Green

Source
This Scandinavian kitchen incorporates a lot more color than previous examples, but it still maintains the simplicity of Scandinavian design. These green kitchen cabinets lack handles, which is uniquely Scandinavian. Yellow and green "floating" cabinets sit atop that sweet, sweet white subway tile every kitchen designer seems to be loving these days. A vintage red oven stands as the focal point of this Scandinavian style kitchen design.

Source
Usually, we pull interior design images that give you a view of the full kitchen, but the real superstar of this kitchen design is this full wall cabinet. Do you ever find yourself in a hip cafe that has a wall full of mugs and plants and think "wow, imagine what I could do with all that storage?" Well, take a note from the Scandinavians and make it a reality. These floor to ceiling grey kitchen cabinets give you more storage space than you could dream of. The cabinets' glass windows feature cookware as part of the design — not something to hide.

Source
Are you also drooling over the comfy little breakfast nook tucked underneath that huge window in this image? Imagine sitting there for your morning coffee. The dream! But that cozy corner isn't the only thing this Scandinavian style kitchen does well. A stark contrast of black and white gives this kitchen a real edge. A textured white kitchen island provides internal storage for black barstools when they're not in use. A similar texture in the reverse color scheme is used as a backsplash. If you're hoping to design a kitchen with lots of impact, make sure to remember some Scandinavian inspired kitchens like this with bold color and texture choices.

Source
Knock on wood, but don't knock it until you try it. This plywood prominent Scandinavian style design uses simplicity to the max. This highly minimal approach isn't for everyone. But if function is your number one priority, you can't get much more utilitarian than this. I would believe it if you told me this kitchen belonged to a successful tech startup CEO. It's all about simplicity and functionality.
9. For the Eclectic Scandi

Source
Many of these Scandinavian inspired kitchens avoid color and decor like the plague, but not this one. A predominantly deep blue and white color palette tips its hat to simplicity, while embracing a more lived-in feel. Thick wood countertops add a bit of warmth to the room, as do the several potted plants sprinkled throughout the foreground and background of this image.
10. Black on Black on Black

Source
If your goth friend from high school turned out to be a minimalist interior designer, this might be their kitchen. In this Scandinavian style kitchen, solid black upper and lower cabinets blend into open black shelves and a geometric black tile backsplash. You probably wouldn't think twice if this kitchen were all white instead of all black, so why did this one stop you in your tracks? Well, using an unexpected color palette like this in any part of your home delivers a lot of impact. Can you imagine an all black living room?
11. A more delicate approach

Source
Here's something on the opposite end of the goth spectrum if that all black kitchen design didn't tickle your fancy. Soft pink accent walls give this kitchen a delicate, warm feel. The Scandinavian style is still present here with a tall, exposed wood bookshelf turned kitchen appliance shelf. Industrial pendant lights hang above a simple kitchen island, and patterned tile floors add charm to this design.

Source
This final example incorporates a real hodgepodge of design elements from other styles to emphasize the simplicity of Scandinavian kitchens. Industrial appliances highlight the clean lines of floor to ceiling white tile. An eclectic mix of farmhouse and midcentury chairs in various colors sit around a simple white table. This example proves that not all Scandinavian kitchens must be all white and minimalist. Instead, incorporating other inspiration sources can deliver a well-rounded design.
Want to be added to this list?
Click here
to bring up our submission form. We will be in touch shortly with feedback.