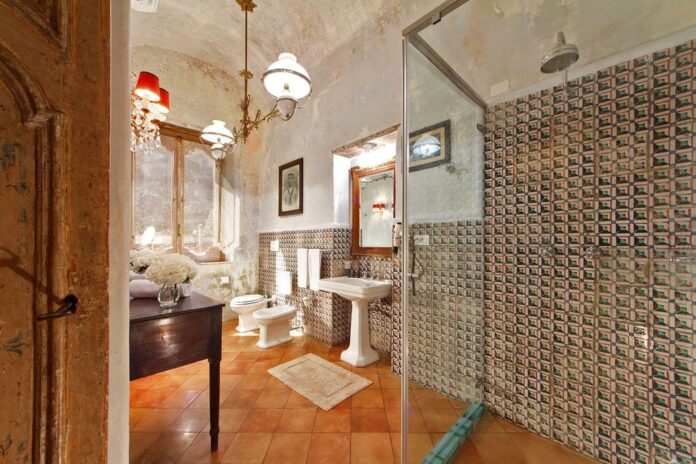 Whether you're trying to relive a vacation on the Amalfi Coast or simply trying to add some more warmth to your home interior, we've gathered plenty of Mediterranean bathroom ideas to get you started on your next design project.
There are many facets of Mediterranean design. Tuscan-inspired home design often includes earthy tones, like warm brown and clay colors. Other countries along the Mediterranean coast pull from a more vibrant color scheme. Mediterranean bathrooms often use textures popular in the region. You'll see examples of Mediterranean bathrooms with Italian marble sinks or Spanish shower tiles.
When designing your own Mediterranean bathroom, it's important to keep in mind how various elements will pair together. Using patterned tiles in warm brown tones could be a great way to incorporate both Tuscan and Spanish design elements. You can even borrow from styles outside of the Mediterranean to supplement your bathroom design. For instance, you might try using the textures of the Mediterranean with a very Scandinavian all-white color palette.
Scroll through these Mediterranean bathroom design ideas, and let us know in the comments which you find most inspiring.
1. Earthy Grecian Bathroom

Source
This modern Greek bathroom proves you don't need grand, sweeping spaces to bring in elements of elegant Mediterranean design. Simple touches bring this design together. This color palette is mostly neutral, with earthy brown tones on the mirror and bathroom cabinets and shades of grey in bathroom tiles and countertops. A cool light green adds a bit of calming contrast to the room. The stone basin sink feels plucked from the ceramics section of a Renaissance museum. All of this can be achieved in a bathroom of any size.

Source
Textures can make or break your bathroom. In this Mediterranean-inspired bathroom design, a mix of earthy textures feels warm and cozy. Light beige bricks adorn the countertop and carry onto the wall. Large textured beige tiles embellish another section of the wall. While the textures are entirely different, their similar shade allows them to seamlessly bleed into one another. This reclaimed wood framed bathroom mirror is the clear focal point of the bathroom. You could use elements from your own backyard, or perhaps your travels to the Mediterranean, to achieve a similar look in your bathroom.
3. Mediterranean Sea Inspiration
Source
Bringing blue hues into your Mediterranean bathroom design can allude to the Mediterranean sea itself. Bring the Grecian coast to your home by using blues and whites, as well as incorporating textured paint looks. This small ornate bathroom mirror flanked by brass candelabras feels adds a bit of glamour to the room. Because bathrooms are usually smaller than other rooms, the details are more important than ever.

Source
When you think of Italian design, you may immediately picture ornate renaissance paintings, or detailed carved marble figures. That ornamentation is still present in modern Mediterranean interior design. In this example, an incredibly intricate chandelier hangs above a swooping bathtub. Traditional style cabinets in dark wood are ornamented with metal handles, and the entire warm brown color scheme feels strongly Tuscan in nature.

Source
Stone features can look luxurious or humble, depending on the other elements used in the room. In this Mediterranean bathroom example, rustic stone features look humble above the sink. However, patterned brickwork behind the clawfoot tub feels more elegant. The warm hues of this Mediterranean inspired bathroom harken back to traditional Italian palettes.
Source
It's easy to get lost in images from luxury resorts on the Amalfi coast, which is exactly where this image was pulled from. Bring the Mediterranean back home with some colorful patterned tiles for your floor, your walls, or both! Add ornamental mirrors throughout the room to reflect light and provide decoration. Incorporating colors like gold throughout the details of your trim can also add a luxurious vibe to your Mediterranean inspired bathroom.

Source
Here, we have another example of tiles being used on both the floor and wall for decoration. Ornate design elements, like this bathroom's various hanging light fixtures, can help your bathroom feel like it was plucked straight from Versailles. This bathroom design embraces the old with an antique dark wood table used to display towels and other items. Incorporating traditional style cabinetry is a great way to add both storage and beauty to your Mediterranean bathroom.
8. Michelangelo's Marble Bathroom

Source
If you like a more muted palette, this Mediterranean inspired bathroom is a great example. Marbled floors and wall panelling are highlighted by natural lighting beaming through a massive arched window. Warm beige walls match nicely with a clawfoot tub. And, of course, you can always make your home bathroom feel like a luxurious italian spa resort by hanging white bathrobes. You deserve it.

Source
This example has a lot of similar elements to the previous Mediterranean bathroom example. It proves just how much a color scheme can influence your bathroom design. Instead of white marble, this luxurious bathroom uses deep red and cream textured walls and flooring. A textured black stone trim wraps around the room. This same texture is used for the bathtub, the sink, and as a frame for the mirror. And with bold textures like these, you really don't need any decoration.

Source
Torn between going with a coastal theme or a Mediterranean design scheme for your bathroom? Honestly, there's no need to choose when you can just meet in the middle and incorporate the best of both worlds. This blue and white color palette definitely feels beachy in nature, but decorative vases and an arched window draw in elements of the Mediterranean design style. If you've traveled to the Mediterranean and have items you'd like to display, creating alcoves like the one pictured above can be a great way to safely highlight those pieces.
The Mediterranean has a lot to offer when it comes to bathroom design inspiration. Tuscan design offers warm, earthy palettes and natural textures. With Tuscan inspiration, you can create a beautiful stone-tiled shower. Spanish design often highlights gorgeous, intricate tiles. You can incorporate Spanish-inspired tiles on your bathroom floor, walls, or both. Grecian design often highlights beautiful seaside vistas. If you've got ocean (or lake, or even backyard pool) views, you can borrow from the Greeks by using light colors and highlighting your bathroom window.
Which of these Mediterranean bathroom designs inspired you the most? Comment below to let us know. We'd love to help you transform your bathroom into a Mediterranean palace.
Want to be added to this list?
Click here
to bring up our submission form. We will be in touch shortly with feedback.