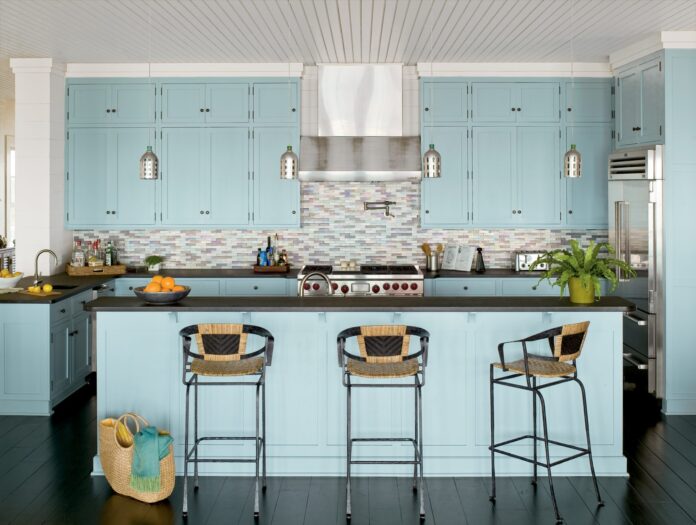 You don't need oceanfront property to be inspired by these beach kitchen ideas. You can transform your lake house kitchen into a beach house diner with a simple nautical color scheme. You can bring the tide to your city condo kitchenette with wicker chairs and driftwood accents. You can turn your suburban kitchen into a palmbeach timeshare with some simple beachy accessories. You get it…it's about so much more than an ocean view.

Coastal kitchens are as diverse as the coasts themselves. Some of these kitchens have a tropical feel, incorporating sunny prints and patterns. Other kitchens incorporate cool blue tones that feel more "fisherman at sea" than " tropical ocean resort." Clean white features can make a beach inspired kitchen feel like it's located by the Scandinavian sea while warmer tones might place your kitchen on Tuscan shores.

Whether your taste is more beach cottage or ocean resort, we think these kitchens will help you get started on your next design project. Let us know in the comments which of these ideas you are most inspired by. We'd love to help you turn your dreams into a reality.
1. Beyond the Blue Horizon

Source
This beach themed kitchen shows what you can do with various shades of a single color. Dark blue cabinets and floating shelves are accented by a light blue subway tile backsplash. An even softer blue color decorates the kitchen island. Hanging pendant globe lights are accented with gold and navy blue, giving the room the full blue spectrum. Sand-colored furniture pieces, like these cross-hatched kitchen stools, help to place this kitchen design on the beach.

Source
This gorgeous kitchen utilizes blue in a much more subtle way than several of the beach themed kitchen designs you'll see. The simple patterned blue tiles along the back wall are a unique take on the ever-so-popular kitchen tile backsplash. Deliberately worn down cabinets mimic the texture of driftwood washed ashore. Glass windows in the cabinets on the left side of this kitchen show decorative coral pieces. Simple decorative items like these can add a beach theme to your kitchen without shouting it through a megaphone. Another standout feature of this kitchen is a large exposed wood kitchen island with plenty of room for those tall, beachy wicker barstools.
3. There's a Mermaid in the House!

Source
Do you see her? She's floating above the kitchen sink! Paired with decorative ceramic plates and angel wings, this interior decorator seems to appreciate the value of a mounted art piece. Mounting souvenirs from your beach vacations can be a great way to bring the ocean directly to your home. Also notable in this kitchen are white painted wood walls, open white shelving, and contrasting dark wood countertops.
4. Ocean Inspired Cabinets

Source
Different shades of blue will bring different shores to your kitchen decor. This beach house kitchen uses a soft teal blue. It's as if the kitchen designer plucked the pigment from the beaches of Fiji and dropped it onto these cabinets. This kitchen also might give you a few ideas for repurposing beach resort materials for your kitchen design. These metal pendant lights mimic the shape and texture of the base of a tiki torch. Thick, woven chairs look as sturdy as the basket you'd take to an island farmer's market. Thoughtful decor choices like these will liven up your coastal kitchen design.
5. A Luxury Beach Resort at Home

Source
Are you ever on vacation at a nice hotel, sipping coffee in the morning and thinking, "wow, I wish I could make my home feel like this"? Well, this kitchen example is proof that you can bring the best of the beach back home. Of course, not all of us have the luxury of real palm fronds out our kitchen window. But this kitchen provides a coastal feel in various other ways, too. Natural wood paneling climbs the kitchen island. A marble countertop and backsplash give this kitchen a real luxury resort feel, as do leather upholstered bar stools. This kitchen also provides quite a few decorating ideas. High quality ceramic goods displayed on floating shelves, a gallery wall, and cone-shaped light fixtures don't necessarily scream "beach," but they pair well with the luxury coastal aesthetic.

Source
This kitchen's blue hue is a very Finnish flag. In fact, the whole design has a bit of Scandinavian flare. Marine blue cabinets and drawers contrast against a white kitchen backdrop. A wood countertop accents this large kitchen island. Stainless steel appliances add yet another texture into this bold design concept. Starkly contrasted color palettes and textures can provide lots of impact for your kitchen design.
7. Low Ceilings, High Hopes
Source
When looking online for coastal kitchen inspiration, it's easy to come across homes with super high ceilings and lots of square footage. But not all of us are blessed with that kind of real estate. Never fear, it's still possible to make a gorgeous beach-inspired kitchen with lower ceilings. This kitchen uses white cabinetry to brighten up a room with limited natural lighting. A deep blue subway tile backsplash highlights wooden shelving. Pops of orange cookware (and a literal bowl of oranges) add some warm contrast.

Source
Maybe you do have an ocean view like this in your kitchen, and to that I humbly ask, would you like a fun houseguest? I'm a decent cook. I'd love to make you bagels by the beach.
Even if this ocean view isn't a part of your kitchen concept, a coastal feel can still be achieved using some of the design choices made in this example. White cabinetry, white walls, and white ceilings all contribute to an overall lightness in this kitchen. Tall bar stools use a natural wood back, mimicking the color of sand. And if you don't have access to the sea out your window, colors like blue and green in some of your decorative pieces can help bring that missing view inside.

Source
Vintage signs are the clear focal point of this beach style kitchen. Old metal diner sign gives this kitchen a real seaside snack shack vibe. Contrasting colors allow these handpicked decorations to really stand out. But this kitchen isn't all vintage. New wood floors and a stainless steel fridge bring this kitchen into the 21st century. White cabinets look sleek against white subway tiles.

Source
This beach cottage kitchen reads a bit like a lakehouse. Whatever the body of water this kitchen borders, this design gives us a ton of ideas. Stainless steel appliances contrast against the warm finish of hardwood floors. An aged wood accent wall provides a rustic feel to an otherwise modern beach style kitchen. Warm tones make this home feel cozy and lived in. It's easy to picture a family running inside to enjoy a glass of lemonade after a long afternoon swim.

Source
If you want your beach style kitchen to stand out from the standard blue and white kitchen color palette, look no further than this tropical light green. This beach house kitchen definitely stands out from other ideas we've shared, and it's certainly not for everyone. But if you love to be the life of the party, and if your taste is a little bit quirky, embracing bold colors is a great way to bring personality to your beach house.
As evidenced by these beach house kitchen images, there are a million different ways to modernize your beach house in 2020. Whether you're drawn more to a luxury beach house aesthetic, or a rustic beach home look, we hope some of these kitchens inspired your next renovation project.
Updating your coastal kitchen with a bright blue kitchen island, stainless steel appliances, or tropical tiles could help bring the vacation to your doorstep. Which of these coastal kitchens inspired you the most? Let us know in the comments. We'd love to help make your beach style kitchen dreams a reality.
Want to be added to this list?
Click here
to bring up our submission form. We will be in touch shortly with feedback.