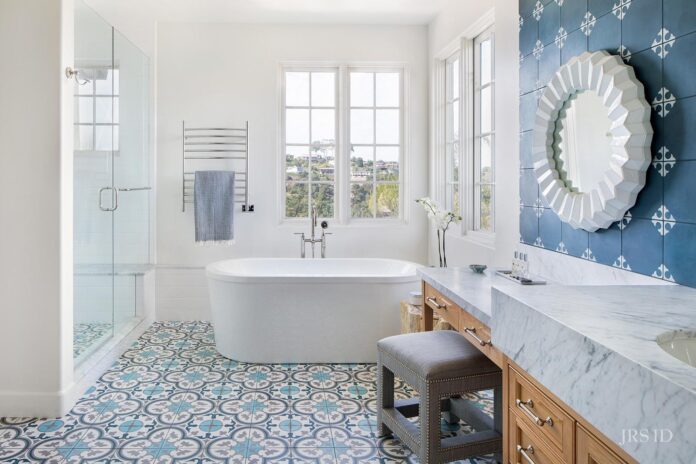 Whether you're on the coast or landlocked, you can be inspired by these beach bathroom ideas. Coastal bathroom design incorporates a variety of elements that are worth considering for your own home. Often, beach bathrooms use a marine blue and white color scheme. Sometimes, you'll see the incorporation of oceanside elements like driftwood, seashells, or nautical memorabilia. But coastal design can also be more subtle — simply focused on highlighting a beautiful view.
When looking through these images, take note of which elements would fit well with your home. If you have a large natural lightsource in your bathroom, you might be able to get away with some of the bolder color palettes demonstrated. However, if you're relying on artificial lighting, a softer color palette is a safe bet. Consider how much space you have. Do you have room for dual sinks, or are you more concerned with storage space? Focus on what you need first, and then when you'd enjoy. Maybe, you need to regrout your tile. So do that first, and then move onto the exciting stuff like new decor and light fixtures.
Whether your beach bathroom taste is more Gilligan's Island or luxury island resort, there are plenty of design options for you. After you've scrolled through these images, let us know which inspired you the most. We'd love to help you design the beach bathroom of your dreams.
1. Marine Life in the Bathroom

Source
There's a fine line between kitschy and clever when it comes to on-the-nose design elements. This beach bathroom tips towards clever with this large, framed octopus painting. If you're considering a dual sink setup in your bathroom, you might look to these. Each sink has two large drawers underneath, so you and your partner aren't fighting for storage space. A clever x-shaped storage unit sits between the two sinks, which this bathroom owner uses to store extra towels.

Source
Have you ever wanted your own personal cabana boy to fan you with a palm frond? Well, that may cost extra. But adding tropical plants to your bathroom is a simple way to tip your hat to the island lifestyle. This bathroom also features a super unique cork wood cube ottoman. Unique pieces like this are rare finds, and worth displaying proudly against a more subtle, neutral backdrop.

Source
You've heard of bathroom tiles (which this bathroom also has), but have you thought of using a fun, patterned wallpaper in your beach bathroom? This super cute lemon-patterned wallpaper wraps around the walls and vibrantly pops against blue shower walls. Some white subway tiles and a simple white sink allow this beach bathroom to highlight its natural light source.
4. Playa del Carmen Bathroom Inspiration

Source
This Playa del Carmen bathroom uses bathroom tile in a unique way. Instead of the standard right angles of a shower partition wall, this beach bathroom opts for an oval-shaped shower. The outside of the shower wall uses the bathroom's neutral cream palette, while the inside of the shower is lined with small mosaic blue and yellow tiles. If you wanted to really go bold, you could do something similar with shower tiles and bring the color into your wall paint, your floor tiles, or your mirror.

Source
Blue and white beach bathroom color palettes can often feel retro or cutesy. This bathroom proves that blue and white can be elegant and modern. This bathroom uses a darker navy blue to accent the sink and the wall behind the sink. That color is also brought in as an accent on a decorative vase, but is not seen elsewhere within this coastal bathroom design. Instead, several warm wood elements are highlighted. Floating shelves allow for a bit of storage, as well as some wood storage crates resting below the sink vanity.

Source
Okay, so we can't all afford huge glass paneled windows that lead directly to the ocean. But you might be able to highlight your natural lightsource better by using materials like this bathroom uses. By choosing a light wood finish for bathroom floors and cabinets, this bathroom design maximizes the natural light. Additionally, a wide mirror helps bounce the natural light into other areas of the room. Marble accents provide this room with even more luxury, if the oceanfront property wasn't enough.

Source
You heard it here first: wood paneling isn't just for your uncle's 1970s van anymore. That's right. Wood paneling can look chic and modern with a nice coat of white paint and some vibrant accents. Blue floor tiles and a bright colored cushion help this room look vibrant and fun. Plenty of storage is created with this dual sink drawer and cabinet setup.
8. Tropical Plant Garden Bath
Source
Bring the jungle to your condo with a variety of tropical plants. And here's the real tip: there are plenty of high quality fake plants out there if you're not gifted with a green thumb. This bathroom is truly tropical, and not just due to the plants. These eccentric patterned floor tiles look like they could be used in a beach resort. This bathroom adds some lighting to the room with candles and a large vertical mirror. But if that's not your style, I'm sure you could swap one of these plants for a lamp.
Source
Maybe you can't bathe in the rainforest, but we've got the next best thing. That's right: tropical wallpaper. There are plenty of tropical wallpaper options, from flamingos to citrus fruits to the palm frond pattern pictured here. Every other element of this beach bathroom is muted, allowing the wallpaper to be the real star, and the bathtub to really stand out against it.
10. Blue Tile Beach Bathroom

Source
Bathrooms aren't always the standard square or rectangle shape that allows for minimalism. Sometimes, you need to work with odd ceiling angles. This beach bathroom proves you can make any space work. Blue tiles in a couple of different textures give this bathroom a ton of energy and excitement. Dual sinks and large white cabinets decrease stress and clutter. If you were looking for another sign that you need two bathroom sinks…maybe this is it.
11. Simple White Coastal Decor

Source
Not all that is nautical has to be blue and white. In fact, a simple white palette can be just as effective. This mostly white beach bathroom features a few hand-picked decor times, like this rope chandelier and a couple of striped towels. You could easily change out the towels with the seasons without compromising the integrity of the design scheme. That's the beauty of a monochromatic color scheme – it's hard to mess up!
Source
Do you love tile? Good news, there are a ton of textures and patterns for bathroom tiles, and even more ways to use them. You can use the same tiles all over, or mix and match on your bathroom walls, floors, and shower. If you wanted to add more contrast to your beach bathroom, you could choose tiles with a few colors outside of the standard blue and white coastal color scheme.
Want to be added to this list?
Click here
to bring up our submission form. We will be in touch shortly with feedback.