This exterior panel finishes the cabinet with a flush appearance, usually installed that the ends of wall cabinetCabinets mounted above the counter and directly to the wall. Also known as "upper cabinets." There are two types of wall cabinets based on t... More rows. This also protects the inner layers that are susceptible to moisture from warping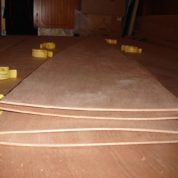 To become bent out of shape as a result of pressure, but usually as a result of dampness. With wood materials, moisture can affect the shape... More.
These are used on RTA cabinets, which after assembly, remain unfinished. The skin panels finishThe surface painted appearance of a cabinet, usually indicating its glossiness or reflectiveness. They range from most shiny to flat: Glossy... More the box with a flushed and complete looking exterior.