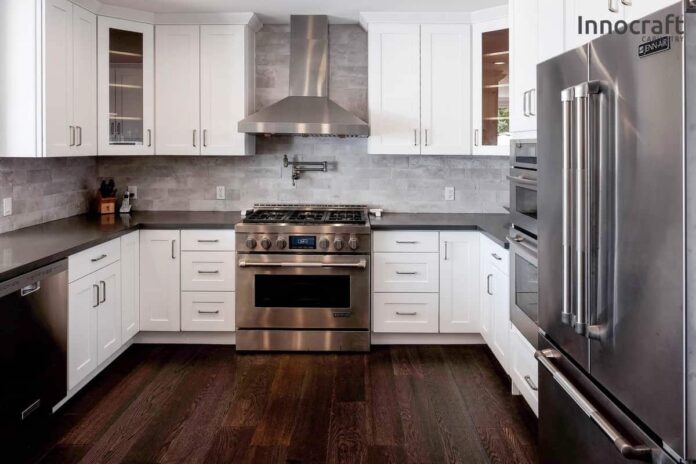 When you're planning your dream or forever kitchen, you should consider the needs of your family now, but also into the future. You may be living in your home for five years, ten years or longer, and your needs will grow and change throughout that time. Whether your family adds new members or shrinks in size and kids leave the nest, your kitchen will need to flex and grow with you. If you're planning to design a forever kitchen, you need to look for timeless pieces and flexible styles.
Start with Shaker-Style Cabinets in your Forever Kitchen
Shaker kitchen cabinets have been in style for more than 100 years. They are not likely to go out of fashion any time soon! These cabinets are simple in their design with recessed-panel doors, and can work in natural woods or painted colors. Shaker cabinets are a popular choice for the farmhouse aesthetic, but are versatile and can work in almost any home decor style. When starting with a simple, flexible base, you can adjust your forever kitchen in the future. Thus, you do not have to commit to a large renovation.
Consider Your Lighting Needs
One of the best assets for any kitchen is natural light. This will brighten up the room and create a space you can enjoy. If you don't have large windows, or your home doesn't get a lot of natural light, you will need to supplement your kitchen with artificial light to make it functional. Ambient light and task lighting are important for function: these lights over countertops or islands can help you better see as you're cooking, especially as you age and it's harder for your eyes to adjust. You can also include in-cabinet lights which will let you see what is in your drawers or cabinets more easily.
For your lighting fixtures, this is a space where you can be adventurous and choose statement pieces. A striking pendant hanging over your kitchen can be a focal point for your kitchen, and it's easy to switch out over time as your tastes change.
Choose a Neutral Color Scheme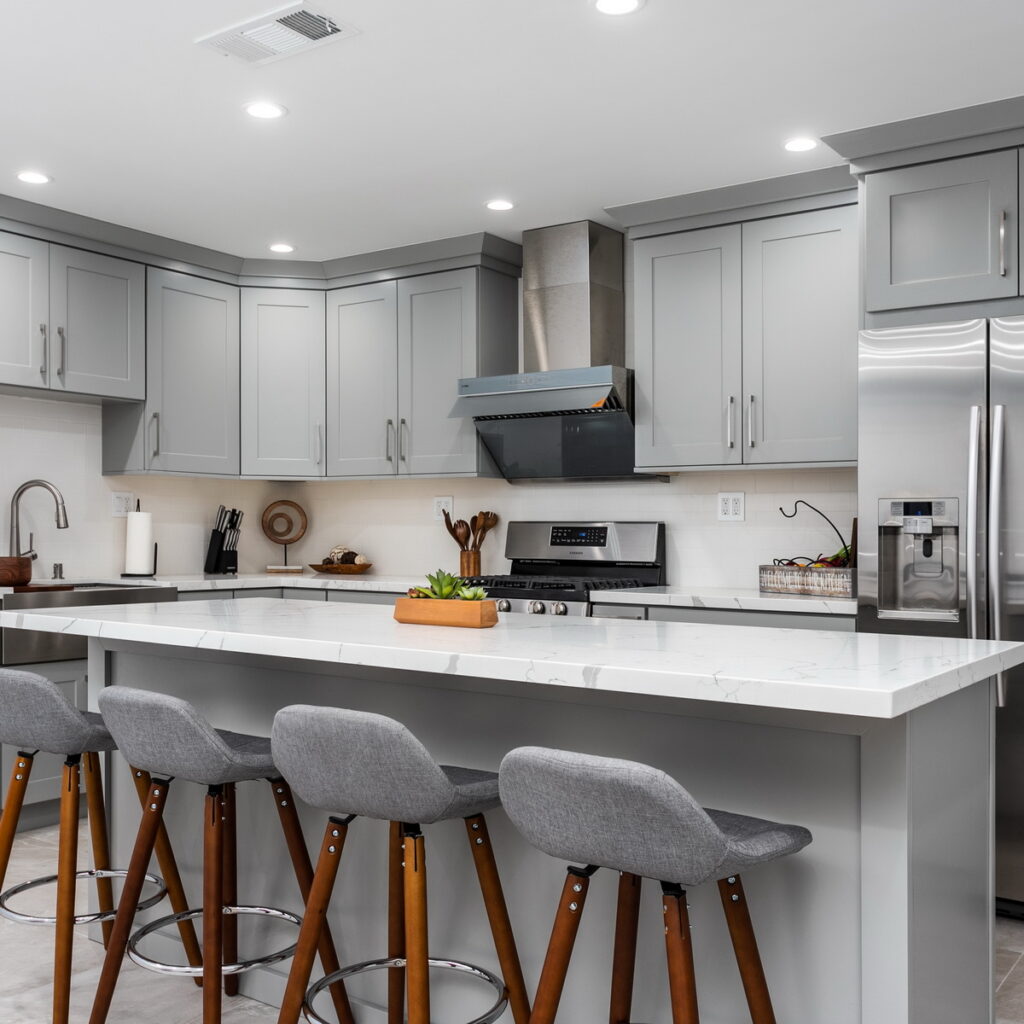 The biggest advantage to choosing neutral colors for your kitchen is that it can be adapted to any style. White shaker cabinets can be seen in contemporary, classic, farmhouse and modern kitchens. White is crisp and clean, helps brighten the space and makes a kitchen feel larger.
But white isn't the only neutral you can use in your kitchen. Beige is warmer than white, and pairs well with deep blues or brass accents. You can also opt for gray, which has cool or warm tones, and can make bold colors really pop. With neutral colors as your base, you can either accent them with a bright statement piece like a backsplash, or go for a clean look with more neutral countertops and backsplash.
Incorporate Storage Solutions
When you're planning your kitchen, you should try to put in as much storage as possible. As you live in your home, you will accumulate more and more pieces of cookware, dishes, kitchen tools and odds and ends that will need a home! You will also want to cut down on the amount of effort it takes to do basic tasks, like having to use a step-stool to reach a top shelf.
You can include rollouts and pullouts in your cabinets to increase accessibility in your kitchen. A rollout in upper cabinets can help you easily reach items that might be harder to grab normally.
You can also add space for built-in appliances in your kitchen. By incorporating your appliances into your cabinetry, you are freeing up counter space and creating a sleeker, more uniform look in your kitchen. This is especially good in smaller kitchens, as it reduces the bulk in your space and makes the room look and feel much bigger.
Get the Most From Your Kitchen Island
A kitchen island is a great, multi-use tool that can vastly improve any home. It brings in storage, functionality and can be an opportunity to display your style. An island is especially great as it adds additional space and seating for families as they grow. With kids, a kitchen island is a place to do homework or help pitch in while making meals, and for the adults it can serve as a place to entertain when company is over.
You can also use your kitchen island for additional cabinetry and storage, or to add extra amenities. An island can include a preparation sink, mini fridge and even a cooktop. If your kitchen is large enough, you can bring in all kinds of plumbing and electrical services to the island. This can help add more functionality and flourish to your dream kitchen.
Choose Durable Materials
If you want your kitchen to truly be forever, then you should take extra care when choosing your materials. Your countertop is the part of the kitchen likely to get the most wear and tear, but by choosing a more durable material you'll be able to get more life out of it.
Quartz countertops are extremely durable. It can withstand knife cuts, doesn't stain and won't crack or chip. However, it's not as heat-resistant as other surfaces, and can be quite pricey. Another option is granite: granite countertops are beautiful and can fit into any style of kitchen, but are also incredibly tough. It's unlikely to crack or chip, and is heat-resistant. On the downside, you need to apply sealer annually to protect granite countertops to stains. Considering it can be cheaper than installing quartz, granite might be the better choice for your home in the long run.
When you're planning a kitchen design that's meant to last, you need to plan carefully, think about your day to day needs and look for features that can adapt to change. While your family may grow, your lifestyle may change and your needs may vary, you can always rely on a durable, versatile kitchen.