Affordable Kitchen Cabinets
Usually, there are only four different routes that one would take when buying new kitchen cabinets.
Custom
Semi-Custom
Ready To Assemble (RTA)
Big Box Store
If money is no option, then you are probably not looking for inexpensive kitchen cabinets. Custom kitchen cabinets and even semi-custom cabinets can cost a lot of money. On the other hand, RTA cabinets are the most affordable option available for remodeling your kitchen cabinets. Big box stores usually have some kitchen cabinets that cost less than those ultra-pricey custom and semi-custom options, but they are also usually more than RTA cabinets.
Some people do not believe in the quality of RTA cabinets and feel that they are only affordable because they will not last. This opinion is based on some low-quality products that dominated the RTA market years ago. The fascinating part is that over the years the range in quality of RTA cabinets has increased by a lot. At BestOnlineCabinets.com we offer the highest quality RTA cabinets that are equal to, or superior to, the cabinets you will get from most semi-custom and custom cabinet makers. With our affordable kitchen cabinets, you can remodel your whole kitchen, and it should cost significantly less than what you would pay for semi-custom. The cost of RTA cabinets has stayed relatively constant when you factor in inflation over the years. This illustration shows how over the last 20 years the quality of some RTA cabinets has increased dramatically.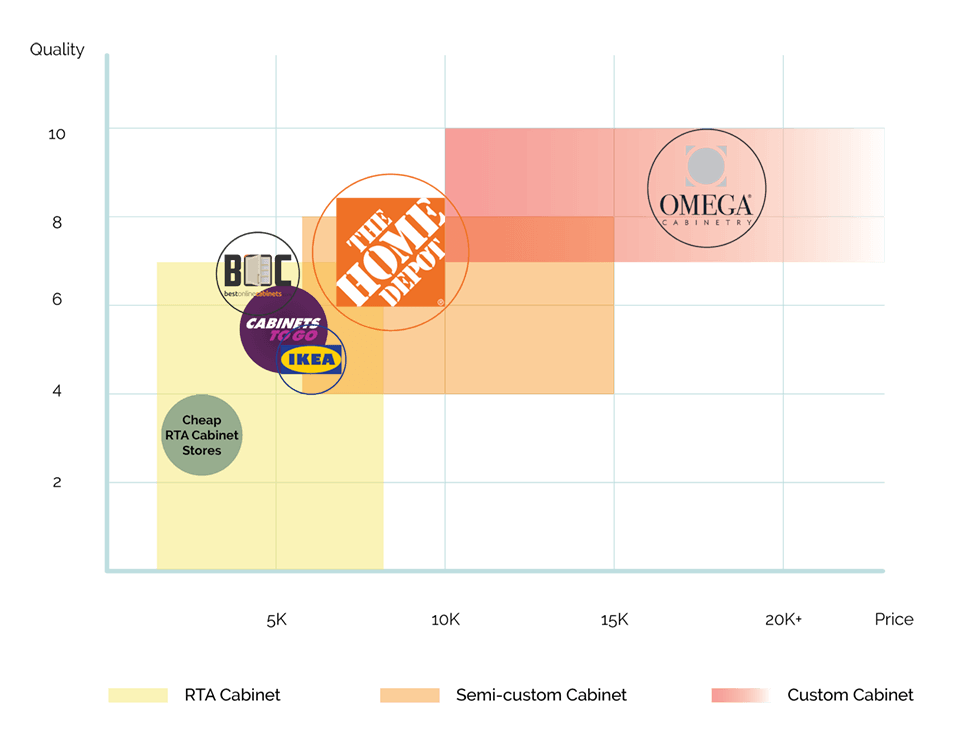 Inexpensive cabinets do not have to be cheap quality cabinets. The cabinets found here at BestOnliineCabinets.com, are an excellent example of products that are high quality as well as affordable.